Get the elegant cobblestone-style look with our concrete driveway pavers.
Are you searching for a gorgeous alternative to the generic poured concrete driveway? Peacock Pavers lets you add curb appeal and "Old World" elegance to your driveway design at an affordable cost.
Our newly designed driveway pavers are the delight of landscape designers, architects, and homeowners who seek the classic look of cobblestone paving stones without the outrageous expense of natural stone.

Using Handcrafted Concrete Pavers for Driveways
Peacock Pavers' new driveway pavers are similar in look and texture to our other concrete pavers — with a couple of key differences. Unlike our other architectural pavers, which range from 5/8"-1 3/4" thick, these driveway pavers are a full 3 inches thick.
Our driveway pavers fit within interlocking designs to ensure secure support and can easily withstand years of freeze/thaw cycles. These characteristics make our pavers highly durable and able to withstand significant amounts of weight per square foot. And because we intentionally handcraft our pavers to resemble ancient stone, you can achieve the elegant look of a cobblestone driveway at a fraction of the cost of actual natural stone.
Peacock Pavers' driveway pavers are also ideal for other outdoor applications and match perfectly with our landscaping pavers for creating retaining walls, fire pits, terraces, and walkways.
What Makes Our Concrete Driveway Pavers Different?
What are the advantages of using Peacock Pavers for your driveway installation as opposed to other driveway materials — for example, brick pavers, stone pavers, or poured concrete? Let's look at a few advantages.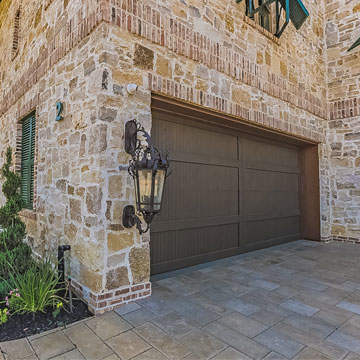 ---
Uniquely Designed & Handcrafted
Like all other Peacock Pavers, our driveway pavers are made from architectural-grade concrete using our secret, patented process. Each paver is handcrafted and uniquely textured so that even though our pavers look great together, no two pavers are precisely alike — much like the color/texture irregularities that occur in natural stone. Designers who use our pavers can immediately see the difference versus stamped concrete; the unique textures help give it life.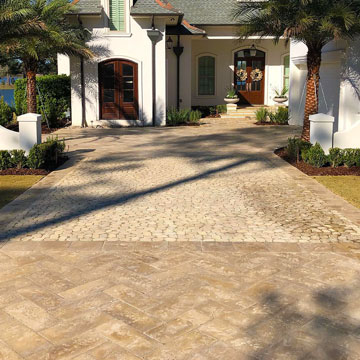 ---
More Economical than Natural Stone
Despite the timeless, elegant look that natural stone affords, it can be costly to install — especially with large quantities needed to create a stone driveway. The price point makes the stone look cost-prohibitive to most clients.
That isn't the case with Peacock Pavers; our cost per piece is much less, so you can give your customers the natural stone look they want without the ridiculously high price tag.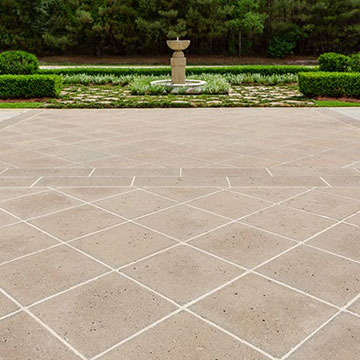 ---
Easier to Install than Natural Stone
Natural stone must usually be carefully and professionally installed by stonemasons to ensure against premature cracking and unevenness.
Our materials make paver installation much more manageable by comparison.
We design our driveway pavers to be highly durable against wear-and-tear. In the event of cracking, repairs are also much more affordable compared to natural stone.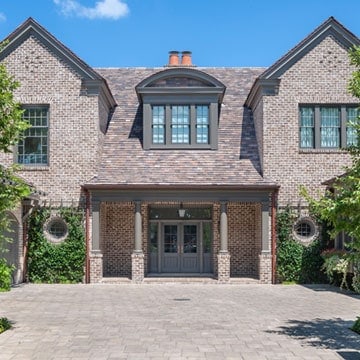 ---
More Elegant than Poured Concrete
Many builders give little attention to the driveway. As a result, they often resort to recommending the installation of a generic poured concrete slab.
With a concrete paver driveway from Peacock Pavers, property owners can afford a customized and original driveway versus the standard approach of poured concrete. These stunning concrete paver driveways give outdoor spaces a significantly more striking appearance — not to mention heightened curb appeal.
---
PEACOCK PAVERS' DRIVEWAY CONCRETE PAVERS
Like our other concrete pavers, driveway pavers are available in 6 sizes up to 3' x 3' and come in a variety of shapes. Our driveway pavers come in six colors — Buff, Dolphin Grey, Champagne, Rice White, Oyster, and Slate. Custom colors are also available (minimum order 7000 SF). These concrete pavers can be laid in random, mega random, herringbone, and running bond patterns, allowing for a wide range of design possibilities.
Paver Sizes
6 ⅛" x 9 ⅛"
9 ⅛" x 9 ⅛"
12 ⅛" x 12 ⅛"
9 ⅛" x 12 ⅛"
14" x 14"
9" x 21 ¼"



View Size Chart
---
Paver Weight



3" thick pavers weigh 36 lbs per SF


---
Popular Patterns
Mega Random

Herringbone

Herringbone with Band

Running Bond
---
---
Why Choose Peacock Pavers?
Among the other types of pavers available on the market, why are architects and designers so partial to using Peacock Pavers's handcrafted concrete pavers for their driveway designs and other interior and exterior projects?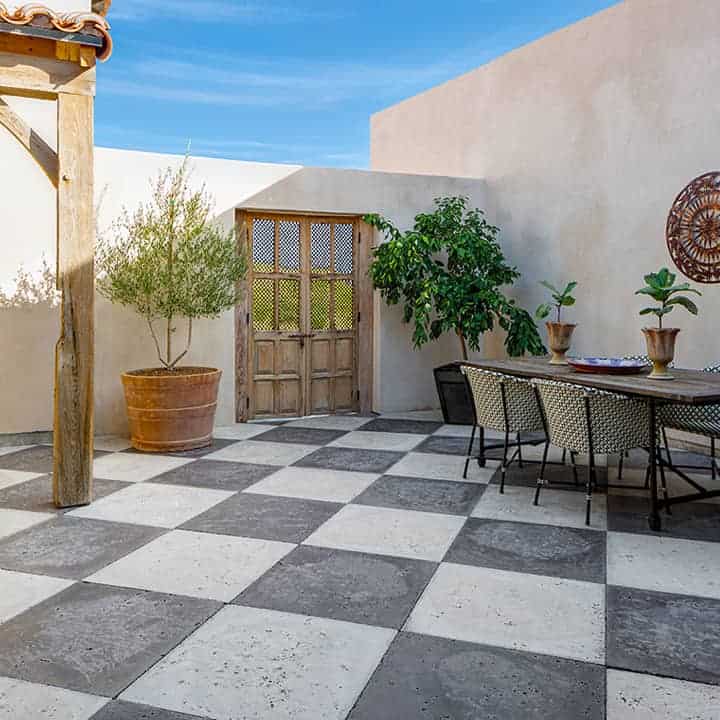 ---
Full Range of Customization
Many architects and landscape designers choose our driveway pavers to emulate the look of cobblestone — but actually, we provide many more options than that. With a nearly unlimited palette of colors, textures, patterns, and shapes, a whole new realm of design ideas is open to you, limited only by your sense of imagination.
If your plans call for travertine, slate, bluestone, or another type of natural stone, we've got you covered. Choose from any of our standard colors like Dophin Grey, Rice White, or Champagne, or mix hues to create an entirely new color. We give designers all the tools and resources they need to add their personal touch to every project.
---
Family-Owned & Handcrafted
When choosing concrete over natural stone, our customers know they're not sacrificing quality for the price. Skilled artisans use our secret patented process to handcraft each Peacock Paver with the highest level of care and quality.
We have taken care that our driveway pavers have the same color and appearance options as our other landscape and flooring pavers. That way, architects and designers create a consistent look across the property. They rest easy knowing that their paver driveway design will complement their walkways, pool decks, retaining walls, paver patios, and other hardscape features of your project.
---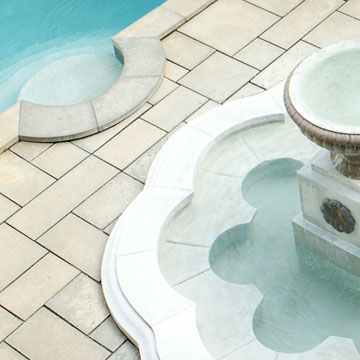 ---
---
Eco-Friendly & LEED-Certifiable
Despite stone being a natural resource, the fuel costs involved with quarrying, shaping, and shipping natural stone adds up to a fairly large carbon footprint.
Our pavers use less fuel to produce, so they are more friendly to the environment than natural stone. Peacock Pavers are an excellent choice for interior and exterior design projects seeking LEED certification.