Are you looking to create a look of "Old World" elegance for your swimming pool area without the high cost of natural stone?
At Peacock Pavers, our handcrafted concrete pool pavers exude the richness and elegance of natural stone — without the high price tag. We empower architects, landscape designers, and homeowners to create stunning outdoor spaces and hardscapes, including pool decks for inground pools and hot tubs, without breaking their budget.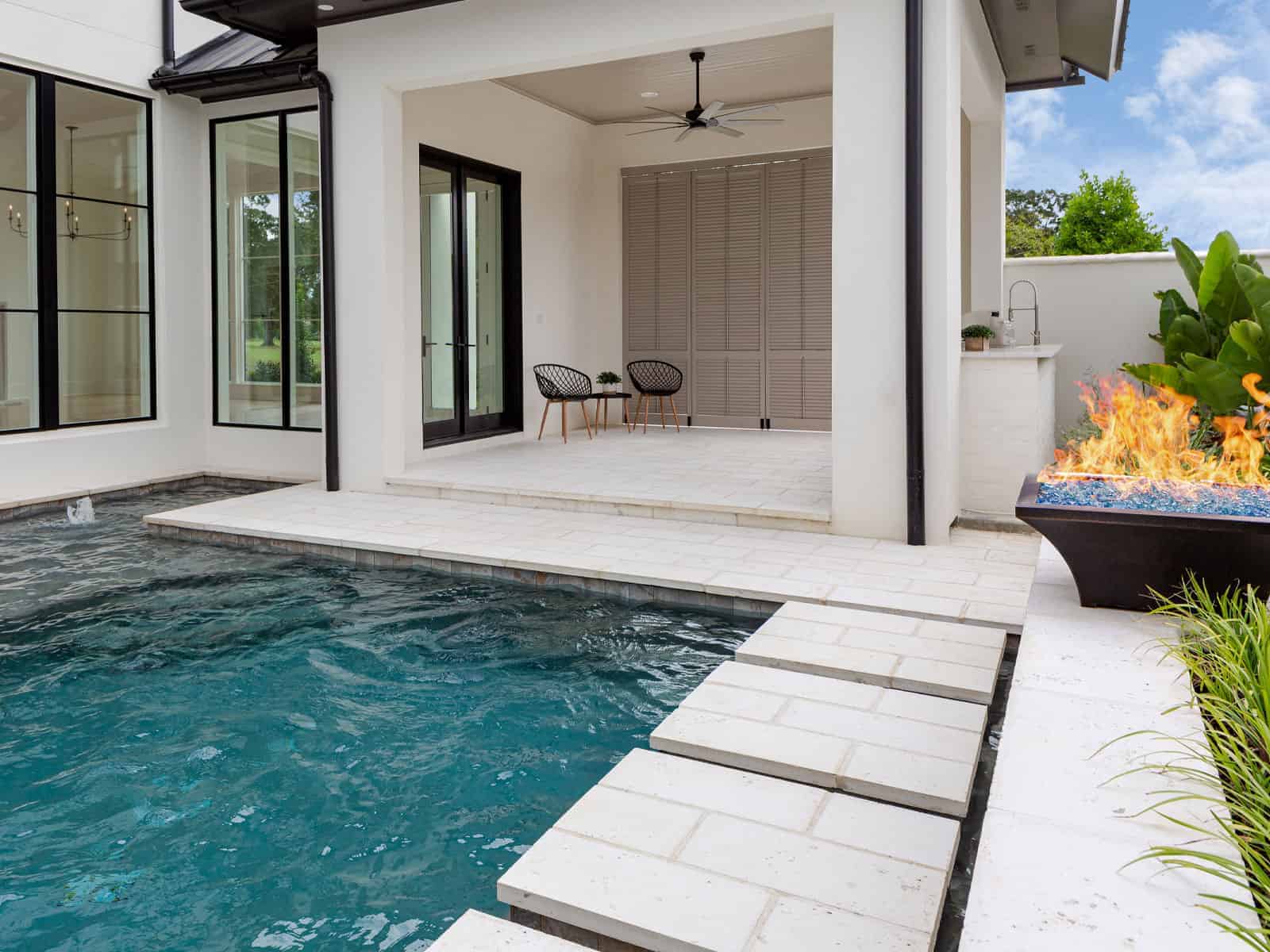 Our Handcrafted Concrete Pool Pavers
Made from architectural-grade concrete, Peacock Pavers are versatile, durable, and easy to install, making them a perfect choice for creating a poolside paradise. They offer more design options than concrete slabs yet cost considerably less than natural stone pavers.
Our pavers are ideal for pool decking, pool coping, decorative water features, and other elements of your pool design. They are durable enough to handle heavy foot traffic. They are even eco-friendly and LEED certifiable.
Benefits of Choosing Concrete Pool Deck Pavers
What are the advantages of choosing concrete pavers for your pool design project versus natural stone pavers, concrete slabs, or other pool deck materials? Let's explore the benefits.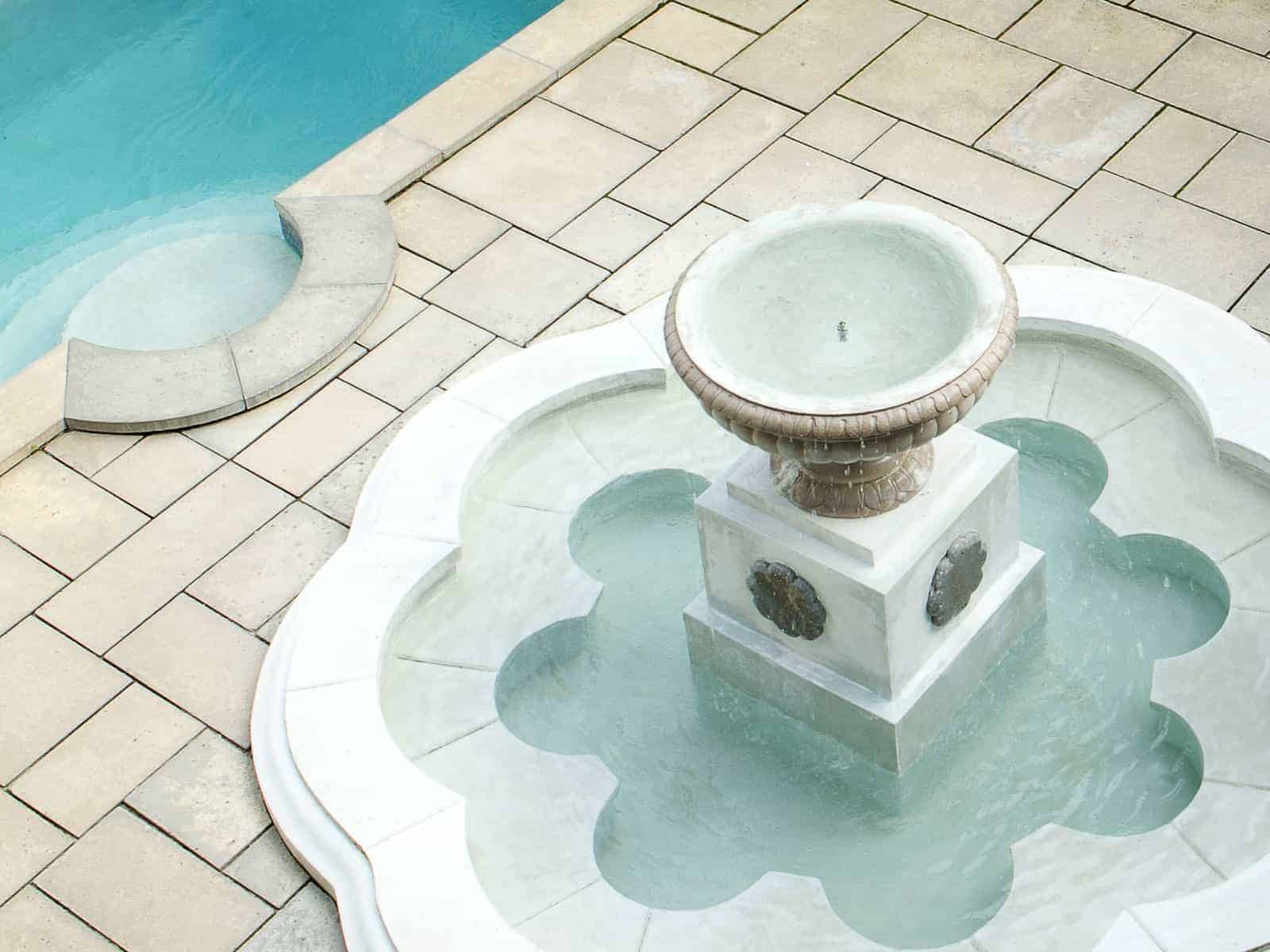 ---
Enjoy "Old World" elegance at an affordable price.
Creating a pool deck out of natural stone pavers can be cost-prohibitive to many budgets, but that doesn't mean luxury is out of reach. Our handcrafted concrete pool pavers can give you the luxurious, timeless look of natural stone at a fraction of the cost.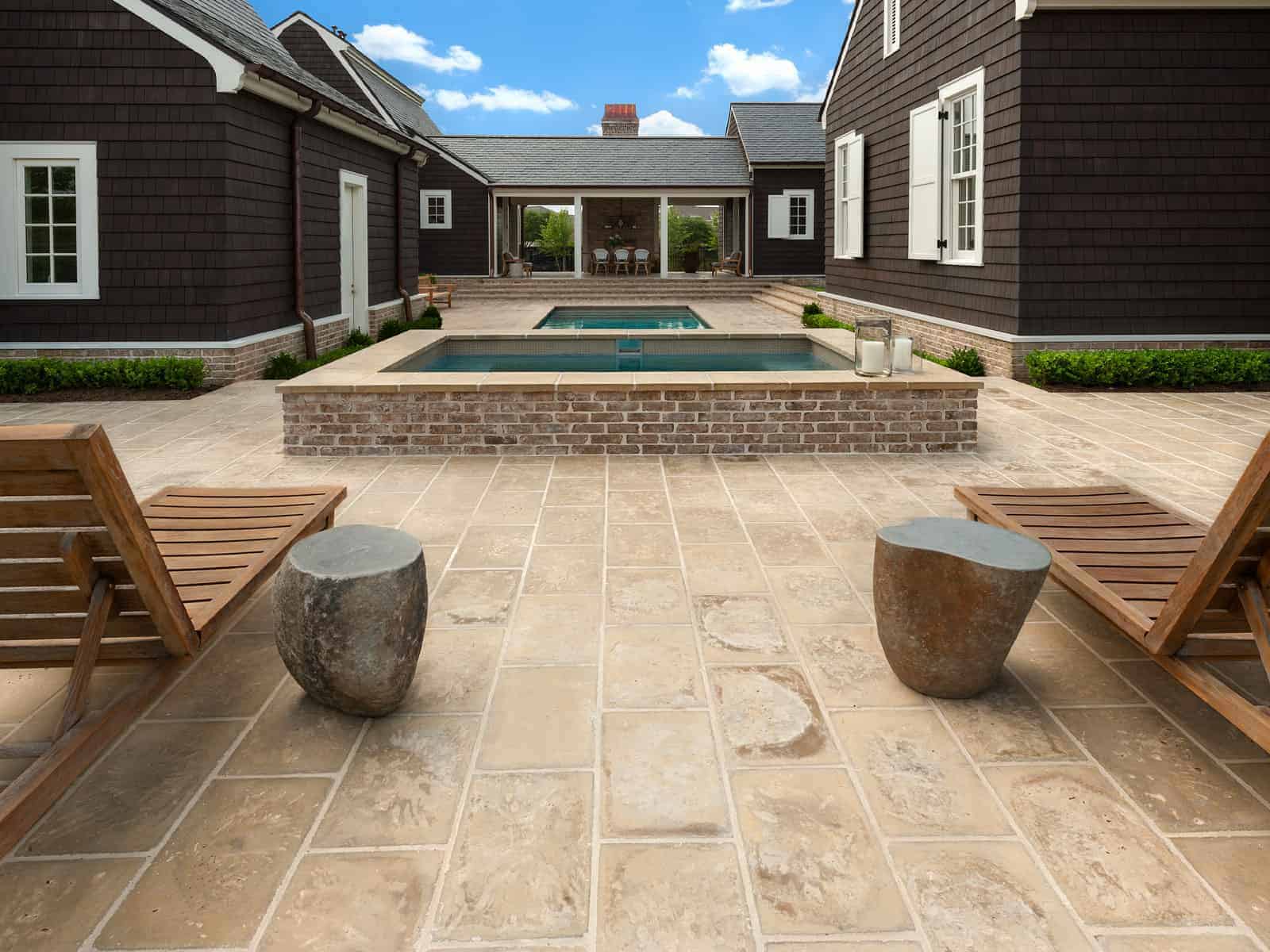 ---
Concrete pool pavers are low-maintenance and durable.
We craft our pavers from the highest quality architectural concrete, which makes them more resistant to cracking than other types of concrete — even in the face of freeze/thaw cycles. And if repairs are needed, they are less costly to repair or replace than natural stone.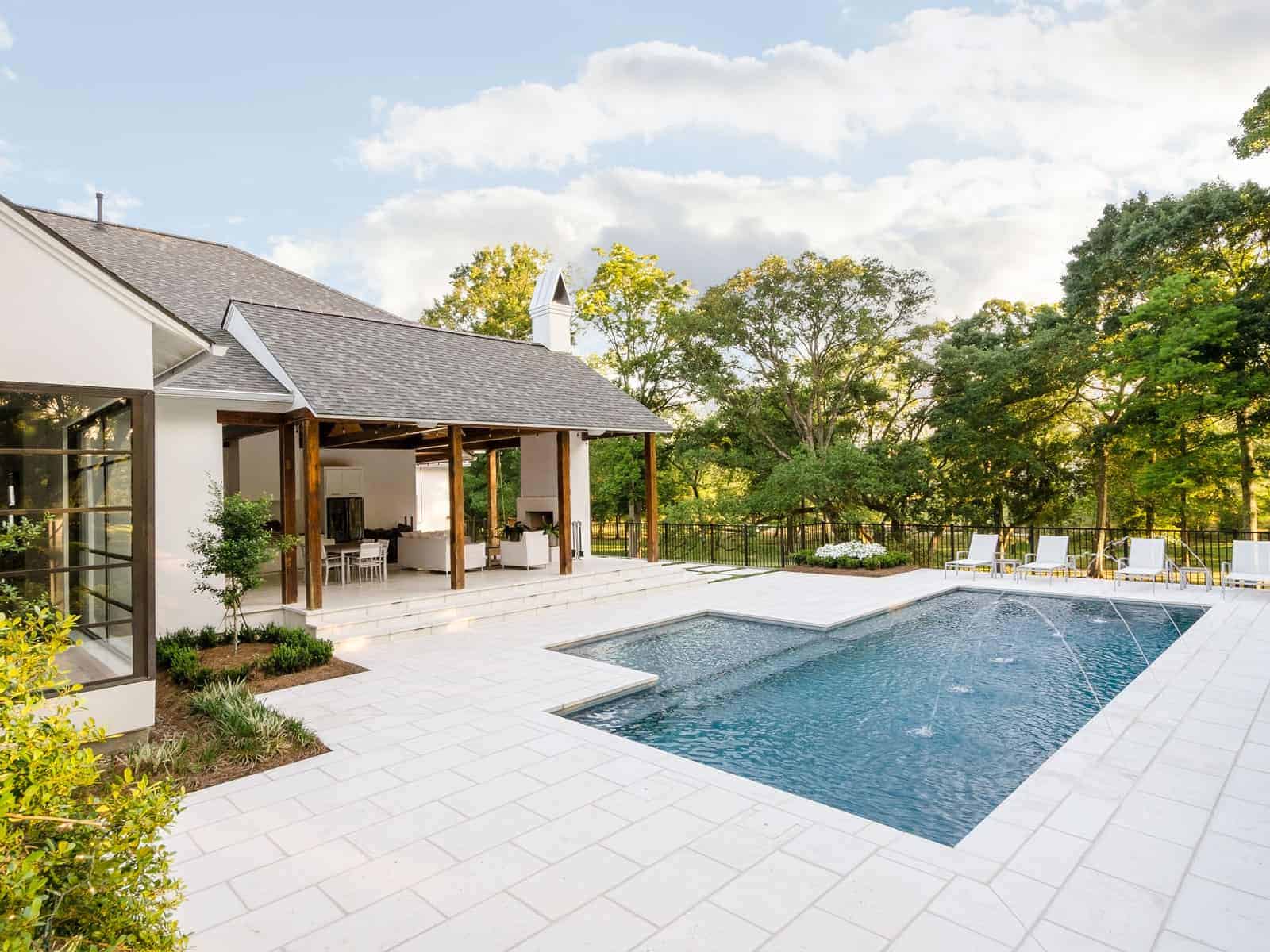 ---
Nearly unlimited design options at your fingertips.
Peacock Pavers give you significantly more design possibilities than either natural stone or other types of pool paving. Between a nearly endless color palette and the opportunity to mix-and-match sizes and shapes, the only limit is your imagination.
---
Installing concrete pavers is simple and easy.
Natural stone pavers are prone to damage unless a skilled stonemason professionally installs them. That isn't the case with our concrete pool pavers, which are predictably sized and shaped to allow for easy installation.
---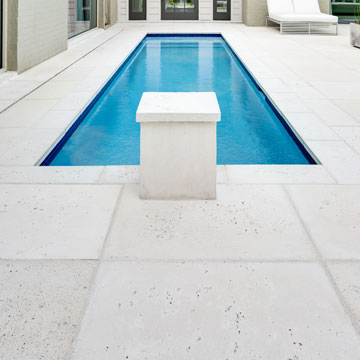 ---
---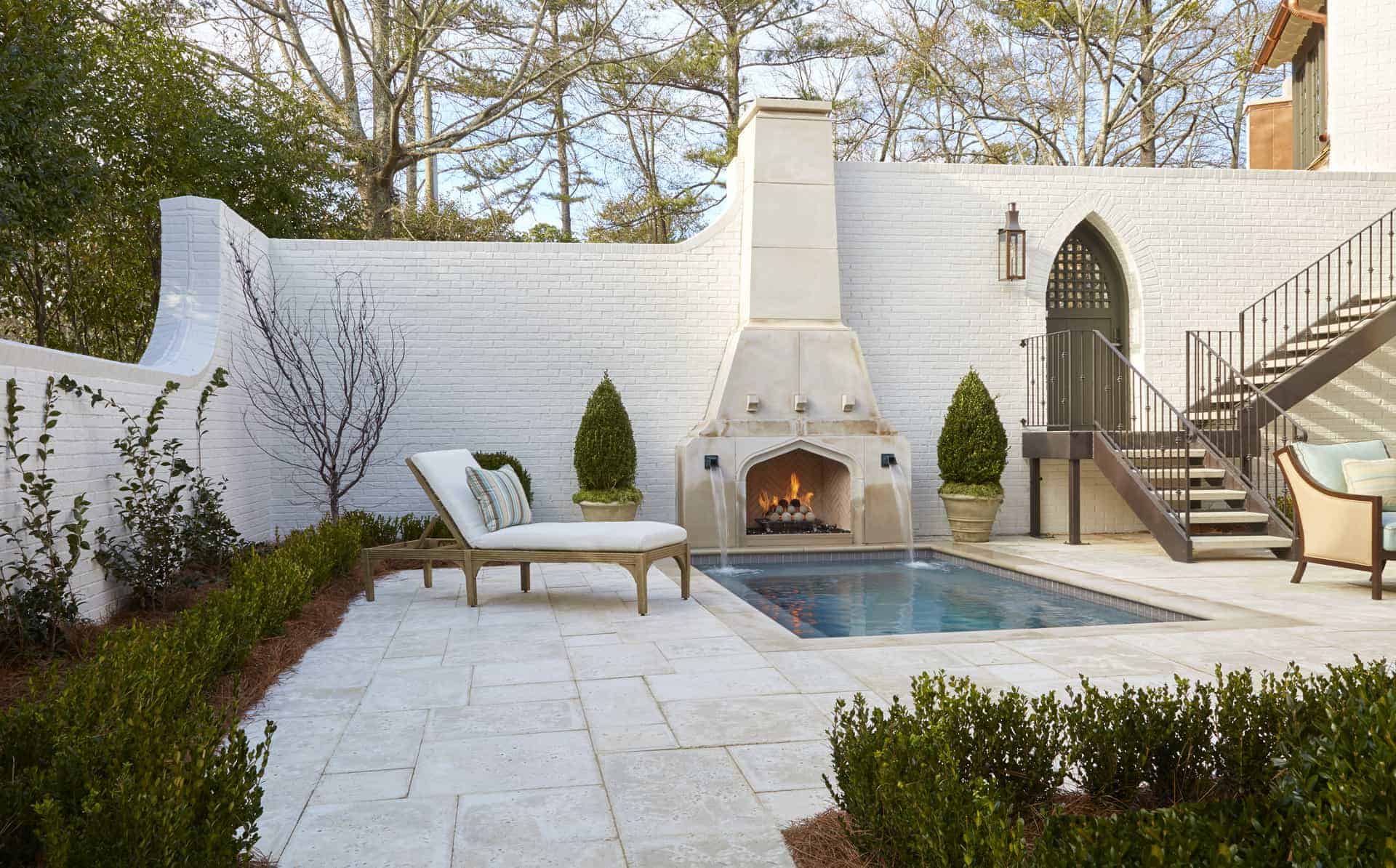 ---
PEACOCK PAVERS FOR POOL DECKS
We handcraft each concrete pool paver using a proprietary method to create unique textures and natural irregularities in each piece — just the same as in natural stone. Choose from a variety of shapes, including square, rectangle, hexagon, and herringbone, or mix-and-match them to create unique patterns.
We offer a choice of six colors designed to replicate the look of travertine, bluestone, limestone, slate, and other natural stone looks — or we can create custom colors for a truly unique design (min. order 7000 SF).
Like all other Peacock Pavers, our swimming pool pavers are available in 10 sizes up to 3'x 3′. All sizes are ½" short of true measure to allow for grout. Trim pieces are also available.
Pool Paver Sizes
11 ½" x 11 ½"
11 ½" x 17 ½"
17 ½" x 23 ½"
17 ½" x 17 ½"
23 ½" x 23 ½"
17 ½" x 29 ½"
11 ½" x 29 ½"
11 ½" x 23 ½"
29 ½" x 29 ½"
35 ½" x 35 ½"
View Size Chart
Paver Weight



1" thick pavers weigh 13 lbs per SF

1 ¾ " thick pavers weigh 20 lbs per SF

---
Popular Patterns
Standard Random

Alternative Random

Majestic

Majestic Butt Joint

Butt Joint
View More Patterns
---
Why Choose Peacock Pavers for Your Pool Paving Needs?
You have many options when it comes to pool deck materials, including other types of pavers. Why are our customers so loyal to Peacock Pavers in particular for their pool design needs?
---
---
Perfect Blend of Affordability and Design Choices
We've mentioned it before, but it bears repeating — designers and architects love the design possibilities of Peacock Pavers. We go out of our way to provide a whole range of size, shape, and color choices to create truly unique outdoor living spaces.
---
Unmatched Craftsmanship
Our pavers are all artisan-crafted using a secret patented process that has been in our family for many years. This special process ensures that each paver is truly unique in texture, not "cookie-cutter" stamped. That's why there are natural, eye-catching color and texture irregularities in each paver.
---
---
---
Friendly to the Environment
While natural stone comes straight from the ground, it is less eco-friendly than you think, primarily due to the fuel costs involved in quarrying and hauling it. Our concrete paver manufacturing process requires far less fuel, and because concrete is recyclable, our pavers are eco-friendly and even compatible with LEED certification requirements.
Pool Concrete Paver Design and Inspiration
Wondering what makes concrete pavers the ideal choice for designing stylish pool decks? At Peacock Pavers, we've spent decades working with architects, contractors, and exterior landscape designers on creating elegant concrete paver pool decks.
Our pavers are made from a material that we firmly believe in, and that makes us want to share some of our work with you so that you can see for yourself what makes them so popular.