Capture the Old World elegance of natural stone at a fraction of the cost.
Adding elegant curb appeal to a new home or new patio does not have to be expensive or difficult. If you are an architect, interior designer, or landscaper working on a new construction project, Peacock Pavers' handcrafted concrete pavers offer the perfect solution for emulating the timeless beauty of stone at an affordable price.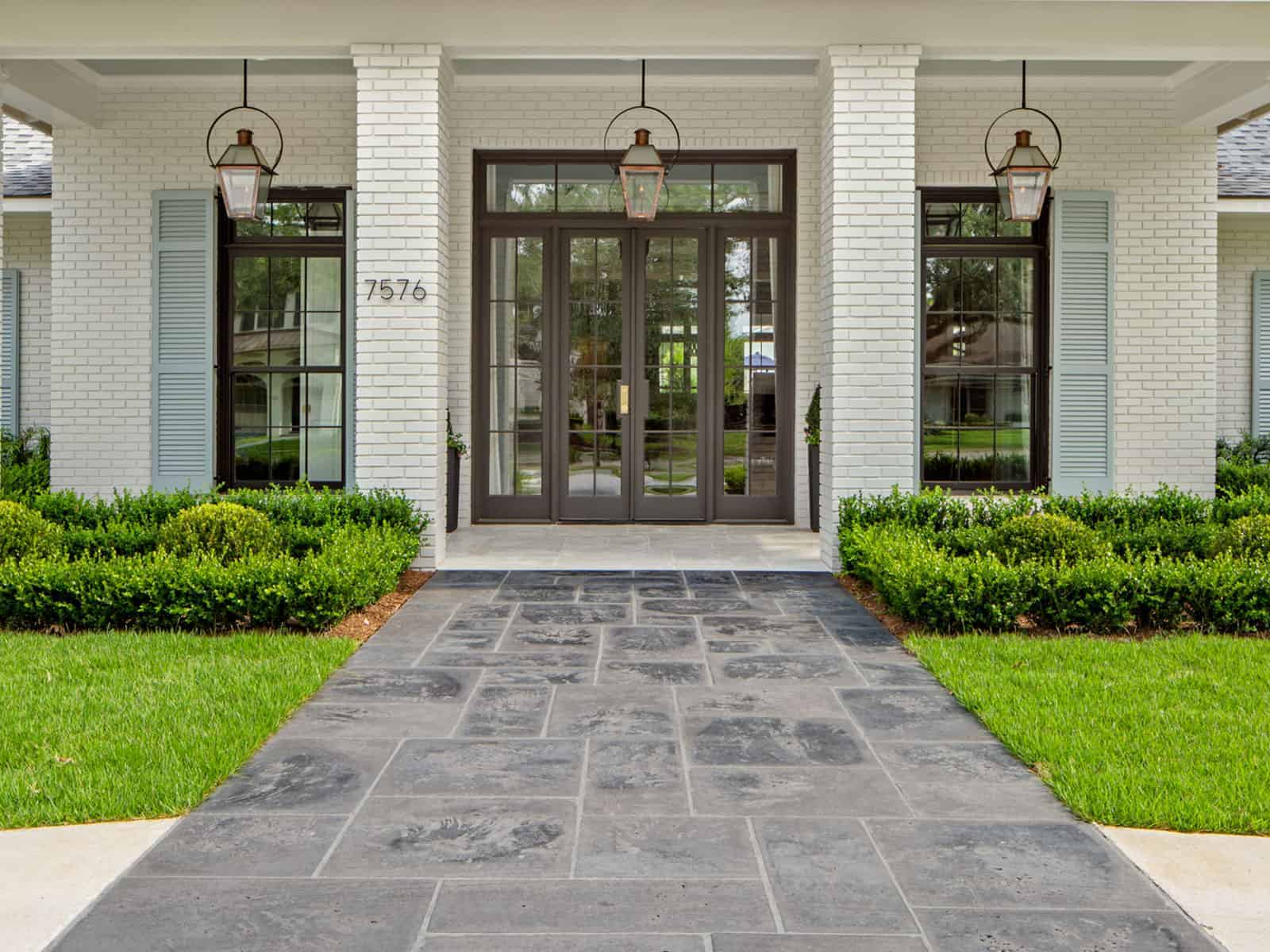 Handcrafted Concrete Pavers for New Construction Projects
Made from architectural-grade concrete, Peacock Pavers are ideal for all sorts of flooring and hardscape applications for new construction projects. They serve the same purpose as floor tiles or paving stones, but they are more durable, versatile, and affordable.
Our architectural pavers are an ideal choice for enhancing both interior and outdoor spaces. These pavers lend stone-like beauty and texture to floors, fireplace facings, terraces, water features, cobblestone walkways, swimming pool decking, and more — yet they are more versatile than natural stone, which opens the door to a whole world of design options. They are even eco-friendly and LEED certifiable!
Typical Applications for New Construction Pavers
Peacock Pavers open up a vast range of options when designing both indoor and outdoor spaces at affordable prices, allowing you to give your clients more for their money. Our concrete pavers work exceptionally well in any type of interior or exterior project calling for stone or hardscape design. Architects and designers often use our pavers in any or all of the following applications:
---
---
Paver patios
Use concrete patio pavers to create beautifully designed patios for outdoor entertaining.
---
Interior flooring
Install concrete pavers as interior flooring for an affordable, high-quality alternative to tile, poured concrete, or stone pavers.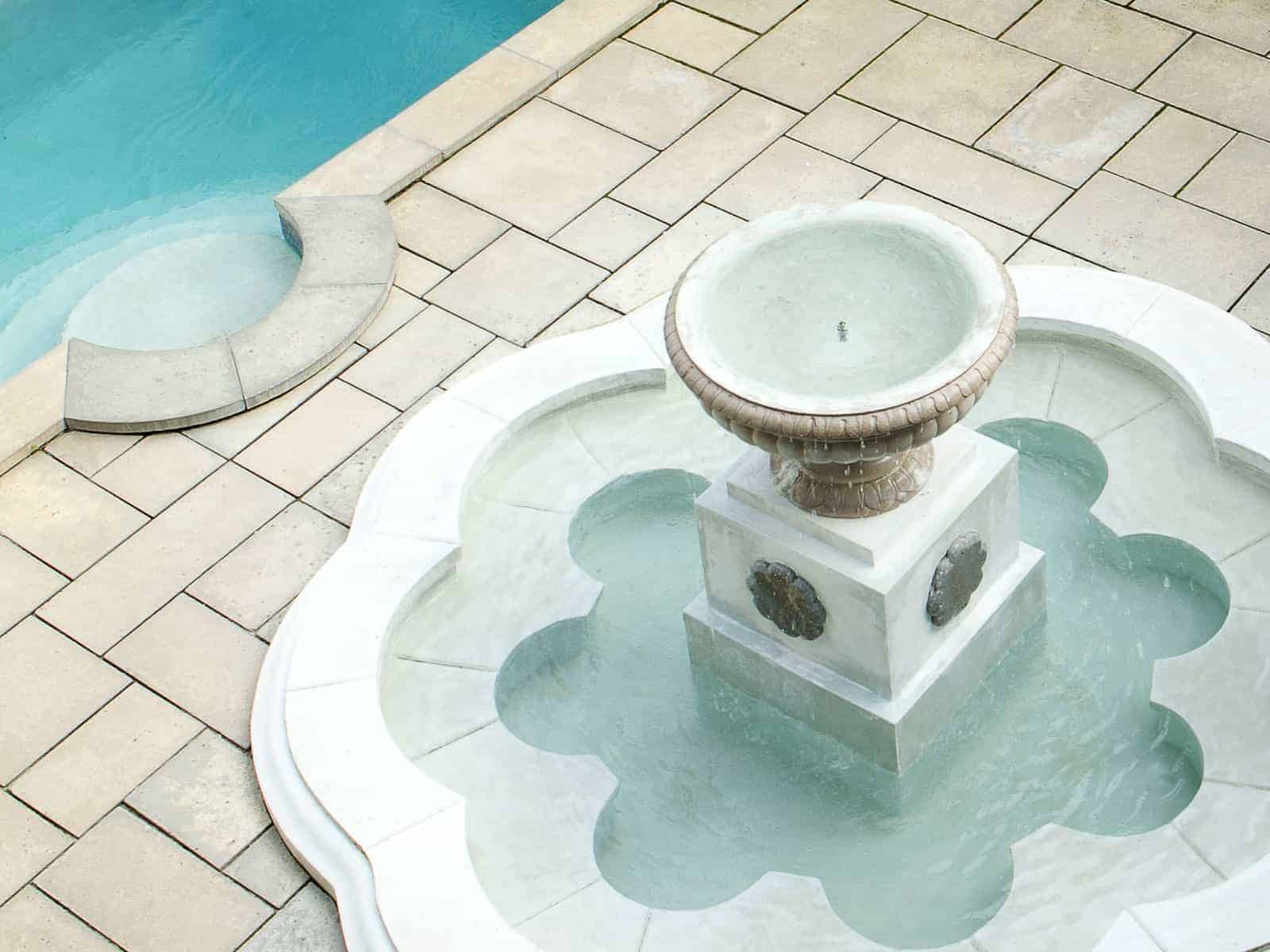 ---
Water features
Enhance decorative fountains, koi ponds, waterfalls, and other water features with concrete pavers.
---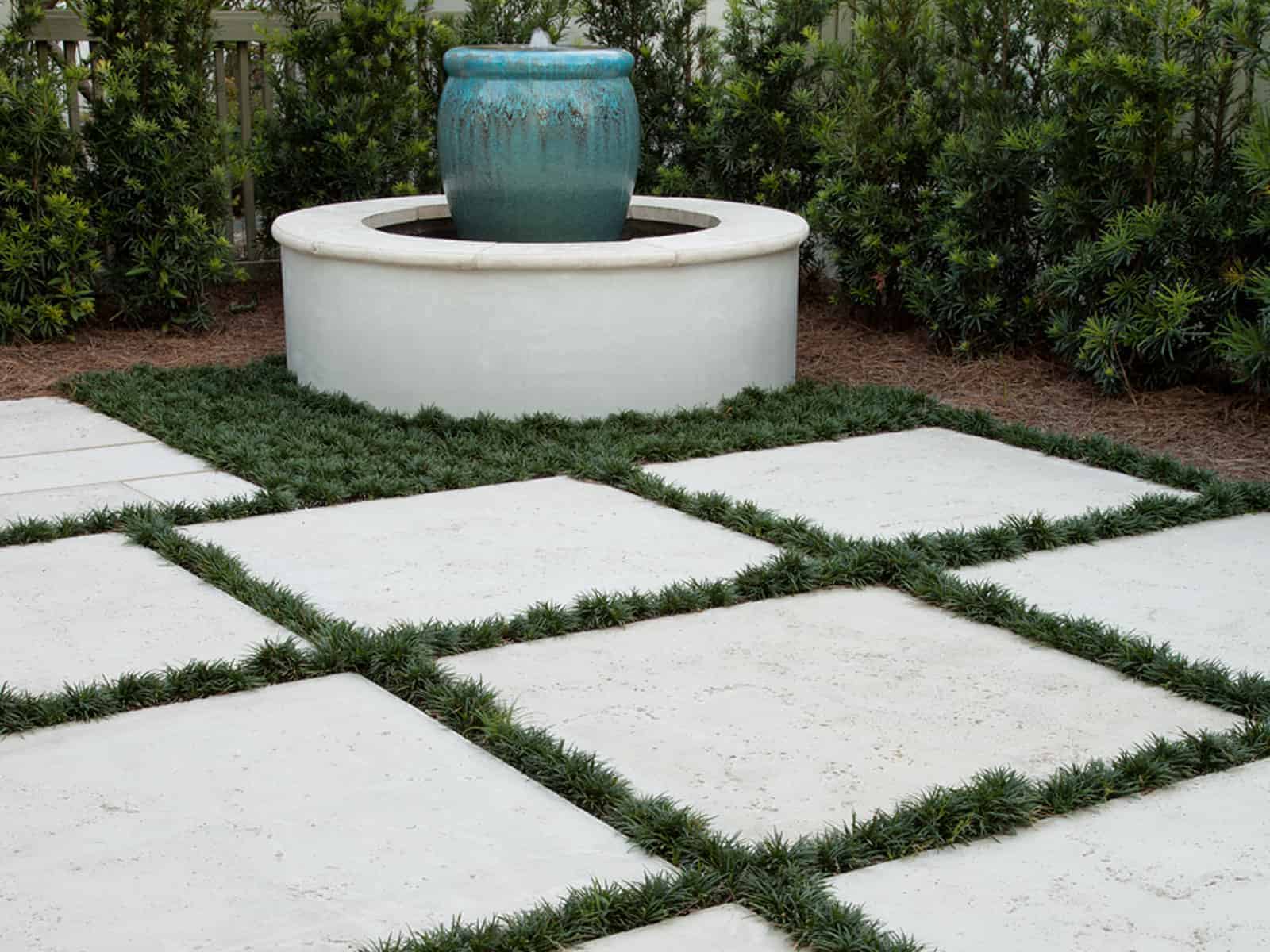 ---
Landscape design
Create dreamy cobblestone sidewalks or modern stepping stone walkways with concrete pavers.
---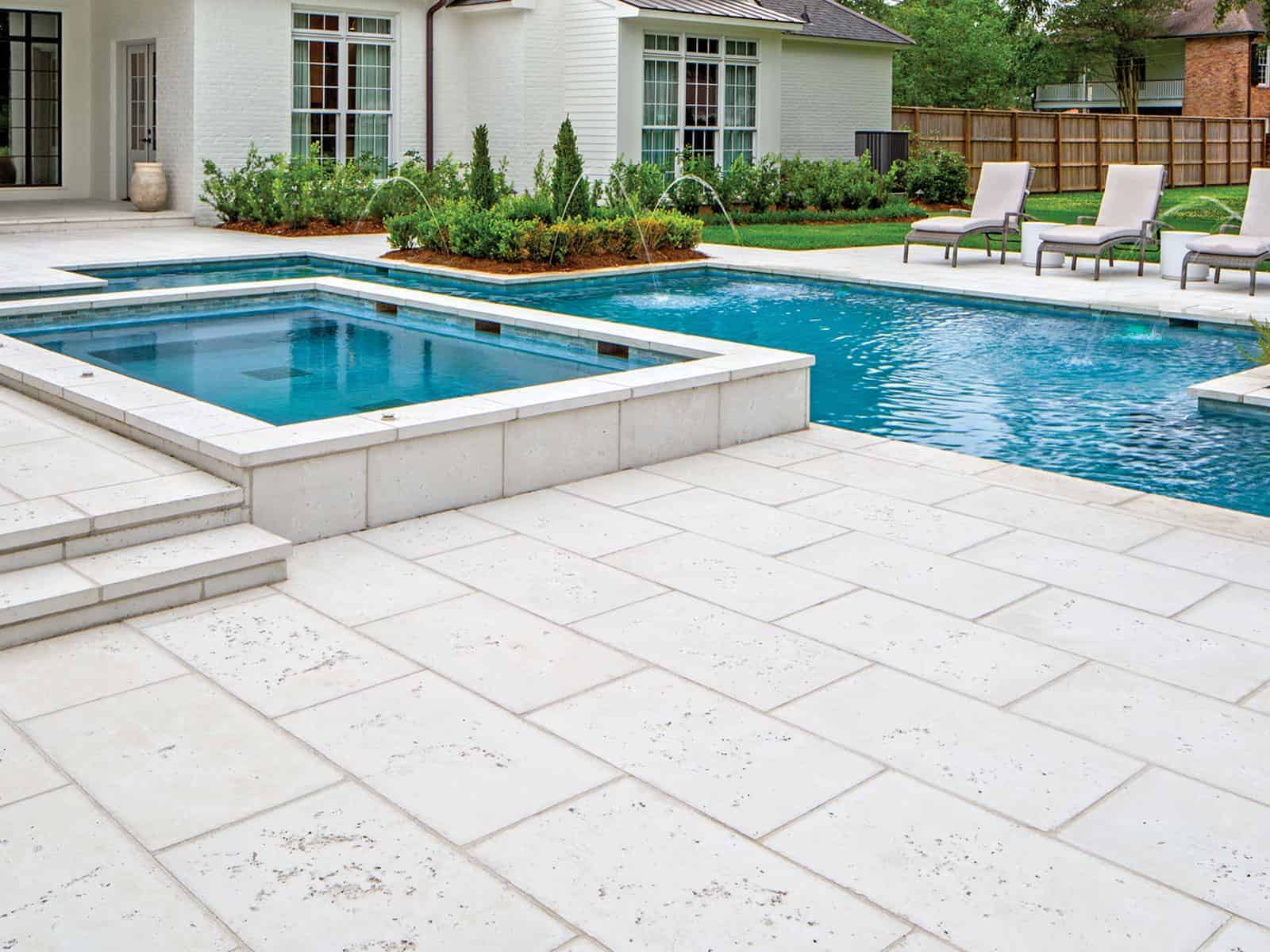 ---
Pool decks
Give the decking of your swimming pool or hot tub a luxurious appearance without the luxury price tag.
---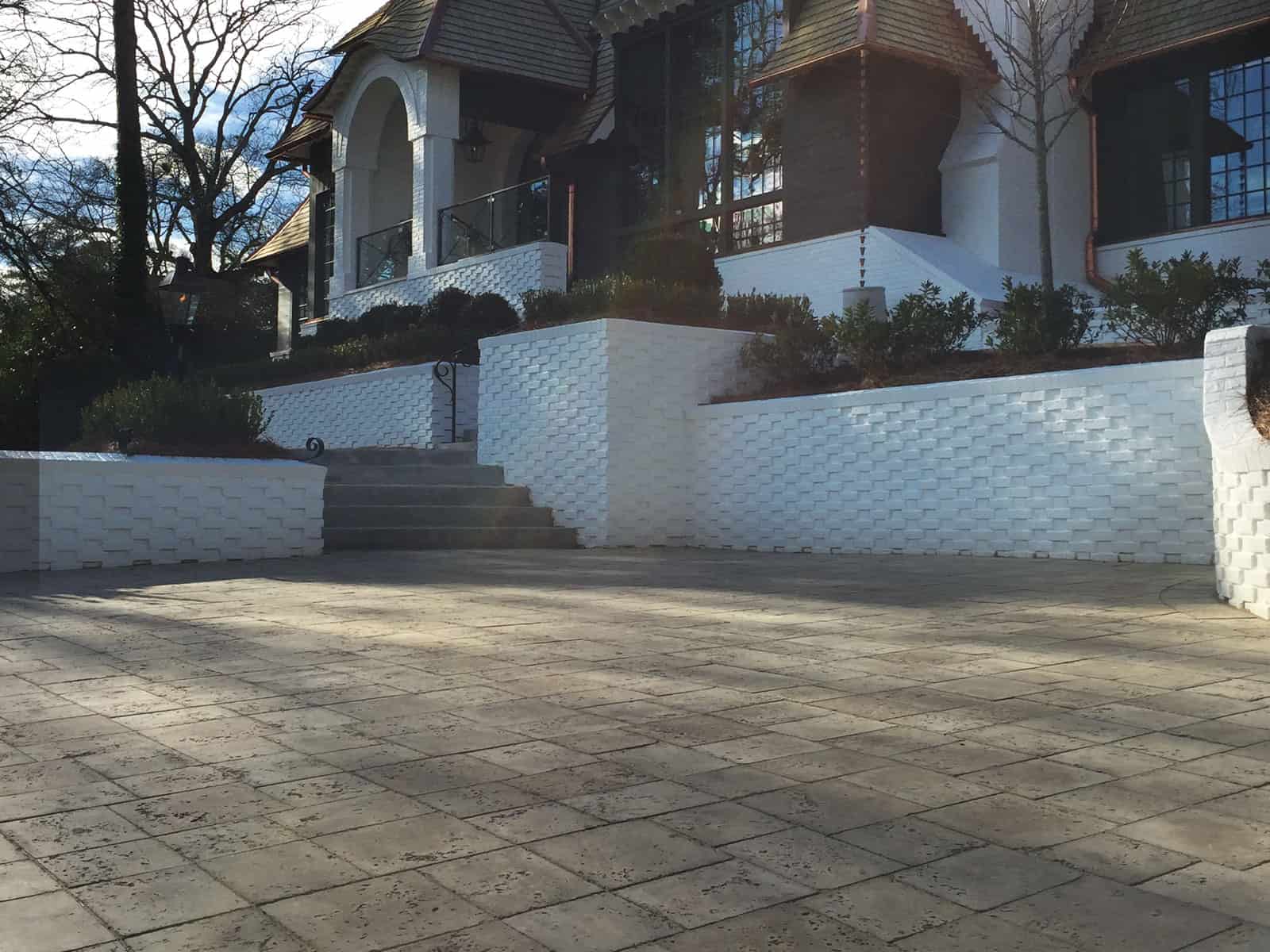 ---
Paver driveways
We specially design our 3-inch deep interlocking pavers to support the heavy weight of cars and trucks.
Advantages of Concrete Pavers
Why do homeowners, architects, and designers choose Peacock Pavers? Let's explore why Peacock Pavers stand out among other hardscape options.
---
---
Affordability
Natural stone is durable, fashionable, and timeless in appearance, but it may be cost-prohibitive for some projects. The added expense comes from the costs of excavating, finishing, and transporting the stone. By contrast, we manufacture our pavers from the highest quality concrete to mimic the look and feel of natural stone — at a highly reduced cost per square foot. As a result, you can deliver exceptional elegance and quality for your clients without it costing you — or them — a fortune.
---
Durability
Natural stone is naturally durable, but it's not invincible. If cracks appear in the stone, your repair options are limited and costly. In some cases, the stone may even require replacement. We make our concrete pavers from architectural-grade concrete that is less susceptible to cracking than other forms of asphalt and concrete. With proper care and maintenance, concrete pavers can last for decades, and they are also much easier to repair if needed.
---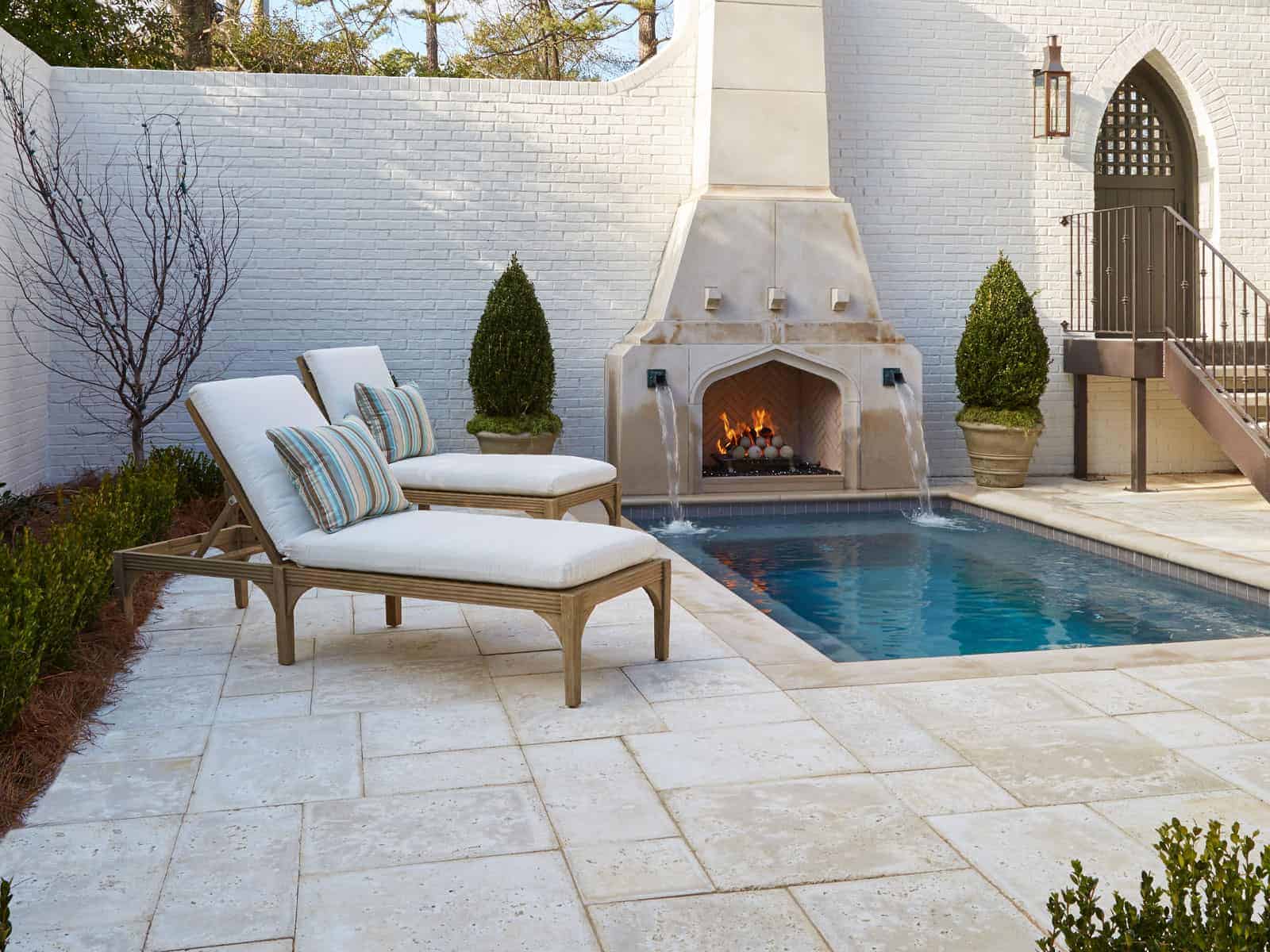 ---
Easy-to-Install
Our concrete paver of incredibly easy to install and maintain. Natural stone may require the assistance of professional stonemasons or installers due to irregularities in shape and size. Concrete pavers have predictable sizes and shapes to ensure simple installation in a wide range of designs. Plus, the durability of our pavers means ongoing maintenance is a breeze. Our pavers are easy to clean, easy to maintain, and easy to repair. With proper care, they can add beauty and curb appeal to any home for decades to come.
Creativity
Many people love the look of natural stone with all its organic irregularities, but the challenge for designers and architects is that with stone, what you see is what you get. You are limited in scope to the size, shapes, and colors of the stone itself. With concrete pavers, you not only have the option of making them emulate the look of natural stone; you also have other design and color options that natural stone cannot offer. With pavers, you have a nearly unlimited palette of shapes, textures, patterns, and colors with which to work.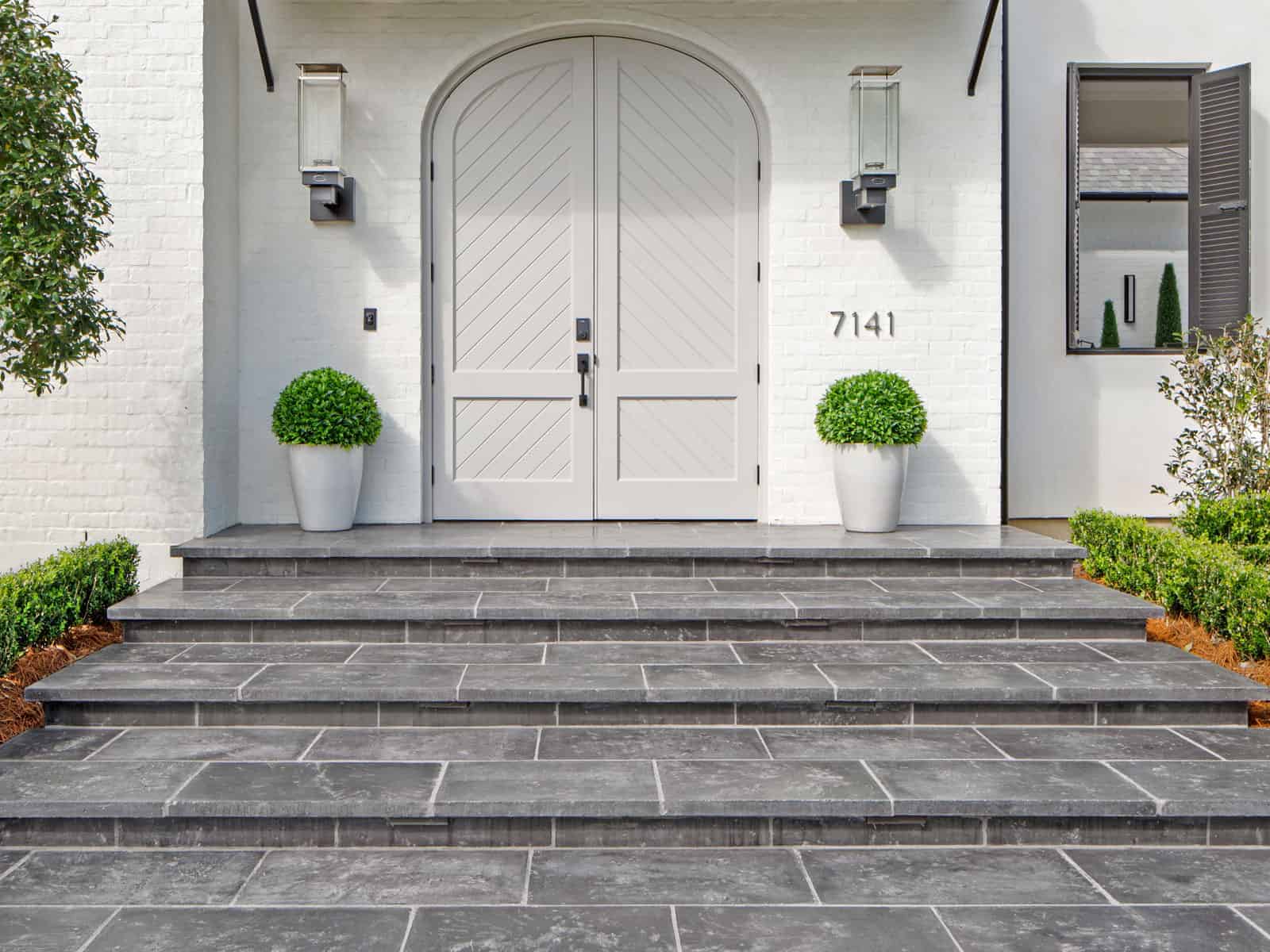 ---
---
PEACOCK PAVERS FOR NEW CONSTRUCTION
Available in 10 sizes up to 3'x 3′, our concrete pavers come in a variety of thickness and your choice of six colors or color-customized (minimum order 7000 SF) to your needs. Trim pieces are also available.
Paver Sizes
11 ½" x 11 ½"
11 ½" x 17 ½"
17 ½" x 23 ½"
17 ½" x 17 ½"
23 ½" x 23 ½"
17 ½" x 29 ½"
11 ½" x 29 ½"
11 ½" x 23 ½"
29 ½" x 29 ½"
35 ½" x 35 ½"
View Size Chart
Paver Weight
5/8″ thick pavers weigh 8 lbs per SF

1″ thick pavers weigh 13 lbs per SF

1 ¾ " thick pavers weigh 20 lbs per SF

3″ thick pavers weigh 36 lbs per SF

---
Popular Patterns
Standard Random

Alternative Random

Majestic

Majestic Butt Joint

Butt Joint
View More Patterns
---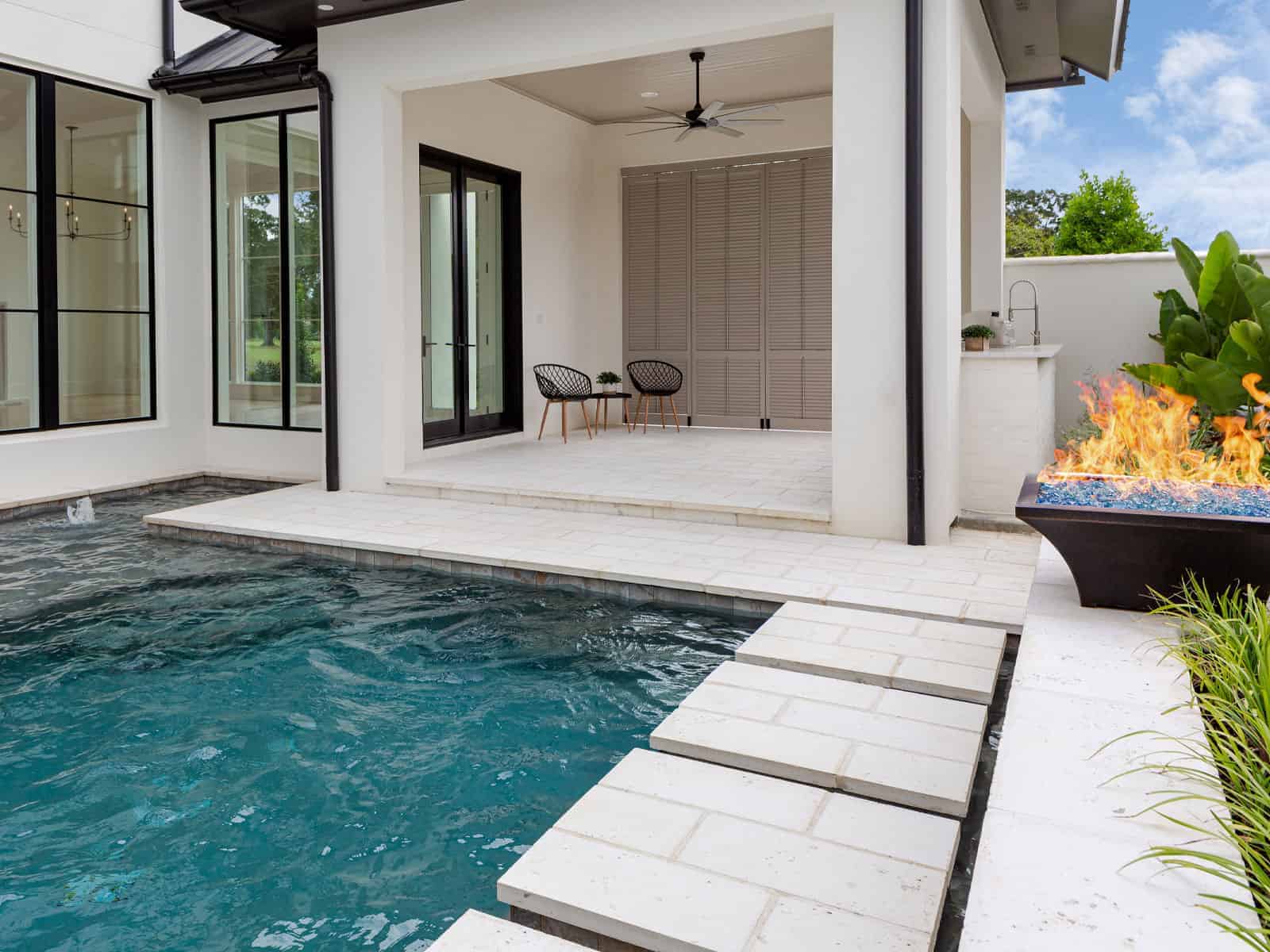 ---
---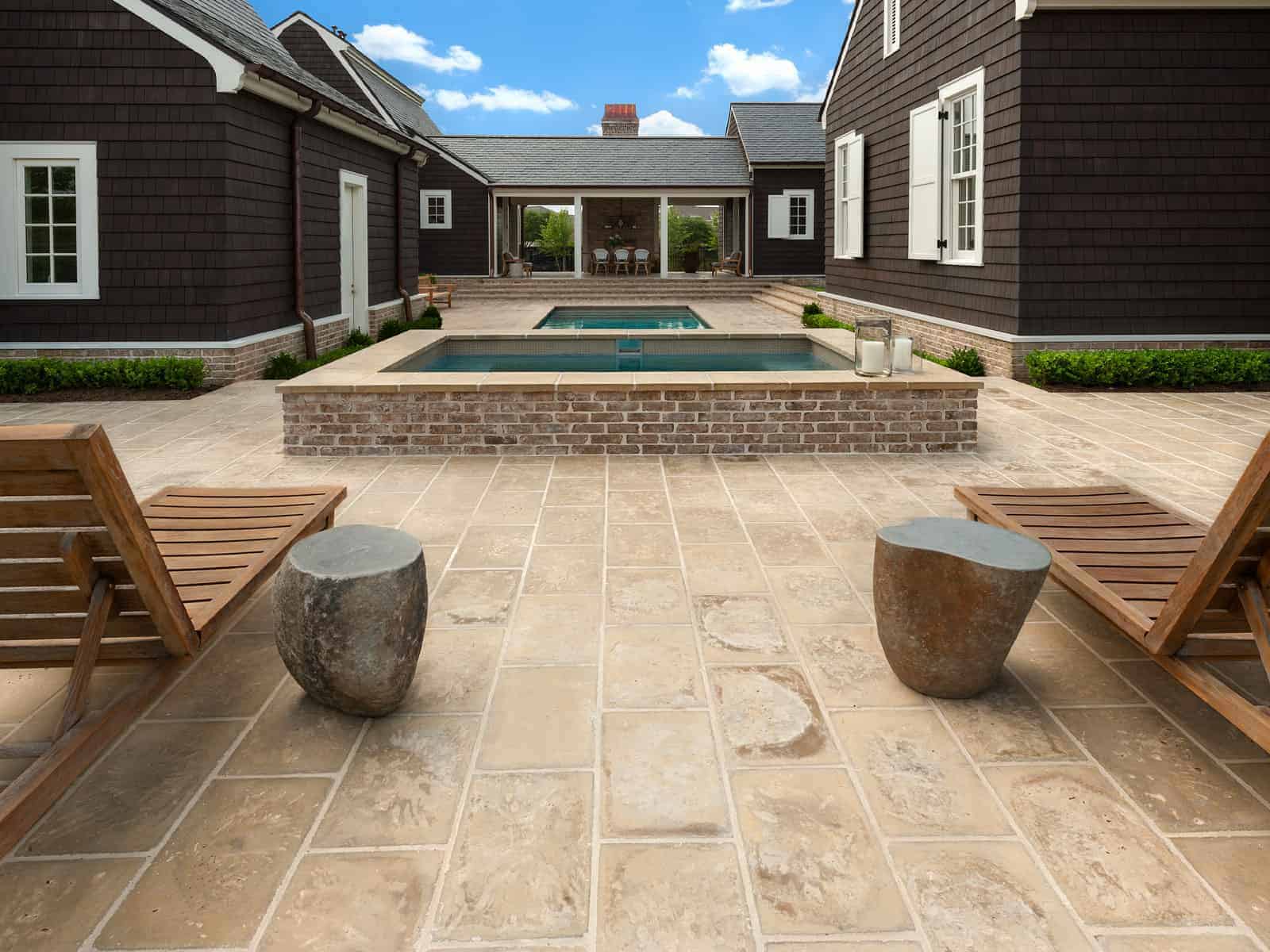 ---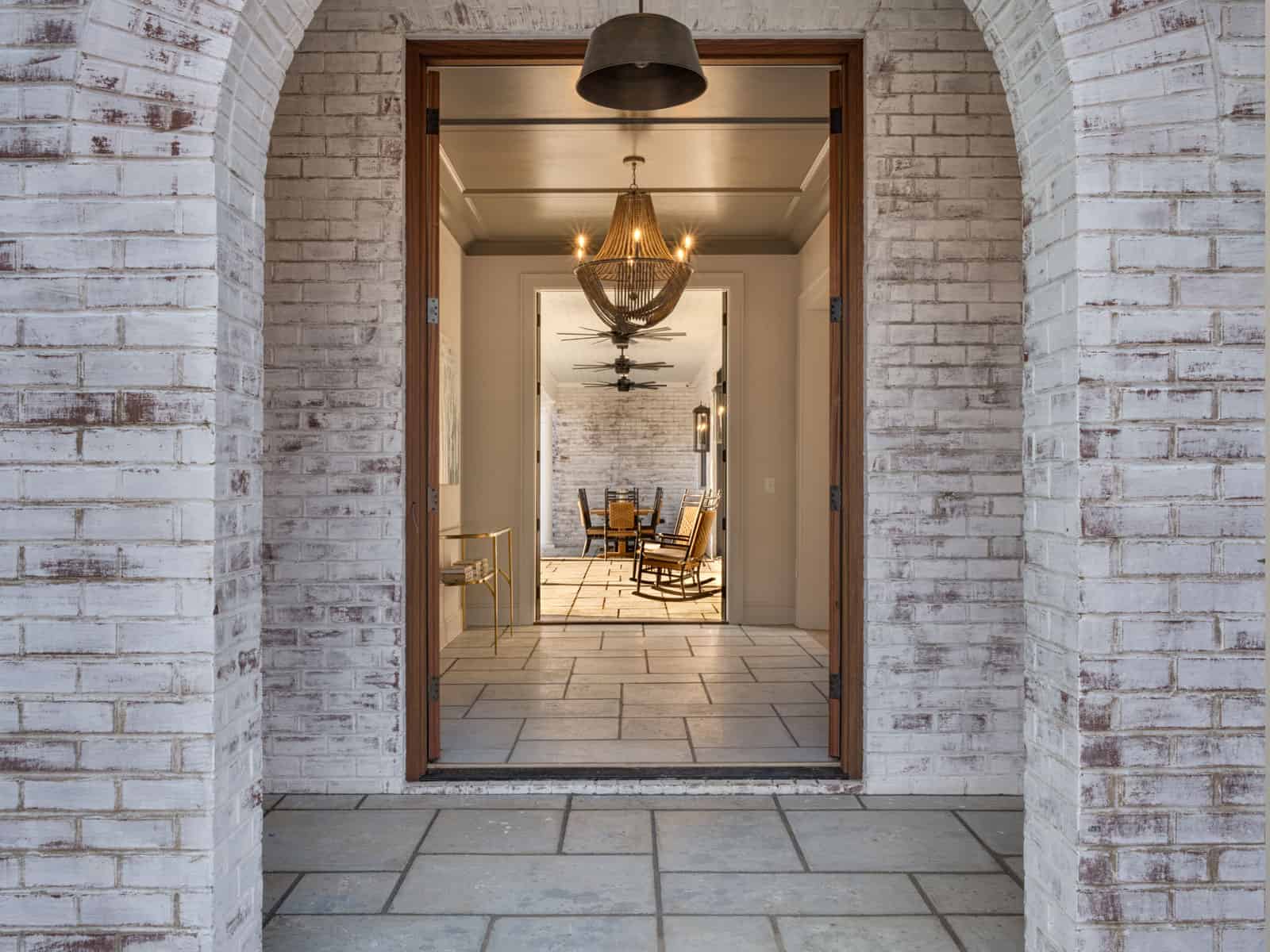 ---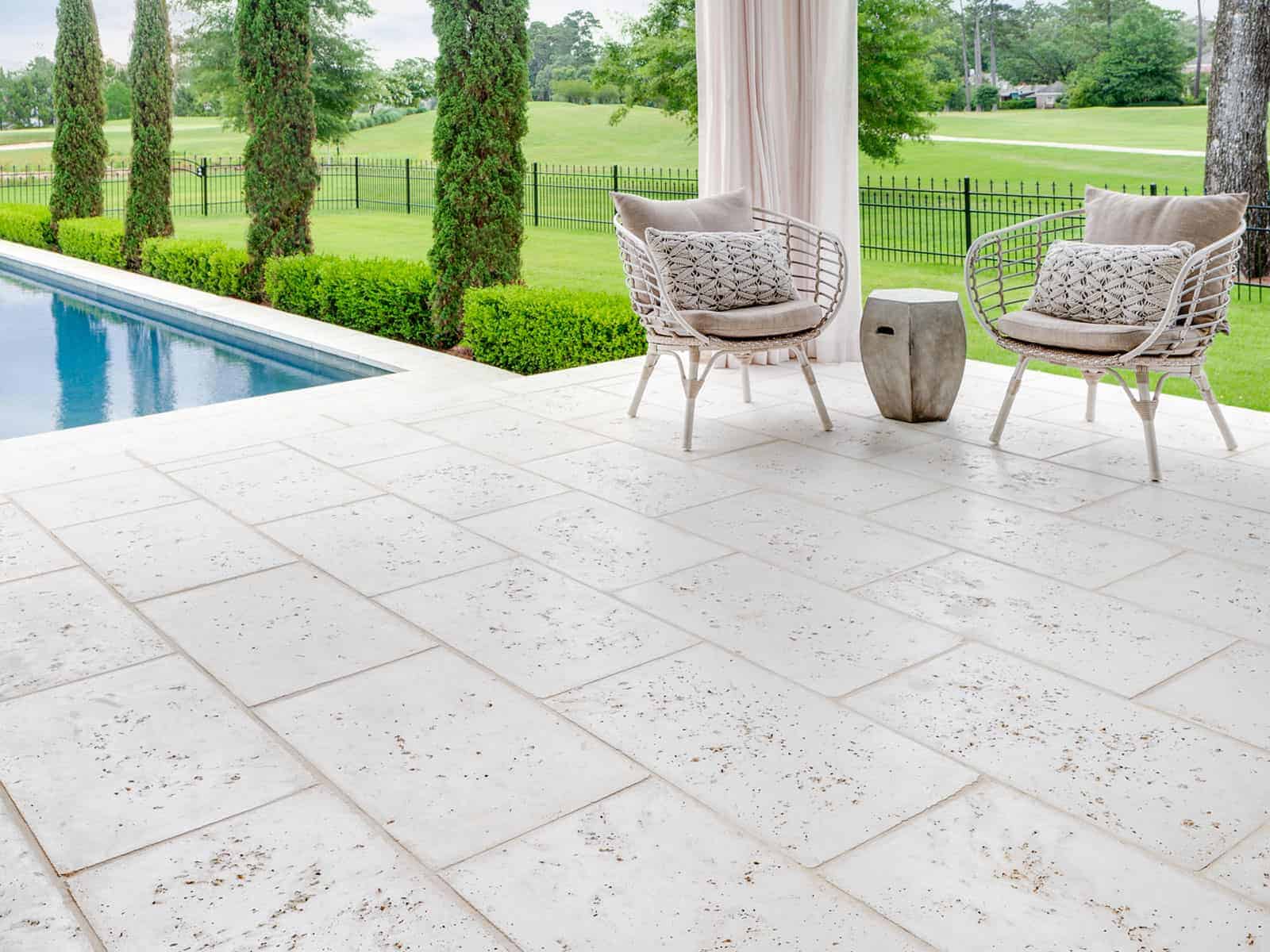 Why Choose Peacock Pavers?
Why do new construction homeowners, architects, and designers choose Peacock Pavers? Let's explore why Peacock Pavers stand out among other interior flooring and exterior hardscape options.
---
---
Handcrafted by Skilled Artisans
Each Peacock Paver is artisan-crafted with the highest levels of quality and care using a secret patented process. Every handcrafted paver is truly unique and features gorgeous irregularities in color and texture.
Unlimited Customization Options
With Peacock Pavers, you can easily mimic the look, feel, textures, and shades of travertine, slate, bluestone, and other natural stone types. But you're certainly not limited to those options. In addition to our standard color choices, like Rice White, Dolphin Grey, Oyster, Slate, Buff, and Champagne, we can mix hues in unlimited combinations to create a one-of-a-kind color perfect for your needs. The design and color opportunities become nearly endless when you factor in the many different choices of sizes and shapes available.
Environmentally Friendly
Because our pavers require less fuel to produce than hauling and cutting quarried stone, Peacock Pavers are a more eco-friendly building option than natural stone or other building materials. If you are seeking LEED certification for your new construction project, our pavers are an excellent choice for helping reach that goal.