HANDCRAFTED CONCRETE PAVERS
---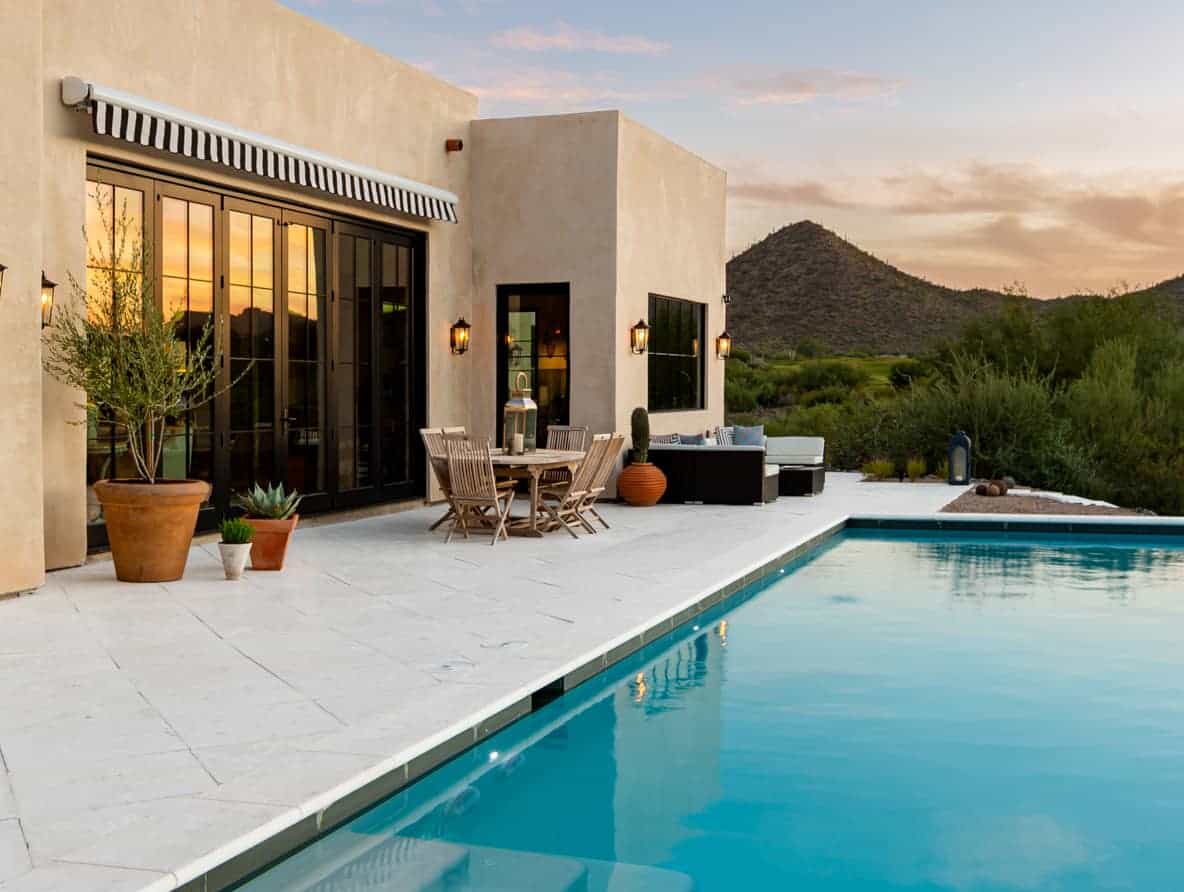 Peacock Pavers offers a variety of handcrafted concrete pavers for many different design applications — from interior flooring in new constructions and remodels, to exterior landscaping and driveway paving, and much more.
Are you remodeling your kitchen floor, installing a swimming pool in the backyard, or repaving your driveway? Our handcrafted, architectural-grade concrete pavers give the exquisite look of Old World elegance and luxury that you are looking for at a surprisingly affordable cost.
Order your concrete pavers today.

Interior Pavers
Learn more about incorporating our architectural concrete pavers into a new construction or remodeling project.
---
---
New Construction Pavers
Are you building a new home or adding on a room or patio? With concrete pavers by Peacock Pavers, you can add the timeless, "Old World" appearance of elegant natural stone pavers at a significantly more affordable price point.
Our 1" thick pavers are ideal for all kinds of interior new construction projects — from fireplace facings to interior flooring with grout, and so much more. Learn more about incorporating our architectural concrete pavers into a new construction project.
---
Remodeling Pavers
Whether you need paving for remodeling a single room or your entire home, our handcrafted concrete pavers provide timeless elegance in a variety of design options.
Specially designed for indoor use, our remodeling pavers are 5/8″ thick and made of architectural-grade concrete. Each paver is handcrafted by skilled artisans using a special proprietary process to give your remodel the look and feel of ancient stone without the expensive cost.
Learn more about using our concrete pavers for your next remodeling project.
---
Exterior Pavers
Architectural-grade concrete patio pavers are ideal for use in any type of hardscape or outdoor living space, including swimming pool decks, stepping stone walkways, dining patios, outdoor kitchens, fire pits, garden edging, water features, retaining walls, terraces, and more.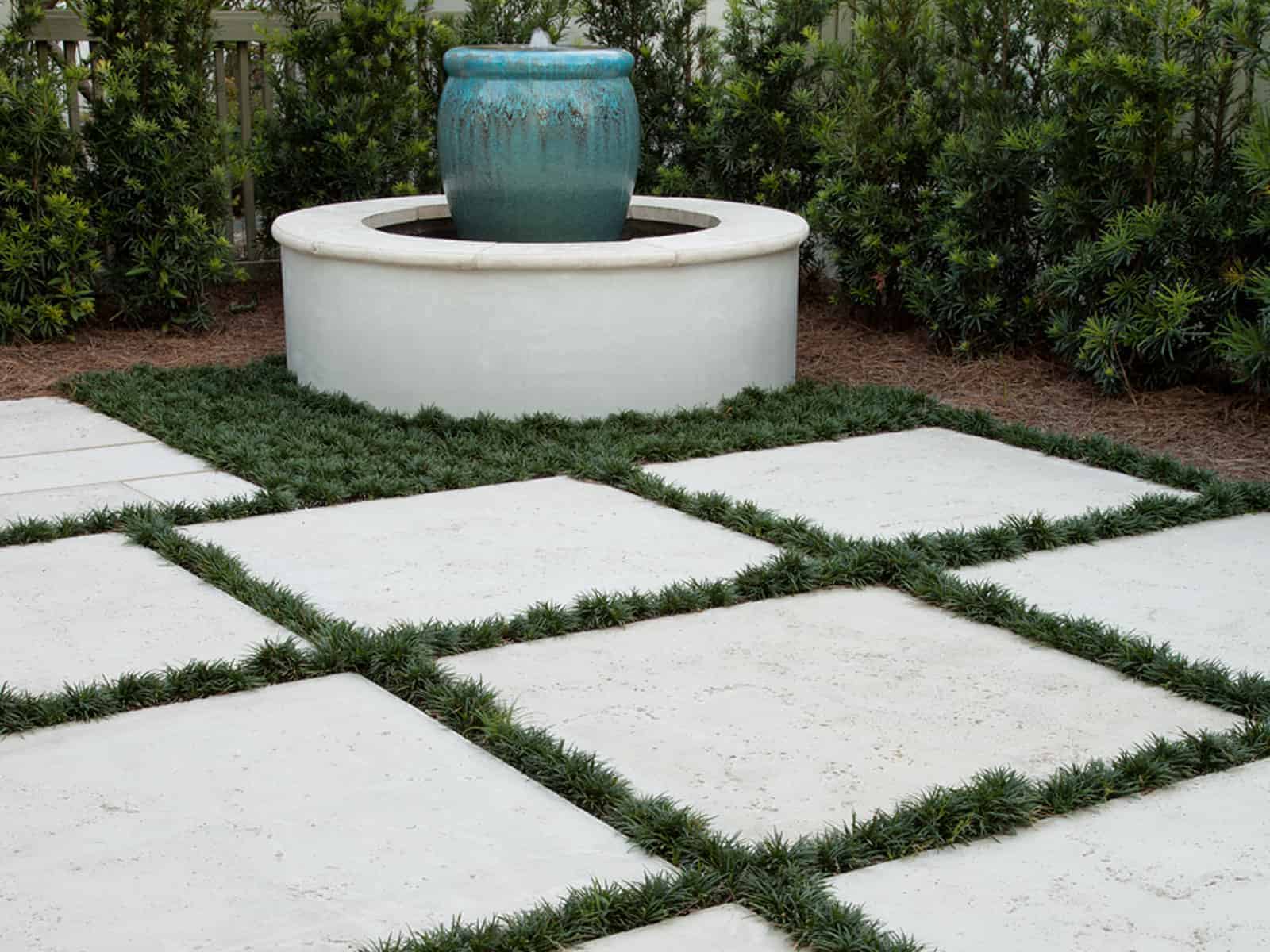 ---
Landscaping Pavers
Peacock Pavers open up a world of landscaping possibilities unmatched by other outdoor paving stone materials.
From whimsical stepping stone pathways to manicured garden hardscapes, concrete pavers offer versatile elegance while remaining cost-effective, low-maintenance, and durable enough to withstand freeze/thaw cycles. Learn more about using our handcrafted concrete landscaping pavers in your outdoor space.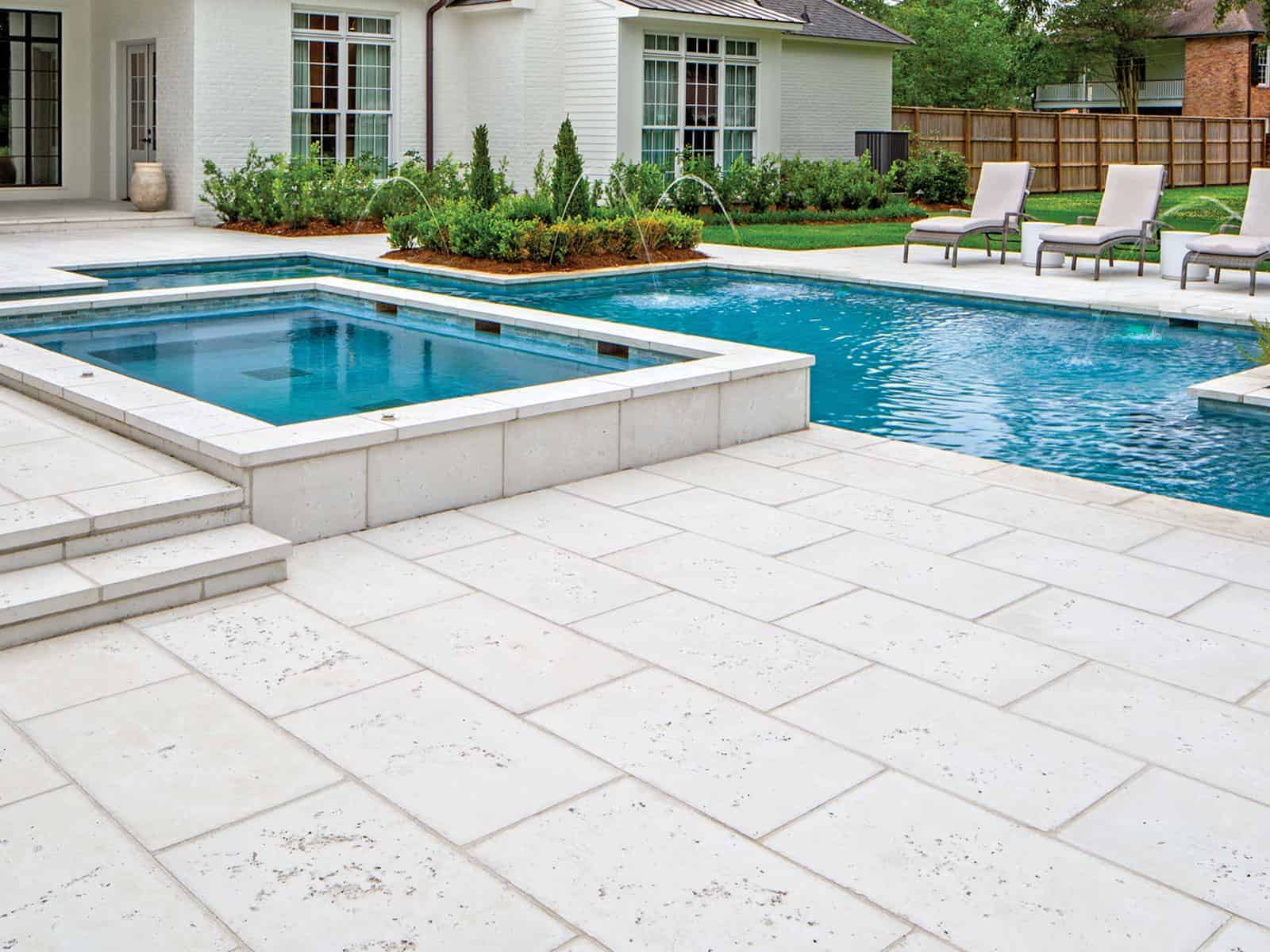 ---
Pool Pavers
Are you looking to elevate the aesthetics of your swimming pool or hot tub? Peacock Pavers offer the luxurious look and durability of natural stone pavers for your pool deck and pool coping — without the luxury price tag.
Learn more about outfitting your swimming pool or hot tub with our handcrafted concrete pool pavers.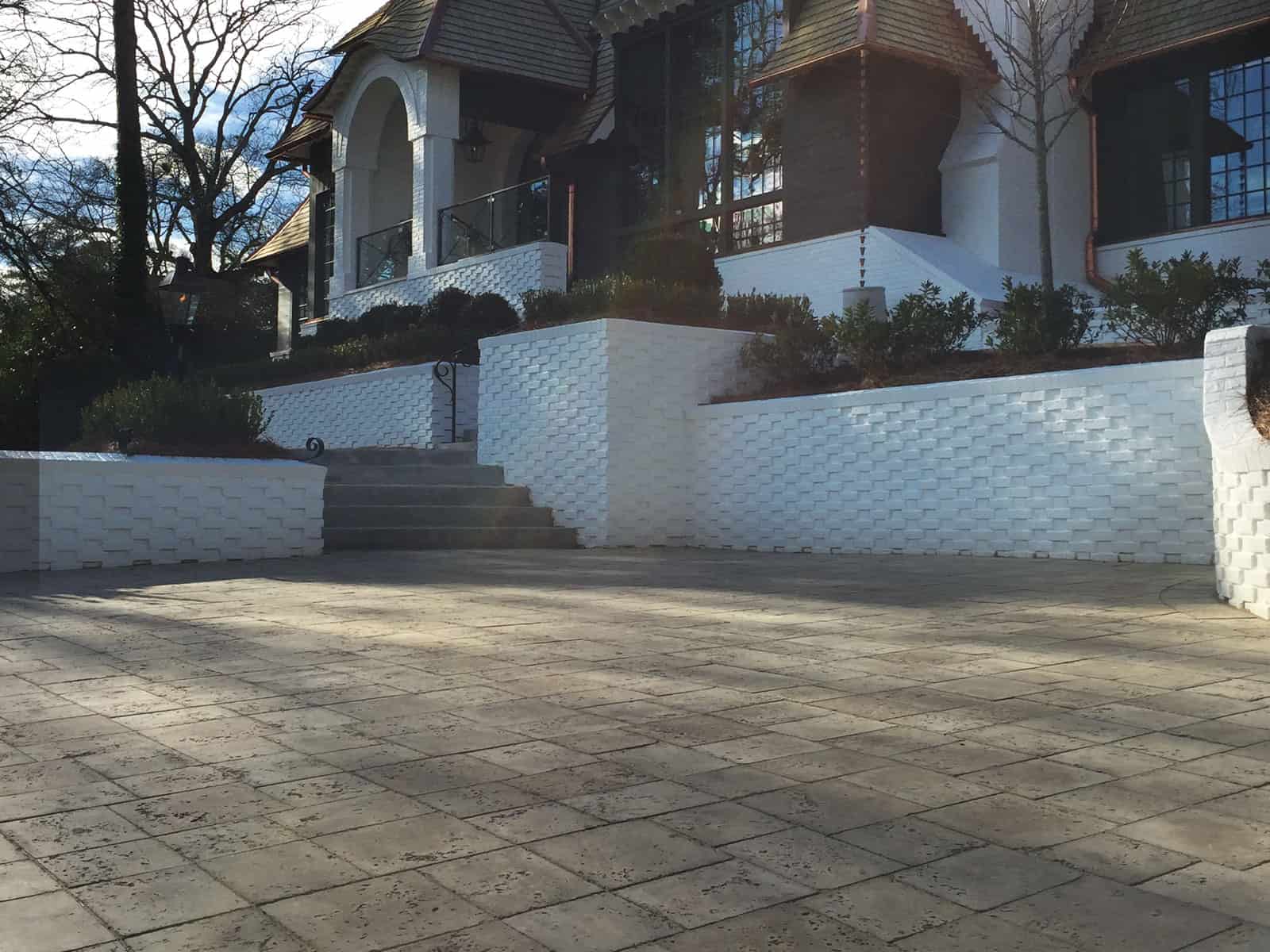 ---
Driveway Pavers
Our handcrafted interlocking concrete pavers replicate the natural look of Old World cobblestone to add elegance to your home's curb appeal with remarkable durability.
Unlike driveways made from a poured concrete slab, Peacock Pavers' interlocking pavers for driveways are durable, low-maintenance, and resistant to cracks and damage caused by freeze/thaw cycles. Learn more about our concrete "cobble"-style paver driveways.
Concrete Paver Colors
As beautiful as natural stone!
---
Rice White
---
---
Champagne
---
---
Dolphin Grey
---
---
Buff
---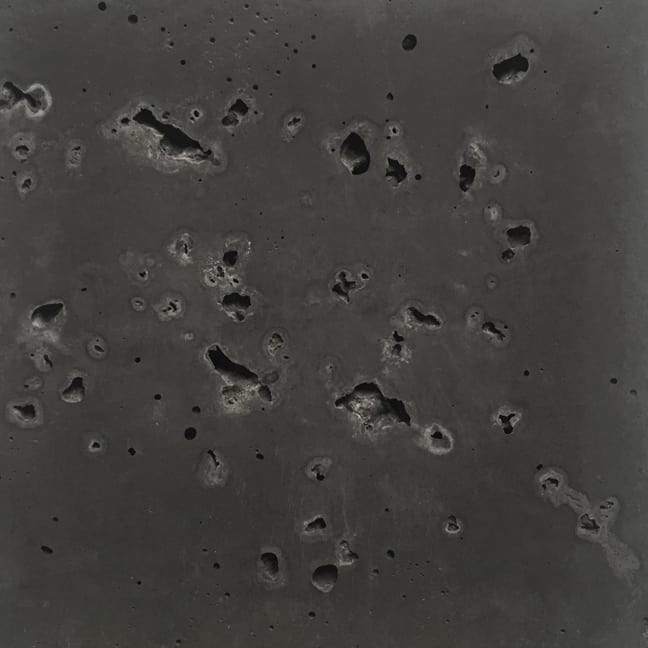 ---
Slate
---
---
Oyster Shell
---
Learn More About Paver Colors
---
Please note that texture and color variations are natural characteristics of our handcrafted pavers. Single samples are REPRESENTATIVE of the color and texture but do not assure IDENTICAL hue or texture in all pavers.
The colors seen on this site may not accurately reflect Peacock Paver colors due to variations in individual computer monitors. To confirm your color choice, please order our sample kit.
Paver Shapes & Patterns
Peacock Pavers come in several different shapes that work with a variety of eye-catching laying patterns.
Paver Sizes
Our handcrafted concrete pavers come in four thicknesses and a wide range of sizes.
1" thick pavers are perfect for new construction and exterior projects.
5/8" thick pavers work well for remodeling existing interior spaces.
1 ¾" thick pavers are perfect for landscaping projects.
3" thick pavers perform well under heavy weight, making them ideal for driveways.
Paver Trim
Give your concrete paver patio, swimming pool, or interior floor the perfect finish with our paver trim pieces. We have coping, stair treads, base molding, wall caps, mantles, and thresholds — all available in a wide range of sizes and colors to suit your needs.
---
Door thresholds
Concrete Coping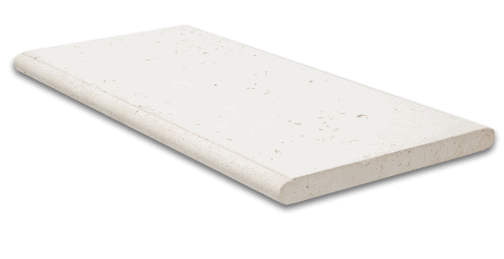 Base Molding
Brick Coping
Why Choose Concrete Pavers?
---
---
---
---
Concrete Pavers Are Affordable
Our handcrafted concrete pavers accurately replicate the ancient texture and beauty of Old World stone, but at a fraction of the cost of natural stone.
Best of all, the results are stunningly realistic, which means you can emulate the look of luxury without the hefty price tag — and no one but you will be any the wiser.
Concrete Pavers Are Versatile
Unlike natural stone pavers, our concrete pavers are fully customizable during the manufacturing process, which gives you a lot of design versatility.
Peacock Pavers come in six different colors — buff, dolphin grey, champagne, rice white, oyster shell, slate — and you can also request custom colors. Our pavers also come in a variety of sizes and shapes, including rectangle, square, hexagon, picket, and chevron. Depending on the shapes you choose, pavers can be laid in traditional or random patterns, as well as custom geometric patterns. With so many exciting design possibilities, you don't have to worry about compromising your creative vision.
---
---
---
Our Concrete Pavers are Handcrafted
Each Peacock Paver is handcrafted by a skilled artisan using our patent-pending secret process.
Using a unique rendering process, we infuse each paver with subtleties of texture and color that evoke the look of ancient crosscut stone. This means that, just like natural stone, each paver piece has its own unique hues and textures, all while remaining visually cohesive with the other pavers in the same color group.
---
Concrete Pavers are Eco-Friendly
While Peacock Pavers are as beautiful as natural stone, they are also more friendly to the environment. The process of quarrying stone consumes excessive amounts of oil, as does shipping the stone from places halfway around the world. Peacock Pavers, on the other hand, require considerably less energy to produce and transport.
It's also important to note that concrete is a recyclable material that contains no petroleum. As a result, our pavers qualify for certification under many LEED projects, making Peacock Pavers the perfect choice for building green.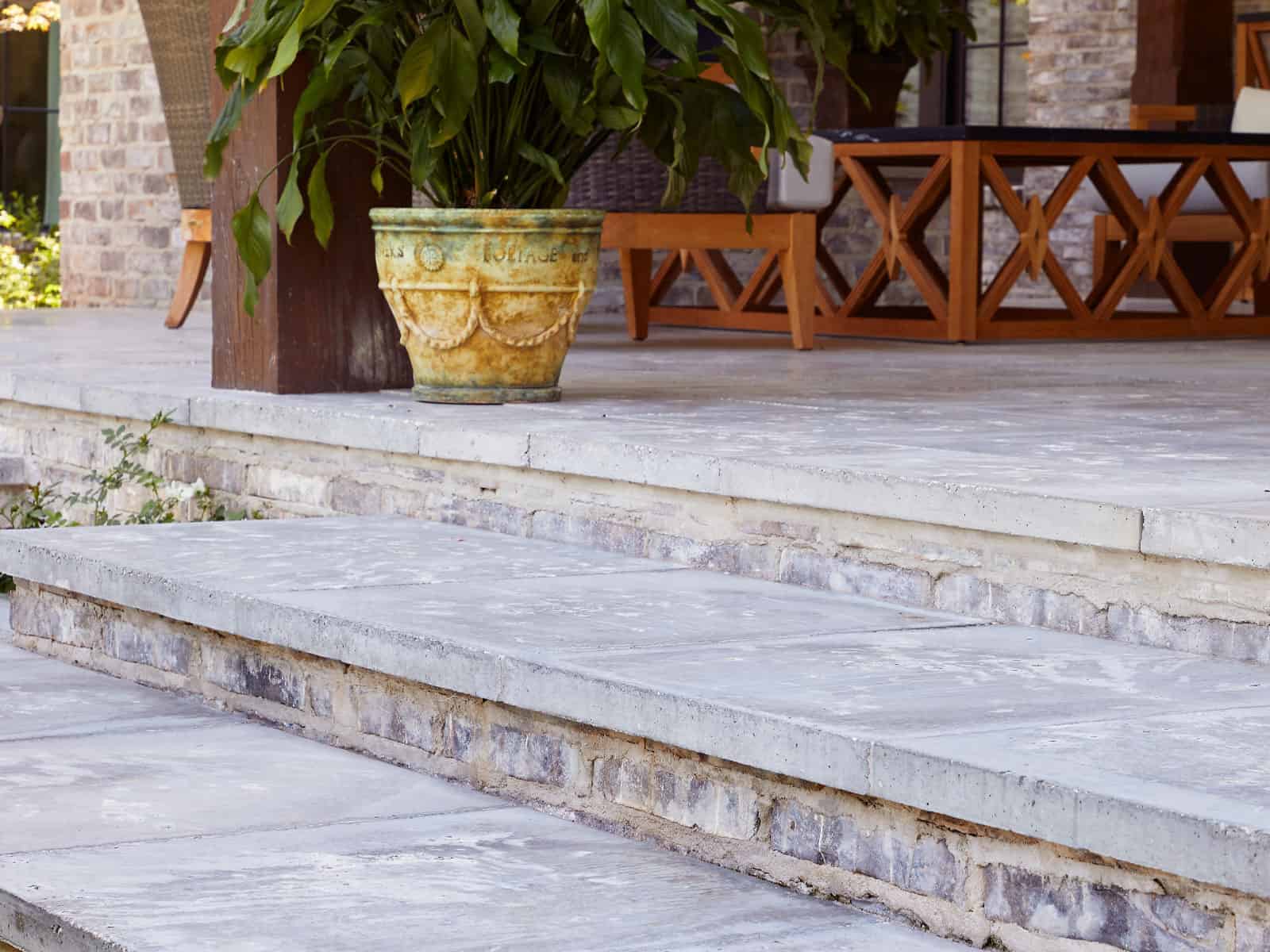 ---