LANDSCAPING PAVERS
---
Get the "natural stone" look for less with our landscaping pavers.
Looking to add the "Old World" beauty and elegance of natural paving stones to your next hardscaping or garden design project?
At Peacock Pavers, our handcrafted landscaping pavers are specially designed and manufactured to give outdoor spaces the natural look and strength of natural stone pavers without the premium price tag. Our patio pavers are mixed and molded by the hands of skilled artisans, who use high-quality, architectural-grade concrete to ensure optimal strength and longevity. The resulting paving material is durable, low-maintenance, and resistant to cracks and damage caused by freeze/thaw cycles, unlike poured concrete slabs.
We use a special rendering process to infuse each handcrafted paver with subtle textures and colors that evoke the look of ancient crosscut stone. As a result, each individual concrete patio stone that we craft has its own unique characteristics that vary slightly from the others in the same batch.
Versatile Pavers for Hardscapes & Other Outdoor Spaces
The resilient qualities of architectural concrete pavers make them ideal for use in any type of outdoor living space or hardscape project, including dining patios, outdoor kitchens, swimming pool decks, stepping stone walkways, fire pits, terraces, garden edging, water features, and even retaining walls. Looking to improve the curb appeal of your front yard or bland concrete slab driveway? Landscaping pavers can also be matched with our cobblestone-style interlocking pavers or non-textured driveway pavers, creating seamless design possibilities between patios, cobble driveways, and other hardscapes.
Best of all, concrete patio pavers are far more affordable than their natural stone counterparts, like bluestone, travertine, granite, and flagstone. This means you can enjoy the coveted "natural stone look" of your landscaping while also saving money in the long run.
Concrete Paver Colors, Shapes, & Sizes for Landscape Design
This customizability of our Pavers opens up a world of landscaping project ideas and possibilities unmatched by natural stone. Our concrete pavers come in a variety of colors — buff, dolphin grey, champagne, rice white, oyster, and slate — and we can mix custom paver colors to accommodate specific design needs (7,000 square foot minimum order).
Our patio pavers are also available in a range of shapes and sizes that can be mixed and matched. Our large format concrete pavers are especially popular for landscape architects and homeowners seeking to make a bold, contemporary statement with their paver patio. These big landscaping pavers come in various sizes — as large as 30″ x 30″ and as thick as 3″.
Need landscaping pavers for an outdoor living space?
The Pavers are a durable, versatile, and affordable hardscaping alternative to natural stone pavers like bluestone, granite, and flagstone. With simple, speedy paver installation, it won't be long before you find yourself relaxing on your new backyard patio — a glass of iced tea in one hand and warm sun rays shining down through a dreamy pergola over your head.
Order Your Landscaping Pavers Today
Ready to get started? Want to discuss concrete paver design ideas? Request a quote, order a sample kit, or call Peacock Pavers today at 800.264.2072 to learn more about ordering concrete pavers for your next landscaping project.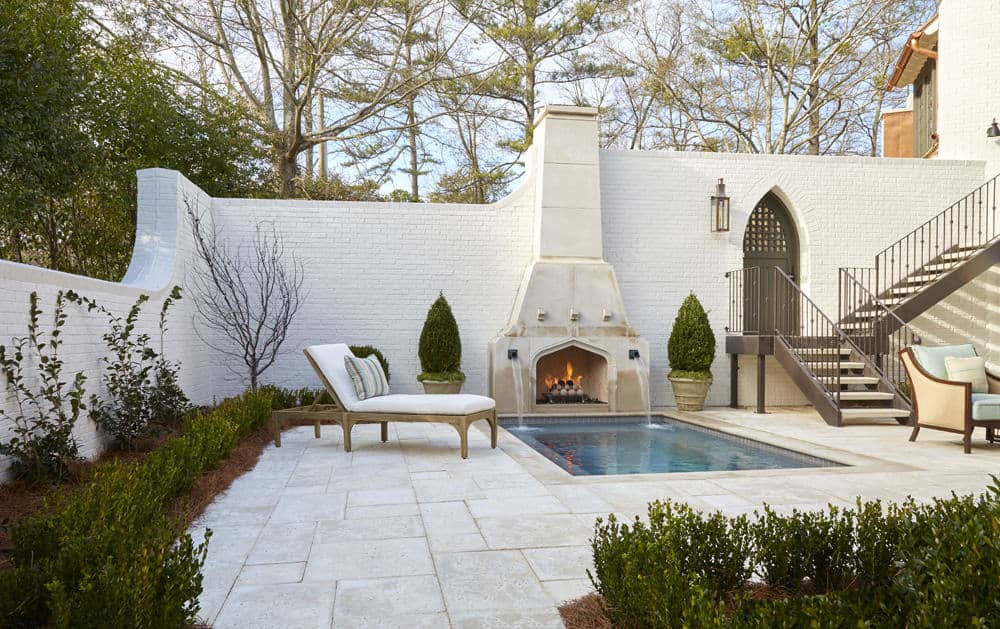 ---
---
LANDSCAPING PAVERS
Our landscaping pavers come in a variety of colors, shapes, thicknesses, as well as ten sizing options up to 3′ x 3′. All sizes are ½" short of true measure to allow for grout.

Concrete Paver Sizes
11 ½" x 11 ½"
11 ½" x 17 ½"
17 ½" x 23 ½"
17 ½" x 17 ½"
23 ½" x 23 ½"
17 ½" x 29 ½"
11 ½" x 29 ½"
11 ½" x 23 ½"
29 ½" x 29 ½"
35 ½" x 35 ½"
Concrete Paver Weight
1 ¾" thick pavers weigh
20 lbs per SF
---
Concrete Paver Trim Options
Coping
Bullnose
Stair Treads
Base Molding
Wall Caps
Thresholds
Learn More
---
Popular Concrete Paver Patterns