One of the great things about concrete pavers is that they allow you to achieve the aesthetic natural stone look you've been dreaming about — without breaking the bank. This couldn't be more true than with the recent design trend of using large concrete pavers in interior and exterior design. Large slabs of natural stone and natural paving stones can be pricey, but with architectural-grade concrete, you can get the perfectly imperfect beauty of natural stone pavers without paying an arm and a leg.
Are you looking for large concrete pavers for your next hardscaping or interior design project? Peacock Pavers offers a variety of paver sizes, including larger sizes measuring up to 3 feet. We love working with clients to achieve their vision, so here are six tips we'd like to share for designing with large concrete pavers:
1. Get creative with how you space and fill your large concrete paver joints.
There are many different kinds of materials you can use to fill the joints of large concrete pavers. We love the way this pool deck (above) uses grass to serve as a bold contrast against the large white concrete pavers. The grey pebble gravel used in the paver patio pictured below is another fantastic joint filling option: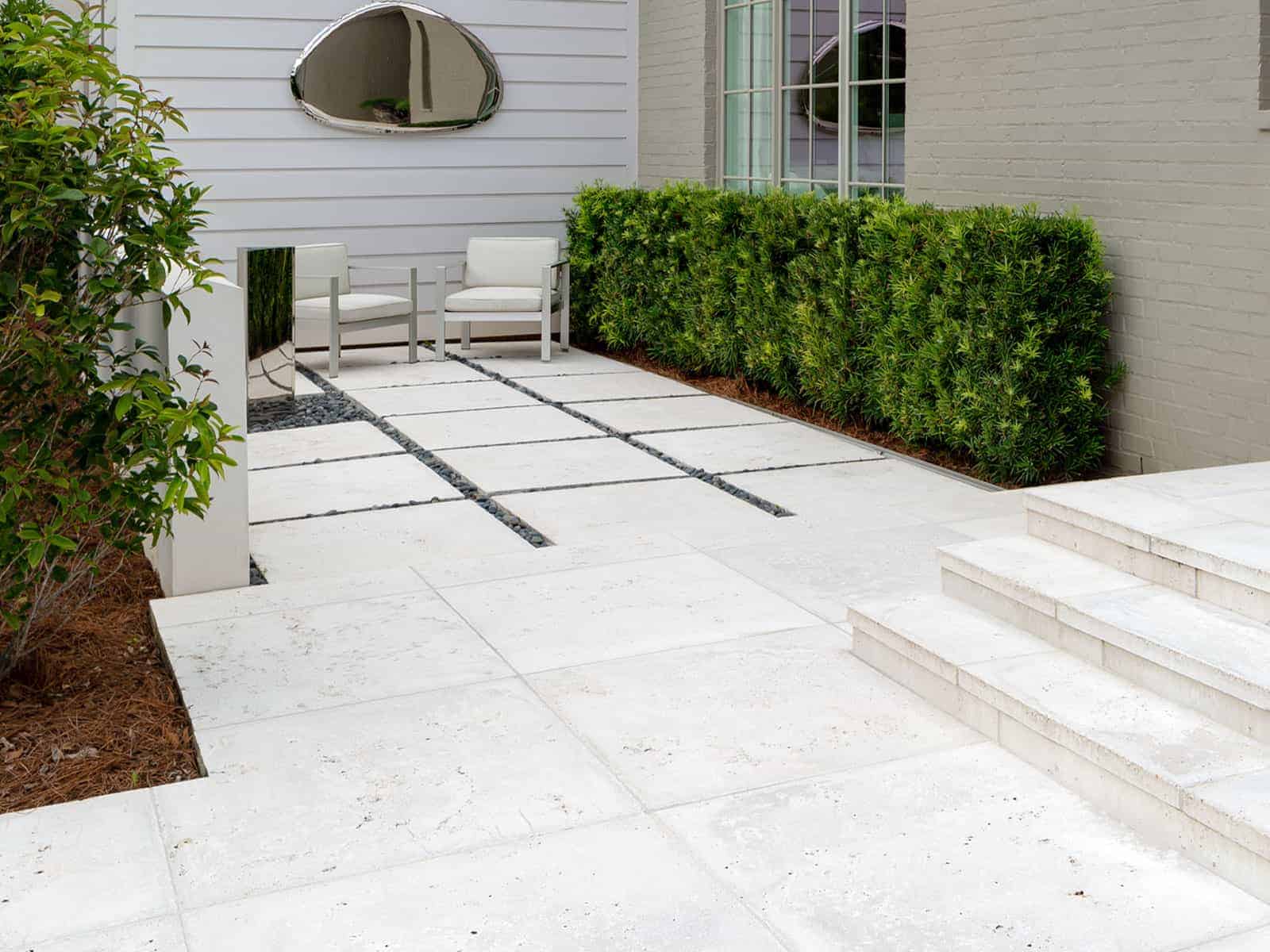 Another thing to consider is how much space you leave between the pavers. Thoughtful negative space between concrete pavers can add a lot of visual interest, like with this modern hardscape's arrangement of paver stepping stones:
2. Mixing concrete paver sizes gives you the best of both worlds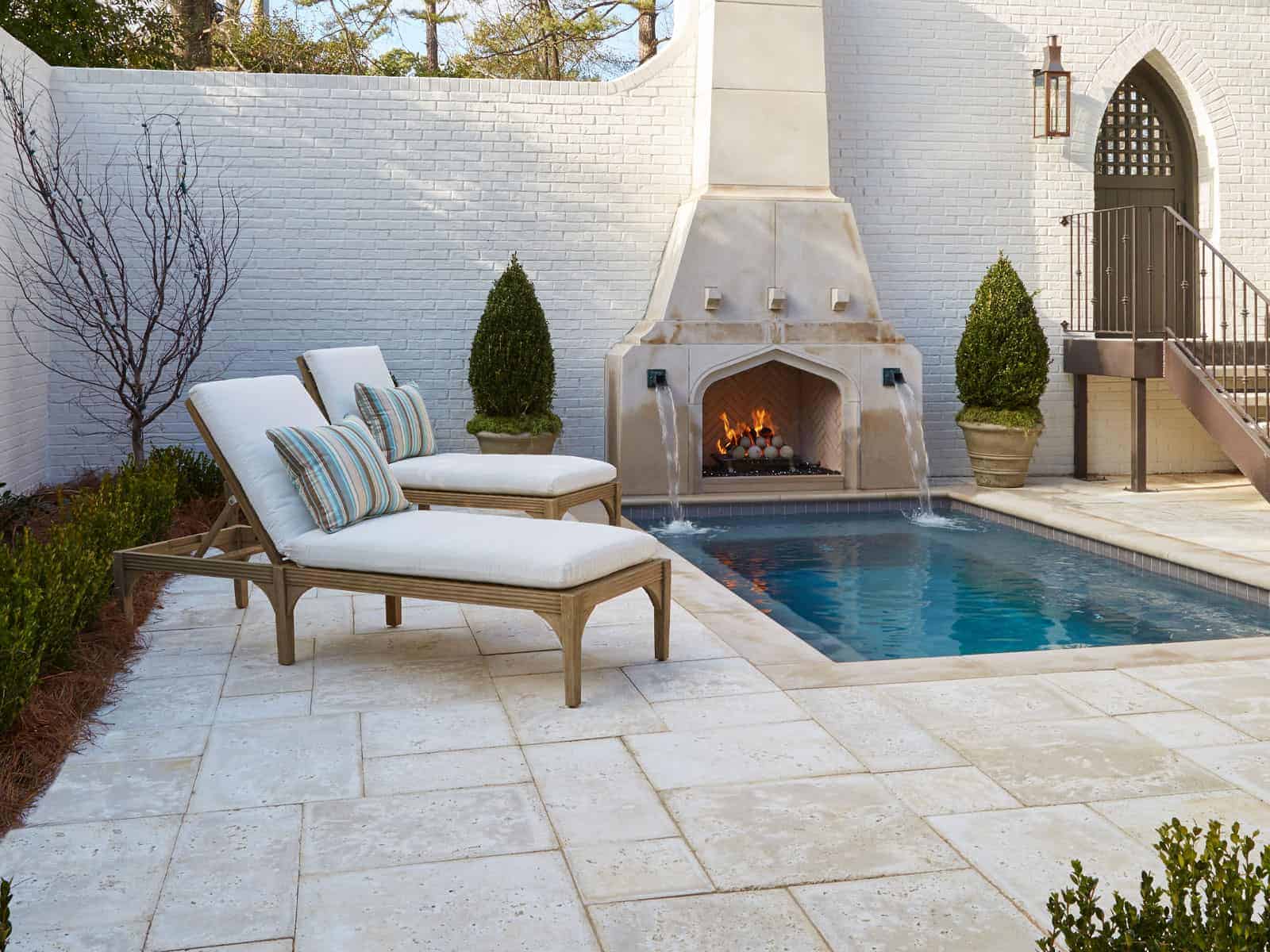 The great thing about concrete pavers is they come in many different sizes, which means you can really get creative with your space. We love seeing our large format concrete patio pavers mixed in a pattern with regular-sized pavers:
We also love the way regular-sized "Rice White" rectangular concrete pavers and edging are used throughout the luxurious outdoor living space pictured below. The hardscape designer added a little something extra to the side yard by installing large format rectangular pavers punctuated by lush green grass: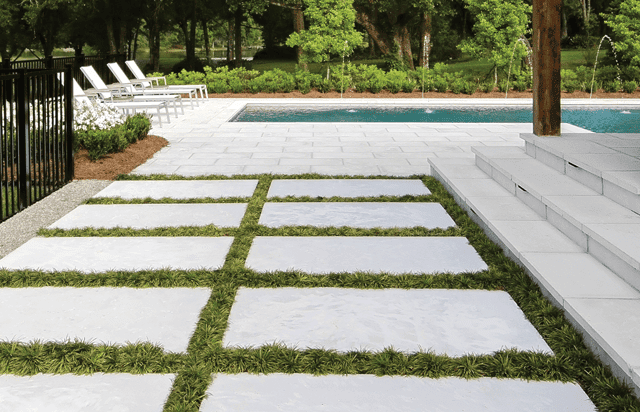 Another great example of this concrete patio design trend is this hardscape that pairs large square concrete pavers with smaller red brick pavers as edging in a diagonal stacked bond pattern:
3. Don't be afraid to mix concrete paver colors
In this outdoor dining patio, the homeowner used 36-inch square concrete pavers arranged in a diagonal stacked bond pattern with an alternating color scheme featuring Peacock Pavers' "Slate" and "Dolphin Grey" colors.
4. Get the illusion of large concrete pavers with smaller pavers presented together
We've also seen our customers use multiple smaller pavers to create the visual of one large paver. If you look closely at the entryway area above, you'll notice that these large paver stepping stones are actually multiple smaller rectangular concrete pavers that are arranged as a single piece using a running bond pattern. We see a similar approach in this pool deck's paver islands:
5. Make a statement indoors with large concrete pavers.
Large concrete pavers aren't just for outdoor spaces! They also look amazing in interior spaces, too. This gorgeous modern eat-in kitchen uses large format concrete pavers in Peacock Pavers' popular "Rice White" color. The handcrafted texture of the concrete paver flooring adds a pleasing depth to the sleek, smooth surfaces of the kitchen's countertops, chairs, fixtures, and appliances. You might think they're stone pavers at first, but nope — they are 100% architectural-grade concrete!
6. Always work with a professional to install large concrete pavers.
Our final tip for designing with large concrete pavers? Always work with professional concrete paver manufacturers, like Peacock Pavers, and expert contractors who know how to properly lay, grout, and seal your concrete paver surface. Unless you're a professional yourself, we do not recommend going the DIY route. This will help ensure that your pavers stand the test of time.
Where to Find Large Concrete Pavers
Ready to bring the bold look of large concrete pavers to your patio, garden, outdoor kitchen, pool deck, or interior space? Peacock Pavers are low-maintenance, cost-effective, and come in a wide variety of colors, shapes, and sizes to suit your interior design or landscape design needs. Peacock Paver's concrete pavers are perfect for your next design project, contact our team, or call us today at 800.264.2072. and we'll send you a quote.