When creating beautiful outdoor spaces, landscape designers and architects are only limited by their own imaginations and their choice of materials. As it turns out, concrete pavers are extremely useful and versatile – not to mention affordable – in creating beautiful paver patios and other outdoor features. At Peacock Pavers, we delight in seeing how architects, contractors, and designers use our products in their paver patios.
If you are looking for some inspiration of your own, take a peek at some of the designs we've showcased to demonstrate how versatile a concrete paver really can be.
The Perfect Patio Paver Design Ideas
Let's take a closer look now at some real-world inspiration to spark your creative juices.
White Pavers in a Shaded Alcove
Curl up with a coffee or cocktail: These oyster pavers in a random pattern help add to the quiet appeal of this outdoor alcove. The pavers complement the white brick pillars while contrasting gracefully with the wood beam pergola above. Iron and wood furnishings are equally attractive in the space.
An Outdoor Living Paradise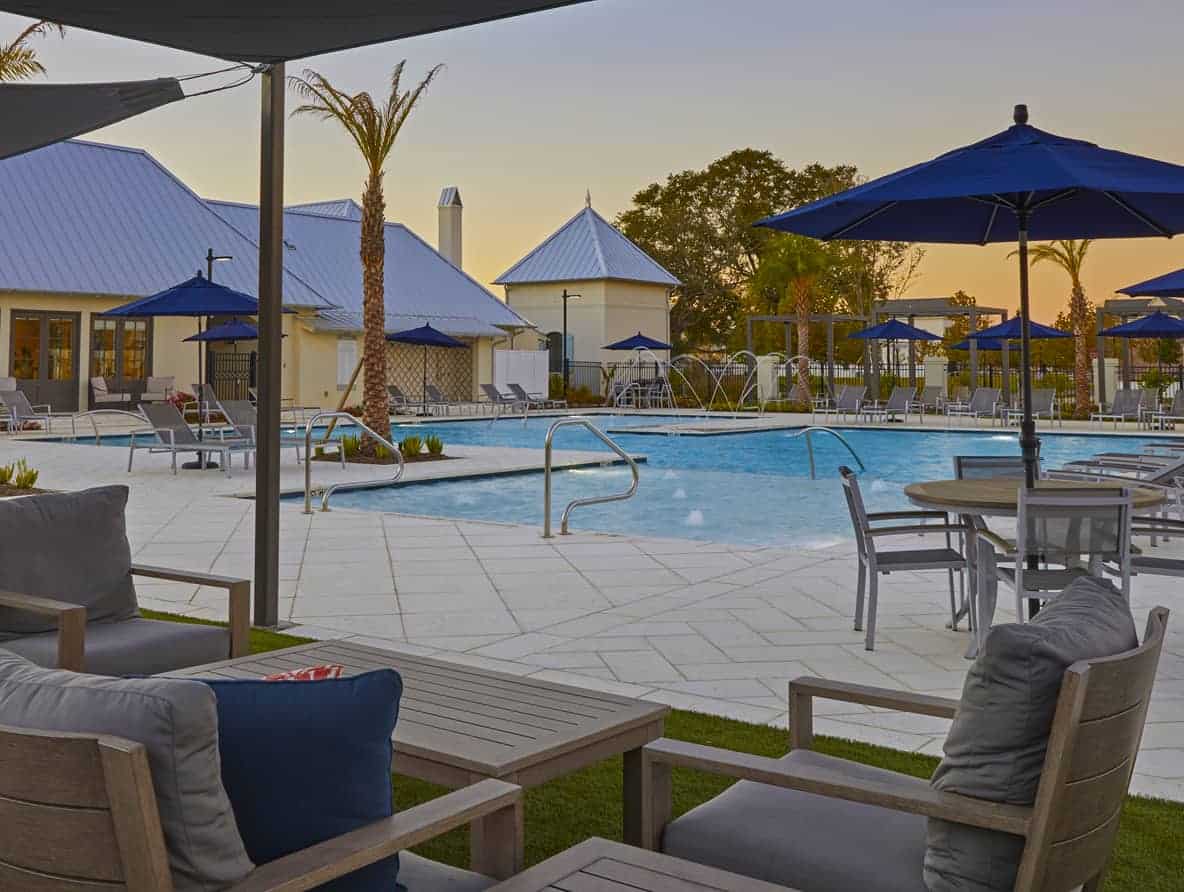 Enjoy elegance. This dolphin grey paver patio provides a lovely floor for this enticing outdoor living area. See how the grey easily ties together the dark wicker sectional, white cushions, and glass top for the coffee table, creating an outdoor space that is as easy on the soul as it is on the eyes.
Playing with Light and Shadow
Soak in the sun. These large oyster color pavers set in a running bond pattern seem to perfectly offset the shadows cast by the rails with the evening sun on this beautiful elevated patio. With the shadows and patterns, and the glimpse of the scenery beyond, this deck is a feast for the eyes.
A Seamless Indoor/Outdoor Transition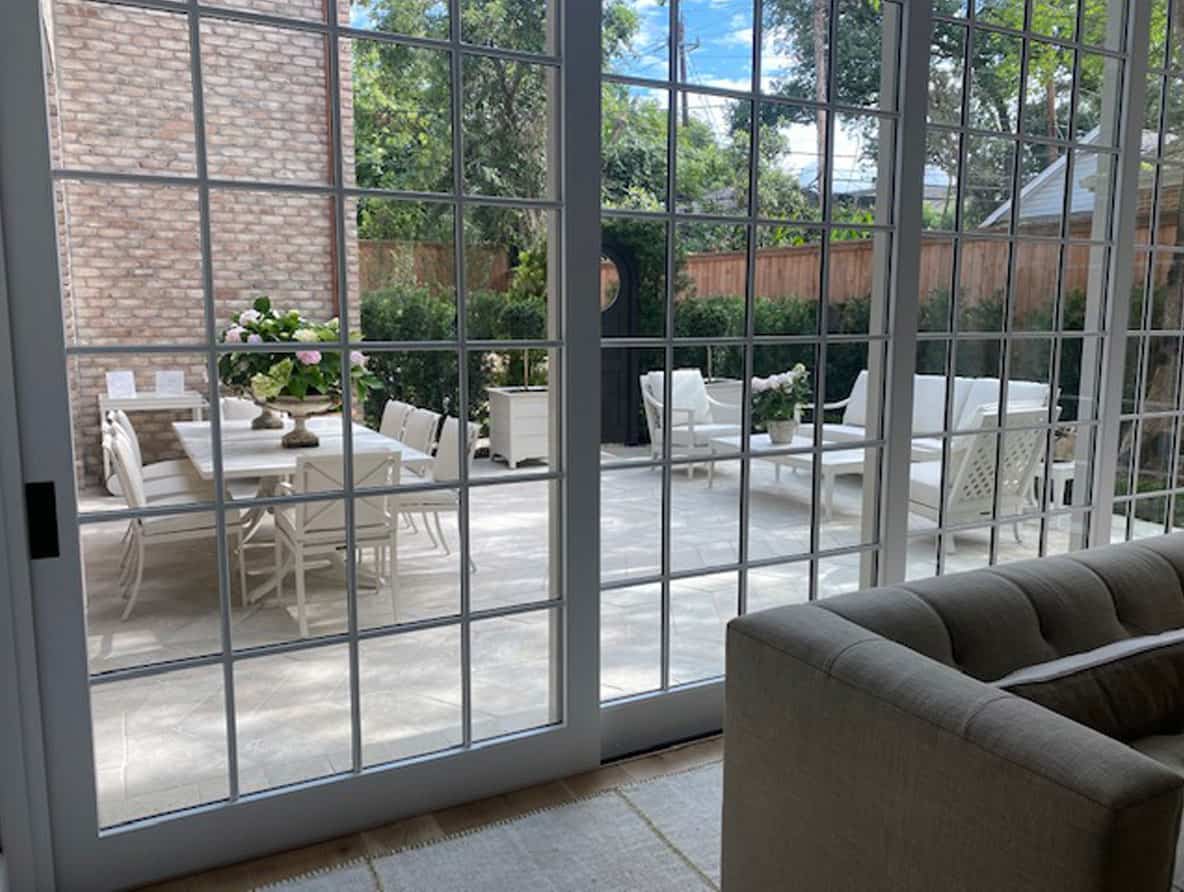 Step on through. Oyster concrete pavers perfectly tie together this interior room with the outdoor living space beyond – all while emulating the elegant look of natural travertine stone. It's a perfect example of how concrete pavers can create a seamless transition between indoors and outdoors, effectively extending the usable living space.
Elegance and Grandeur
Select a stately look. In this example, we see how versatile concrete pavers can be. The architect has used these custom-colored pavers to tie together the entire rear living area of this majestic house – including two outdoor patio spaces, a pool deck, a paver walkway, and even the steps leading to the lush green lawn below.
Creativity, Beauty, and Contrast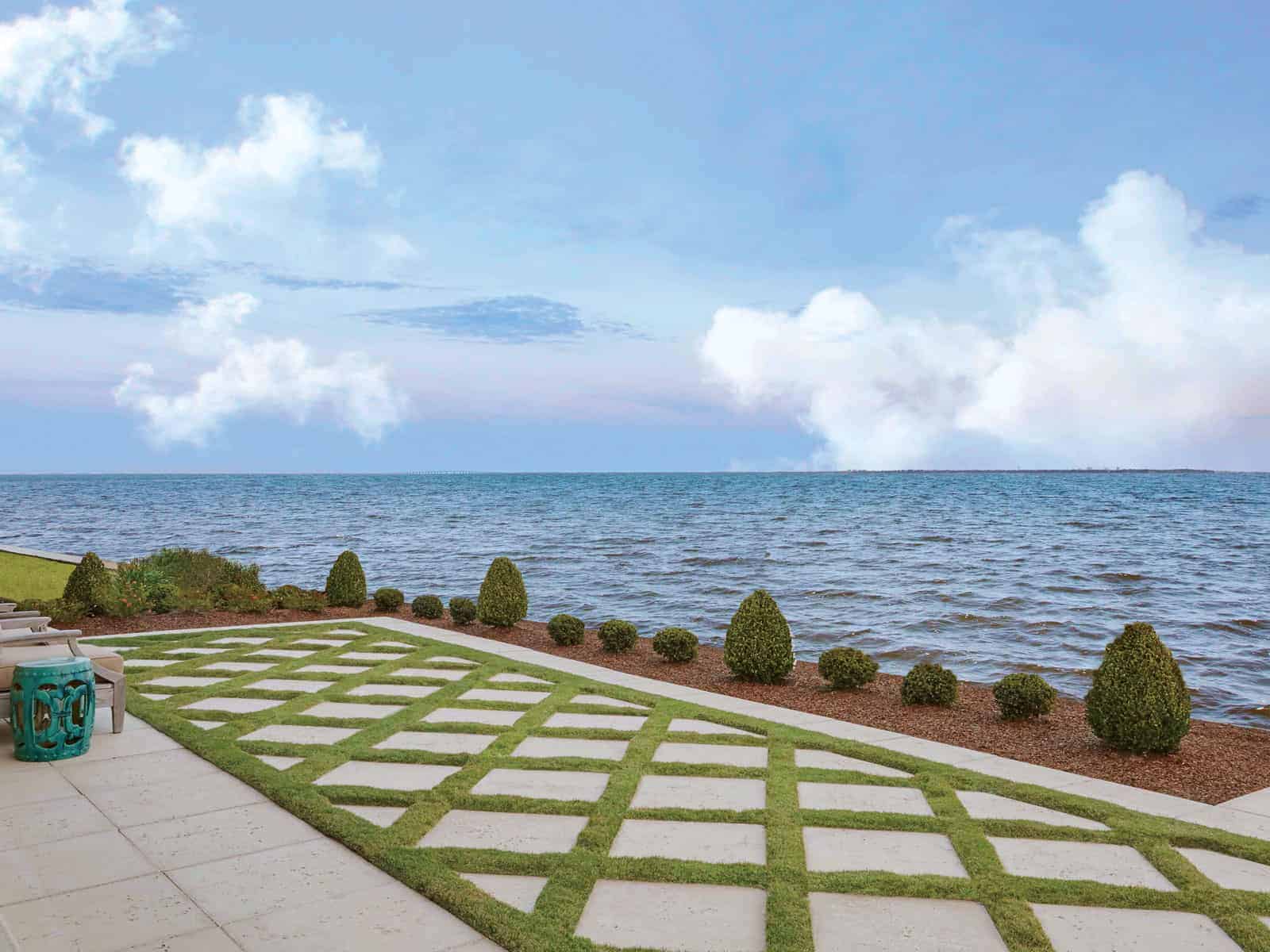 Relax and unwind. Sometimes the unexpected can create a dramatic effect. Note the use of grass-sod joints to connect these large-format champagne pavers with the boundary of green overlooking the water. The diagonal placement contrasting with the paver patio also adds visual interest.
Simplicity and Contrast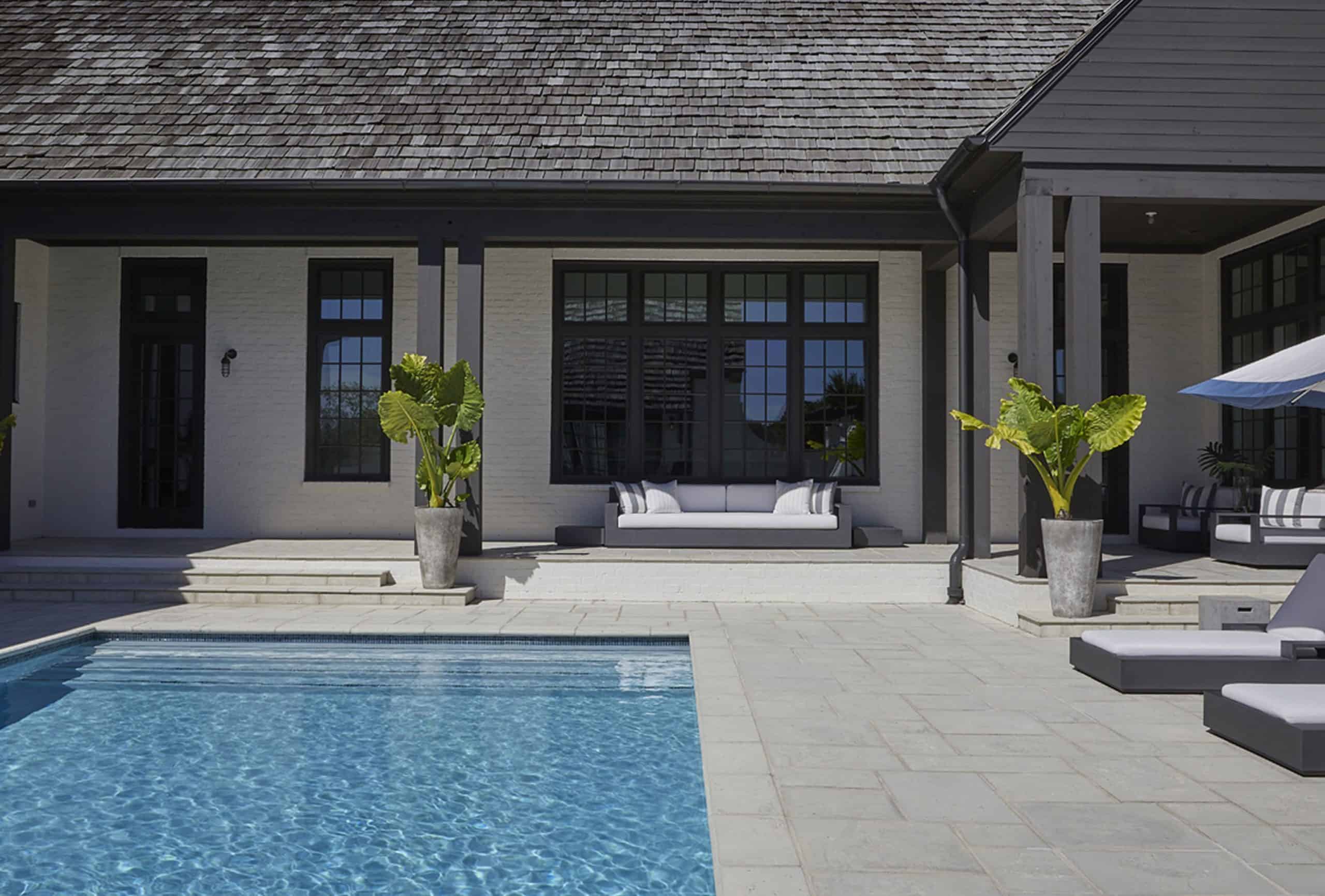 Restore the balance. The simple use of contrasting lines can add a world of interest to your design. In this example, the parallel lines of the house and the pool edge are offset beautifully by rice white pavers placed in a simple stacked bond pattern at a diagonal.
Blending Warm and Cool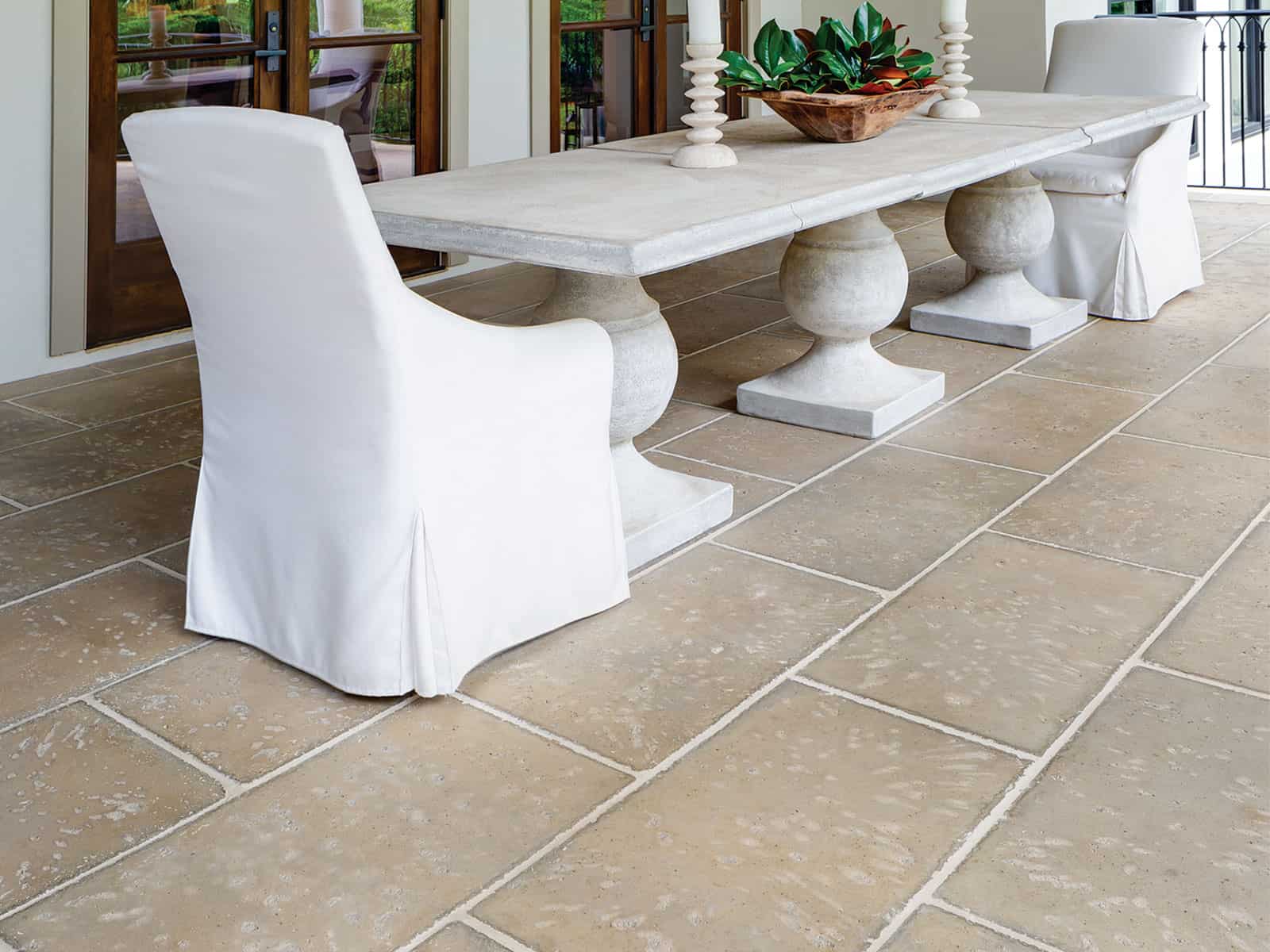 Create contrasts. Sometimes minimal contrasts are the best. These buff pavers provide a warm color base to contrast against the cool of the stone table and white chairs, turning this paver patio into an exquisite outdoor dining space.
Playful Patio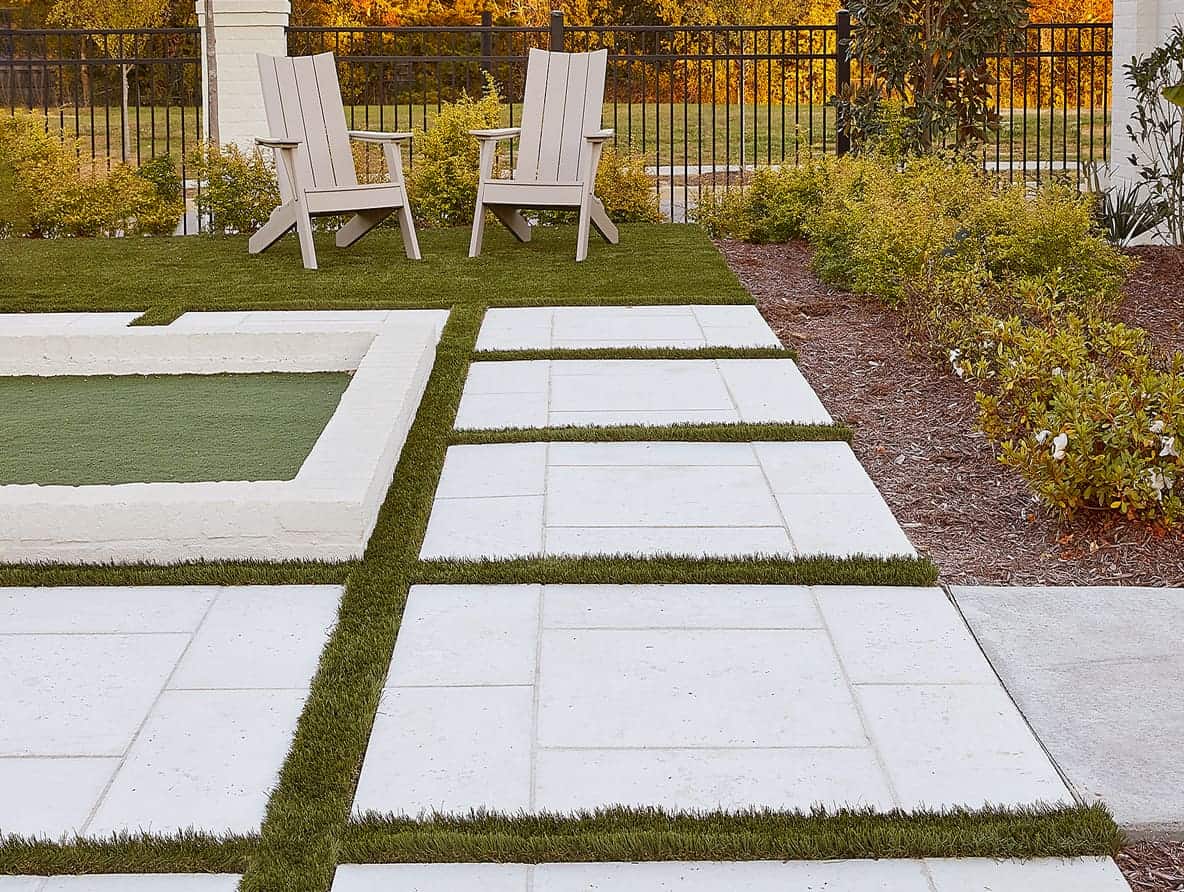 Enlarge your territory. Large-format pavers are good for more than just stepping stones or paver pathways. In this creative example, large format pavers with gravel joints add a playful sense of space to this smaller patio.
The Checkerboard Effect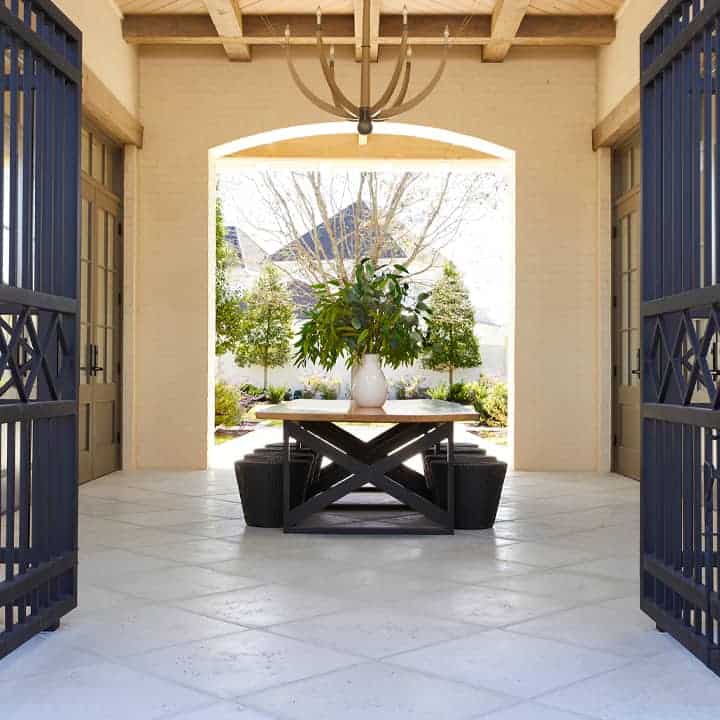 Travel the world. The use of complementary paver colors can add incredible visual interest with relatively little effort. This paver patio courtyard combines square dolphin grey and slate-colored pavers in an attractive checkerboard pattern, creating the perfect ambiance for outdoor dining.
Why Use Concrete Pavers?
Designers use many different materials in designing attractive patios, decks, and other spaces, including poured concrete, wood, brick, and natural stone. So why choose concrete pavers? Let's start by looking at some of the benefits.
Timeless Beauty at an Affordable Cost
Poured concrete patios are mainly utilitarian, but little can be done to increase their attractiveness. Brick pavers, natural stone pavers, and wood decks are all quite eye-catching – but also quite expensive. Concrete patio pavers give you an abundant range of colors, shapes, and styles to create truly unique and beautiful patios, even resembling the look and feel of natural stone – but at a fraction of the cost.
Adds Value to the Home
Outdoor spaces are in high demand among homeowners these days, so it naturally follows that a well-designed outdoor space can increase a home's appraisal value. The choice of materials in designing the space can also make a difference in value. Even a basic poured concrete patio can increase a home's value nominally. Still, between the low cost and high aesthetic return, an outdoor space made with concrete pavers can positively impact a home's overall value. This makes concrete paver patios an excellent investment for your clients, as well.
Easy Installation and Maintenance
Compared to other hardscaping materials like brick, wood, or stone, concrete pavers are relatively simple to install, and when properly sealed, they hold up quite well against the elements. This not only saves you on labor costs but also frees you up to focus on other aspects of your outdoor space design.
The Benefits of Peacock Pavers
Compared with the various types of concrete pavers on the market, Peacock Pavers are uniquely designed to enhance the benefits of concrete pavers. Here's why many architects and landscape designers choose Peacock Pavers in particular:
Emulate the ancient look and feel of natural stone. Peacock Pavers are designed to be virtually indistinguishable from natural stone pavers – but at a much more affordable cost.
Handcrafted quality. Each paver is handcrafted by skilled artisans using a secret patented process – so our pavers look better and last longer.
Wide range of colors, shapes, sizes, and grid pattern options. We've designed our paver selection to give our customers the largest possible design palette so they can create truly unique spaces for their clients.
Eco-friendly. Peacock Pavers are made from recyclable concrete, and they require far less energy to produce than to quarry, cut, and haul stone pavers. This makes our pavers an excellent choice for environmentally-conscious clients or projects seeking LEED certification.
Complete the look of any outdoor space with our elegant handcrafted concrete pavers. Contact Peacock Pavers to request a quote for your patio project today.