Concrete pavers are incredibly popular for outdoor applications like patios, pool decks, pathways, and other hardscapes — but did you know that the right concrete pavers can also be an excellent choice for interior flooring design? Peacock Pavers offers an array of concrete pavers that are ideal for use as interior flooring in both new construction and remodeling projects. Many architects and designers have implemented these pavers in highly creative ways for their own clients.
Let's take a closer look at how concrete pavers can enhance your floor design, along with some real-life design ideas for home flooring to give you inspiration for your own projects.
Advantages of Using Concrete Pavers for Interior Spaces
Why choose concrete pavers for interior floors as an alternative to other materials like hardwood, tile, or polished poured concrete? Let's take a look at a few of the benefits.
Aesthetic Value at an Affordable Price
The look of natural stone is very popular right now, both in interior and exterior design – but it is also very expensive. Concrete pavers can emulate the look of natural stone at a much more affordable cost.
Easy to Install, Maintain, and Replace
Installing concrete pavers is a fairly straightforward process, and they are easy to protect and to keep clean. Additionally, while damage to pavers is rare, if it does happen, you can simply replace broken pavers without replacing the entire floor.
Durable and Long-Lasting
Concrete pavers are more durable than poured concrete, and they can withstand a lot of abuse and heavy foot traffic without showing signs of wear. With proper care and maintenance, interior pavers can retain their beauty for decades.
Seamless Transitions to Exterior Spaces
Many architects and designers find that concrete pavers are a perfect choice for tying indoor and outdoor spaces together – for example, a sunroom leading to a paver patio, a kitchen opening to outdoor dining, or even creating the perfect indoor-outdoor living space expansion.
Interior Flooring Paver Design Ideas
Looking for some real-world inspiration for your interior flooring design? Here are a few lovely examples from among our customers.
Inviting Entryway
Our buff-colored pavers can really bring out the earth tones in your decor. In this entryway, the pavers perfectly complement the gray and wood tones of the two doors while providing contrast to the ironwork – and the running bond pattern evokes a walkway and welcomes you in (or out).
Classic White-on-White
The white-on-white look for kitchens is extremely popular right now. Note how our rice white pavers add the perfect amount of texture to this white, light-filled kitchen space.
Adding Elegance to the Bath
Concrete pavers are an excellent choice for bathrooms, as well. These dolphin grey pavers give the bathroom a subtle yet elegant Romanesque feel.
Unexpected Warmth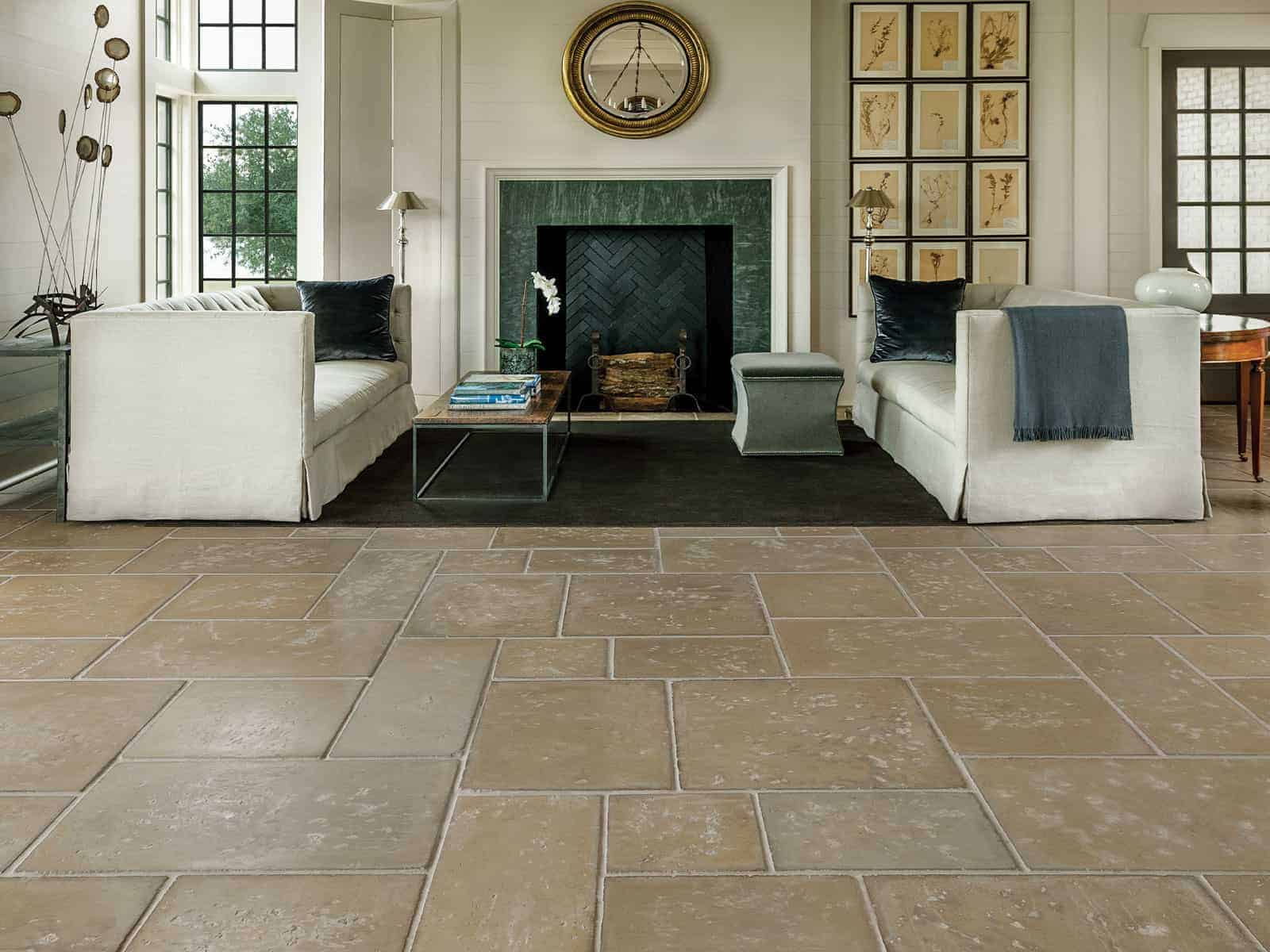 Concrete pavers in this Texas great room help keep it cool in the hot summer months – yet the buff color adds a sense of warmth while bringing out the earth tones of the space, and the random pattern adds texture and visual interest.
Beauty and Light
Concrete pavers in the bedroom? Certainly! This bedroom's bright decor is perfectly offset by the buff pavers, which also reflect the natural light just enough to add a sense of warmth.
Perfect for Transitional Spaces
This is a wonderful creative example of the use of pavers in interior/exterior spaces. Notice the transition between dark and light contrast in this lovely home entrance – the slate exterior pavers against the white exterior giving way to warm rice white paver floors offsetting the black accents inside.
Greys and Greens
Here's another excellent example of concrete pavers in the bathroom. The same dolphin grey color that contributed to the Romanesque look of the bathroom above now provides the perfect underpinning to this look. The pavers bring out the turquoise tints of the granite top and mirror frames.
Halls of Greatness
Depending on their use and context, interior concrete pavers can add a sense of warmth, elegance, coolness, and even coziness to a living space. In this example, these buff pavers convey a sense of grandeur, making this dining hall feel spacious yet remarkably inviting.
Why Peacock Pavers are Perfect for Interior Flooring Design
These are just a few examples of how Peacock Pavers can be used to accentuate interior flooring designs. With many different types of concrete pavers on the market, many designers and architects have found Peacock Pavers to be the perfect indoor flooring solution. Here's why:
Perfect emulation of natural stone. Peacock Pavers are designed to emulate the look of natural stone pavers – while being more affordable. This allows designers to create timeless, elegant indoor spaces for a fraction of the cost of natural stone.
Artisan craftsmanship. Peacock Pavers are made from superior quality concrete and individually handcrafted using a secret patented process – making them exceptionally durable and aesthetically pleasing.
Broad design palette. Peacock Pavers come in a wide range of shapes, sizes, and color combinations to give designers nearly infinite options when designing floors for their clients.
Specialized thicknesses for interior spaces. Interior floors don't always need pavers of the same thickness as exterior spaces. For that reason, Peacock Pavers offers pavers in 5/8″ and 1″ thicknesses with virtually all the same shapes, sizes, or color options as our other pavers. With these thinner options, a designer can lay a new paver floor over an existing slab for a remodeling project or install standard pavers as part of a new construction project. Whatever the need, we have the pavers to fill it.
We have handcrafted concrete paver designs to suit every space. Contact us today to receive a quote.