Simple. Clean. Modern.
There's nothing quite like the elegant look of white stone for interior flooring and outdoor spaces. With Peacock Pavers, you can achieve this look for a fraction of the cost of natural stone.
Our white concrete pavers have become the paver of choice among architects, designers, and homeowners, adding visual interest and texture to everything from pool decks to fire pits, from patios to kitchen floors.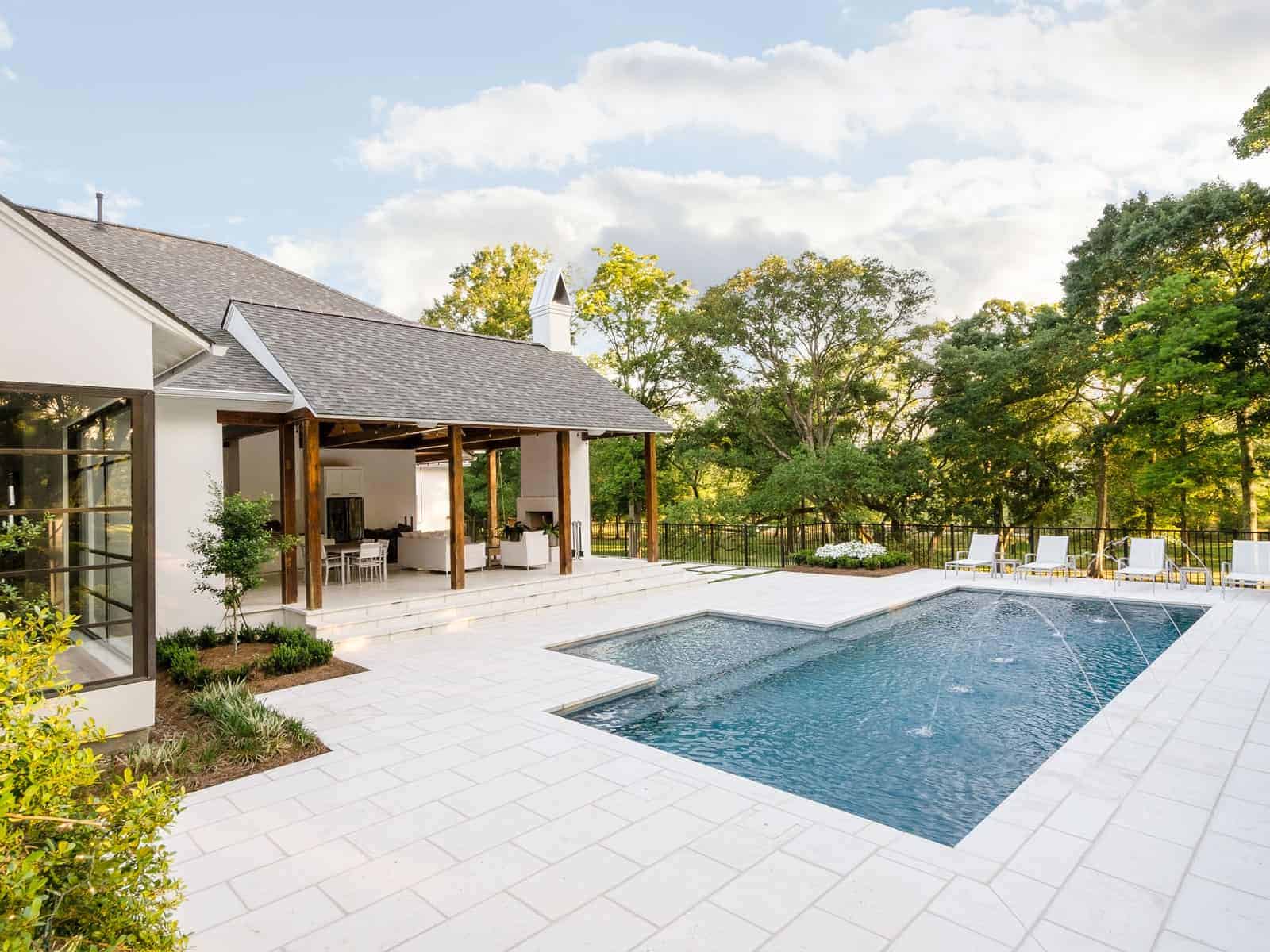 ---
Our 'Rice White' Concrete Pavers
If you're skeptical about whether concrete products can mimic the look of natural stone, one look at our handcrafted concrete pavers will eradicate all doubt. Our Rice White concrete pavers mimic the look of white travertine, flagstone, and other types of stone. They accomplish the same look and function as floor tiles or paving stones with a look that is both timeless and fashionable. Add to this the fact that our concrete pavers are low-maintenance and LEED-certification compatible, and chances are you'll never go back to natural stone.
Why choose white concrete pavers over natural stone?
Our handcrafted pavers mimic the look of natural stone, but they cost less to produce, install, and maintain. With proper care, they can last for generations. Our white pavers make this trendy-yet-timeless look accessible for more of your clients. They no longer have to choose between beauty and budget.
Ideal for both interior and outdoor spaces, Peacock Pavers are available in thicknesses of 5/8", 1" and 1 ¾" thick, and in 10 paver sizes up to 3' x 3'. (Trim pieces are also available.) Our pavers look fantastic, whether you're installing them in classic traditional patterns or bold random patterns. We also offer 3"-thick interlocking driveway pavers to help you create the timeless look of a cobblestone driveway.
White Concrete Pavers — Trendy and Timeless
The "white on white" look has become an incredibly popular design choice in recent years, most notably in kitchens, but in other parts of the home. In keeping with this trend, the use of white concrete pavers has made a considerable resurgence in the last few years. But why? What makes white pavers so trendy?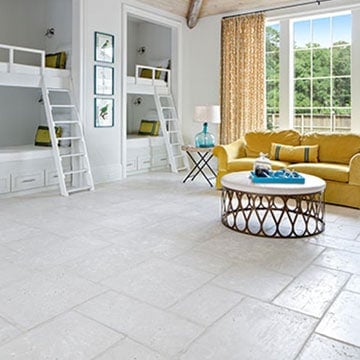 ---
It reflects light.
Adding white to your space inevitably makes the space feel brighter, bigger, and more open. This design rule applies to smaller interior rooms much as it does to outdoor paver patios and pool decks.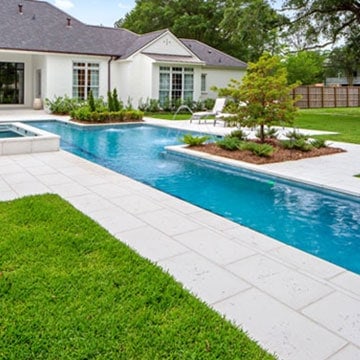 ---
It deflects heat.
White surfaces absorb less sunlight than darker colors, making those surfaces cooler — definitely an asset for outdoor spaces in warmer climates.
---
It's easy on the eyes.
White is not an absence of color — it's a neutral color that looks good in almost every setting.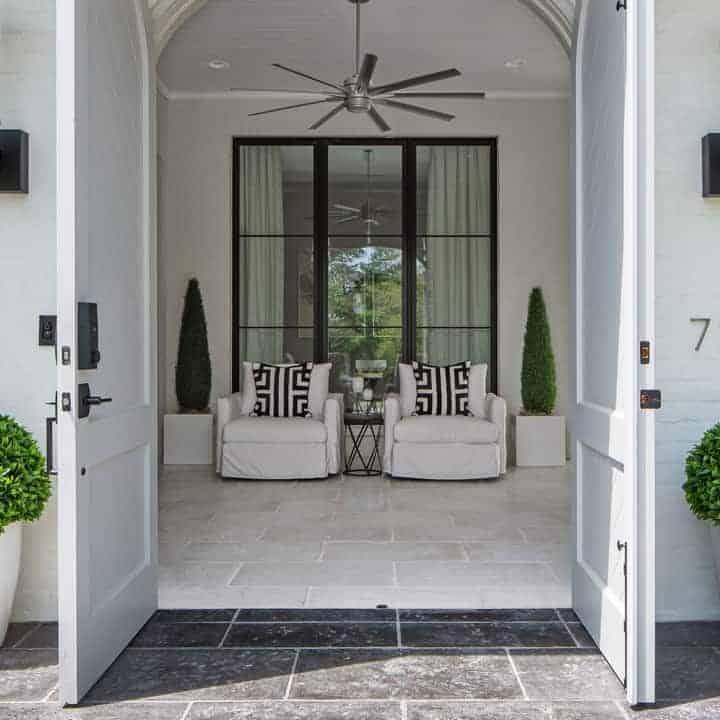 ---
It invites contrast.
When you contrast color accents in your furnishings or decor against a white backdrop, those colors really get a chance to shine.
---
It's minimalist
With the current trend that "less is more," white has become the color of choice with minimalist decorating and design.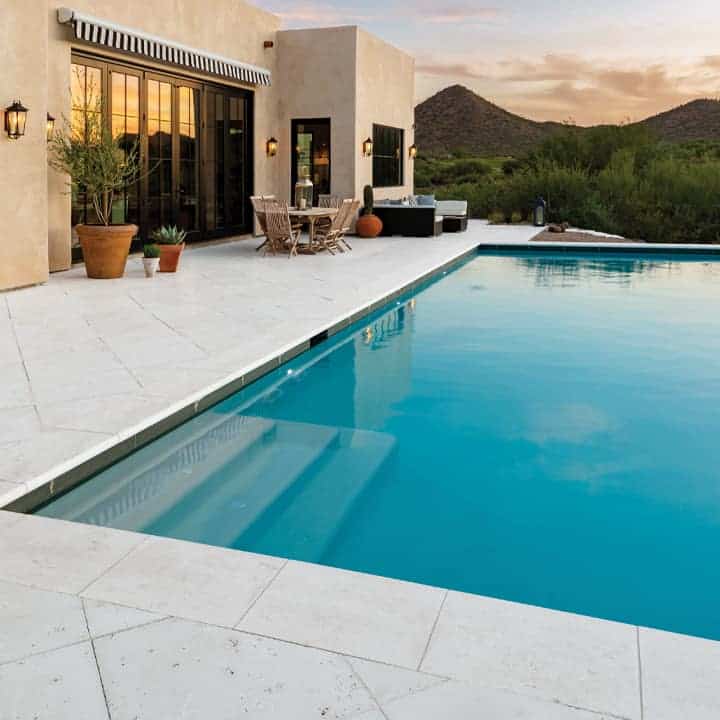 ---
It's timeless.
White inherently speaks to us of purity, innocence, light, and richness, as it has for many generations. As trendy as white is right now, is it will never go out of fashion.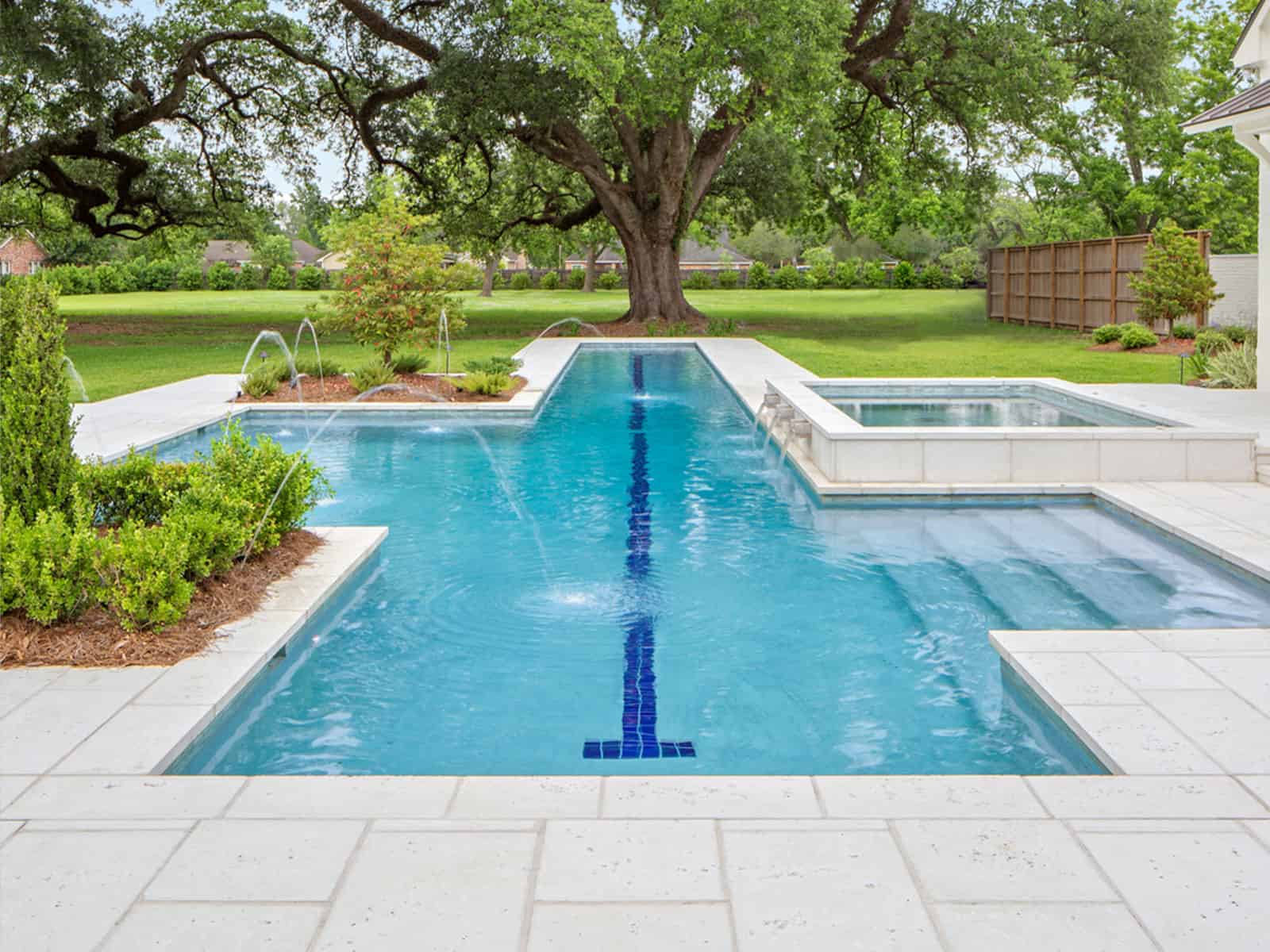 ---
---
---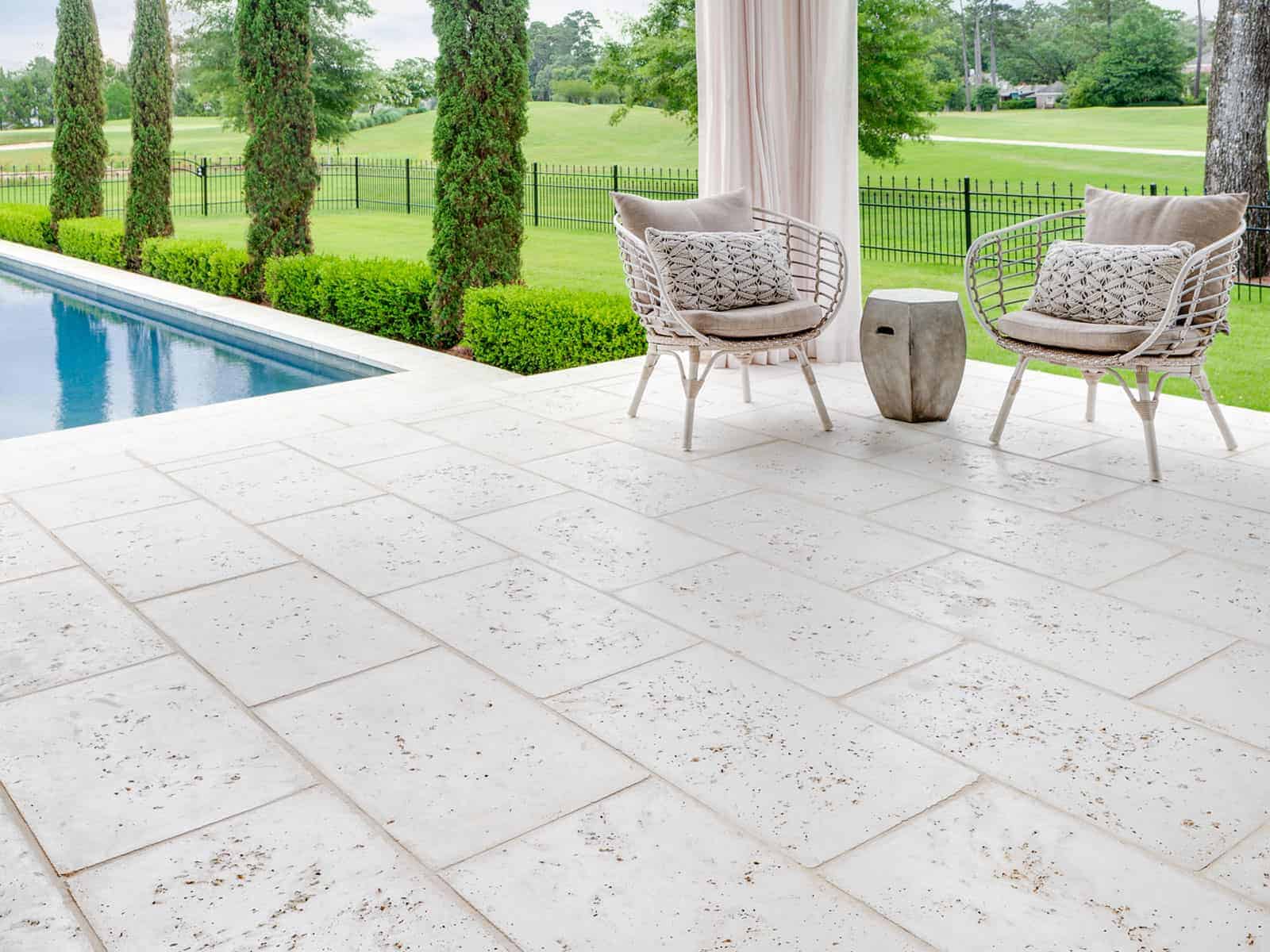 Tips for Designing with White Concrete Pavers
White pavers can enhance the look of nearly any interior floor or exterior hardscape. Use them with confidence for any of the following:
Flooring for kitchens, mudrooms, sunrooms, etc.
Concrete patios
Pergolas
Fire pits
Retaining walls
Swimming pool decks
Edging
Stepping stones
Water features
Driveways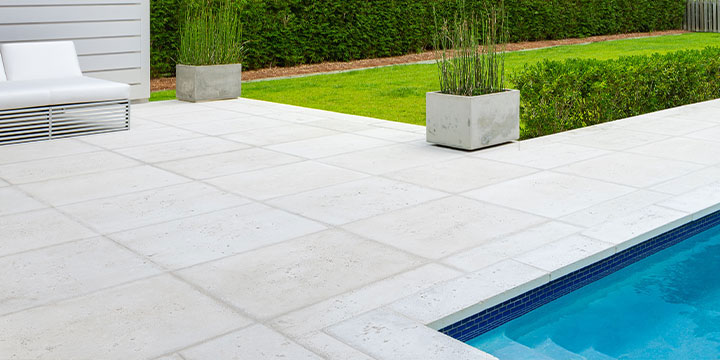 ---
---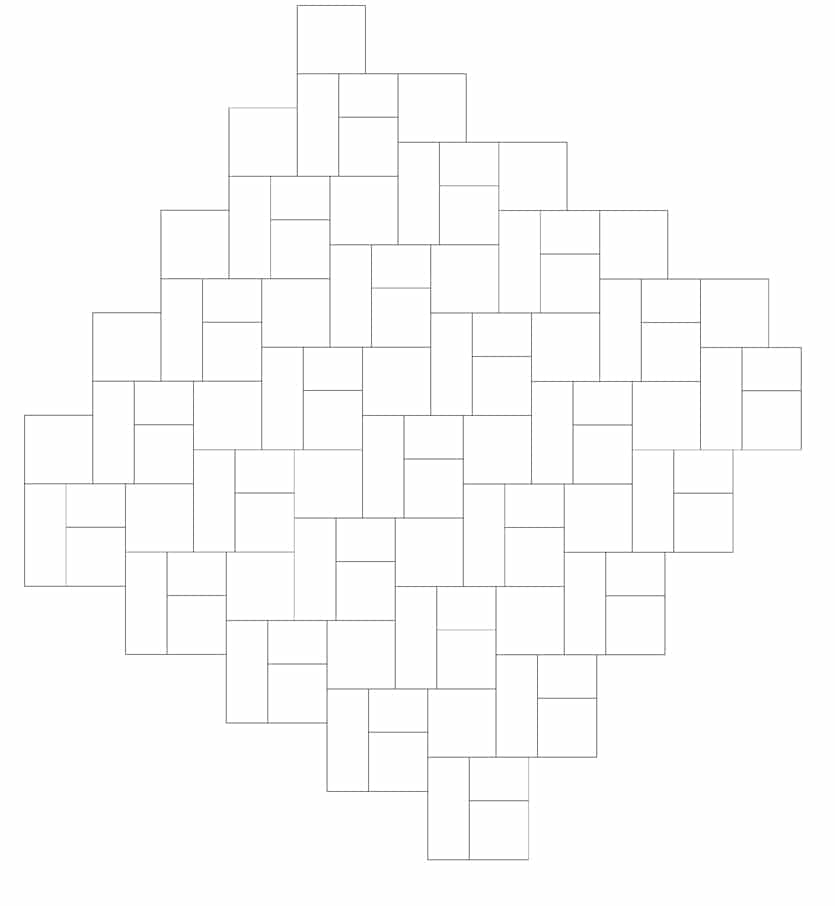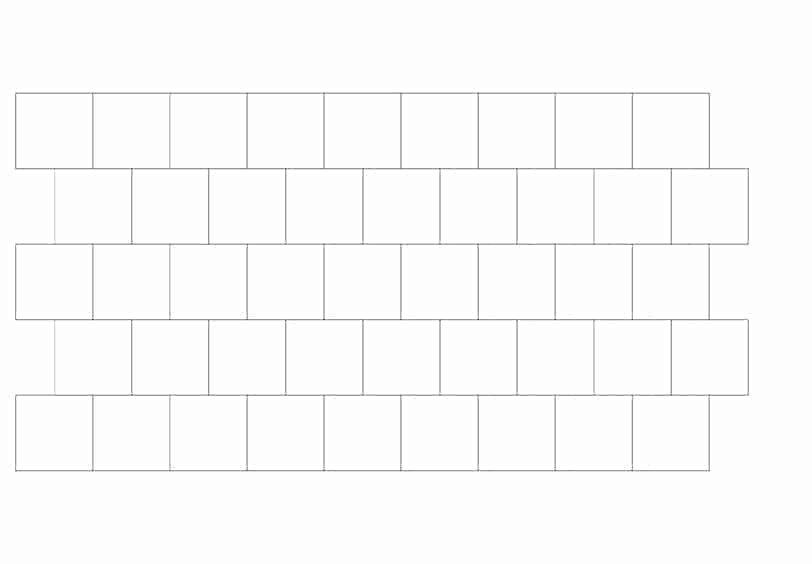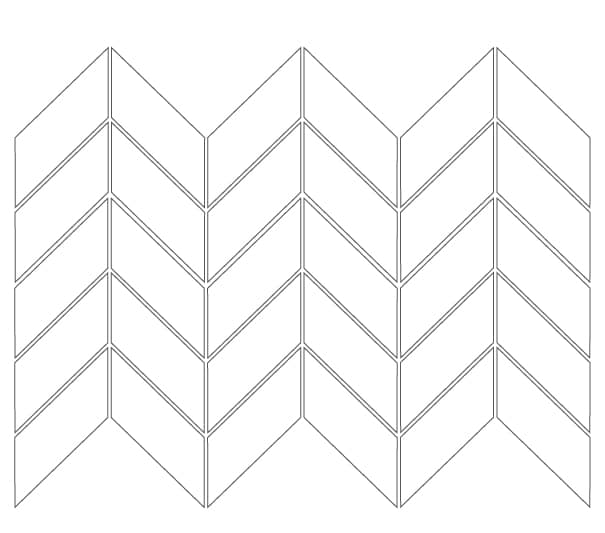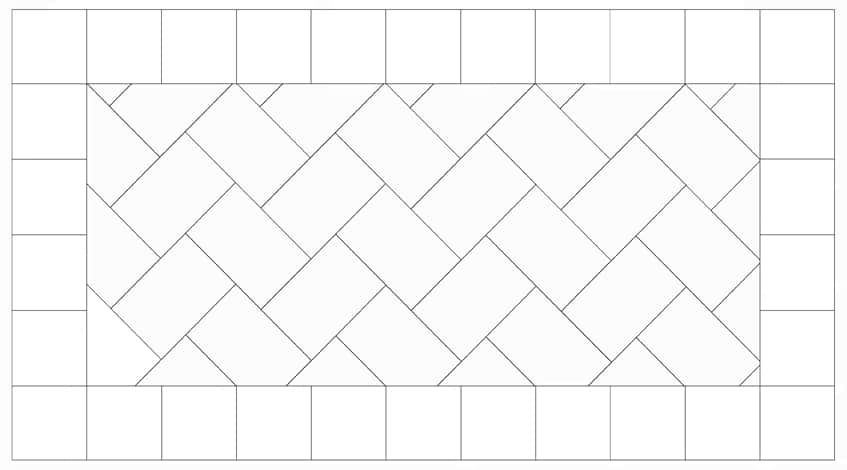 ---
Popular Design Patterns
You can lay white concrete pavers in a plethora of design patterns, all of which add their own sense of space and movement. Some of the more common design options include:
Running Bond Pattern — This pattern uses identically sized square or rectangular pavers in a side-by-side pattern with subsequent staggered rows (similar to subway tiles).
Stacked Bond Pattern — This pattern positions identically-sized pavers evenly both side-to-side and in rows (not staggered). Position them diagonally to add drama.
Random Patterns — This pattern utilizes pavers of different sizes to form more complex configurations. Popular random patterns include Basic Random, Majestic Random, and Alternative Random.
Herringbone Pattern — Placing rectangular pavers perpendicularly at 90-degree angles to create a zig-zag or "fishbone" effect.
Patterns with Unconventional Shapes — Use hexagon, picket, or chevron-shaped pavers to add gorgeous geometric lines to your white concrete patio or kitchen floor.
---
Large Format White Concrete Pavers
Another design tip to consider: Why not combine the widespread use of white concrete pavers with the design trend of oversized pavers?
Large-format white pavers can be used in most of the design patterns mentioned above while adding a sense of space and drama. You can also create unique landscaping features with large white pavers by using alternative joint fills (e.g., using grass or gravel instead of grout).
---
---
"RICE WHITE" PEACOCK PAVERS'
Our white concrete pavers are available in 10 sizes, up to 3'x 3′. All sizes are ½" short of true measure to allow for grout.
While Rice White is one of our most popular colors, we also offer several other color choices, including Dolphin Grey, Slate, Champagne, Buff, and Oyster. Are you looking for a subtly different shade of white? For orders of 7000 SQ FT or more, we can mix hues to create the exact color for your project. The creative possibilities are truly limited only to your imagination.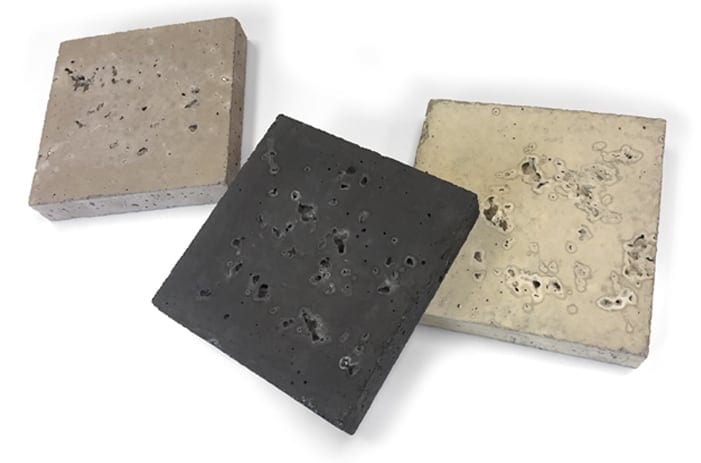 Paver Sizes
11 ½" x 11 ½"
11 ½" x 17 ½"
17 ½" x 23 ½"
17 ½" x 17 ½"
23 ½" x 23 ½"
17 ½" x 29 ½"
11 ½" x 29 ½"
11 ½" x 23 ½"
29 ½" x 29 ½"
35 ½" x 35 ½"
View Size Chart
Paver Weight



5/8″ thick pavers weigh 8 lbs per SF

1″ thick pavers weigh 13 lbs per SF

1 ¾ " thick pavers weigh 20 lbs per SF

3" thick pavers weigh 36 lbs per SF


---
Popular Patterns
Standard Random

Alternative Random

Majestic

Majestic Butt Joint

Butt Joint
View More Patterns
---
Why Choose Peacock Pavers?
Among the other paver choices available on the market, why do our customers keep returning to Peacock Pavers for their design needs? Here's what makes us special.
---
---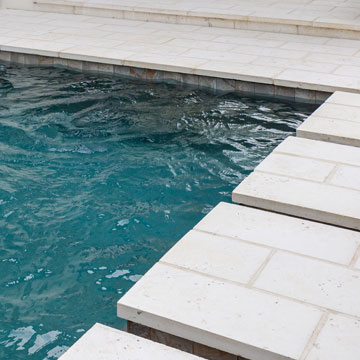 Unlimited Customization
We've already demonstrated the full range of design choices you have just with white concrete pavers, including an abundance of shapes, sizes, and thicknesses. Add to that mix a nearly unlimited color palette (6 standard colors plus the option to mix hues), and you'll understand why creative designers prefer the nearly endless possibilities we offer.
---
Uniquely Handcrafted
Each Peacock Paver is artisan-crafted to the highest standards of quality and care using a secret family process. As a result, every paver offers unique irregularities that add both beauty and texture to your project.
---
Safe for the Environment
Natural stone is a natural resource by definition — but using it in architecture isn't necessarily eco-friendly because of the fuel costs involved in quarrying, finishing, and hauling it. Peacock Pavers uses much less fuel to manufacture our pavers, and concrete is a recyclable material. For these reasons, our pavers are an excellent option for construction projects seeking LEED certification.