Whether you're looking for large concrete pavers for a bold landscape design or something a bit more understated that will not overpower the beauty of your home or decor, Peacock Pavers has you covered with versatile, durable, and affordable concrete pavers that are handcrafted to look like natural stone.
Of course, you don't have to take our word for it. Here are just a few of the fantastic backyard design projects that we've worked on with architects and designers over the years. From functional outdoor living rooms to showstopping pool decks, we hope these professionally designed backyard landscapes will spark inspiration for your next project.
Designer Showhouse at Villa Flora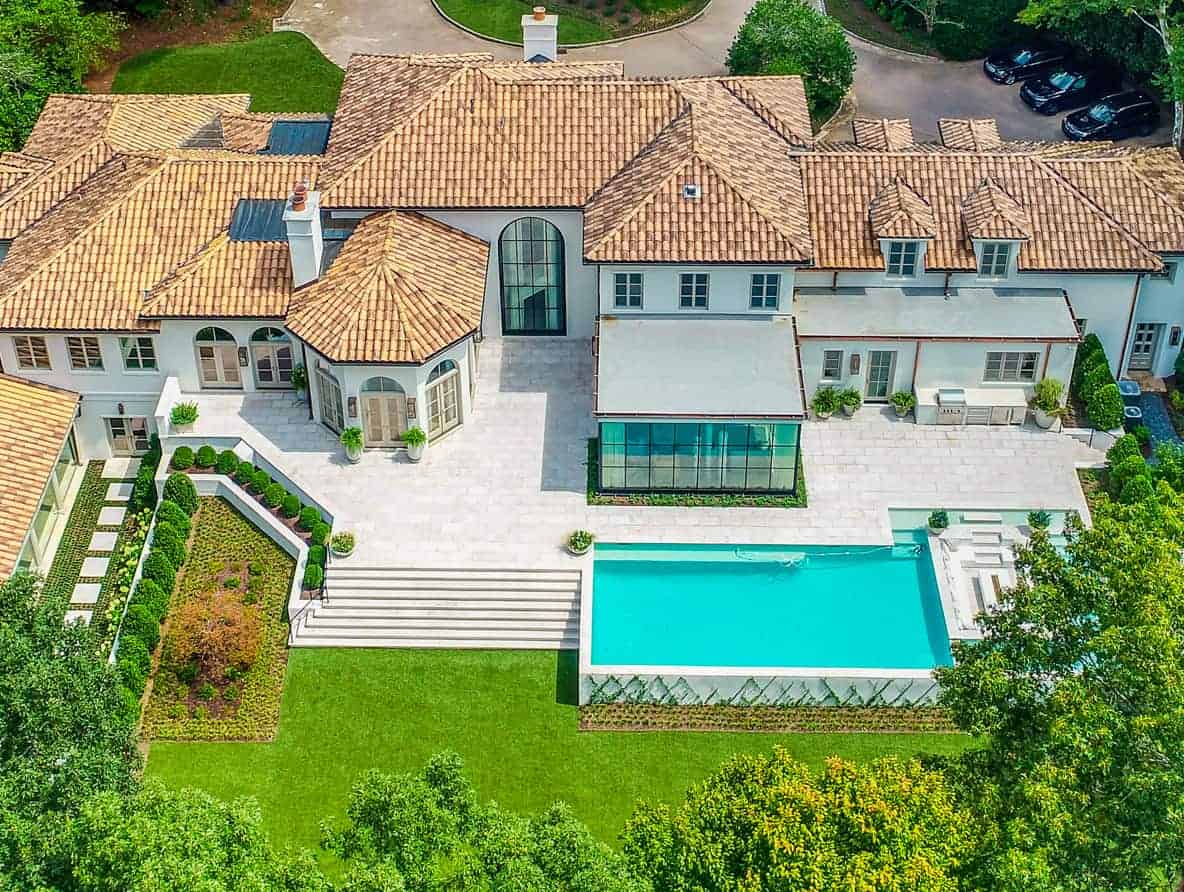 This beautifully paved exterior pool and terrace is the brainchild of Benecki Homes in collaboration with Peacock Pavers. In their vision, the outdoor area of the 2020 Southeastern Designer Showhouse at Villa Flora would be an extension of the easy California style they had designed for the interior space.
To do this, they worked with Peacock Pavers to create a custom color for their pavers that perfectly complemented the exterior finishes of the building. As the pavers surround the terrace and pool area completely, it gives the home a bright, airy feel. Yet it doesn't feel overdone. The color used, while light, still has a subtle earthiness to it that makes the showhouse feel like a home, instead of just a venue.
"We have installed Peacock Pavers in over 50 homes, starting in the mid '90s. Peacock Pavers have been an economical, durable alternative to stone products. We have seen other alternatives in the market, but keep using Peacock Pavers. The others do not match their beauty." – Vern Vanderkleed of Benecki Homes.
Modern Home in Hampstead
No one else could design a backyard for a home in Hampstead quite like this duo. Developer and designer Harvi Sahota and his wife and partner Anna Lowder knew what they wanted when they set out creating the perfect outdoor area for them and their family, and Peacock Pavers was always a part of that vision.
The couple chose the popular Oyster color to complement the wood, brick, and greenery that they were incorporating into their backyard. It was used to pave the entirety of the terraces, up to the swimming pool and onto the porches as well. This creates cohesiveness throughout the whole area that moves you seamlessly from one section to the next. The warmth of this color adds a homely feel to the backyard that was essential to them both. Our pavers are all handmade so each one is unique, meaning they not only mimic natural stone, but they aren't carbon copies of each other.
"We love that each paver has a unique color gradation, texture and appearance, yet together the pavers work harmoniously like limestone and natural stone." – Sahota and Lowder.
MILIEU Designer Showhouse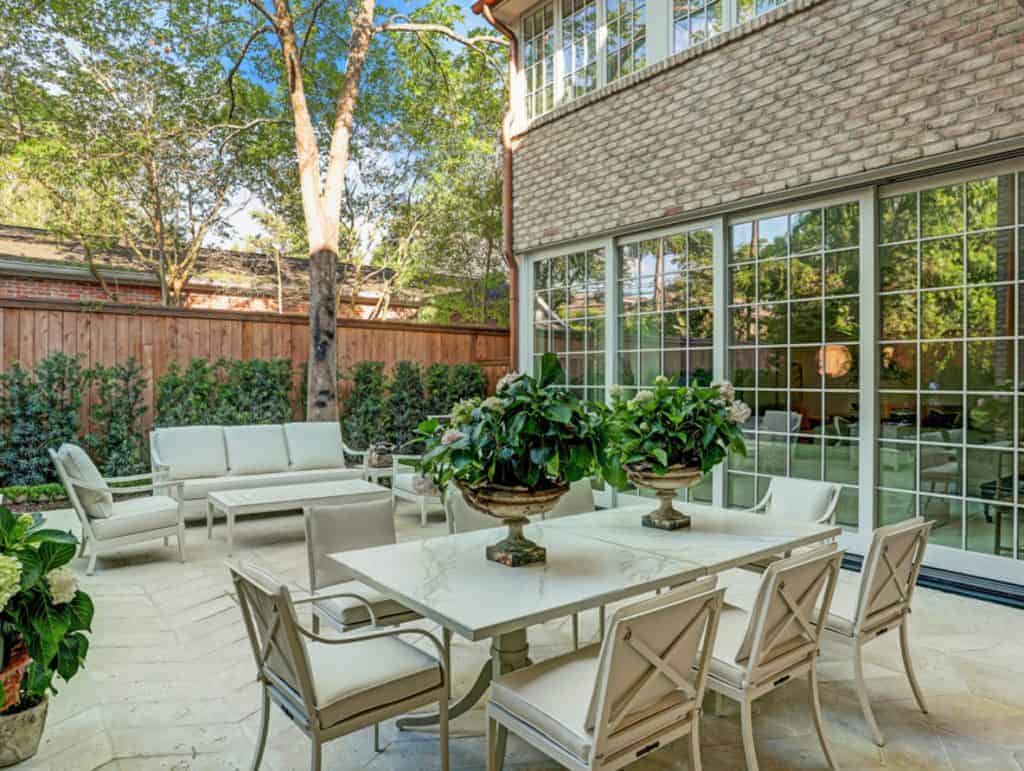 The MILIEU Designer Showhouse was an opportunity for multiple designers to come together and create something truly breathtaking – and all for a good cause. The outdoor area of any of these homes is a challenge. The terrace always needs to gel with the design and theme of the interior, while still having a personality of its own and creating a space that people want to spend time in.
For this patio, a custom color was created for the client by Peacock Pavers, and the pavers were laid in a chevron pattern to foster a welcoming outdoor area with an art deco style that wasn't showy or overbearing compared to the rest of the home.
What we love about this patio is how the concrete pavers complement the brickwork of the home's exterior — resulting in a light, airy space for people to host or relax in.
"The gray and white cushions blend seamlessly with the palette of brick and pavers from Peacock Pavers. What resulted was a calm and reflective space, a personal sanctuary," said Anne and Will Massie of McKinnon & Harris, who designed the Garden Terrace.
Stairway Pavers with a "Natural Stone" Look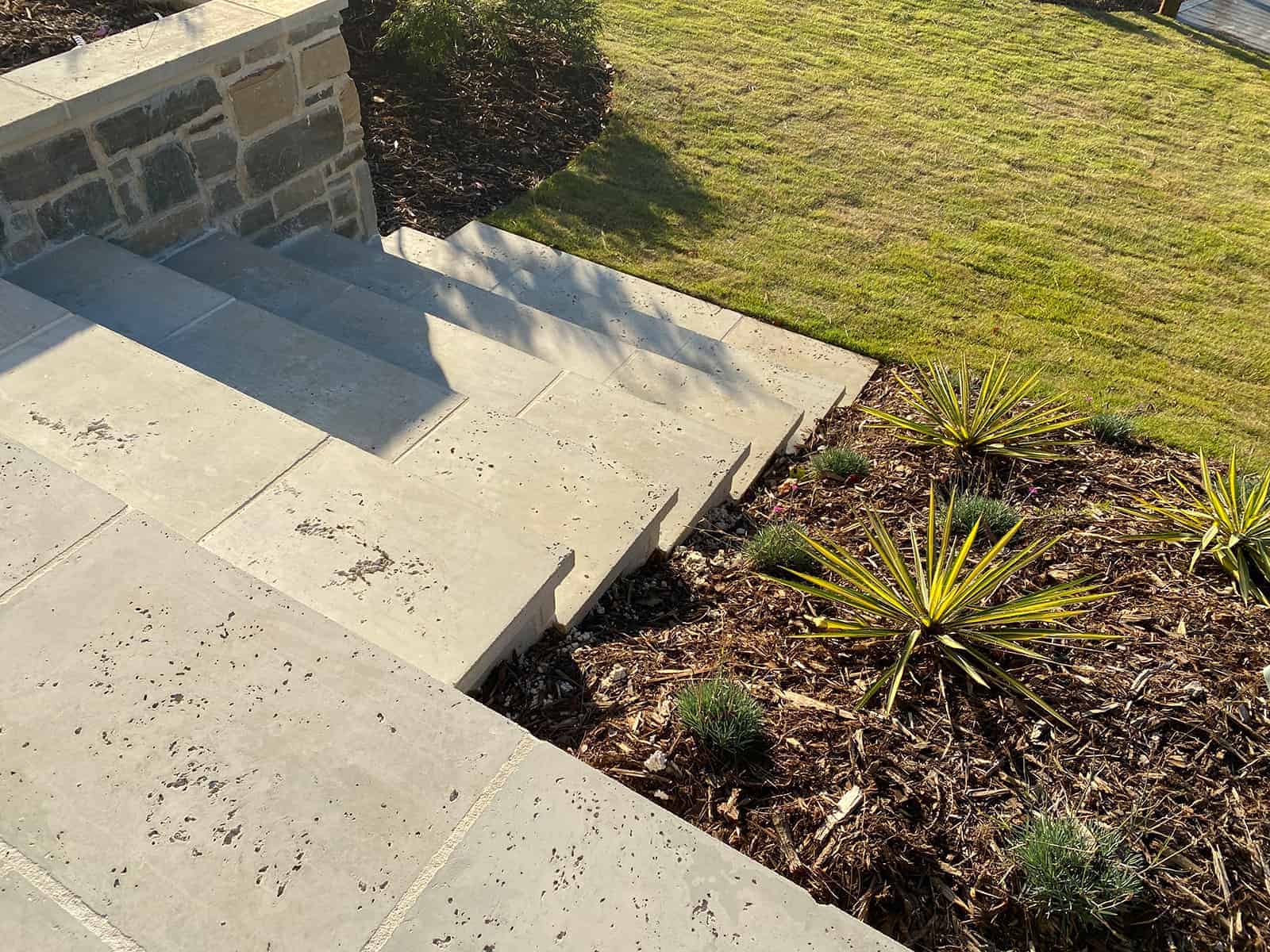 Step down into a lush lawn with these elegant concrete paver steps that mimic the look of natural stone and complement the rustic masonry of the deck's siding.
Modern Poolside Paving Design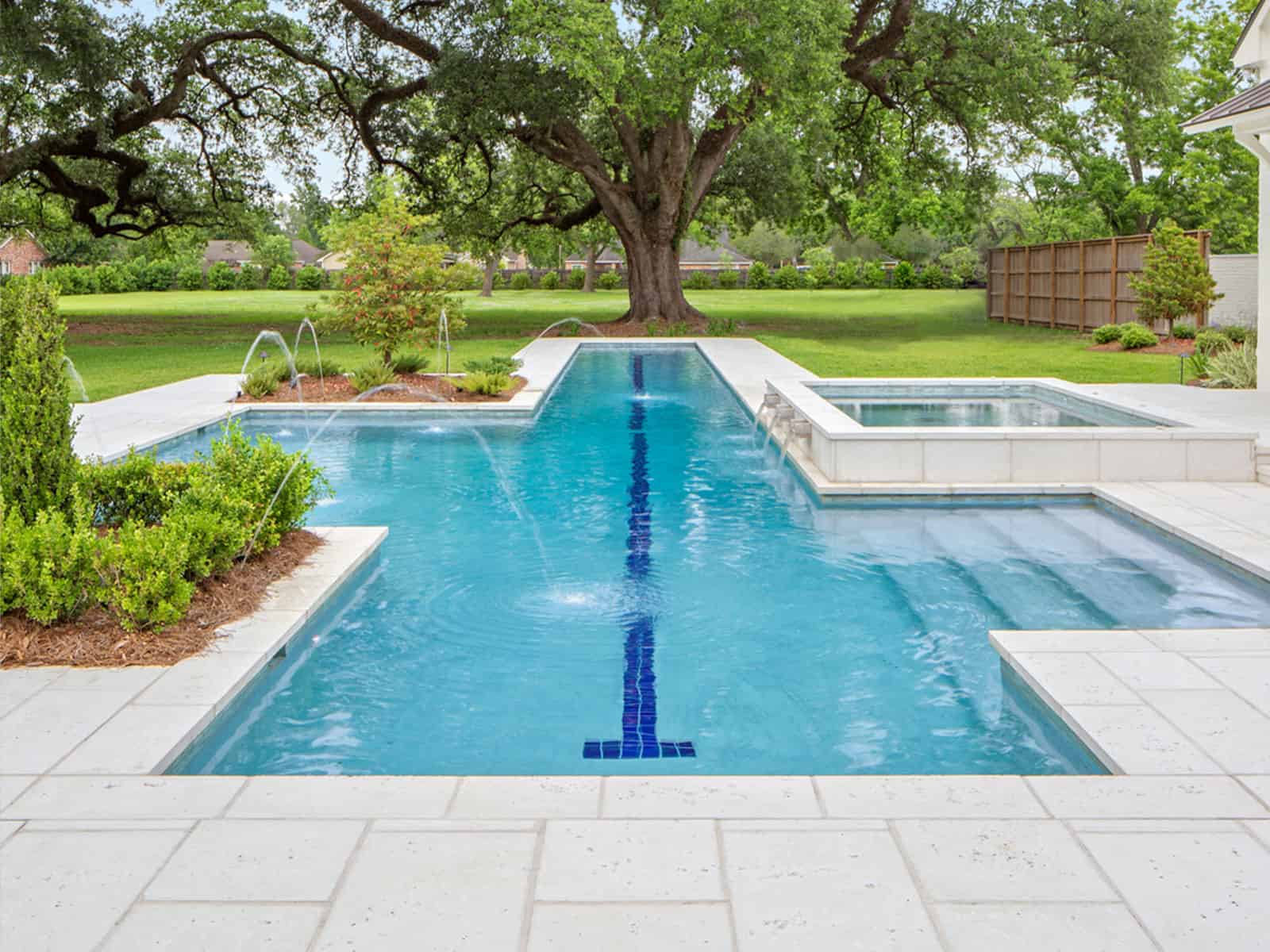 This modern pool area uses Rice White concrete pavers to create the perfect relaxing poolside atmosphere that accentuated this backyard's landscaping and mature trees.
Large Concrete Garden Pavers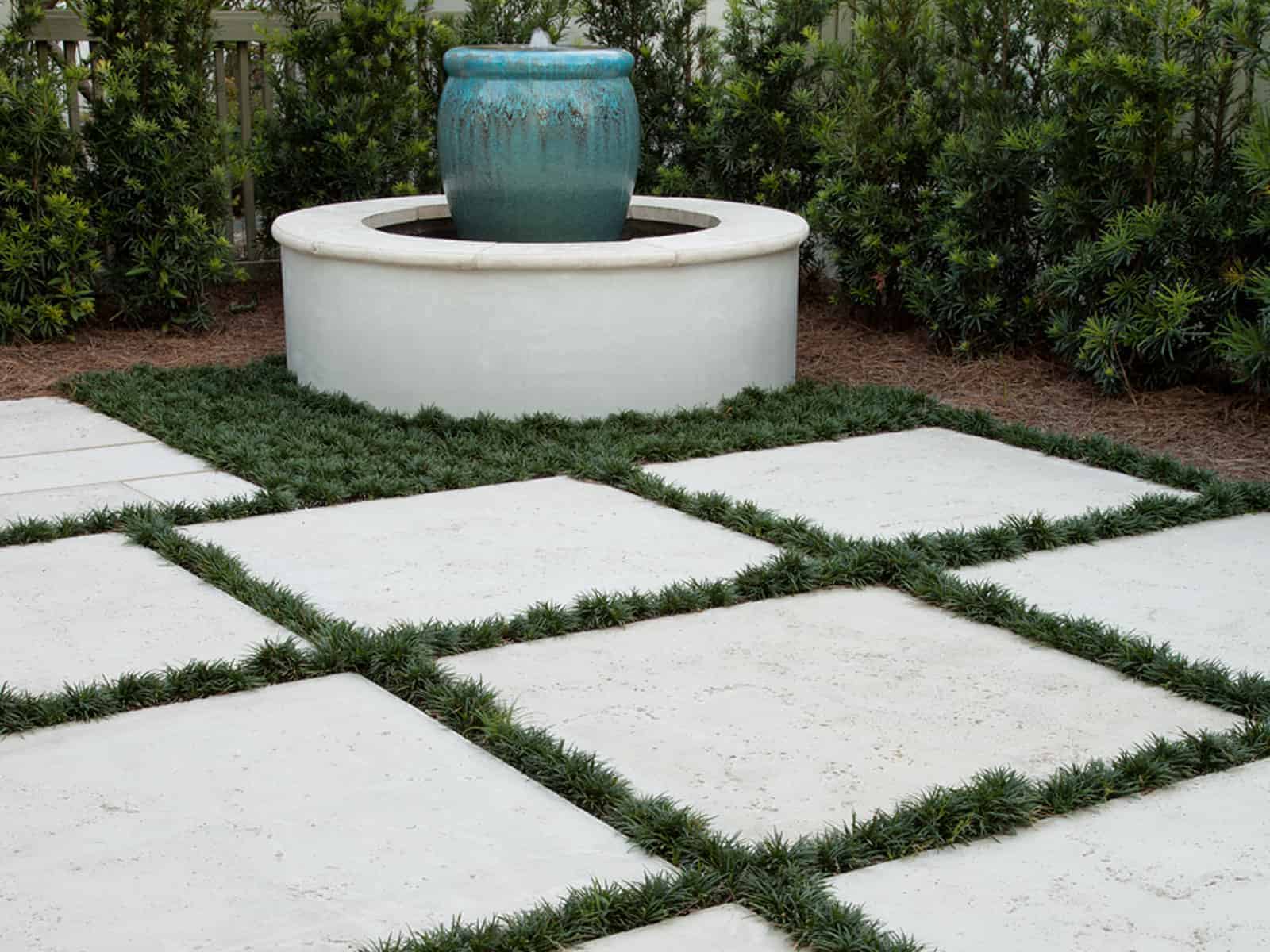 Large square pavers with grassy joint fillings paired with a zen-like fountain and elegant hedges make a serious statement in this backyard.
Modern Backyard with Statement Stepping Stones
Beautiful Rice White pavers in varying sizes have turned this backyard into an absolute oasis. The wide joints between each square create the image of stepping stones cutting elegantly through the greenery.
Using Peacock Pavers in a Backyard
As you can see, there are countless possibilities when using Peacock Pavers for landscaping projects. Not to mention, concrete pavers are far more durable and cost-effective than natural stone and other paver materials.
Every concrete paver is handmade with architectural-grade concrete — which gives it optimal durability as well as unique one-of-a-kind details. No paver is the same, which imbues it with that "natural stone" appearance that clients love so much. Peacock Pavers come in a wide range of colors – Buff, Dolphin Grey, Champagne, Rice White, Oyster, and Slate – but custom colors are an option for projects with a 7,500 square foot minimum. Our concrete pavers are also available in a number of shapes and sizes, which means they can be laid in patterns that simply wouldn't be possible with natural stone.
Bringing a Backyard Vision to Life with Concrete Pavers
Concrete pavers are the perfect material to help bring life to a backyard. To learn more about incorporating handcrafted concrete pavers by Peacock Pavers into an upcoming backyard landscaping project, request a quote, order a sample kit, or call us today at 800.264.2072.