Are you looking to add a touch of whimsy and elegance to your next interior flooring, patio, or pool deck project?
Look no further than Peacock Pavers' handcrafted concrete hexagon pavers.
Available in various colors, our hexagon pavers are stylish, versatile, and durable — allowing you to get the timeless look of natural stone without the expensive price tag. Peacock Pavers are the perfect building material for any designer, architect, or homeowner who wants to add elegance and luxury at a reasonable price point.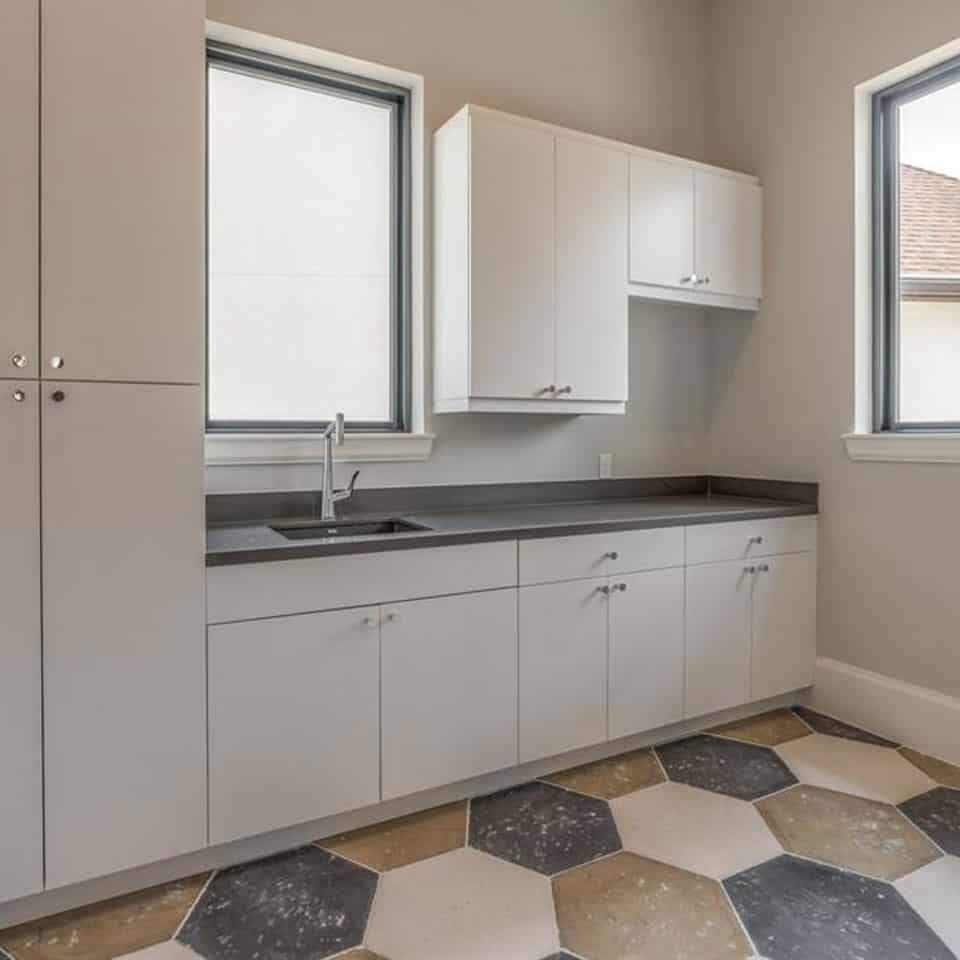 Our Handcrafted Hexagon Pavers
Hexagon pavers are handcrafted from architectural-grade concrete, making them ideal for both interior and outdoor living designs. These pavers are equally versatile for new constructions and existing projects alike. These pavers can be used as patio pavers for terraces and pool decks, as well as retaining walls, stepping stones, interior flooring, and even streetscapes.
Limited only to your imagination, hexagon pavers can be integrated with other shaped pavers to create truly original designs and random patterns. Embed your hexagon patterns periodically within different patterns, or use square pavers to form a band or border around the pattern.
Standard Hexagonal Pavers
The hexagon is a classic shape — the standard equilateral, hexagonal shape with all six sides the same length — that gives new opportunities to large-scale interior flooring and outside surrounding swimming pools. Draw inspiration from vintage flooring in historic buildings by laying hexagon pavers in an alternating color pattern of Slate and Rice White.
Our hexagonal pavers can mimic the look, feel, textures, and shades of travertine, slate, flagstone bluestone, and other natural stone types. Select from our six standard color choices: Rice White, Dolphin Grey, Slate, Oyster, Buff, and Champagne.
We can also custom-mix pigments for a nearly unlimited array of custom color options. (Minimum order 7000 square feet.) You can also mix and match colors and sizes to create a design that is genuinely original and unique — try alternating two or three colors to make a statement.
Hexagon Paver Sizes
Standard Hexagon Pavers

10 ½" on all sides

-

Hexagon Picket Pavers

14" x 6"
---
Paver Weight



5/8″ thick pavers weigh 8 lbs per SF

1″ thick pavers weigh 13 lbs per SF

1 ¾ " thick pavers weigh 20 lbs per SF

3" thick pavers weigh 36 lbs per SF


---
More Patterns
Stacked Bond

Running Bond

Herringbone

Chevron

Majestic Butt Joint

Butt Joint
View More Patterns
Why Choose Peacock Pavers?
Why do architects and designers consistently choose Peacock Pavers over natural stone, brick pavers, or concrete pavers from other manufacturers? Here's what makes our concrete pavers unique:
---
---
---
More Affordable Than Natural Stone
Natural stone can be quite attractive, but it is also cost-prohibitive to many people. Our hexagon concrete pavers replicate that timeless natural stone look at a fraction of the cost. Peacock Pavers offers a whole range of size, shape, and color choices to create truly unique living spaces.
---
High-Quality Craftsmanship
Every hexagon paver is handcrafted by skilled craftspeople using our secret patent-pending process. Our manufacturing process ensures that every single paver piece is high-quality and has its own unique texture — just like you'd see with natural stone.
---
Friendly to the Environment
Quarrying natural stone is not as environmentally friendly as you might think. It requires much less fuel to produce Peacock Pavers than to quarry natural stone, and concrete is a recyclable material. As a result, our concrete pavers are fully compatible with projects seeking LEED certification.
Related Products
When designing your next outdoor living space, water feature or interior floor, don't forget you have other Peacock Paver shapes and sizes available to enhance your designs even more. These related products include: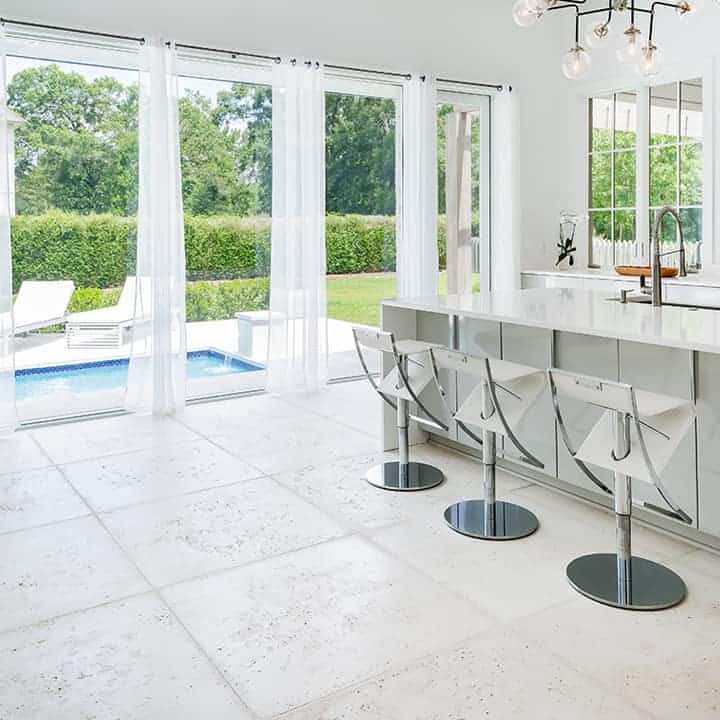 Square Pavers
Our square concrete pavers are simple yet bold, giving you the option for traditional and modern patterns.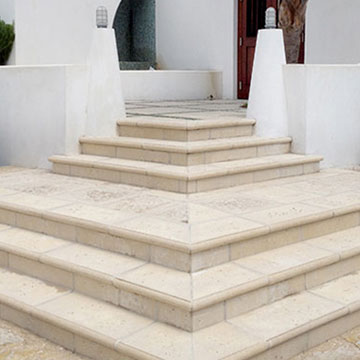 Paver Trim & Edging
Complete your design with coping, bullnose, stair treads, base molding, wall caps, and thresholds.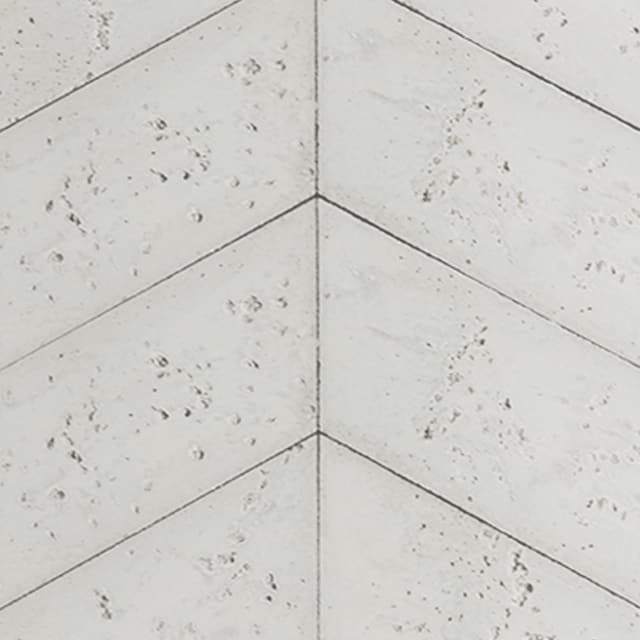 Chevron Pavers
Our special chevron pavers lay together to form a retro inverted "V" pattern.