Whether your project is a remodel, a new build, interior design, or garden hardscaping, choosing top-of-the-range floor pavers that reflect your high-end project is essential. At the same time, there is a growing move across industries towards finding more eco-friendly solutions, whether in building, manufacturing, or interior design. Luckily, our clients don't need to sacrifice luxury or quality to be more sustainable. Peacock Paver's products provide cost-effective elegance and sophistication while contributing to a smaller carbon footprint.
Our concrete pavers are expertly handcrafted using premium materials. They are available in several designs and colors that can be interchanged, creating endless design possibilities. Peacock Pavers provides only the finest quality interior and exterior flooring, and we pride ourselves on being more environmentally friendly than parried stone alternatives. 
If, as many individuals and businesses are doing, your project seeks to be kinder to the environment, Peacock Pavers is the perfect choice. 
How are Peacock Pavers Environmentally Friendly? 
Traditional stone pavers require several steps in their manufacturing process before they are installed. Stone is quarried, transported, and cut into pavers, methods that rely on high fuel use. Peacock Pavers products are friendlier to the environment by virtue of their manufacturing process. We don't need to quarry natural materials, and we craft our pavers using recyclable architectural-grade concrete, which is naturally more sustainable and reduces waste. 
Concrete Pavers for LEED-certified Projects 
LEED certification is the most widely recognized green building rating system. LEED certifies buildings that commit to lower carbon emissions, improved quality of life, and energy efficiency. Overall, LEED-certified facilities positively contribute towards the United Nation's sustainability goals as they seek to improve climate change and workers' health. 
Choosing environmentally and societally friendly products, building practices, and transportation helps a project earn points towards a coveted LEED certification. Thanks to their eco-friendly material and manufacturing process, Peacock Pavers are the perfect choice for projects seeking LEED certification. 
Make a Statement With Peacock Pavers' Eco-Friendly Pavers
Peacock Pavers are made by artisans, ensuring that each paver is unique. Each paver's idiosyncrasies make them closely resemble natural stone, lending your flooring character and classic elegance. Our pavers are durable and weather-resistant, so they are suited to various outdoor areas, such as around the pool, in a driveway, or for creating an attractive landscape in a garden.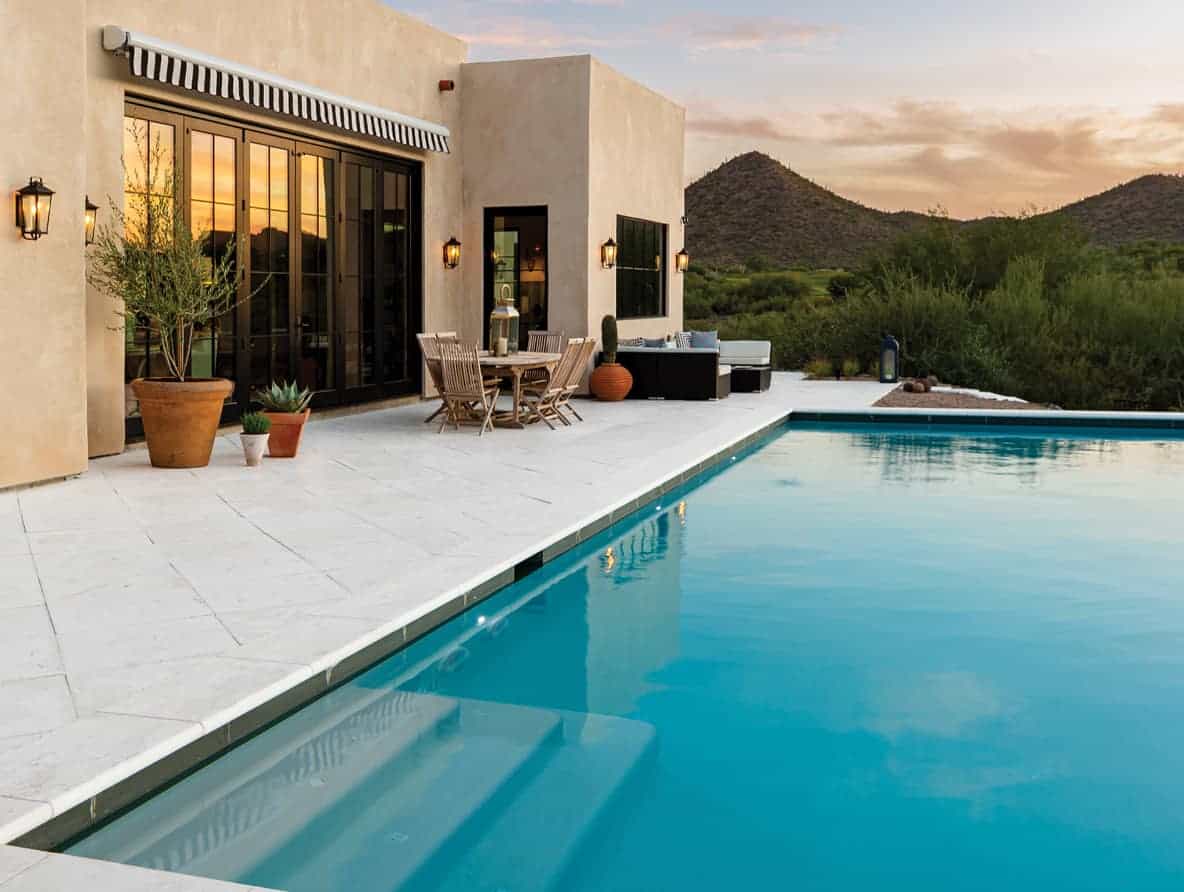 For interior projects, we offer pavers for both new construction and remodeling projects. Add old-world charm to fireplace facings, entryways, kitchens, and more. A broad range of designs means we can fit out every room in the house, from a bathroom to a living room or mudroom. And our pavers further reduce the carbon footprint of homeowners who have already chosen environmentally-friendly improvements like rainwater collection or solar paneling to heat a pool or water system. So, choosing Peacock Pavers means choosing luxury and sustainability while staying budget-friendly.
Contact Peacock Pavers For a Quote
Bring your latest design or construction project up to trend, and contribute to the global effort to address climate change. Projects big or small, interior or outside, our pavers elevate all spaces without negatively impacting the building's footprint. Contact us today, and our team members will happily provide you with a quote. If you'd like to see a sample of our pavers, you can request a Peacock Pavers Sample Kit here.