The herringbone pattern draws its name from the familiar pattern of fish bones.
The herringbone paver pattern is created by positioning rectangular pavers in a zig-zag pattern. The result is a highly compelling weave-like pattern combining straight lines with 90-degree angles that adds intense visual interest to any hardscape. You can further enhance the effect by mixing and matching complementary colors to create an alternative chessboard-type look.
If you're an architect or designer looking to create the popular herringbone look for your patio, pool deck, or interior floor, Peacock Pavers offers a solution that is both elegant and affordable. Our herringbone pavers help you achieve the stylish herringbone design with the look and feel of natural stone — without the accompanying high price tag. It's the perfect opportunity to build curb appeal and create a look of luxury for your clients.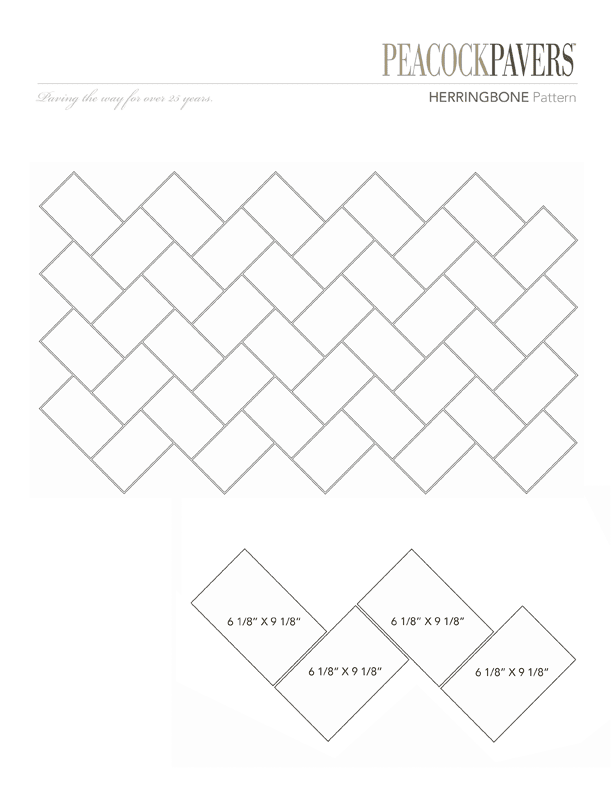 Herringbone Pattern History
While the herringbone pattern is currently quite popular, it is certainly not new. The herringbone pattern dates as far back as the Roman Empire, where it commonly appeared on interior floors and roadways. During the Renaissance, builders began using the herringbone design for wood floors, as well.
Today, herringbone has made a massive comeback with wood flooring, but herringbone paver patterns are actually more in keeping with the historic look of natural stone from ancient times. Whether you're integrating herringbone into a new construction home or an existing project, by using the herringbone laying pattern, you're capturing a look that is both trendy and timeless!
Herringbone Variations and Alternatives
In addition to the standard herringbone pattern, which places pavers in a diagonal "zig-zag" array, there are a few alternative paving patterns that derive inspiration from traditional herringbone. These include:
Stacked Herringbone — Pavers placed alternately horizontally and vertically instead of diagonally.
Basket Weave Pattern — Rectangular pavers placed in pairs perpendicularly to resemble a basket weave.
Pinwheel Pattern — Rectangular pavers placed at consecutive right angles with a square paver in the middle, resembling a pinwheel.
Chevron Pattern — An inverted "V" pattern made when chevron-shaped pavers are placed end-to end, creating an almost three-dimensional look. Fans of herringbone should definitely take a look at this alternative.
Running Bond Pattern — Square or rectangular pavers alternately spaced in rows to create a "subway tile" effect.
---
HANDCRAFTED CONCRETE PAVERS
Available in a wide range of sizes, Peacock Pavers are made from architectural-grade concrete and are available in thicknesses between 3/4" and 1 ¾" — or use our 3"-thick driveway pavers to create the herringbone look on your driveway.
Choose from six standard paver color choices: Rice White, Dolphin Grey, Slate, Oyster, Buff, and Champagne. We can also mix hues to give you a nearly limitless color palette. (Minimum order 7000 square feet for custom colors.)
Paver Sizes
11 ½" x 11 ½"
11 ½" x 17 ½"
17 ½" x 23 ½"
17 ½" x 17 ½"
23 ½" x 23 ½"
17 ½" x 29 ½"
11 ½" x 29 ½"
11 ½" x 23 ½"
29 ½" x 29 ½"
35 ½" x 35 ½"
View Size Chart
Paver Weight



1″ thick pavers weigh 13 lbs per SF

1 ¾ " thick pavers weigh 20 lbs per SF

3" thick pavers weigh 36 lbs per SF


---
More Patterns
Stacked Bond

Running Bond

Hexagon

Chevron

Majestic Butt Joint

Butt Joint
View More Patterns
---
Why Choose Peacock Pavers?
Why do architects and designers consistently choose Peacock Pavers over natural stone, brick pavers, or concrete pavers from other manufacturers? Here's what makes our concrete pavers unique:
---
---
More Affordable Than Natural Stone
Natural stone can be quite attractive, but it's also cost-prohibitive for many clients. Our pavers replicate the look of natural stone at a fraction of the cost. Peacock Pavers offers a wide range of sizes, shapes, and color choices to create truly unique living spaces.
---
High-Quality Craftsmanship
Every Peacock Paver is handcrafted using a secret process that has been in our family for generations, producing beautifully textured pavers of the highest quality.
---
Eco-Friendly
Our pavers are made from recyclable concrete and require less fuel to produce than quarrying natural stone. As a result, our pavers are environmentally friendly and an ideal choice for builders seeking LEED certification for their projects.
Related Products
When looking at paver patterns, don't forget that Peacock Pavers offer other shapes and sizes to give you even more design ideas. These include: