When people think of concrete pavers, outdoor living spaces are usually the first thing that comes to mind. However, concrete pavers are great flooring options for interior spaces as well. Entryways, kitchens, bathrooms, mudrooms, and laundry rooms are some of the most common applications of interior paver tiles, though they're also an elegant choice for living rooms, dining rooms, bedrooms, and more.
At Peacock Pavers, we mix and mold our interior pavers using architectural-grade concrete, which is what gives them durability and strength, as well as the stunning look of natural stone (without the hefty price point of natural stone). In addition to their beauty and strength, our concrete pavers are incredibly versatile and come in a wide variety of colors, shapes, and sizes to suit your interior design tastes.
In this article, we'll share everything you need to know about designing with concrete interior pavers — from choosing the best paver patterns and colors to what you can expect during installation.
Choosing Concrete Paver Shapes and Patterns
With so many paver shapes and sizes available, your options for paver pattern layouts are seemingly endless.
Four of the most popular types of pattern layouts for rectangular and square pavers include random, running bond, stacked bond, and herringbone patterns.



(L-R: Running Bond pattern, Random pattern, Diagonal Square Stacked Bond pattern)
Creative Paver Shapes
If you're looking for some extra flair beyond the typical rectangle and square pavers, Peacock Pavers also offers picket, hexagonal, and chevron paver shapes:
Peacock Pavers Picket Shape
Peacock Pavers Hexagon Shape Slate
Peacock Pavers Chevron Pattern Rice White
We love how much visual interest these shapes bring to interior spaces:
Chevron concrete paver pattern
Peacock Pavers Picket Pavers Bathroom
Oversized Concrete Pavers
If you love making bold statements with your interior design choices, then you are going to love our large format concrete pavers. We love how this homeowner used massive 18" x 24" Dolphin Grey pavers in a running bond pattern: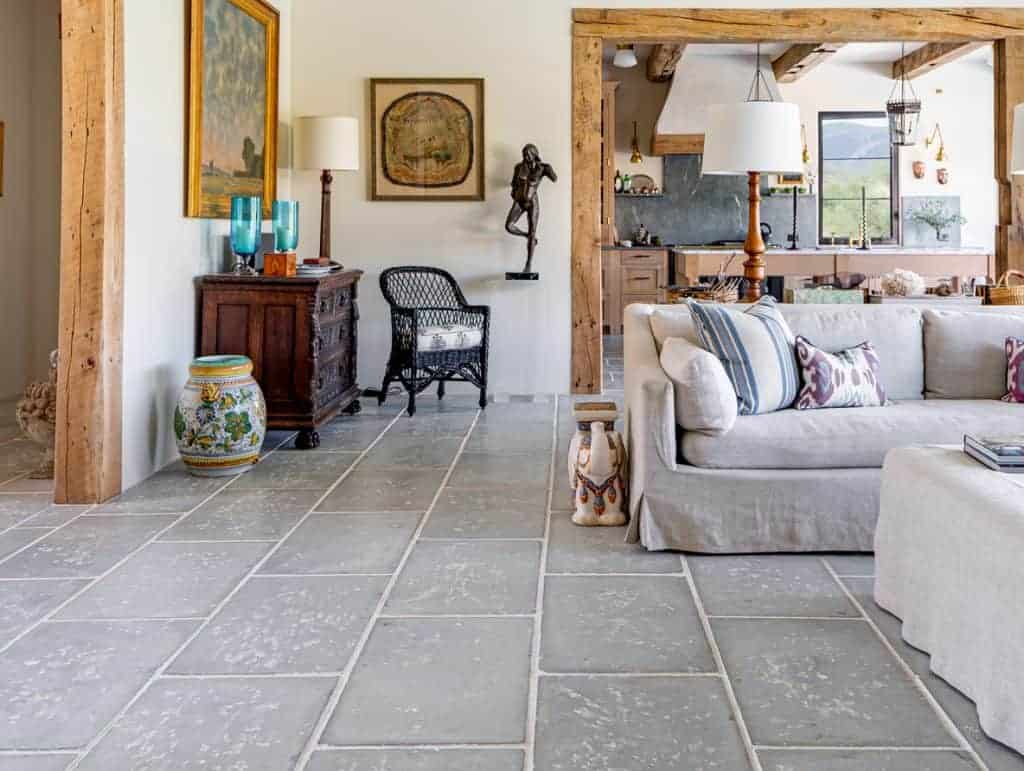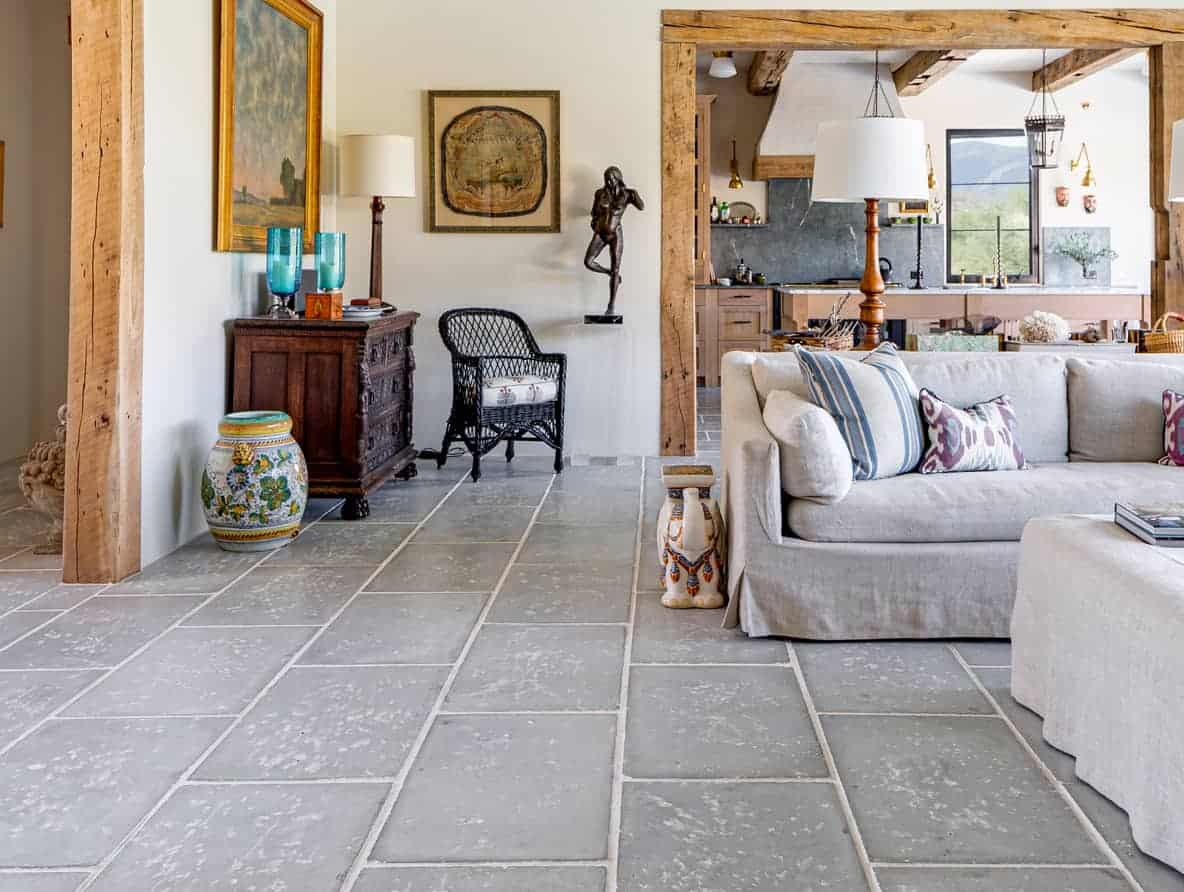 Choosing Concrete Paver Colors
Trying to imitate a particular type of stone? Peacock Pavers are specially handcrafted using pigments that give your flooring the appearance of natural stone. You can also choose multiple paver colors to get some interesting color variation in your flooring. For random patterns, in particular, mixing and matching colors can provide a lot of depth and "Old World" charm.
At Peacock Pavers, our basic concrete paver colors include Buff, Dolphin Grey, Champagne, Keystone Grey, Oyster, Rice White, and Slate.
We also can mix custom paver colors to suit your specific needs (7000 square foot minimum). Learn more about our concrete paver color offerings.
Don't Forget the Trim!
Trim pieces are vital for completing the look and feel of your indoor paver flooring. At Peacock Pavers, we offer a full range of trim pieces, including
Door thresholds
Base molding
Stair treads
Bullnose
Wall caps
Coping
Our trim pieces come in a variety of sizes and colors so you can make sure you finish the job properly. Learn more about our concrete paver trim pieces.
Indoor Concrete Paver Installation — What to Expect
After you've decided on the design of your new interior paver flooring, it's now time to turn your attention to the installation process.
Interior concrete paver flooring is installed similarly to a tile floor with mortar and grout, but before you start laying down your pavers, you must first consider your subfloor and foundation. For outdoor uses, concrete pavers are typically installed on top of a compacted base of gravel. For indoor pavers, on the other hand, we recommend installation on top of a poured concrete slab pad that is at least 3 inches thick.
Like tiles, pavers should be installed using a thin-set mortar. After pavers have been laid in the desired pattern, it's time to bring out the grout. All joints and holes should be grouted to ensure a smooth finish. Peacock Pavers are sized ½" short of true measure to allow for grouting.
Once the pavers have been laid down and grouted, we strongly recommend sealing the floor to protect against spills, stains, and other damage. Our concrete sealant of choice is the Enhance Architectural Products sealer, which provides a clear, breathable, and penetrating seal that resists water-based and oil-based stains makes surfaces easier to clean, and will not affect the surface appearance of the pavers.
Concrete Interior Pavers by Peacock Pavers
Your project deserves the best handcrafted concrete pavers, and we're here to provide them. Learn more about using our handcrafted concrete pavers in interior living spaces by contacting us for a quote, ordering a sample kit, or calling us today at 800.264.2072.