Architectural-grade concrete pavers offer the look of natural stone pavers at an affordable price point, which is why many homeowners turn to them as a way to get that rustic texture and ancient beauty without breaking their budget.
Of course, while concrete pavers look fantastic in "Old World"-inspired homes, they are also well-suited for modern homes, too. Many modern design styles of today are characterized by clean lines, stark color schemes, and sleek minimalism. The "natural stone" appearance of Peacock Pavers' handcrafted concrete pavers provide an earthy counterpoint to contemporary design aesthetics.
Where to Use Modern Concrete Pavers
Concrete pavers are a popular choice for many types of modern landscape design projects, including backyard patios, front yard hardscapes, outdoor kitchens, pool decks, cobblestone driveways, or even simple garden paths with stepping stones. In addition to outdoor spaces and hardscapes, concrete paver designs bring a lot of visual interest when they are installed indoors.
In this article, we've rounded up a few of our favorite modern remodel and landscaping ideas that use Peacock Pavers.
Modern Design Ideas Using Concrete Pavers
Outdoor Living Room With Patio Paver Side Yard
Rice White concrete pavers were used in a variety of sizes throughout this modern farmhouse backyard patio, including pool decking, landscaping, and flooring for an outdoor kitchen, dining, and living room.
Modern Concrete Paver Kitchen Flooring
Our modern concrete pavers in Rice White imbue warmth and texture in this gleaming kitchen, which includes fresh white walls, a large chef's range, modern hardware and fixtures, artsy chandelier lighting, and a stunning marble countertop that waterfalls down to the floor.
Large Format Concrete Patio Paver Pool Deck
The large concrete square pavers in this Floridian swimming pool oasis make a bold statement with its diagonal stacked bond pattern and lush, grassy joint fillings.
Modern Bathroom With Concrete Paving Stones
The centerpiece of this contemporary style bathroom is the deep soaking tub set against floor-to-ceiling windows, but it's the Buff-colored interior concrete pavers that tie the space together.
Beach Home's Modern Backyard Landscape Design
This modern beach house used our Rice White concrete pavers to provide a cohesive aesthetic throughout the hardscaping of the entire property — from the covered porch down to the turquoise pool and spa.
Outdoor Living Room with Mid-Century Modern Fireplace
Our Dolphin Grey concrete pavers give an earthy balance to the clean minimalism of this stark white mid-century modern fireplace.
Modern Step Stone Patio Paver Walkway
This modern stairwell hardscape uses large format concrete pavers in our popular Rice White color as stepping stones. We absolutely love how the wide joint spacing of the paver layout draws your eye to the lush, green grass underneath.
Indoor Concrete Flooring That Looks Like Natural Stone
Our Rice White concrete pavers are ideal for homeowners who love bright and airy rooms with lots of windows.
Modern Backyard Paver Patio With Brick Paver Pool Deck Edging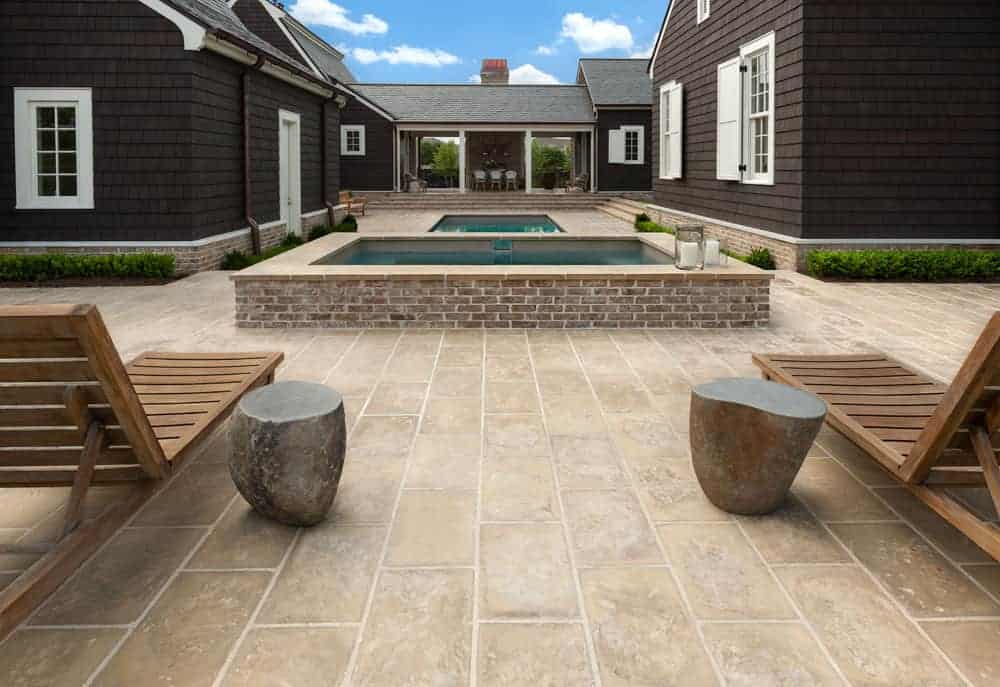 This luxurious courtyard pool juxtaposes our handcrafted concrete pavers in Buff against modern patio furniture, rustic clay brick, pops of greenery, and the rich brown siding and white trim of the house.
White Concrete Paver Floors With Bold Black Trim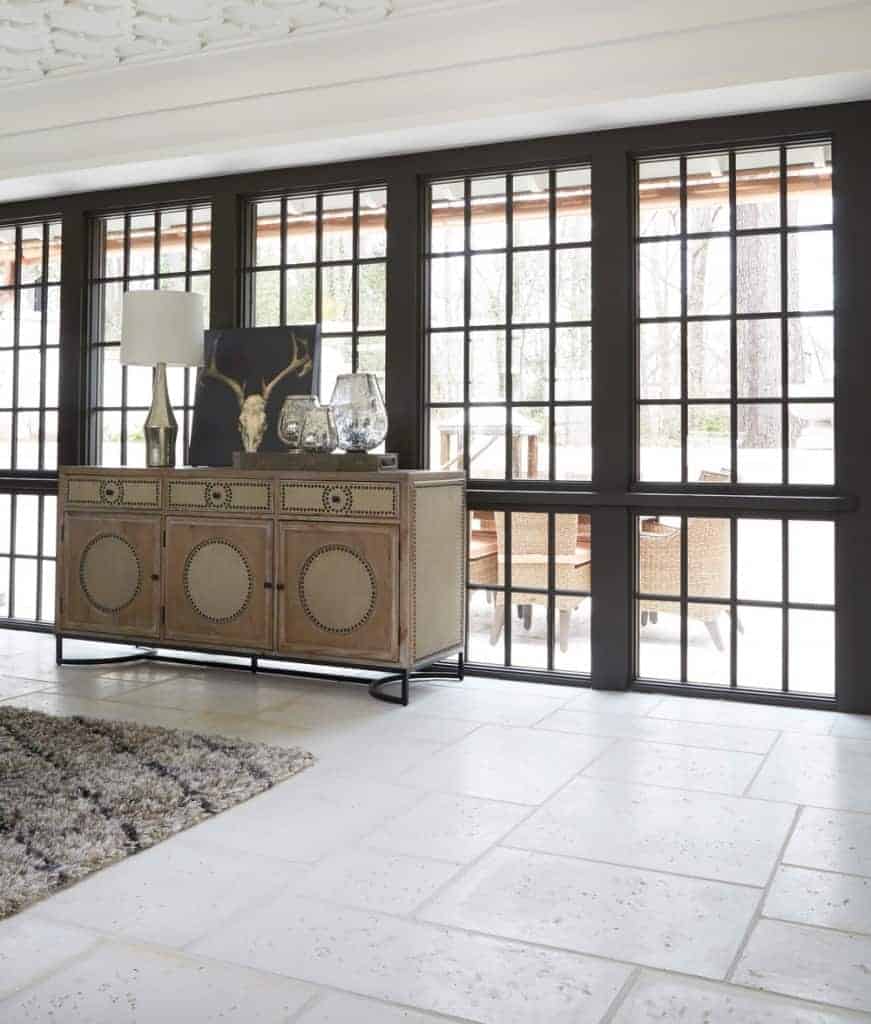 Rice White concrete pavers do a fabulous job of softening the bold wall of windows while also maintaining the space's clean lines and color scheme.
Learn More About Our Modern Concrete Pavers
Peacock Pavers' handcrafted concrete pavers are a durable, low-maintenance, and eco-friendly material that looks just like real natural stone and comes in a wide variety of colors, shapes, and sizes — including large format pavers that look outstanding in modern living spaces and contemporary hardscapes.
Our paver colors include Buff, Dolphin Grey, Champagne, Rice White, Keystone Grey, Oyster, and Slate, and we can also mix custom colors to suit your unique needs (for 7,000 square foot minimum orders only). Paver colors, sizes, and shapes can be mixed and matched in the paver layout pattern of your choice. We also offer trim pieces to complete your indoor or outdoor space, including coping, bullnose, stair treads, base molding, wall caps, and thresholds.
To learn more about incorporating our modern concrete pavers into your next modern remodel or landscape design project, we invite you to request a quote, get a sample kit, or call us today at 800.264.2072.