Project: Kessler Residence
Location: Tucson, Arizona
Interior Designer: Kathie Kessler, KKNY Design Inc
When NYC – based interior designer Kathie Kessler and her builder husband began designing their desert dream home in Tucson, Arizona they knew they wanted their flooring to make a bold statement.
Although Kessler was initially gravitating toward natural stone flooring, she happened to come across a more affordable yet equally gorgeous option – handcrafted concrete pavers by Peacock Pavers. After doing her research, ordering samples, and weighing all her options, she decided to install concrete paver flooring throughout the home's interior spaces as well as in the courtyard and swimming pool patio areas.
"I love that they truly look like stone and I was able to affordably do the entire house with them, whereas with stone, perhaps not." Kessler said.
In addition to achieving the desired rustic yet refined aesthetic of natural stone flooring, another major factor that led Kessler to choosing Peacock Pavers was the large variety of paver sizes available – specifically large format pavers.
"Peacock Pavers offered 36" x 36" pieces which was our original design intent for the courtyard," Kessler explained. "Outside of bluestone, there weren't that many products available in that format. Ultimately, we chose the 30" x 30" Peacock offered for perfect symmetry. It was also important to have a larger size for the interior spaces that would scale out aesthetically as well."
"We wanted a time-worn look," Kessler explains. "I felt that Peacock Pavers Dolphin Grey color spoke closest to those styles."
When choosing the concrete paver color for the home's interior flooring, Kessler wanted something that looked like natural stone and would complement the home's Spanish Colonial and Tuscan villa influences.
The Dolphin Grey pavers, which measured 18" x 30" x 1" thick, were laid throughout the house in a running bond pattern and then grouted and sealed to protect against spills and stains. After nearly a year since the initial installation and sealing, Kessler is especially pleased with how beautifully the pavers are aging.
"I love how the patina on the interior pavers look now. They have that kind of 'waxed' look to them and I guess they're just aging with mopping and cleaning or whatever, but they're great."
For the home's courtyard, Kessler continued with the Spanish Colonial and Tuscan influences, but drew additional inspiration from the courtyards of traditional Moroccan riads. The courtyard floor consists of large format 30" x 30" square patio pavers in Peacock's Slate and Dolphin Grey colors, which were set in a contrasting diagonal check pattern end – to – end with zero grout line.
"We didn't really want (the flooring) to be a stark black and white. The slate color was more of a charcoal than black and the Dolphin Grey color was more grey than white, so it has that 'old world' look," Kessler explains. "We put a lot into this courtyard, using antique timbers and antiqued 2 piece clay roof tiles. Our intent was for it all to look like it had been here for ages. We really wanted to compliment that."
To surround the pool, Kessler opted again for large format 24" x 24" square pavers in a diagonal pattern, this time using Peacock's Rice White color. Living in the desert, this color choice was motivated by practicality as much as aesthetics.
"Being out in the Arizona heat – some days a hundred plus degrees – I was pleasantly surprised that the Rice White pavers did not hold any heat. We are able to walk on them barefoot. With almost any other stone or color, you would not be able to do that at all."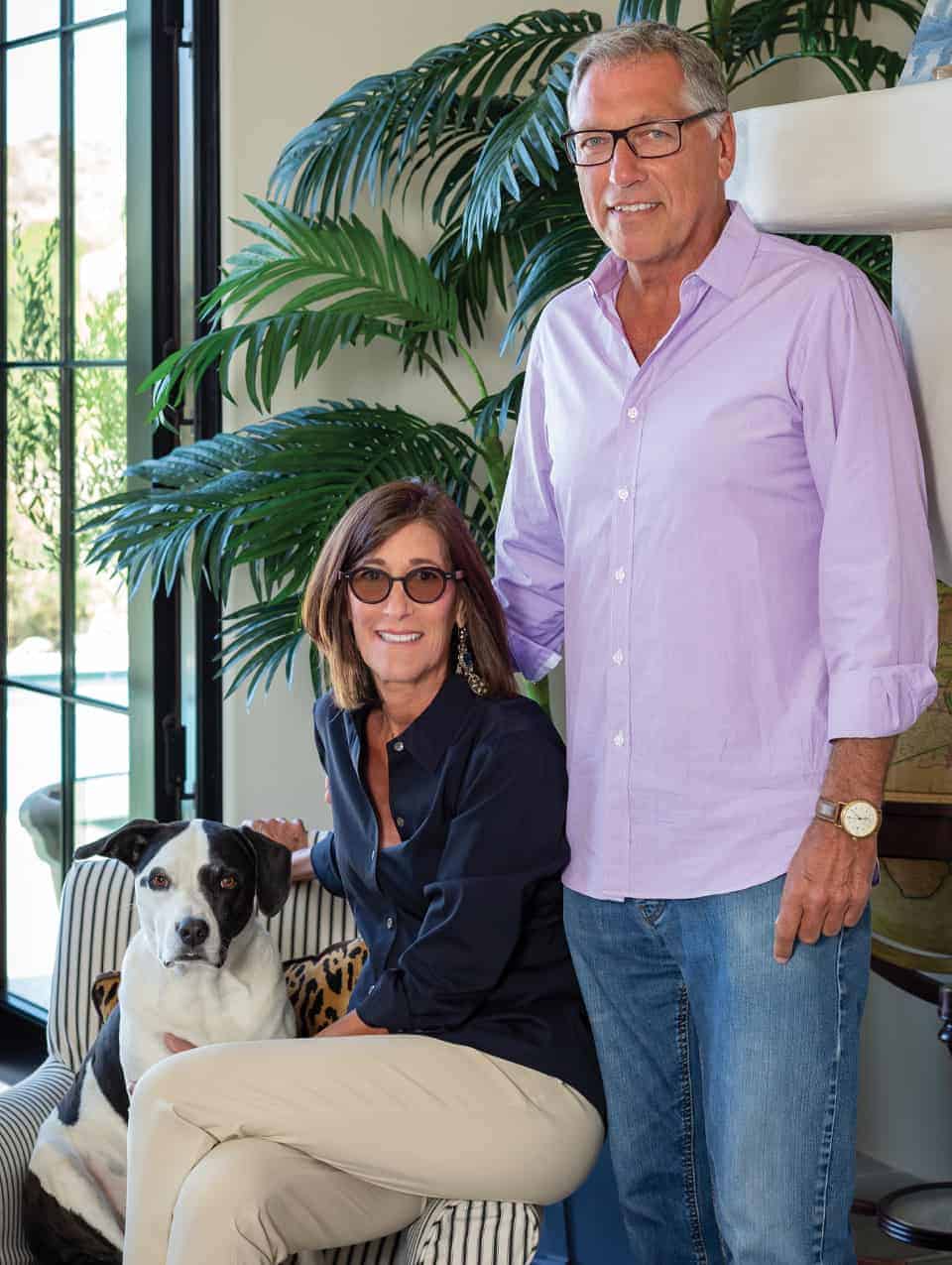 "I love that they really look a lot like stone and I was able to affordably do the entire house with them…"