You can hardly thumb through an interior design magazine nowadays without spotting references to and examples of what appears to be one of the latest trends in home design – the "modern farmhouse." A fascinating and eclectic blend of vintage and contemporary, today's modern farmhouse is a far cry from the rustic and modest homestead that the word "farmhouse" implies. Instead, this look combines upmarket country comfort with simple, clean lines for a much-elevated take on shabby chic.
Architects and designers incorporating the modern farmhouse look have found that the earthy, muted tones of Peacock Pavers fit nicely into this design approach, both inside and outside the home.
So, what are some of the key elements of the "modern farmhouse" style? Let's take a closer look at this popular aesthetic and the ways our handcrafted concrete pavers can help you achieve this modern country look.
What is the Modern Farmhouse Style?
While the term "modern farmhouse" may sound like an oxymoron, it turns out that combining traditional, country-style elements with contemporary accents works quite well.
Rustic elements and weathering may well be incorporated into this aesthetic. However, the modern farmhouse primarily draws from the more satisfying aspects of contemporary minimalism and rural comfort to create light, open, warm, and inviting living spaces — without feeling cluttered or contrived.
The focus is on the essential, blended with natural materials and sensible design that doesn't call attention to itself. Decor elements are simple without being sparse, and they combine organic elements — such as stone floors and iron fixtures — with light woods and other warm materials.
Some specific identifiers of the modern farmhouse style include:
Ample use of neutral colors, often layered, utilizing creams, greys, browns, blacks, and off-whites in appealing combinations.
Mixed materials used throughout – including an eclectic blend of steel, raw timber, glass, exposed slurried brick, granite, tile work, copper patina, etc.
High ceilings to create a sense of space, accented with wood beams to soften the contrasts between off-white walls and darker window frames.
Emphasis on oversized windows and doors allows for natural light and creates an uninterrupted flow between outdoor and indoor spaces.
Landscaping may be lush and inviting without appearing either unkept or overly manicured. Natural brick, stone, or earth-toned concrete pavers may be used for walkways, patios, pool decks, and other hardscaping elements.
Peacock Pavers Used in Modern Farmhouse Projects
When looking for a concrete paver to help style their modern farmhouse, home designers don't have to look further than Peacock Pavers for inspiration. Let's look at an example of a real-world project that effectively incorporated Peacock Pavers into their modern farmhouse's design.
Triple-C Farmhouse
Home designer, Karon Padgett, shipped our handcrafted concrete pavers from Alabama to her dream house in Texas for use on the back patio and pool area.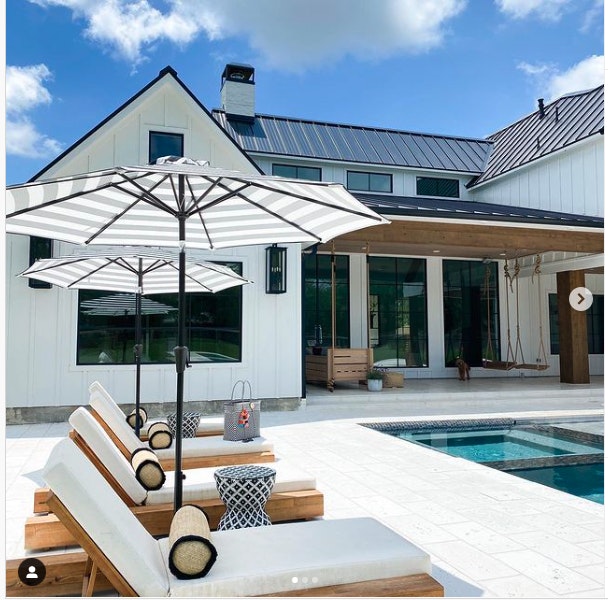 Here, Peacock Paver's rice white pavers perfectly complement the home's white and black exterior and blue, white, and brown pool furnishings, blending naturally through to the slightly raised patio area that utilizes a similar blend of materials, textures, and hues.
Karon used equal-sized pavers around the pool and on the patio in a simple and unassuming running-bond pattern to create clean and minimalist lines.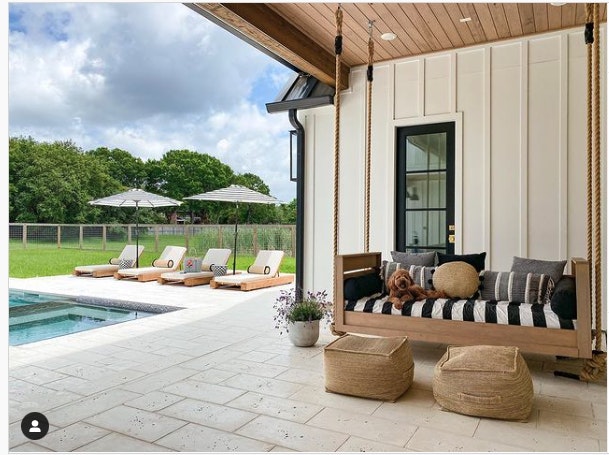 The Rogers Casa
Located in Columbus, Ohio, the soon-to-be-finished Rogers Casa also uses Peacock Paver's concrete around their pool to complement their modern farmhouse aesthetic.
Applying the Modern Farmhouse Aesthetic to an Urban Home
The modern farmhouse style is not relegated only to rural settings or homes in the suburbs. Many designers opt to incorporate this look into urban townhomes, apartments, and lofts, creating a spin-off of the modern farmhouse commonly called "Urban Farmhouse."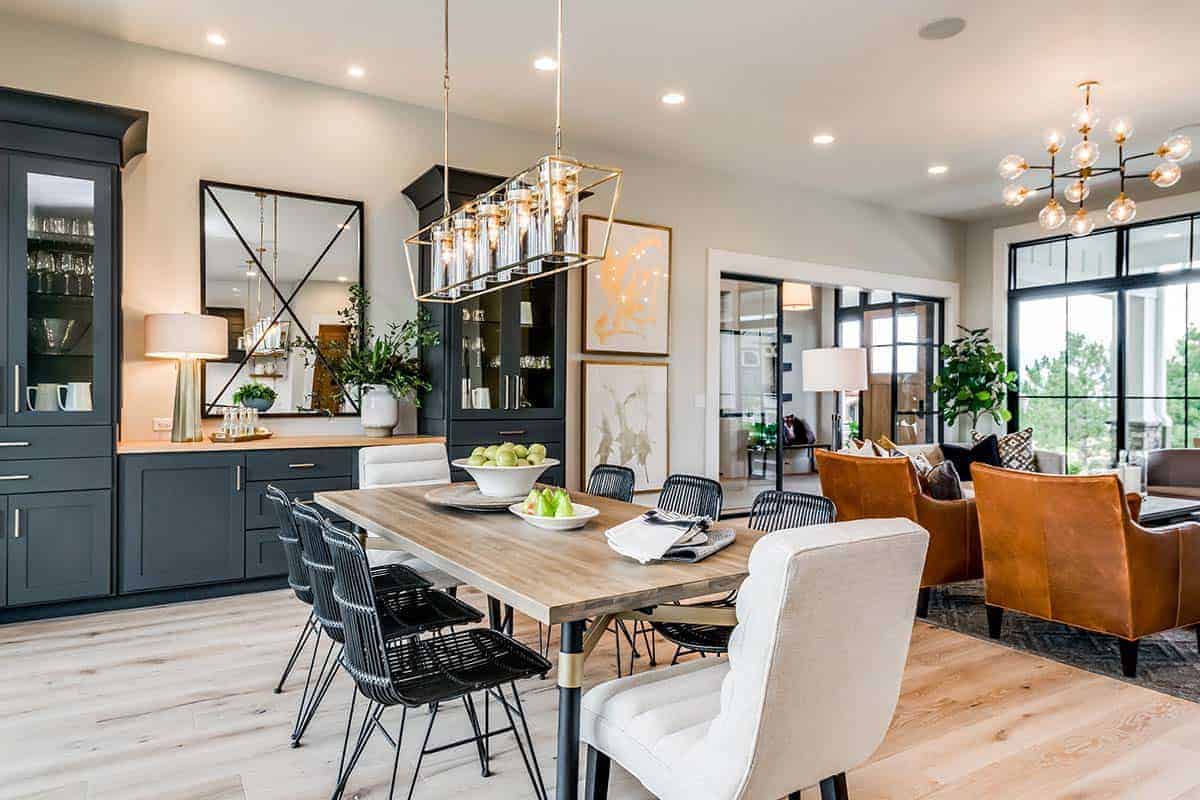 In recent years, one of the most popular trends for renovated apartments was the so-called "industrial look," which draws inspiration (in part) from the practice of developers converting old factories into modern loft apartments. The urban farmhouse is warm and contemporary, mixing traditional elements with industrial or rustic accents. Overall, the same rules apply to the urban farmhouse as to the modern farmhouse, which combines a modern look with a more raw and natural aesthetic to create modern-yet-cozy spaces.
Handcrafted concrete pavers can make an excellent addition to interior and exterior spaces inspired by the modern farmhouse style. To learn more about incorporating handcrafted concrete pavers into your next modern or urban farmhouse project, request a quote, order a sample kit, or call Peacock Pavers today at 800.264.2072. Your project deserves the best, and we're here to provide it.