Wondering what makes concrete pavers the ideal choice for designing stylish pool decks? At Peacock Pavers, we've spent decades working with architects, contractors, and exterior landscape designers on creating elegant concrete paver pool decks.
Our pavers are made from a material that we firmly believe in, and that makes us want to share some of our work with you so that you can see for yourself what makes them so popular.
Concrete Pavers vs. Other Pool Paving Options
Before we dig into the gorgeous inspiration photos, we think it's important to first explain why wood, poured concrete, brick, and even natural stone are no match for the versatility, durability, and cost-effectiveness of handcrafted concrete pavers.
Wooden Pool Decks
Wood is a bold material for pool decks; it makes a statement when paired with the stunning blue of pool water and it is gentle on the feet. Unfortunately, it is one of the least resilient pool decking options. It doesn't withstand the elements as well as other materials and it is also prone to insect damage. Meanwhile, concrete pavers last for decades and are extremely durable.
Poured Concrete Pool Decks
Poured concrete is one of the cheapest pool decking options, and it is fairly easy and straightforward to install. You can also stamp the concrete with a pattern. The downside of huge slabs, however, is the damage they incur over time due to encroaching tree roots as well as cracking caused by freeze/thaw cycles. Concrete pavers do not have this same problem because they are installed piece by piece, making them resistant to freeze/thaw cycles and easier to repair if necessary. Even if poured concrete is cheaper upfront, high-quality concrete pavers are more cost-effective in the long-term.
Natural Stone Pool Decks
Natural stone is many people's go-to choice when they think of luxury pool decks, but choosing this material can get quite expensive — even for generous project budgets. Not only this, but you need an expert stone mason to cut natural stone to size, and there are a limited number of shapes and colors to choose from. While natural stone is undeniably beautiful, you can get the same elegant appearance by choosing handcrafted concrete pavers made from recyclable material.
Brick Pool Decks
Brick is a less common decking choice, and you certainly won't want to stand on it with bare feet after it's been baking in the sun! While we don't recommend brick for full pool decking, our clients will sometimes use concrete pavers are the primary decking material and use brick as an accent — such as the facing of a spa or fountain feature: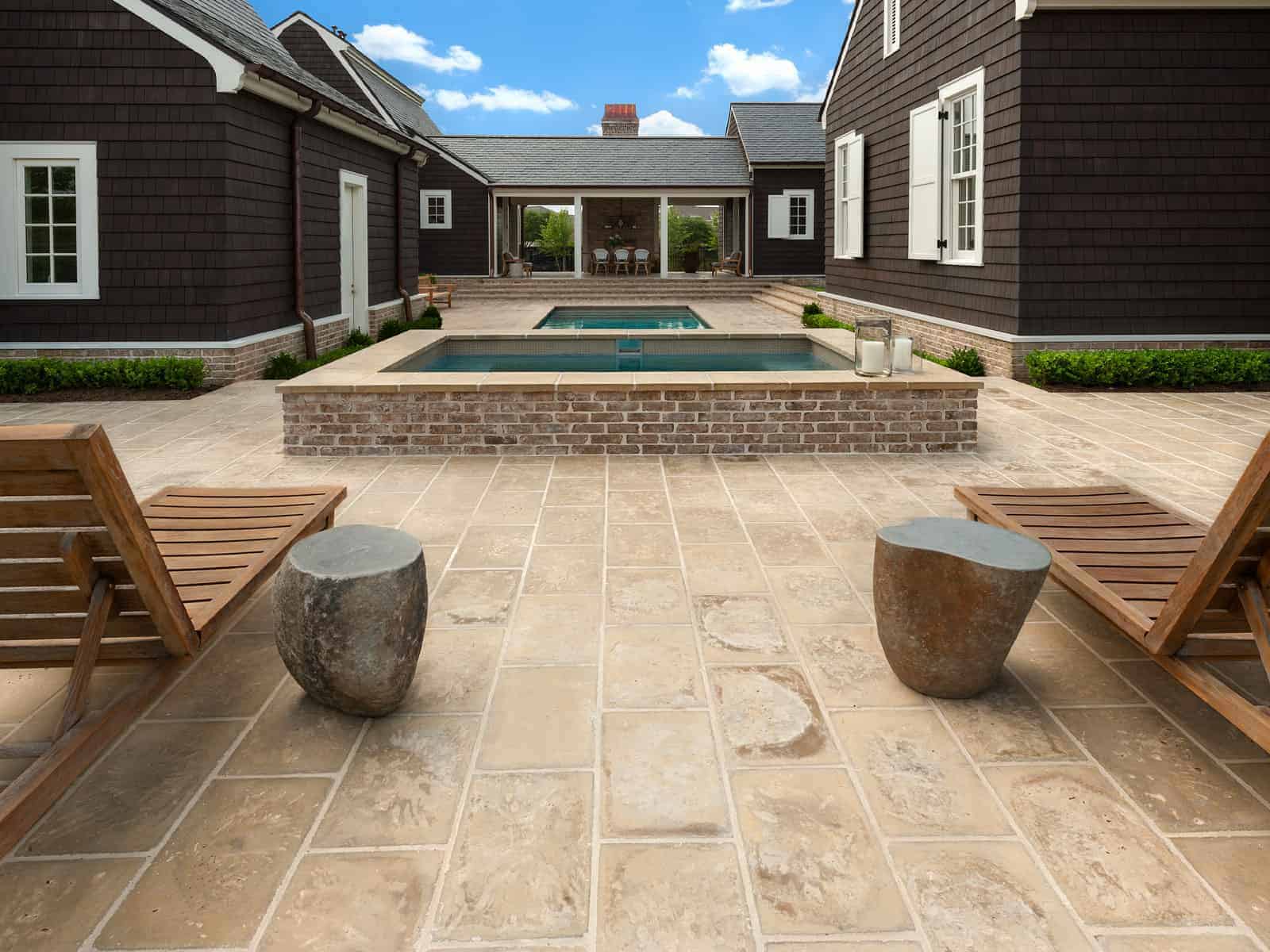 Pool Paving Featuring Peacock Pavers
With Peacock Pavers, you can get the look of natural stone, but the versatility of shape, size, and color that only concrete can provide.
Below, take a look at one beautiful exterior design project featuring Peacock Pavers pool decking — and a round-up of other examples of pool retreats that use our pavers.
Spotlight: 2020 Southeastern Designer Showhouse at Villa Flora
When it came to the pool paving for this magnificent showhouse in Atlanta, Georgia, the Benecki team knew that it was only ever going to be concrete pavers in a custom color of their choosing. This kept the pool and terrace light, without being ostentatious. Instead, it is soft and natural-looking, a style that is enhanced by the way that these pavers are made. Each one is hand-made by artisans to create a look that mimics natural stone. As each one is unique, it really is difficult to tell the difference between concrete and stone pavers – except when it comes to the price!
"We didn't even consider another product for this home.  The custom color that we used matched our exterior finishes perfectly." – Vern Vanderkleed of Benecki Homes.
Perfect for Pool Decks and Beyond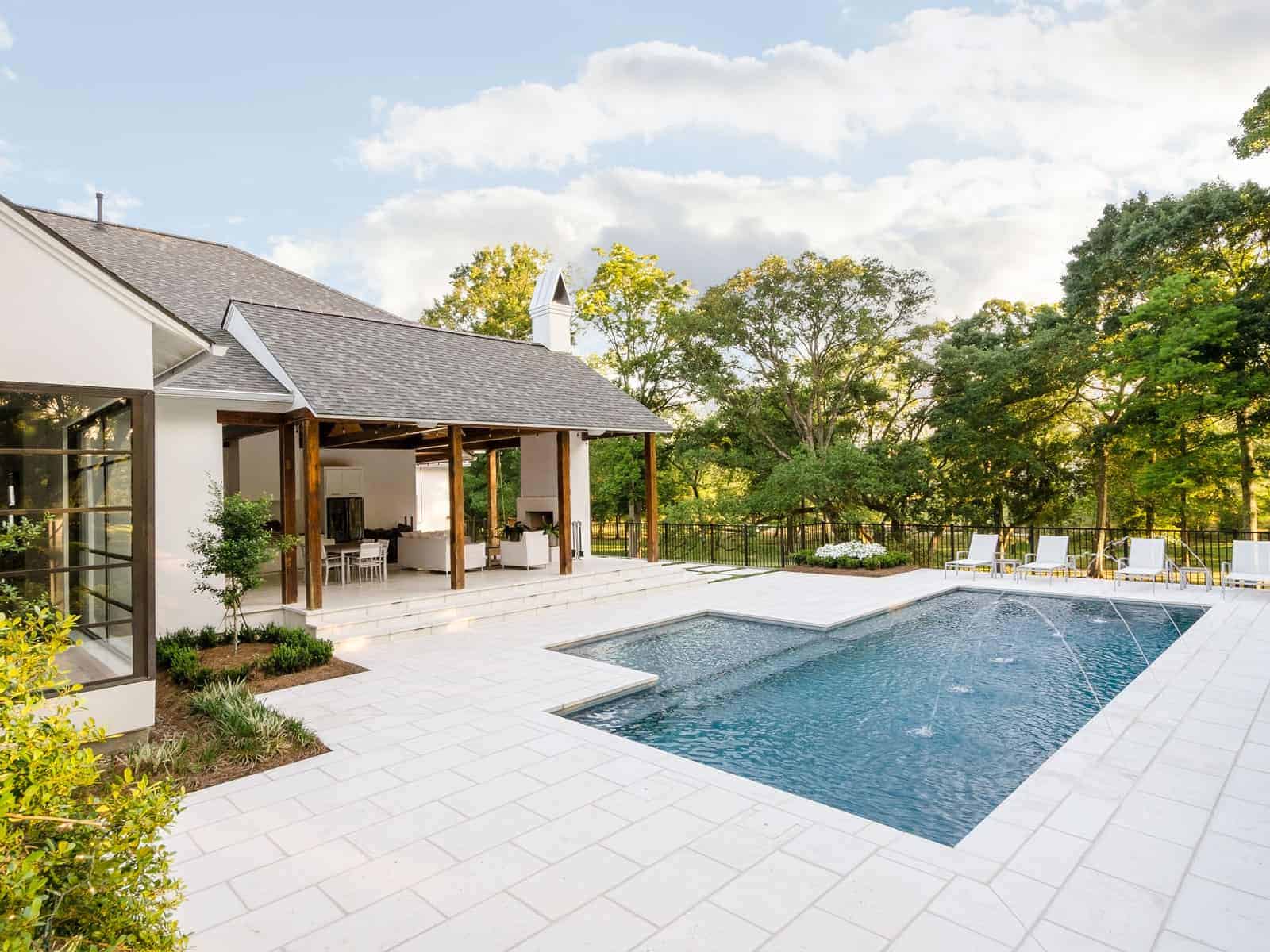 Can you imagine a more perfect place to chill out and relax on a hot summer afternoon? This entire space — from the airy pavilion with rustic wooden columns to the pristine pool deck and grassy side yard — all feature Peacock Pavers in our immensely popular Rice White color.
Prefer Earthier Aesthetics? Try Pavers in Oyster
While our Rice White pavers are one popular choice for pools, our Oyster color is also a big favorite. This dusky color provides an extra touch of warmth and transforms this pool area into a place you never want to leave.
Accentuate a Pool's Beauty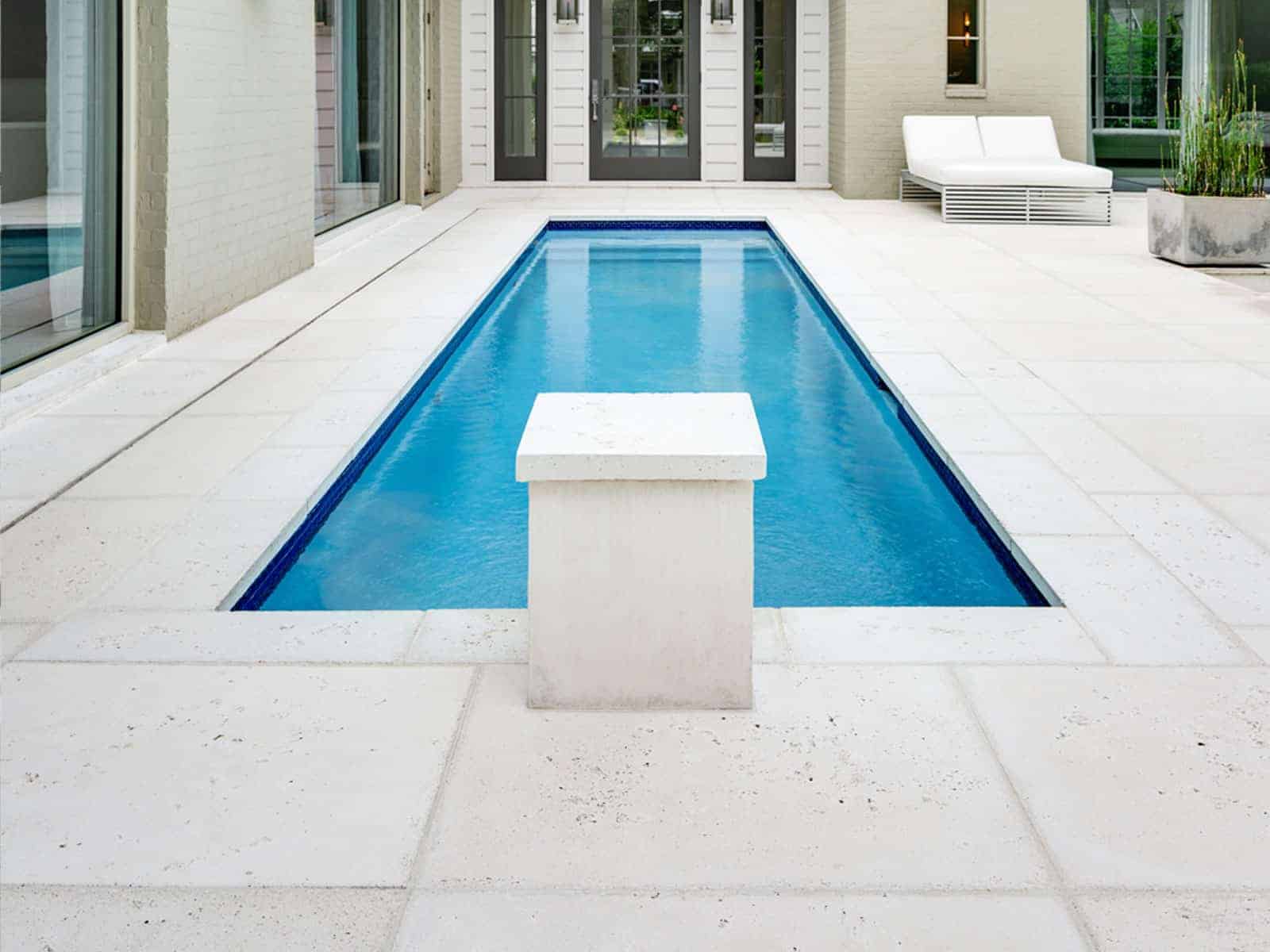 For minimalist exterior spaces — like this sleek pool patio — our Rice White pavers allow the stunning blue of the water to pop.
Raised Paver Steps Leading to Pool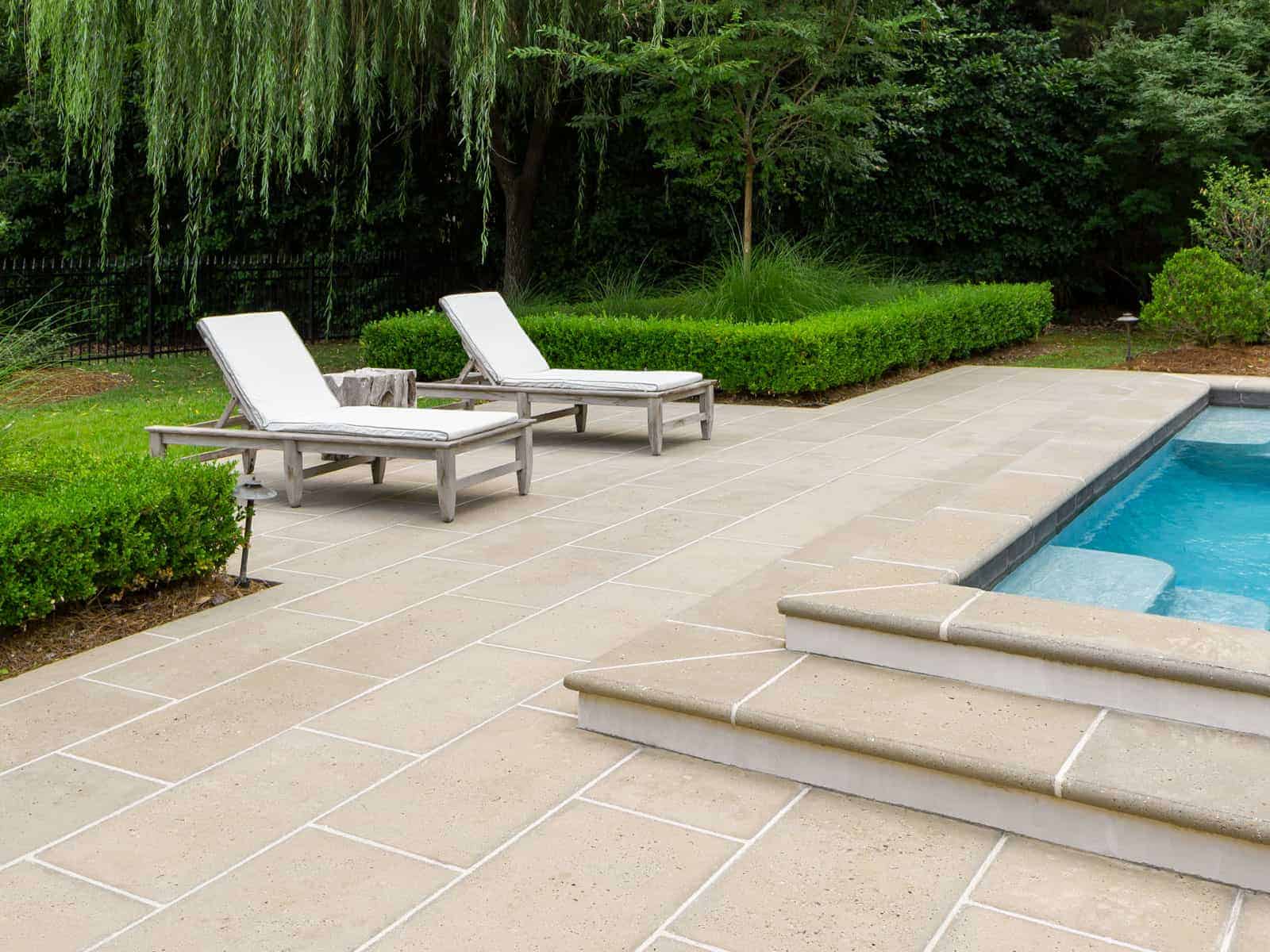 Concrete pavers in Peacock Pavers' Buff color were used as decking and coping for this poolside retreat surrounded by lush greenery.
Modern Indoor Pool with Floating Platforms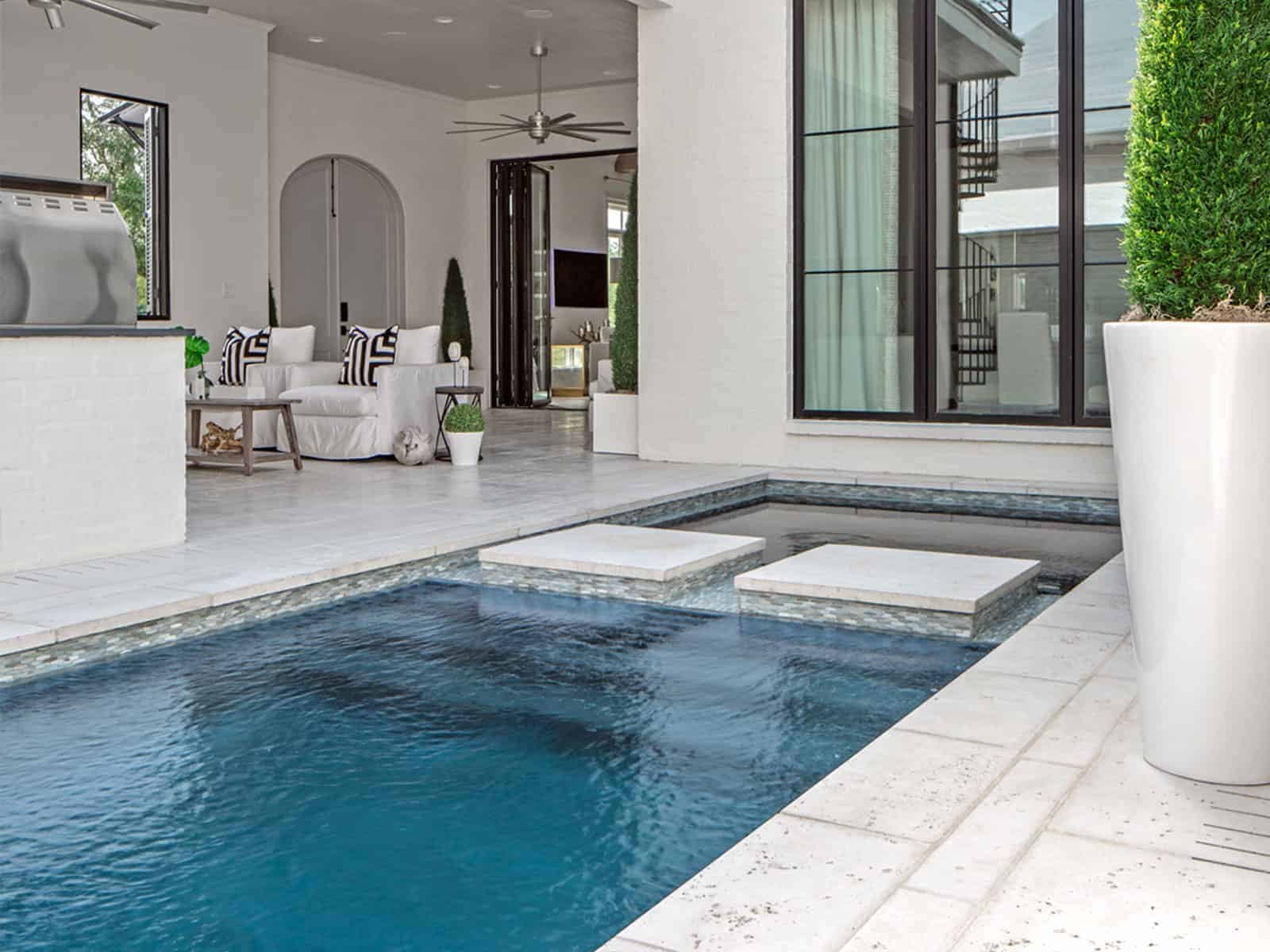 Now here's a pool that you only thought lived in your dreams — but no, it's real. Featuring our Rice White pavers, this pool has two floating platforms with steps descending deep into the water, as well as an adjoining covered patio with an outdoor kitchen area and lounge space.
Poolside Fireplace with Twin Fountains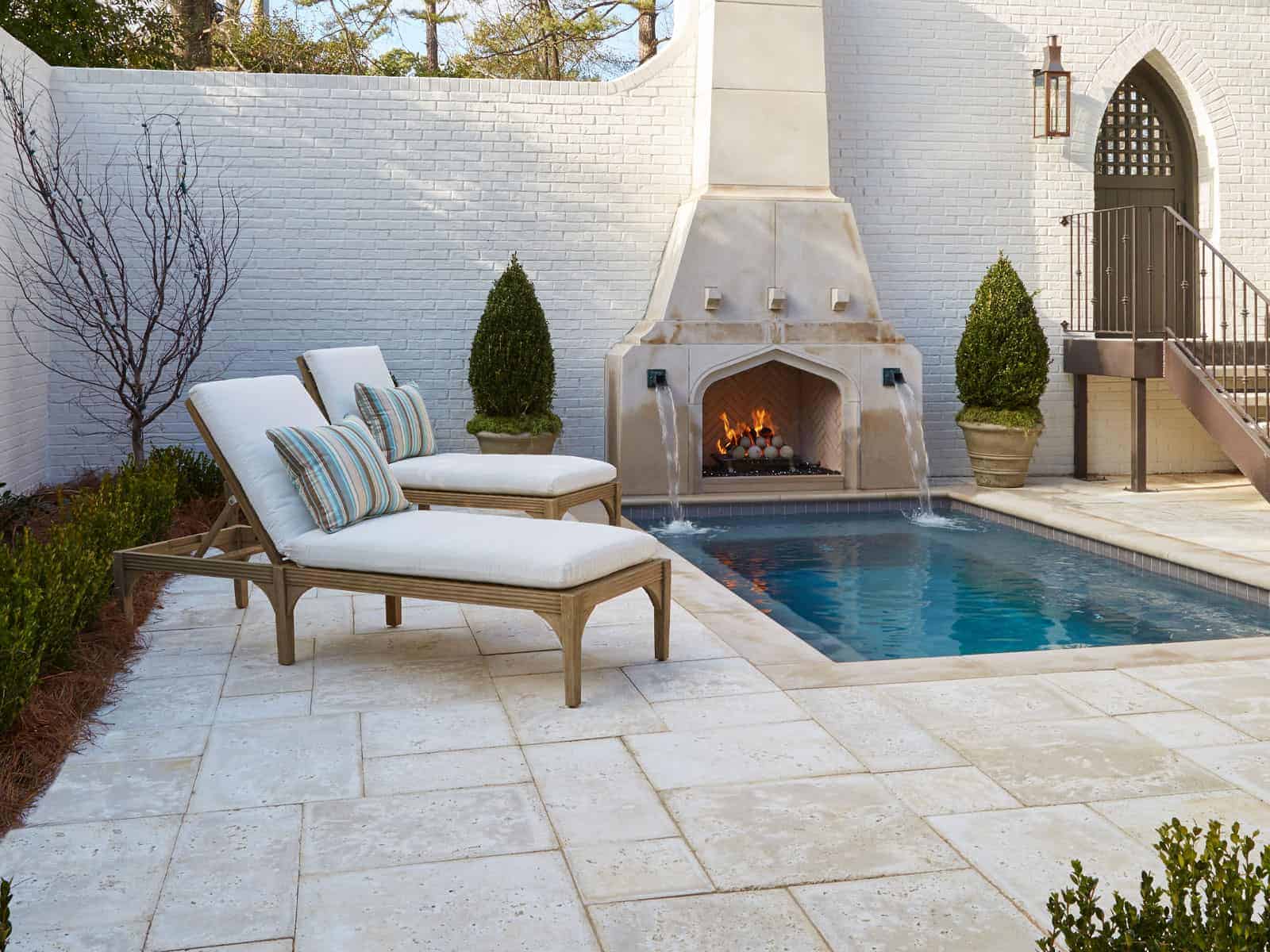 The centerpiece of this area isn't so much the water feature, but rather the fireplace perched above it. This gorgeous courtyard-style hideaway really demonstrates how well concrete pavers work with other materials, like stucco, metal, and brick.
Pavers for Pool Decking and Hot Tub Facing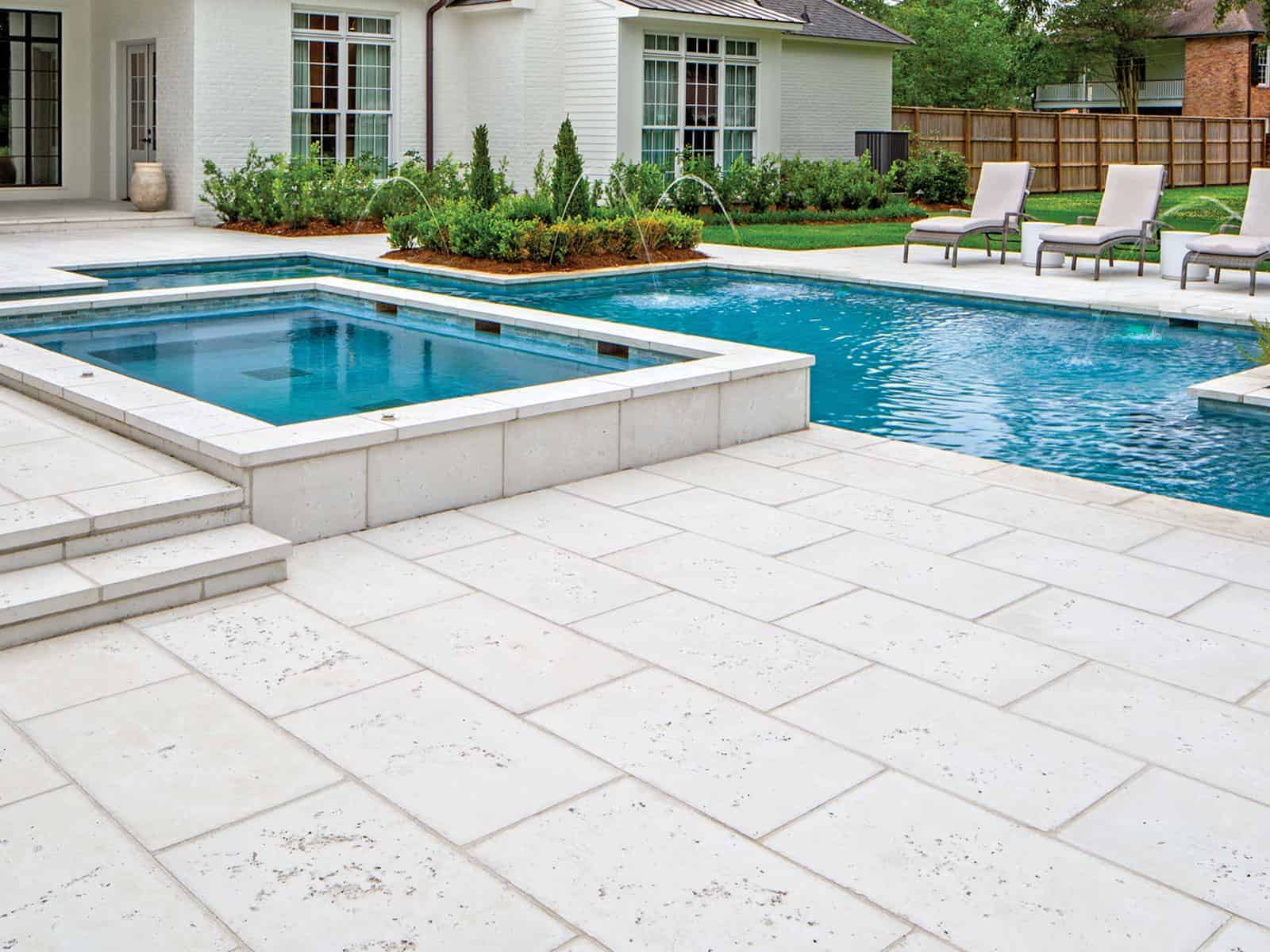 This pool and raised hot tub are set within a beautiful garden area. The relaxing space is brought together with Rice White pavers used for both the pool's decking and along the facing of the hot tub.
Using Peacock Pavers for Your Poolside
Handcrafted by artisans, this is no ordinary concrete. By using Peacock Pavers, you can get that "Old World" elegance without the hassle and expense of natural stone. Plus, our pavers are available in 10 sizes up to 3'x 3′ and six custom colors — making them infinitely customizable.
To learn more about incorporating handcrafted concrete pavers by Peacock Pavers into an upcoming pool deck project, request a quote, get a sample kit, or call us today at 800.264.2072.