Designing an inviting pool area often goes far beyond the pool of water itself. You also need to think about all the elements that support the space and make it a satisfying place to relax or entertain friends and family. That's why many clients of architects and home designers request pool houses, pavilions, and cabanas in their plans.
When it comes to various types of pool-adjacent structures, homeowners benefit from flooring that is made from a material that is easy to care for, slip-resistant, and won't be damaged by regular exposure to water. And if you're trying to stick to a set budget without sacrificing quality or aesthetics, concrete pavers may be the answer for you and your clients.
Over the decades, the Peacock Pavers team has worked with designers on many pool projects, so in this article, we're going to share some of our knowledge and tips for designing pool houses and cabanas. We'll also share some gorgeous inspiration for your next project that involves a pool house, cabana, pavilion, or other outdoor living space featuring a pool.
Pool Houses and Cabanas
Having a dedicated area to relax right next to a pool is a must for many homeowners. When the weather's good, people want to be able to spend as much time as possible outdoors, and a pool house or cabana can offer some much-needed shade without needing to retreat to the main house. They also double as great spots to chill at pool parties, and many include bars or outdoor kitchens!
Pool House vs. Cabana — What's the Difference?
What is the difference between a pool house and a cabana?
As is hinted in the name, a pool house is almost like a miniature house, with a solid roof and walls — and perhaps a full kitchen, bathroom, or even a guest bedroom. It has full amenities, making it seem like you're on vacation in your backyard!
A cabana is generally open on at least one side, with some designs going completely free-standing. A cabana can be as simple as a space covered by a tent or pergola, or it may even be attached to the main house as more of a covered patio or open-air pavilion. In these cases, you might have an outdoor kitchen or an outdoor fireplace for entertaining.
Furnishing and Equipping your Pool House
When it comes to décor, furniture made from rattan is a timeless classic for a pool house to cabana. Any furniture is usually upholstered in performance fabrics that can withstand people sitting on it when not quite dry from the pool. Yet there are many different interior designs for cabanas, from metal framed antique furniture to ultra-modern minimalism.
If your pool house is basically an open-air "outdoor living room" situation, you may also want to spring for outdoor-friendly kitchen appliances and dining sets.
Concrete Paver Floor for Pool Houses and Cabanas
The flooring of your pool house or cabana is just as important. You need something that is slip-resistant and won't suffer from water damage — but it must also work with the rest of the décor. That's where concrete pavers come in.
Peacock Pavers is a leading supplier of concrete pavers for pool spaces, which provide nearly unlimited design options that are perfect for both indoor and out. Take a look at just a handful of the projects we've worked on:
Outdoor Living Room with Pool and Freestanding Dining Pavilion
Using a classic running bond pattern, these stunning pavers provided cohesiveness between all of the areas in this outdoor living space — from the outdoor living room with chic fireplace and TV, to the luxurious resort-style pool and freestanding open-air dining cabana.
Minimalist Poolside Chic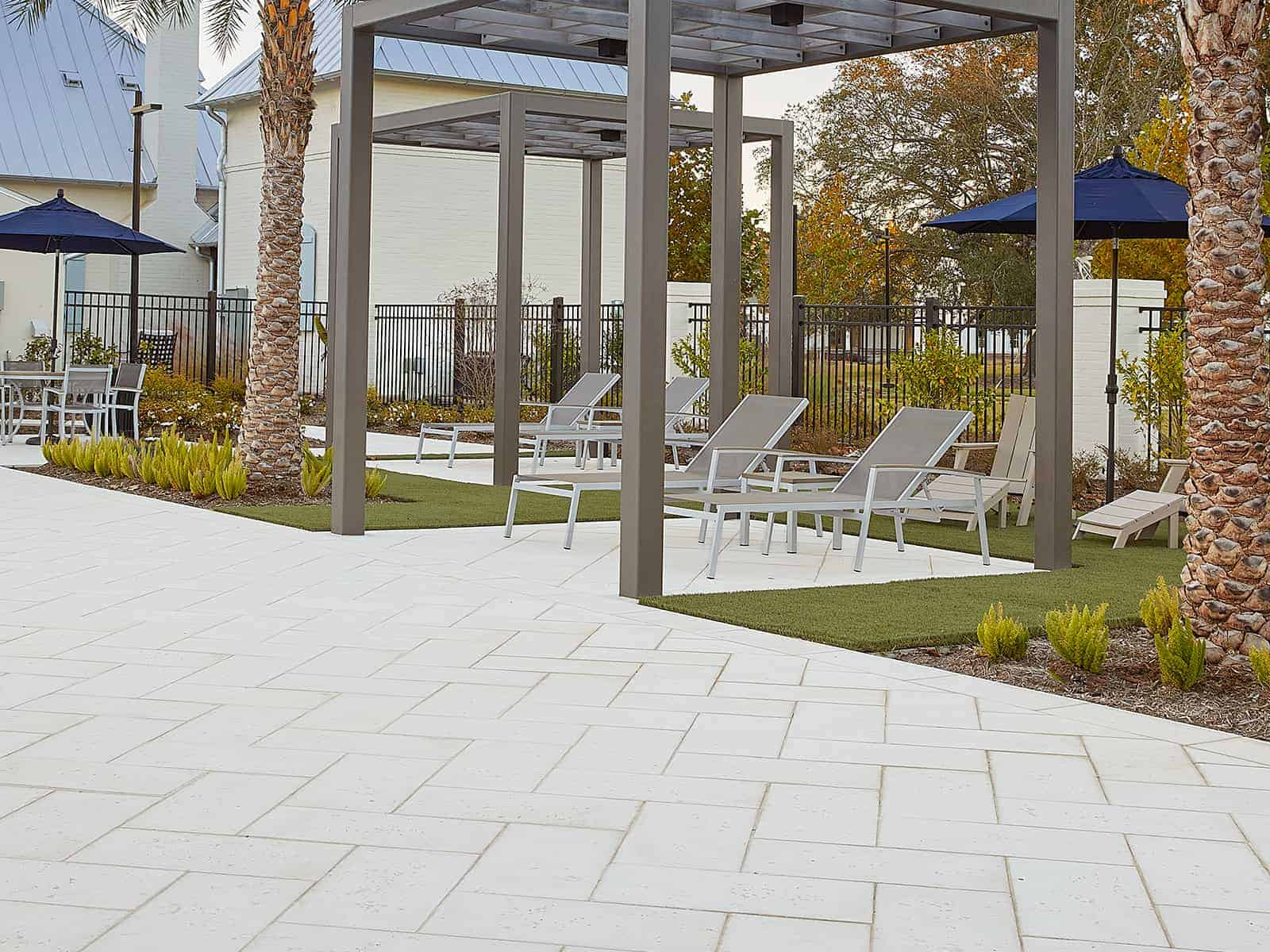 Due to its incredible versatility, Rice White is one of our most popular paver colors. In this example, the crisp white of the pavers helps complement the modern minimalist style of the outdoor lounge area's metal pergola cabanas. The use of both rectangle and square pavers creates a pleasing pattern that adds a touch of warmth to the area.
Large Format Pool House Kitchen Flooring
This ultra-modern kitchen uses large format concrete pavers to lead you right out into the inviting pool area.
Light and Breezy Covered Porch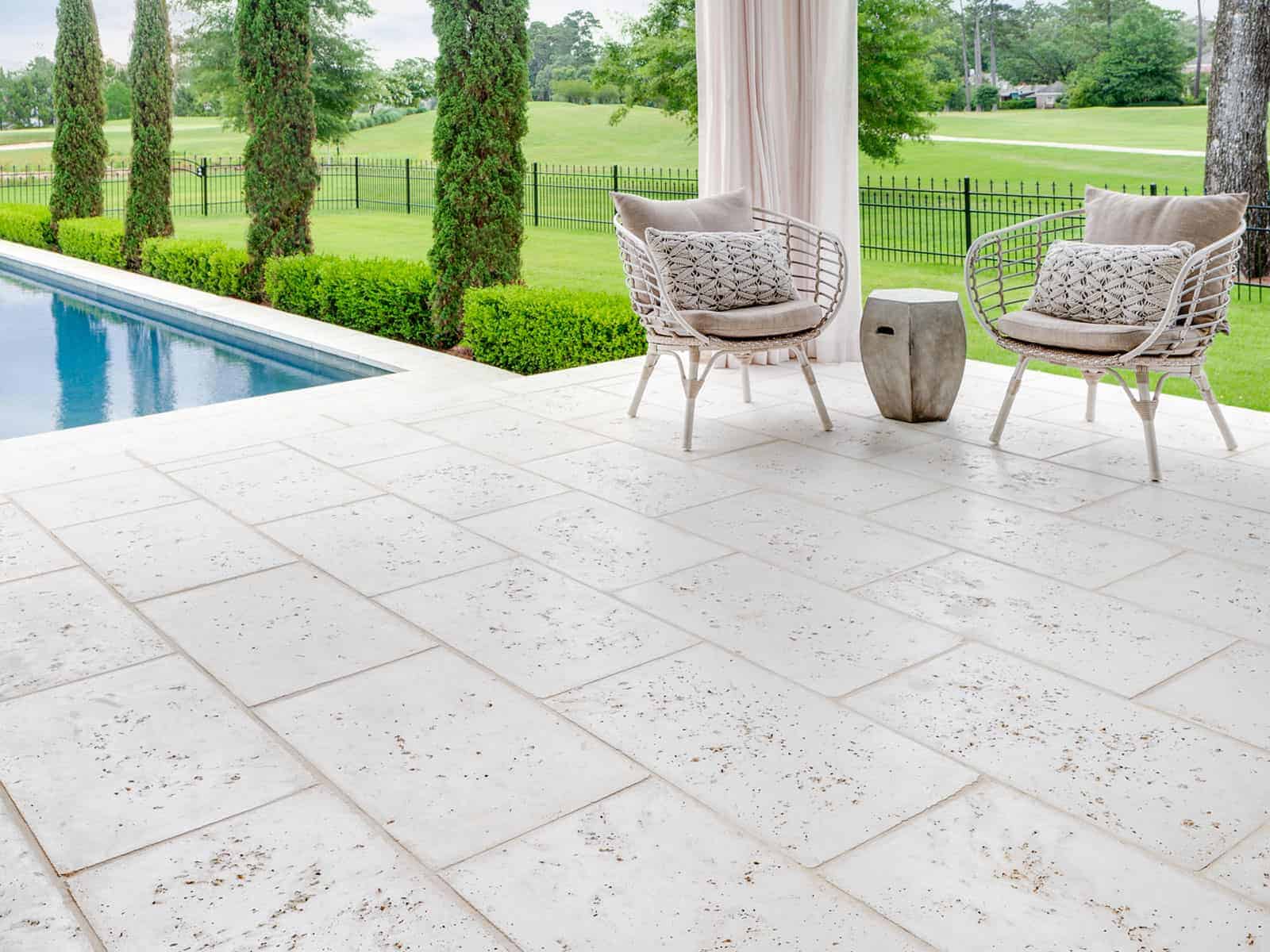 This chic and airy poolside seating area — featuring beautiful concrete pavers laid in a running bond pattern — makes you feel right at home while you gaze out onto the pool.
The Ultimate Outdoor Living Space?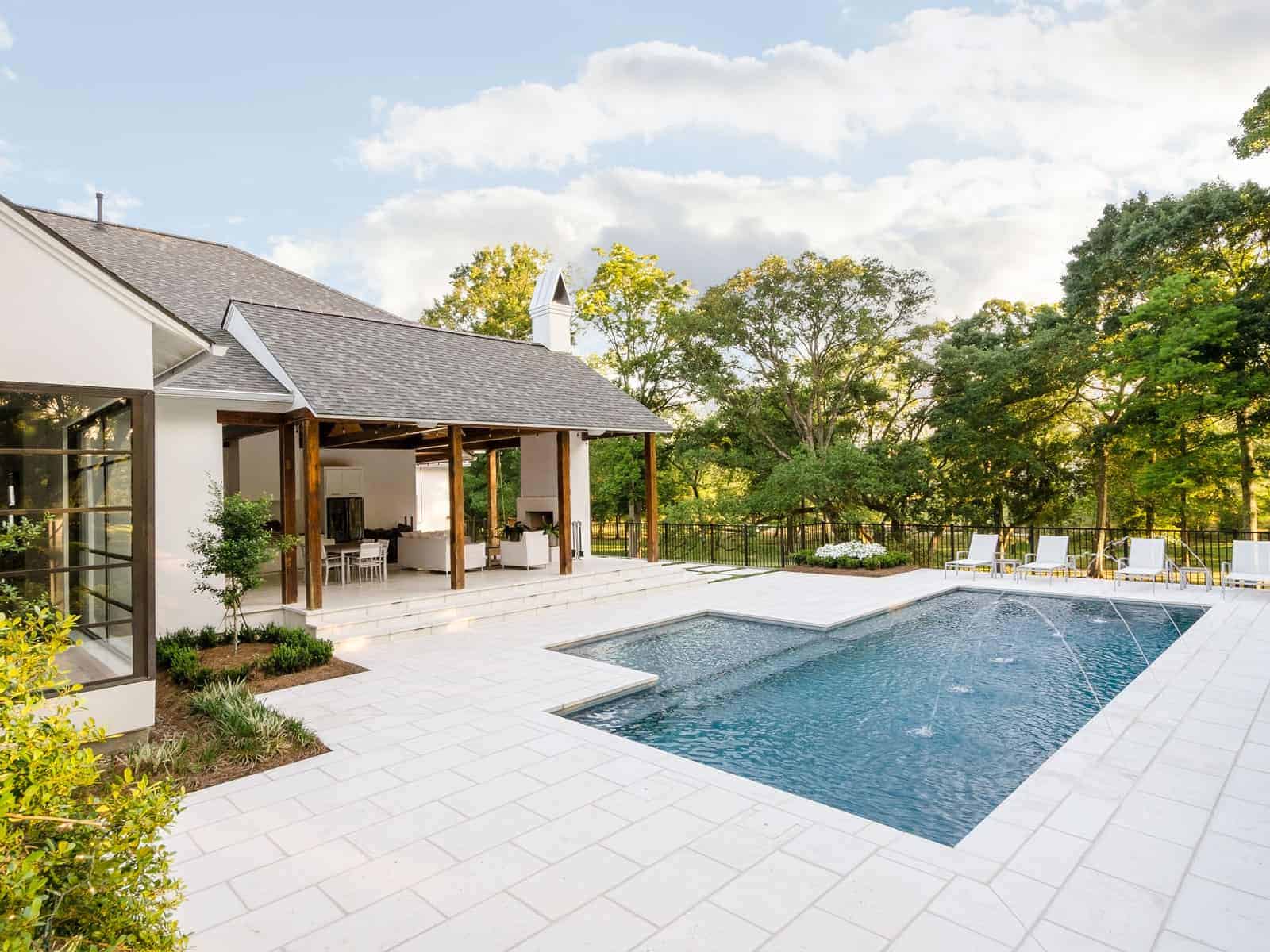 This outdoor living room and luxurious pool area was made for relaxation and entertaining. Imagine spending an afternoon splashing around the pool and then retreating to the shade of the open-air pavilion at sunset to grill out and relax in front of the outdoor fireplace.!
Plenty of Cabana Spots for Relaxing
Concrete pavers in our popular Oyster color were installed throughout this gorgeous pool area, which features multiple shady cabana spots to take a break from the sun.
Rustic Chic Pool House Kitchen
With concrete pavers leading you directly from the covered outdoor kitchen out onto the pool deck, this space is perfect for entertaining guests and hosting barbecues in the summertime.
Using Peacock Pavers for Your Pool Area
The wonderful thing about Peacock Pavers is that they are great for both interior and exterior spaces, allowing architects and designers to create seamless transition spaces.
Each concrete paver is handcrafted using our own propriety method to mimic the elegant look of natural stone. Our pavers also come in a variety of show-stopping shapes, including square, rectangle, hexagon, picket, hexagon, and chevron. To complete the look, we offer a variety of paver trim pieces for door thresholds, coping, wall caps, base molding, and more.
Get Concrete Pavers for Your Pool House or Cabana
Our concrete pavers will transform any pool house or cabana. We can help you choose your colors and design, and customize them to your space. Simply request a quote today.