Nothing beats a stylish in-ground swimming pool to enhance any outdoor space and cool off on hot summer days. But the swimming pool itself is only one part of the overall pool design; you also want to think about how to design the entire pool area, including the pool deck, pool coping, etc.
Let's discuss some ideas for how to style cool pools, focusing on how your design options for pool decking to create the ultimate poolside experience.
Common Pool Deck Materials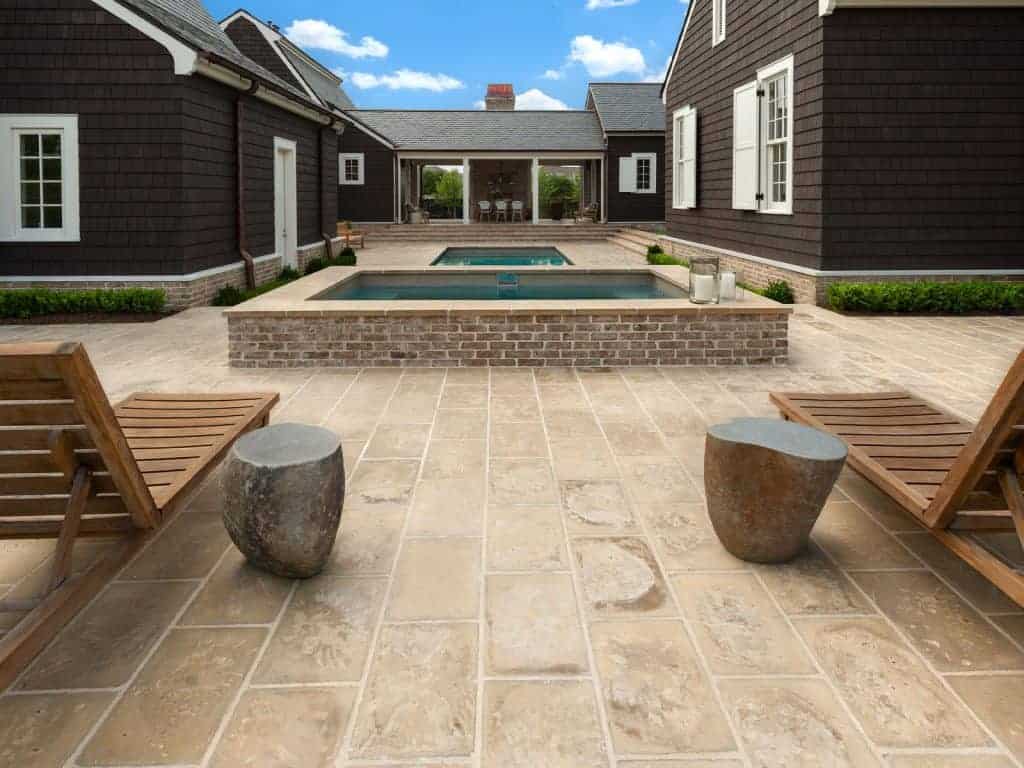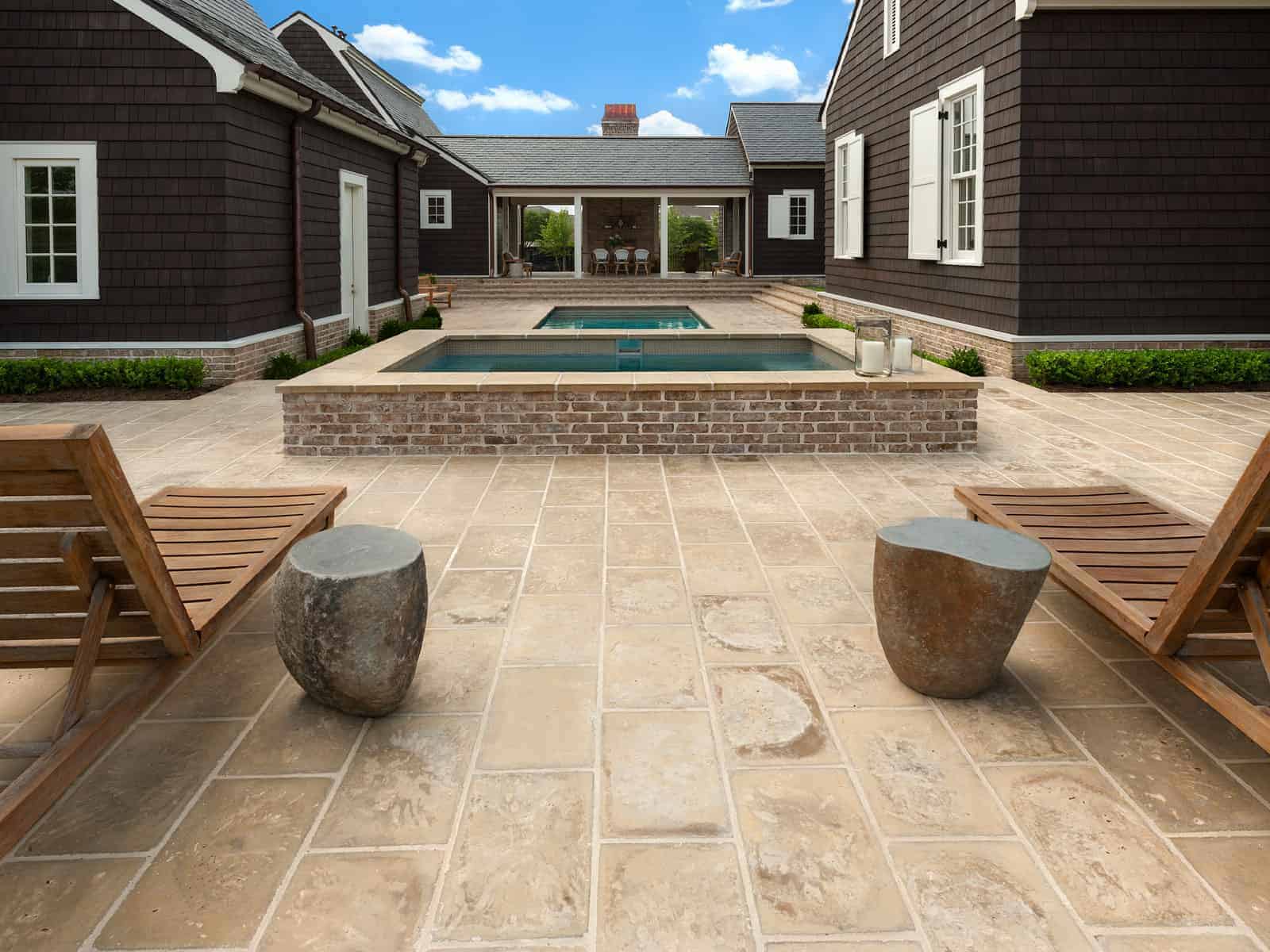 The first element in designing a cool pool deck is determining which hardscape materials to use in your design. Let's go over a few of the more common options.
Poured Concrete Pool Deck
One of the most common choices for pool decking is to pour a concrete slab around the pool. The primary advantages of poured concrete are that it is a simple, durable, and affordable solution. You can pour concrete decks into a wide range of shapes, and add texture to make it slip-resistant. The downside is that concrete leaves little room for imagination as far as design goes. Once you've seen one poured concrete pool deck, you've seen them all.
Wooden Pool Decks
Wood decking can be attractive around pools, not to mention soft underfoot.
However, because wood is so easily susceptible to the elements and insect damage, it must be continually treated with sealer and meticulously maintained. For this reason, many people don't consider wood to be very cost-effective in the long run.
Brick Paver Pool Decks
Brick can add a rustic or timeless look to a pool area, especially in the context of a historic home. Brick pavers are naturally durable and weather-resistant, and you can create unique designs by mixing and matching colors, sizes, and placement orientation. The main disadvantage is the cost, both in material and labor, not to mention that bricks are notorious for retaining heat from the sun, so they might not be a good option if your pool sits in direct sunlight.
Natural Stone Pool Decks
A favorite option for many architects and landscape designers, quarried natural stone can add an Old-World richness and sense of texture to the pool area. Popular choices like travertine pavers, bluestone, and flagstone are easy on the eyes as well as the feet. Additionally, natural stone pavers can be placed in a wide range of patterns, shapes, sizes, and colors to create some charming and original designs. The biggest drawback to natural stone is the affordability factor. Due to the high cost of quarrying, finishing, and hauling natural stone, natural stone pool decks are cost-prohibitive to many homeowners.
---
The Best Pool Decking Material? Concrete Pavers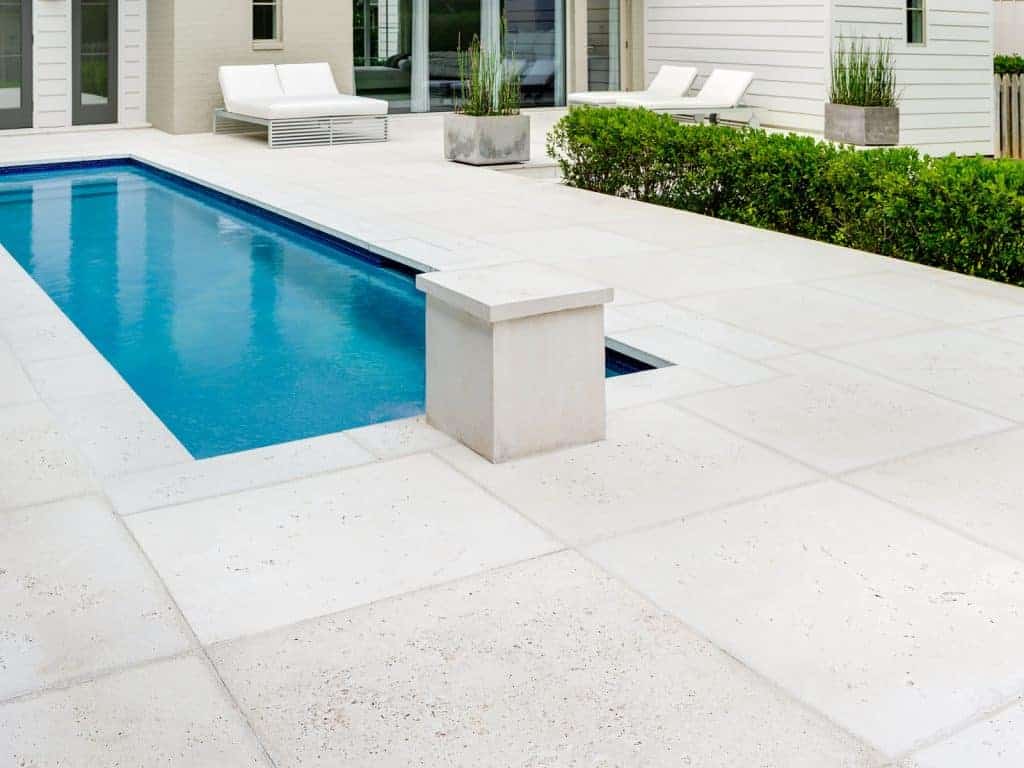 To give their clients more pool design options for the money, a growing number of architects and designers are turning to concrete pavers versus travertine or other types of stone.
Concrete pool pavers make an ideal pool deck material because they easily combine the affordability of concrete with the elegance of natural stone. Peacock Pavers specializes in handcrafted pavers that easily mimic this timeless look at a much lower cost than actual stone. Our pavers come in a wide variety of colors, sizes, and shapes to create beautiful outdoor living spaces, and their non-slip quality makes them perfect for pool patios.
---
Popular Concrete Paver Pool Patterns
One of the most significant advantages of using concrete pavers is the abundance of shapes and sizes available. You can place concrete pavers in a variety of patterns to add visual interest to the pool area.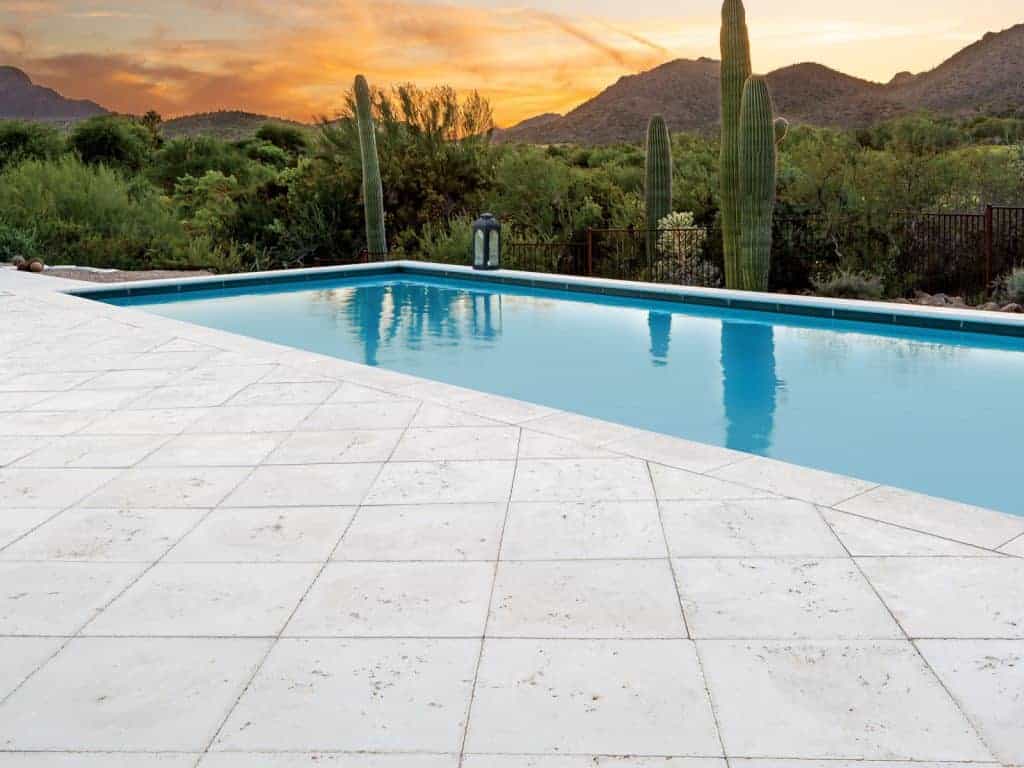 Some of the more popular patterns for pool decks include the following:
Stacked Bond Pattern — This pattern involves placing identically-sized square or rectangular pavers in evenly spaced rows and columns. Despite their simplicity, stacked bonds are elegant and attractive, especially when placed diagonally or when using oversized pavers.
Running Bond Pattern — This pattern is similar to the stacked bond pattern, except the pavers are staggered in subsequent rows to create a subway-tile effect.
Random Patterns — "Random" is a misnomer. "Random" patterns involve placing pavers of varying sizes into complex, intricate patterns that appear "random" at first glance.
Patterns with Geometric Shapes — Use chevron, hexagon, or picket pavers to create exciting geometric designs that give your pool deck a sense of movement.
Herringbone Pattern — This pattern involves placing rectangular pavers at 90-degree angles to create a "fishbone" or "zig-zag" effect.
Enclosed and alternating patterns — Here's another design idea for you. Have you considered using more than one pattern, or using one pattern to create a border around another? For example, you might enclose an octagonal pattern with rectangular edging, or embed small sections of herringbone within a basic stacked bond pattern.
---
Choosing Colors for Your Concrete Paver Deck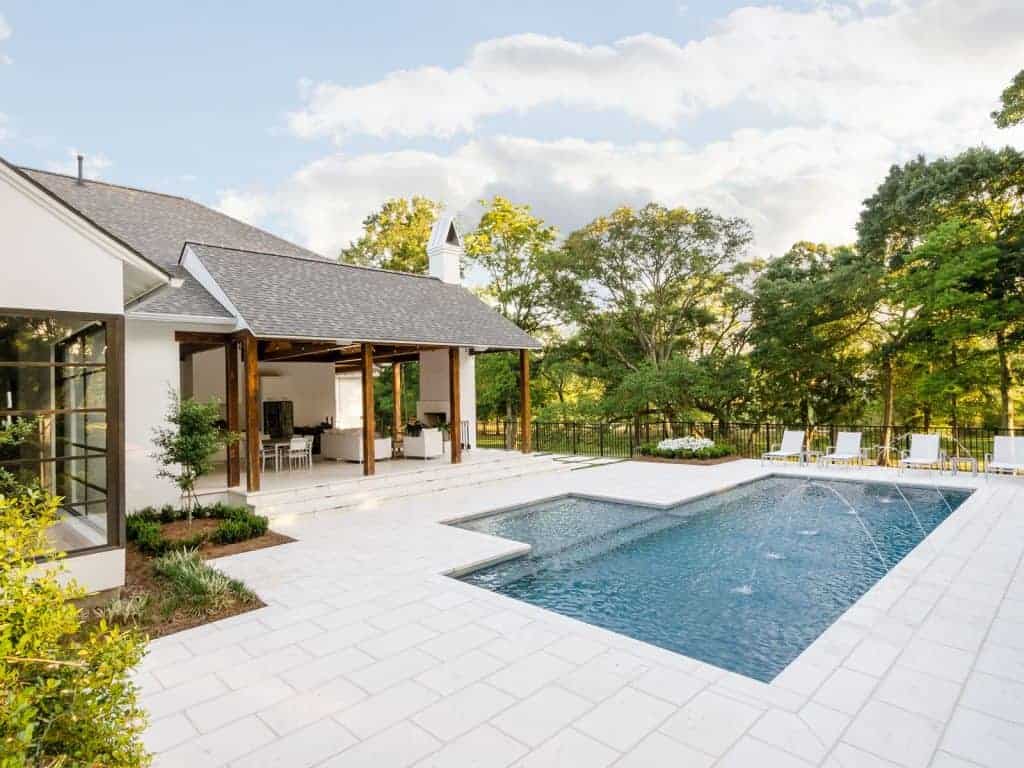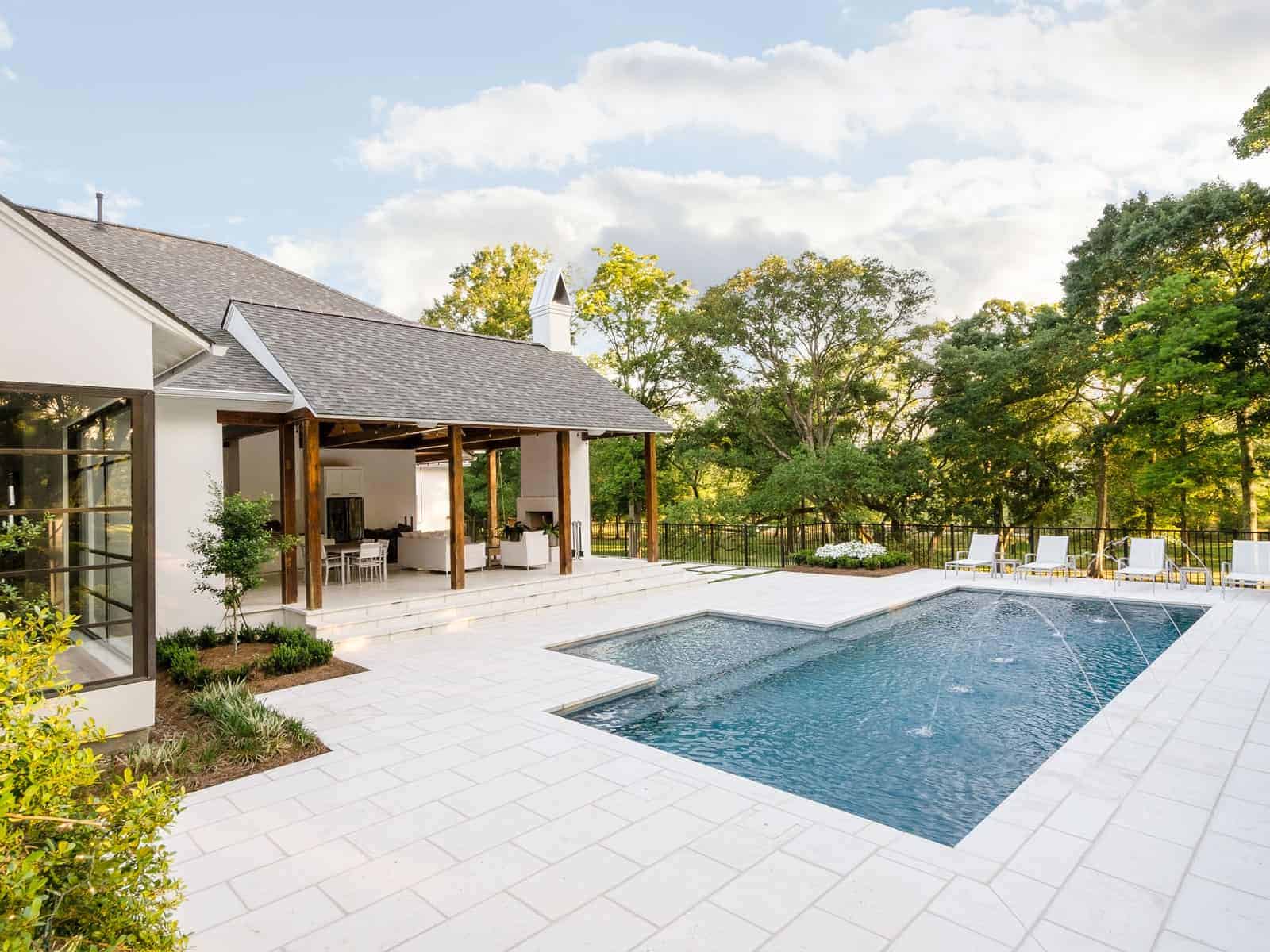 Finally, we get to one of your most essential tools for styling a cool pool area: Your color palette. Some pool deck materials offer few color options, but with handcrafted concrete pavers from Peacock Pavers, your choices are practically endless. Let's explore some popular design ideas when it comes to color schemes.
White
White has become incredibly popular as a design color in recent years. Here at Peacock Pavers, our Rice White color is our best seller by far. White pavers make sense as a pool decking choice because they lend a sense of timelessness and richness to your space — plus, since white deflects more of the sun's rays, it is also cooler under the feet.
Alternating Colors
Another popular color design idea for your pool deck is to alternate colors to add visual interest. One example is the "chessboard" effect created by using complementary colors like Dolphin Grey and Slate in a simple stacked bond pattern.
Multi-colored Patterns
For something a little bolder and more original, try utilizing 3-4 different colors and paver sizes in a complex random pattern. As an example, try downloading our Alternative Random Pattern with a combination of colors like Rice White, Buff, and Oyster.
Be Original
Peacock Pavers' seven standard colors (Rice White, Keystone Grey, Buff, Oyster, Champagne, Slate, and Dolphin Grey) give you hundreds of options when it comes to pool deck design. However, if you want to do something truly original, we can mix hues with a minimum order threshold (7000 SQ FT) to create a nearly unlimited color palette.
---
Choosing Concrete Pavers for Pool Decking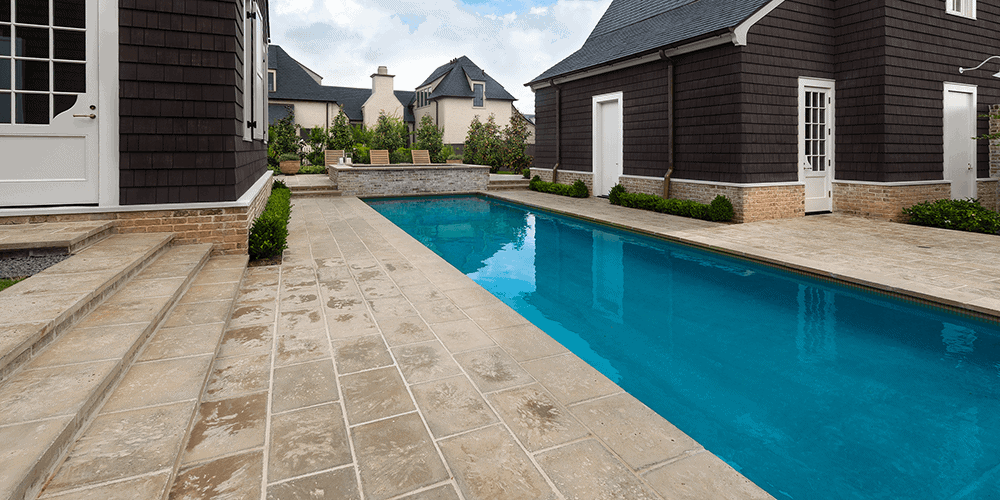 Ideal for all weather conditions, our concrete pavers add the look of Old World stone to swimming pool decking, terraces, water features, fire pits, outdoor kitchens, patios, indoor-outdoor transitional areas, and so much more.
Peacock Pavers offers a range of 10 sizes up to 3′ x 3′ to create grand spaces in landscape areas around pools. Our pool copings blend perfectly with the pavers to create a smooth transition, and bull nosing softens the edges. Create the classic look of Italian travertine at a fraction of the cost — or create a design all your own. Peacock Pavers landscape pavers are the perfect solution for everything from koi ponds to Olympic-size pools.
To learn more about our concrete pool pavers, request a quote today.