When it comes to floor design, nothing seems to be more on-trend at the moment than checkerboard concrete pavers. In architectural and design magazines, showcases from our clients, and in future projects, the checkerboard floor paver is clearly all the vogue at the moment. 
Choosing the right arrangement for your flooring is essential, whether indoors or outdoors. Flooring draws a room together and ensures an aesthetic flow throughout the space. It should pair well with the colors of the walls and the surrounding architectural elements. A checkerboard floor created using concrete pavers allows designers to tie several shades and colors together to create an enigmatic flooring that becomes a statement piece of any room. 
What Are Checkerboard Pavers? 
Checkerboard pavers are typically two colors alternated between each other to create a checkerboard effect. The specific colors chosen depend entirely on the client's taste. Our pale Rice White concrete paver will produce a dramatic but classic floor design when paired with our darker Slate concrete paver. Alternatively, combinations using more similar shades, such as Champagne and Rice White, will result in a more subtle feel suited to any area, perhaps to elevate the design around the pool or add some nuance to a kitchen layout.   
What Peacock Paver Colors Can I Use In A Checkerboard Floor Design?
Peacock Pavers concrete pavers are available in six colors:
Buff

Dolphin Grey

Champagne

Oyster Shell

Rice White

Slate
Alternatively, if none of these shades suit your design project, we can create custom concrete paver colors also available with a minimum of 7000 SF to fit your needs. We recommend ordering a Sample Kit of our pavers before making your final decision so you know which colors will be the perfect fit. 
The Benefits of Using Concrete Pavers In Your Design Space
Elegant and Natural
We manufacture our concrete pavers using architectural-grade concrete crafted by hand to create the look and feel of natural stone. We make the pavers individually using the finest materials, ensuring each product is of the highest quality. No matter the color, size, or shape chosen, our pavers retain a sense of old-world elegance in every design. 
Easy Maintenance 
Our concrete pavers are low-maintenance as their durable material makes them easy to clean and repair and they are resistant to weathering damage in case of freezing or thawing cycles. 
Long-Lasting Quality
Made with architectural-grade concrete, our pavers are less at risk of cracking than other concrete forms. And, unlike traditional stone pavers, they are easier and more affordable to repair if a crack does form. Affordable yet luxurious, our concrete pavers have been designed to last for decades. 
Examples of Checkerboard Floor Designs
Checkerboard designs suit any area of a house. If you're feeling inspired to include this style of flooring in your next project, check out these examples below.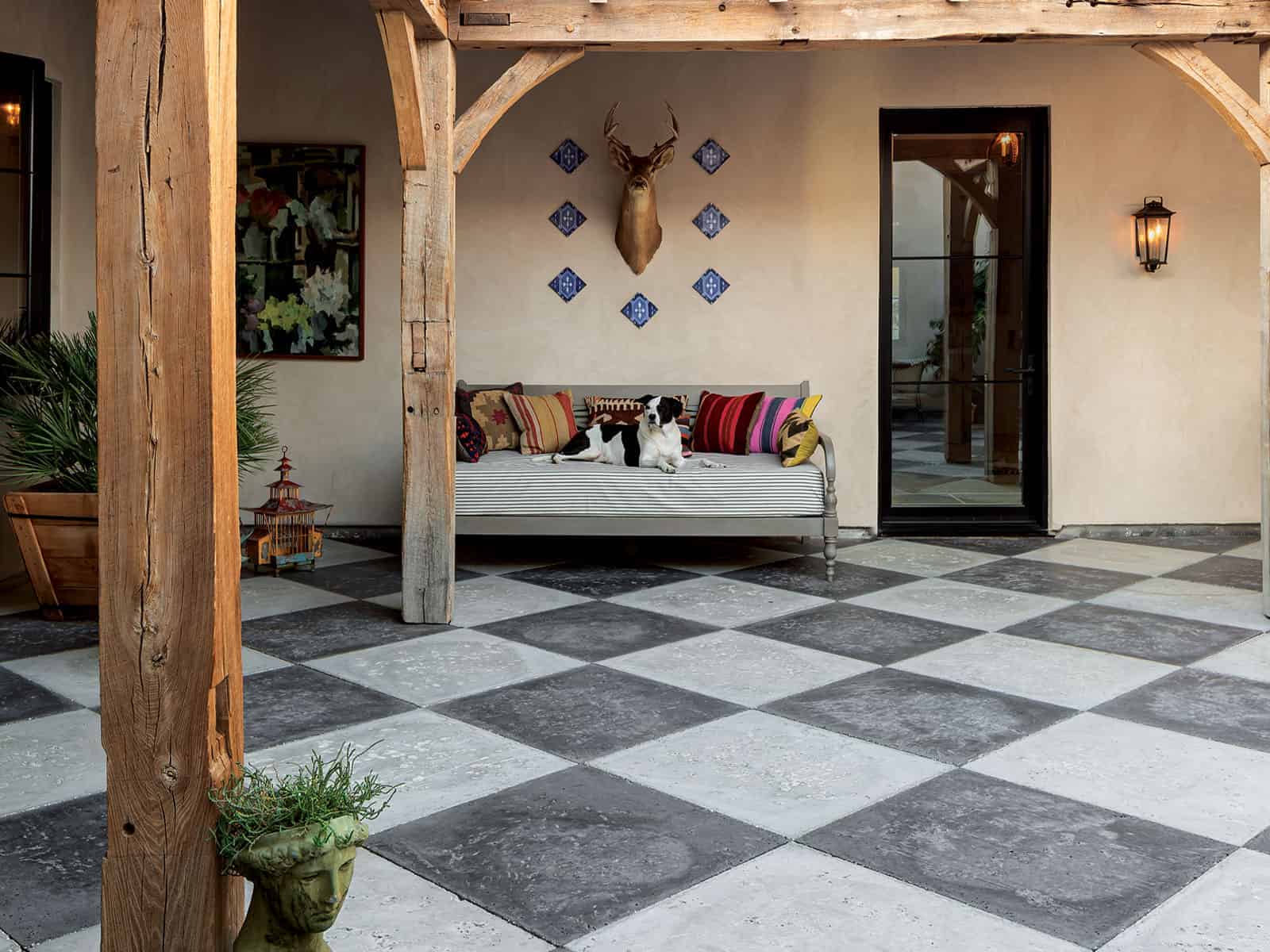 The contrasting palette chosen for this outdoor space perfectly complements the rustic, ranch-style surroundings. The creams and brown provide an ideal frame for the distinctive checkerboard floor, demonstrating that different colors work well together.
Another outside space demonstrates the versatility of this design. Checkerboard floors in a Provencal-style courtyard work seamlessly with the décor, pops of color, and brickwork on the stairs. 
This interior application of the checkerboard floor holds its own next to the rich wooden staircase. The angles of the pavers and the curve of the stairs align perfectly to create a sense of symmetry.
Choose Peacock Pavers For Your Checkerboard Floor
Elevate your design space with a classic look that never seems dated. Checkerboard floors imbue sophistication, combining well with any room's design elements to create a memorable space. Our floorings provide the perfect finishing touch to your project.
Peacock Pavers are the leading concrete paver manufacturer, providing designers, contractors, and architects with high-quality, exquisitely designed pavers to elevate any new construction, landscaping, or remodeling project. 
Our pavers are versatile and suited to both interior and exterior areas. The craftsmanship and wide range of sizes, paver thicknesses, and shapes will suit any design ambition. Bring old-world elegance to your 21st-century project and contact Peacock Pavers for a quote today.