So, you've heard about our handcrafted concrete pavers and are thinking of using them for your next flooring or outdoor hardscaping project. Before ordering them, you might want a better idea of their unique colors, textures, and what they will look like in your or your client's new home.
Did you know you could order one of our recently revamped Peacock Paver's Sample Kits to do just that? All you have to do is request your Sample Kit online, and our representatives will assemble your kit and ship it to your door.
When it comes to helping you make critical design decisions for your next home project, these Sample Kits are great on so many levels. Let's take a look at why.
What Can You Expect In the Box?
Each new-look Peacock Pavers Sample Pack contains six 4″ x 4″ paver samples (each 1″ thick), representing our six available colors: Buff, Dolphin Grey, Champagne, Oyster Shell, Rice White, and Slate. Because each paver is handcrafted, no two pavers will be identical in texture or color. As a result, the pavers are more natural-looking than precast concrete or manufactured stone.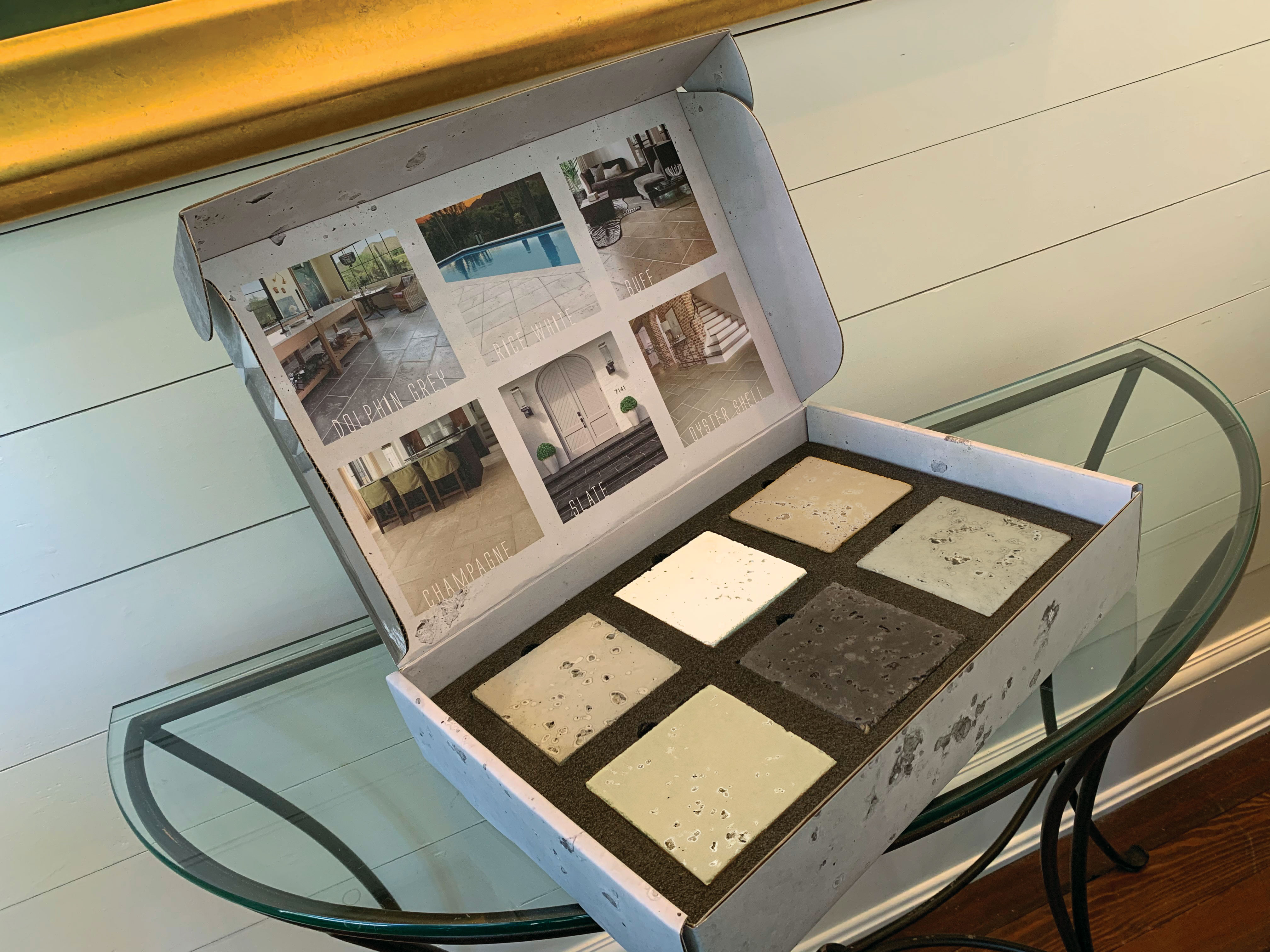 What Peacock Paver Sizes Are Available?
Our newly designed sample kit provides small representative examples of each of our colors and surface texture to assist your selection. Depending on your project's needs, you may also want to order a sample of different size and thickness. If so, please contact one of our team members and they will be happy to help. Every job is unique, but in general, we recommend the following:
Different paver sizes may have slight differences in color concentration and texture, as the process for handcrafting pavers of various thicknesses is slightly different. Some pavers are smoother, while others have more concentrated colors. Ordering concrete paver samples for your next project will help you better understand what the pavers will look and feel like when installed.
What are the benefits of ordering a concrete paver Sample Kit?
Interior designer Kathie Kessler and her husband used Peacock Pavers for their dream home in Tucson, Arizona. Having samples of our pavers on hand helped Kathie select the paver color and size she wanted to match her aesthetic.
To achieve a time-worn look, Kathie chose our 8″ x 30″ x 1″ thick Dolphin Grey paver for the home's interior paving.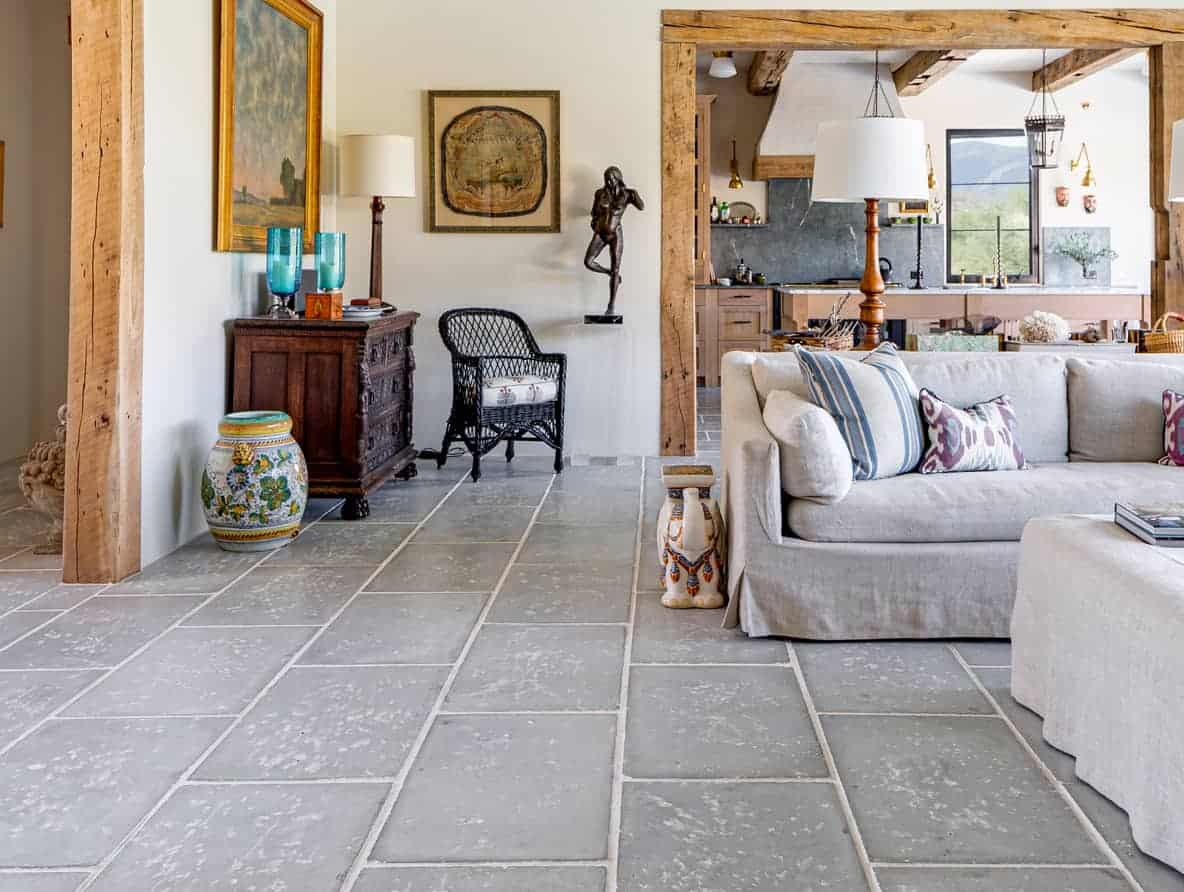 She incorporated our Slate and Dolphin Grey pavers into the home's courtyard in large format 30″ x 30″ square patio pavers as a nod to Spanish Colonial and Tuscan style influences.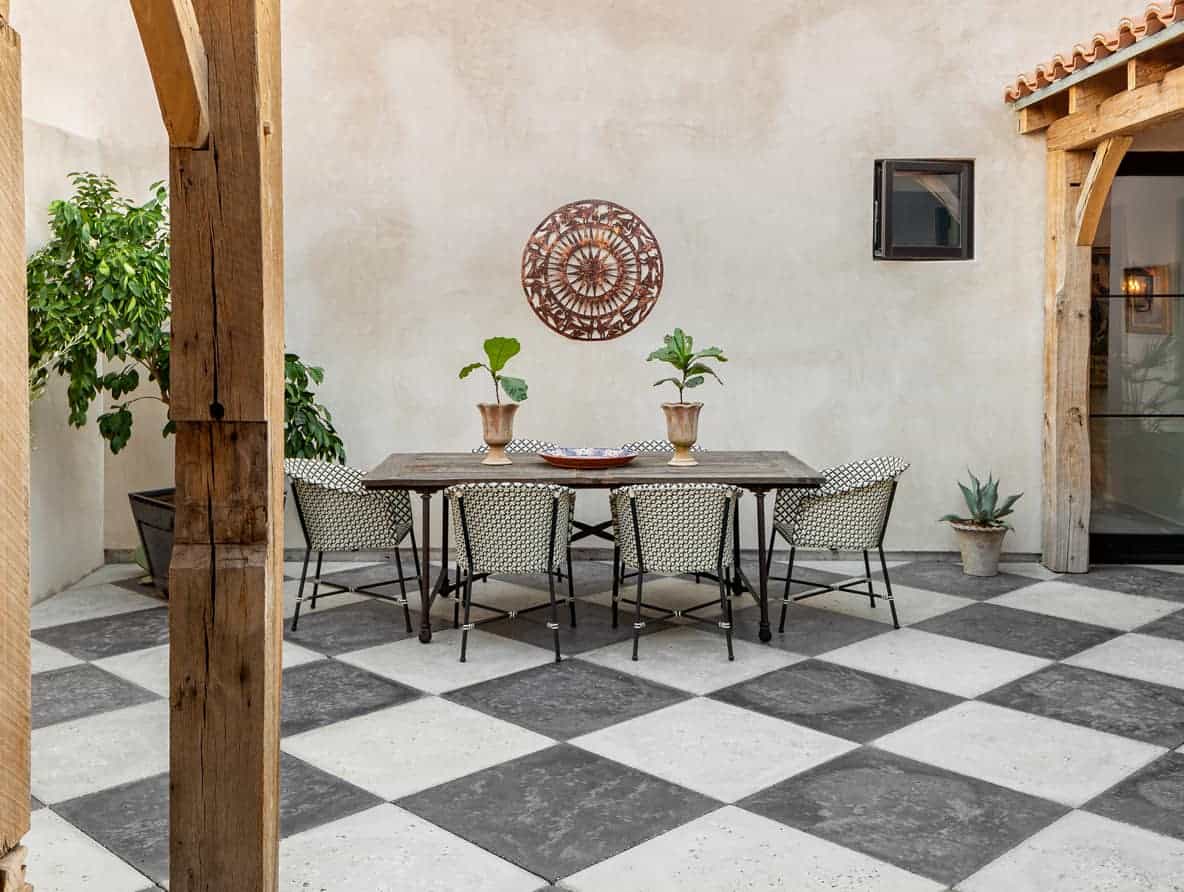 Like Kathie, ordering a Peacock Paver's Sample Kit will enable you to:
Get a firsthand look at the quality of our products. Remember, each paver is unique due to our handcrafted process. By seeing and touching our concrete pavers for yourself, you will be better able to appreciate each concrete paver's quality and distinctive texture and finish.
Get a more accurate understanding of paver colors. Most computer images are not 100 percent true because of differences in brightness and color configurations. Additionally, the pavers may project a different look when you view them under different light. Examining them in person will give you a better idea of how they will look and feel when installed.
View the pavers in context with your project. You can better color match the pavers with walls, floors, furniture, and decor.
Test the true thickness of the pavers. Get a better idea if you've chosen the right-sized pavers to suit the interior or exterior spaces where you will use them.
How do I order the new Peacock Pavers Sample Kit?
We will gladly ship your Peacock Pavers Sample Kit to anywhere in the United States. Sample Kits are free but subject to a $25 shipping charge. You can request your new-look or project-specific Sample Kits simply by filling out our Contact Form and providing us with a few of your details.
To learn more about incorporating handcrafted concrete pavers by Peacock Pavers into your upcoming project, request a quote, get a Sample Kit, or call us at 800.264.2072.