Beyond the decisions about trees, shrubs, lawns, plants, and greenery, your hardscaping choices are among the most critical aspects of your landscape design. Hardscapes not only add structure, efficiency, and flow to your outdoor spaces, they also can greatly enhance curb appeal while increasing equity.
Let's explore some of the benefits of well-designed hardscaping, look at some of the most common hardscaping materials, and share some popular design ideas to help make your landscape designs shine.
What Is Hardscaping?
In the context of landscape architecture, hardscaping consists of all landscaping done using non-living or non-vegetative design elements — the 'hard' surfaces like brick, stones, concrete, or gravel. By contrast, 'softscaping' refers to the landscaping of greenery and vegetative elements.
A beautiful garden design, for example, may include lovely flowering shrubs and trees (softscape) with a wandering path of stepping stones surrounding a fountain water feature (hardscape). Other hardscape examples include swimming pools, backyard patios, outdoor dining, fire features, gazebos, pergolas, and much more.
What are the benefits of Hardscaping?
Aside from their beauty and aesthetic value (which is a given), adding strategic hardscaping to your landscape design offers many advantages. Let's consider just a few.
Controls Erosion
You can use hardscape elements to provide barriers and enhance water drainage, so your topsoil doesn't erode. Retaining walls are an excellent choice for erosion control. So are certain ground cover elements like pea gravel and rubber, or wood mulch.
Manages Weeds
Solid hardscapes like patios, pool decks, and outdoor living spaces provide a natural barrier to weed growth. Semi-solid ground cover options like gravel or mulch can discourage weed growth, making it easier to find and pull isolated weeds.
Increases Property Value
While thoughtful hardscaping adds curb appeal to any home, it can also improve your property value. For example, outdoor living spaces, kitchens, and fire pits are all in high demand these days, so they're more likely to affect appraisal value. By the same token, paver driveways are more attractive and versatile than standard concrete driveways, so they also tend to increase property value.
Extends Functional Space
Hardscaping can help increase usable and functional square footage in the home by creating indoor-outdoor flow. Outdoor kitchens, seating areas, fireplaces, pergolas, and other hardscape features extend the number of living and entertainment spaces for homeowners.
Defines Boundaries and Guides Traffic
Hardscapes can be designed to let visitors know where it's okay to traverse. A walkway from the driveway to the front porch helps keep feet off the front yard, and a stepping stone footpath through a garden enables guests to enjoy the view without trampling on sensitive areas.
Reduces Maintenance Work
While the 'softscape' areas of your outdoor space must be watered, cultivated, and weeded regularly, hardscape sections require very little maintenance, allowing homeowners to enjoy their surroundings with less upkeep work.
Hardscape Design Ideas
Among the many different hardscaping options, concrete pavers offer some of the best value and versatility. For further inspiration, let's look at seventeen real-life examples to help give you some additional design ideas.
Patios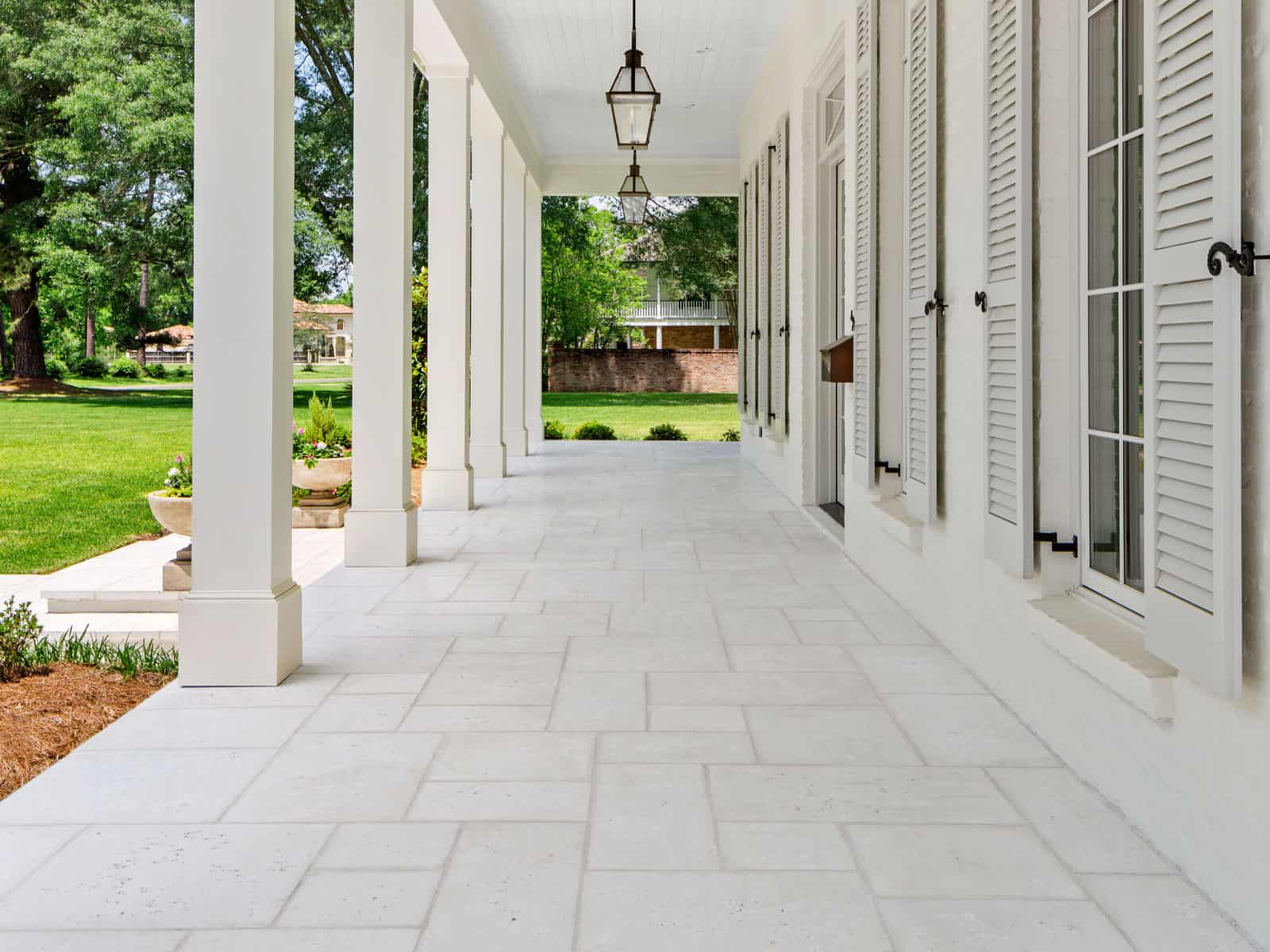 These rice white pavers create an elegant look to this outdoor porch/patio, fitting well with the white-on-white design.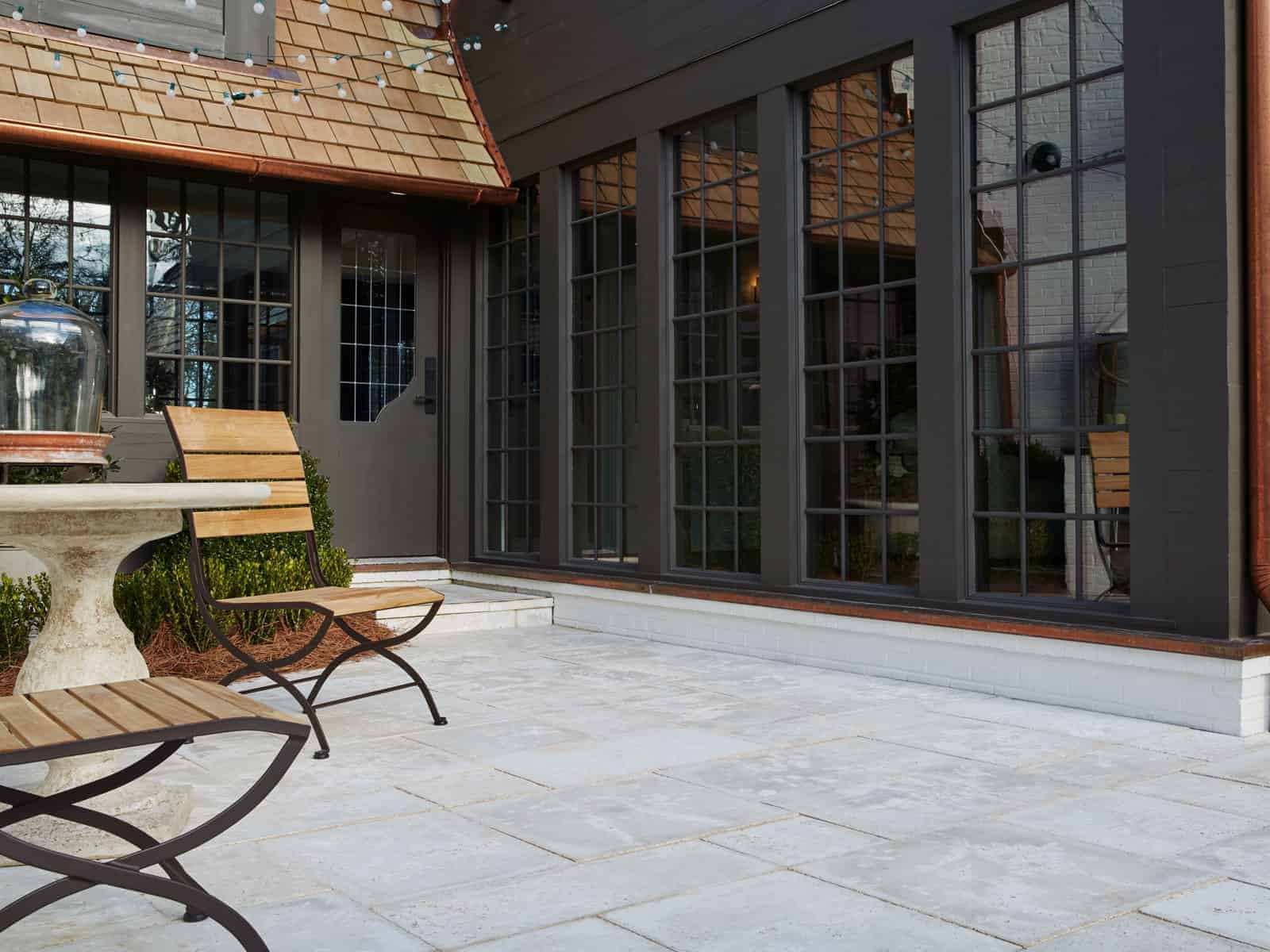 White custom concrete pavers can also provide attractive contrast, as does this white paver patio against the darker trim of the house.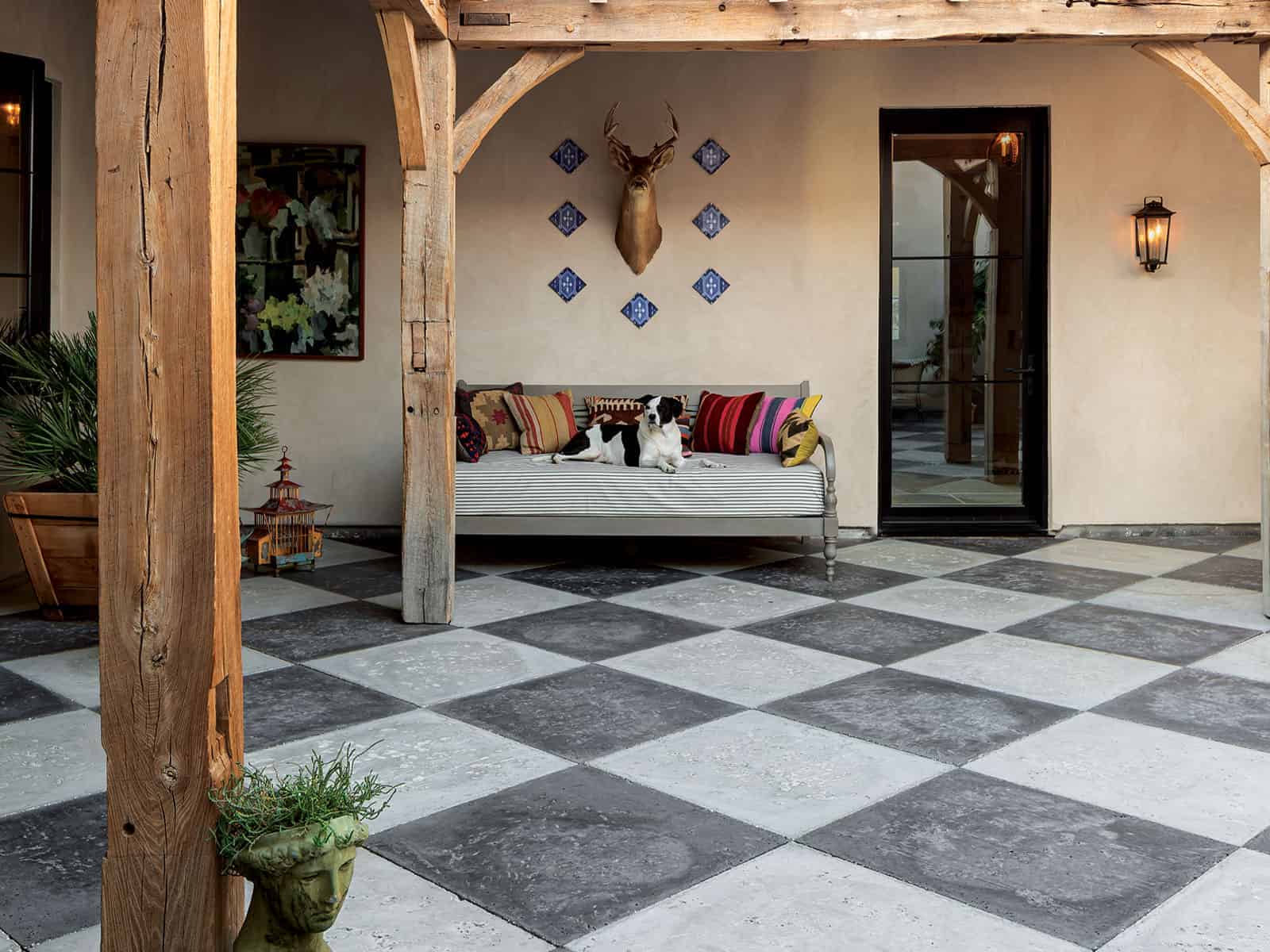 Complementary colors of grey and slate pavers create a checkerboard effect for this outdoor patio while highlighting the rustic feel of the decor.
Outdoor Kitchens
White pavers in a running bond pattern provide a perfect floor surface for this covered outdoor kitchen and bar.
Another example of an elegant outdoor kitchen. Note how the white pavers enhance the earthy grey tones.
Outdoor Living Room
Elegant, yet inviting, these pavers set the scene for a welcoming outdoor living space around a fireplace.
These rice white pavers create a seamless transition between the lovely covered living area stepping down to the patio/deck.
Pool Decks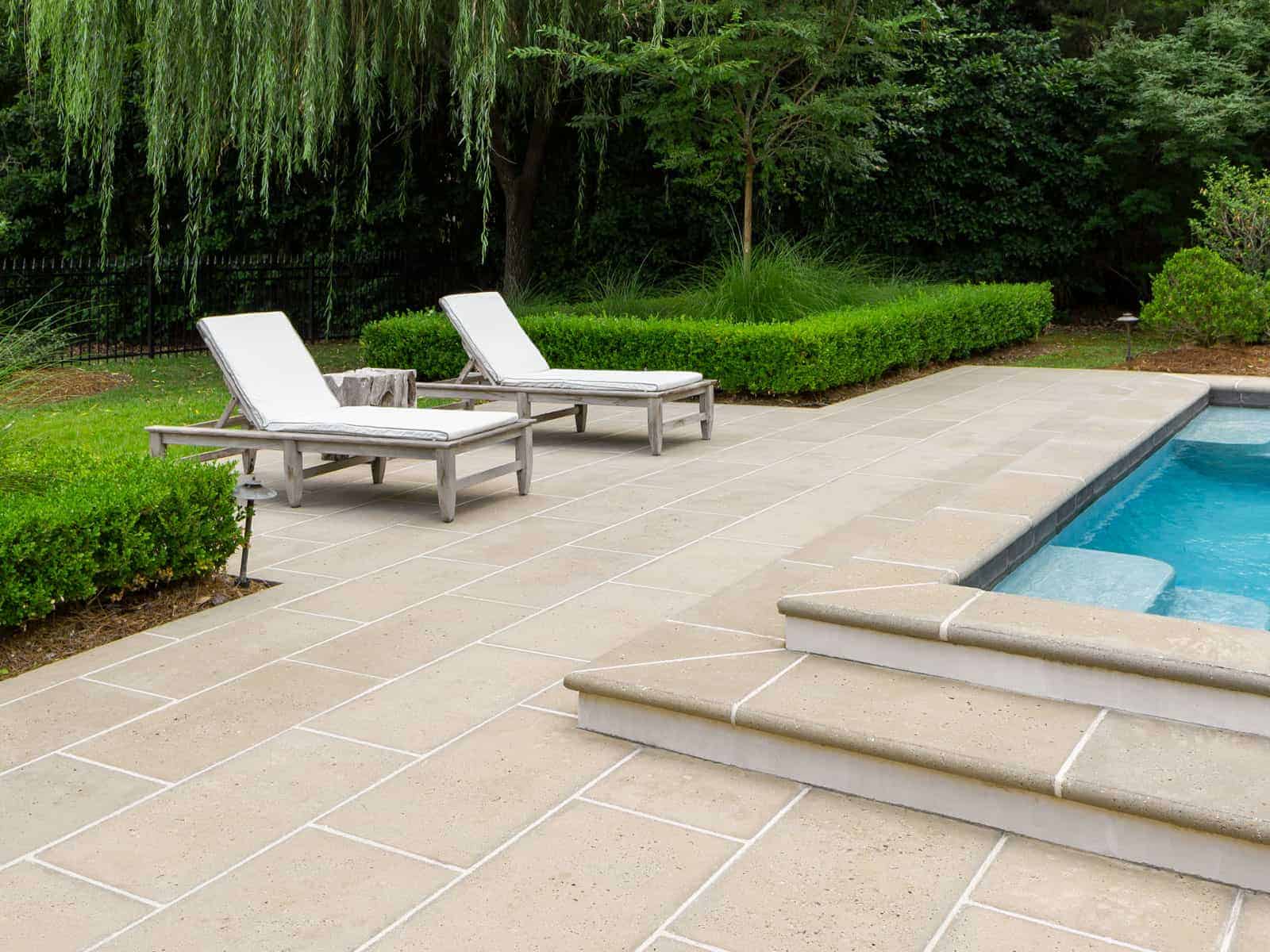 Note how these buff concrete pavers create an attractive deck and border for the swimming pool while enhancing the green spaces beyond it.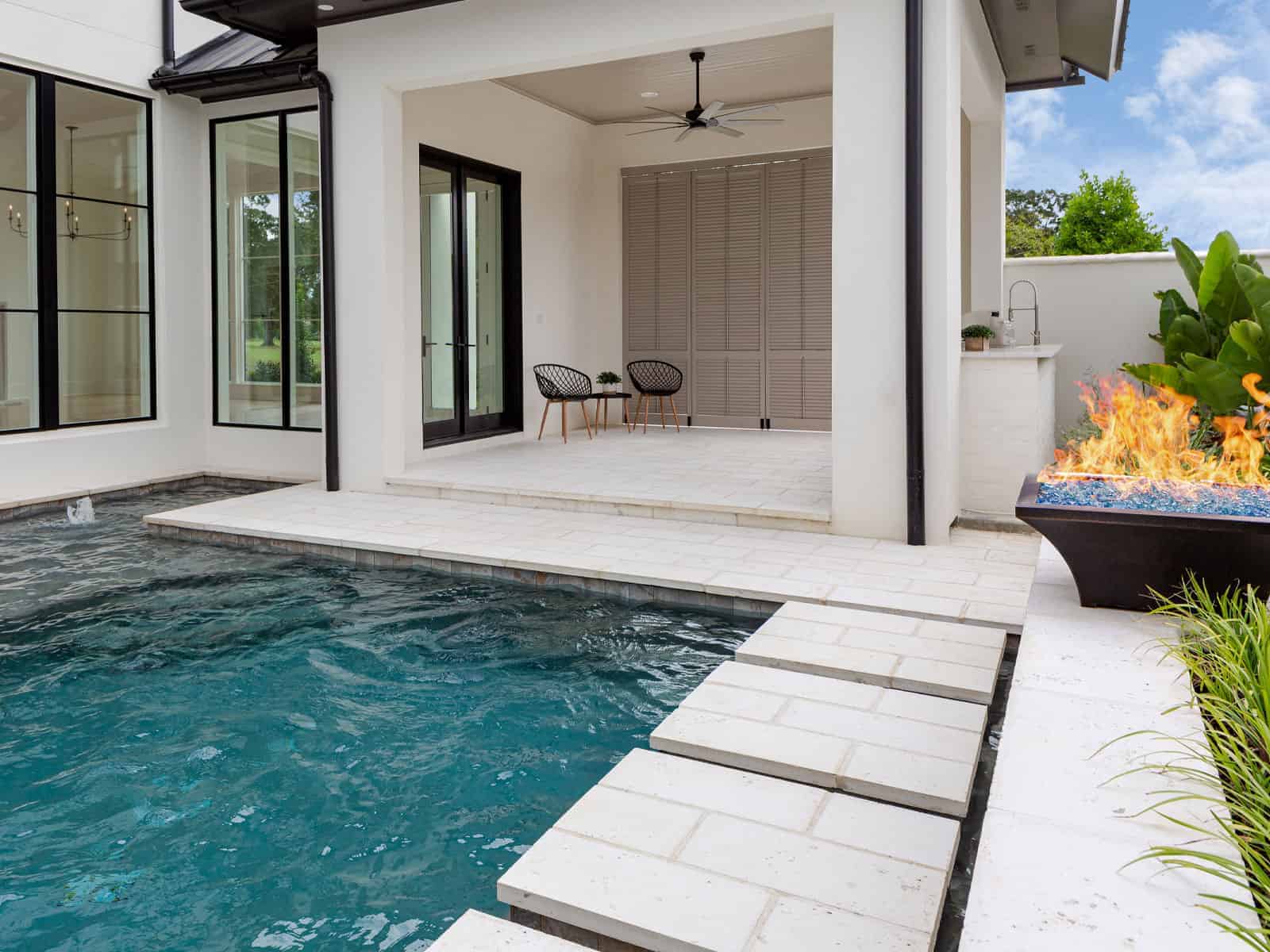 These pavers have been creatively placed to create a "floating stepping stone" effect around this lovely swimming pool.
This creative approach to pool decking features large-format pavers in a diagonal stacked bond pattern with natural grass joints.
Fire Pits
The minimalistic feel of this outdoor fireplace is accented perfectly by the clean lines of the surrounding rice white pavers.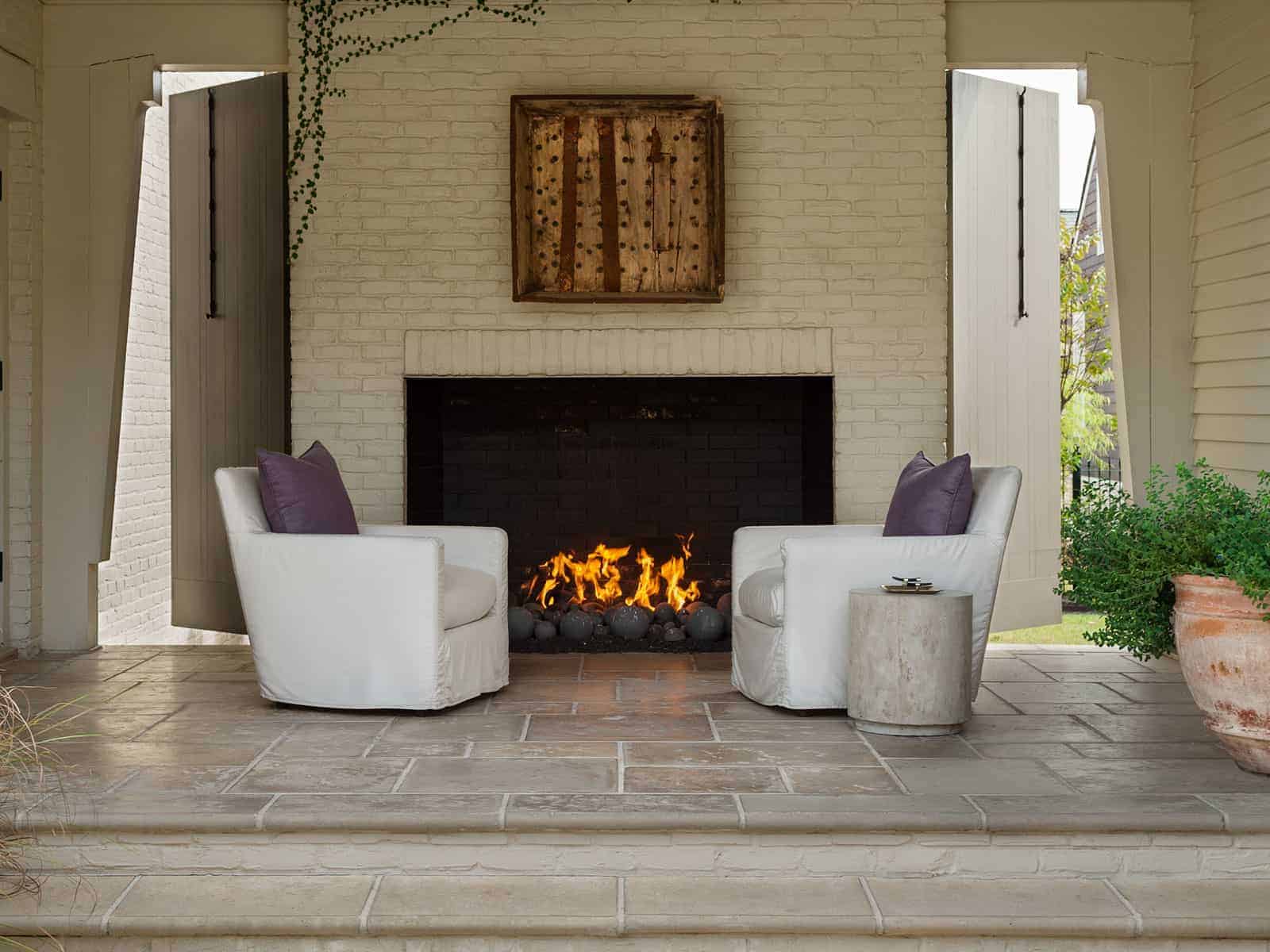 These buff pavers in an alternative random pattern give an earthy feel to this outdoor fireplace, contrasting beautifully with the white chairs and dark stones.
Water Fountains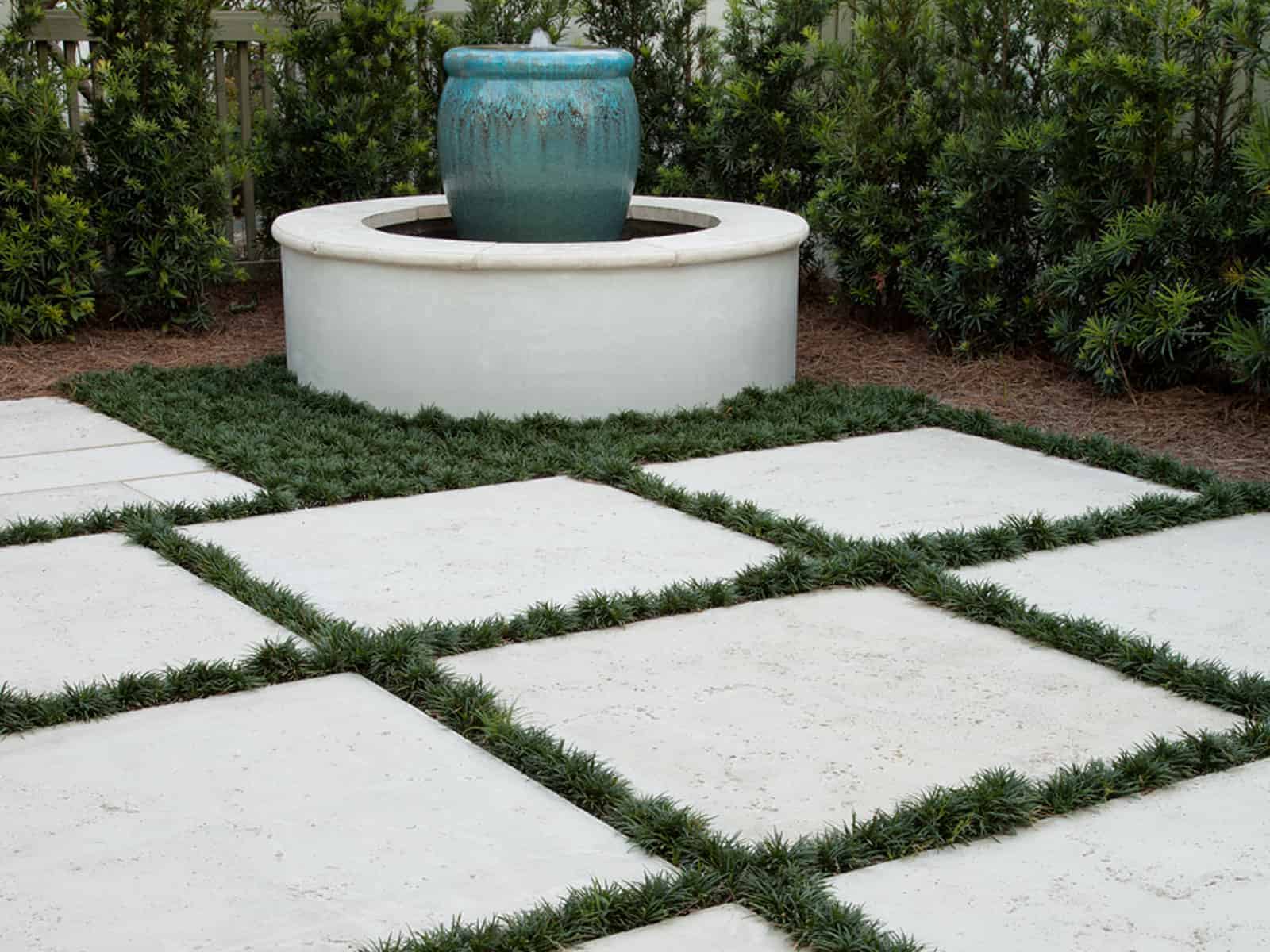 Large format pavers with grassy joints create a lovely setting for this unique fountain centerpiece.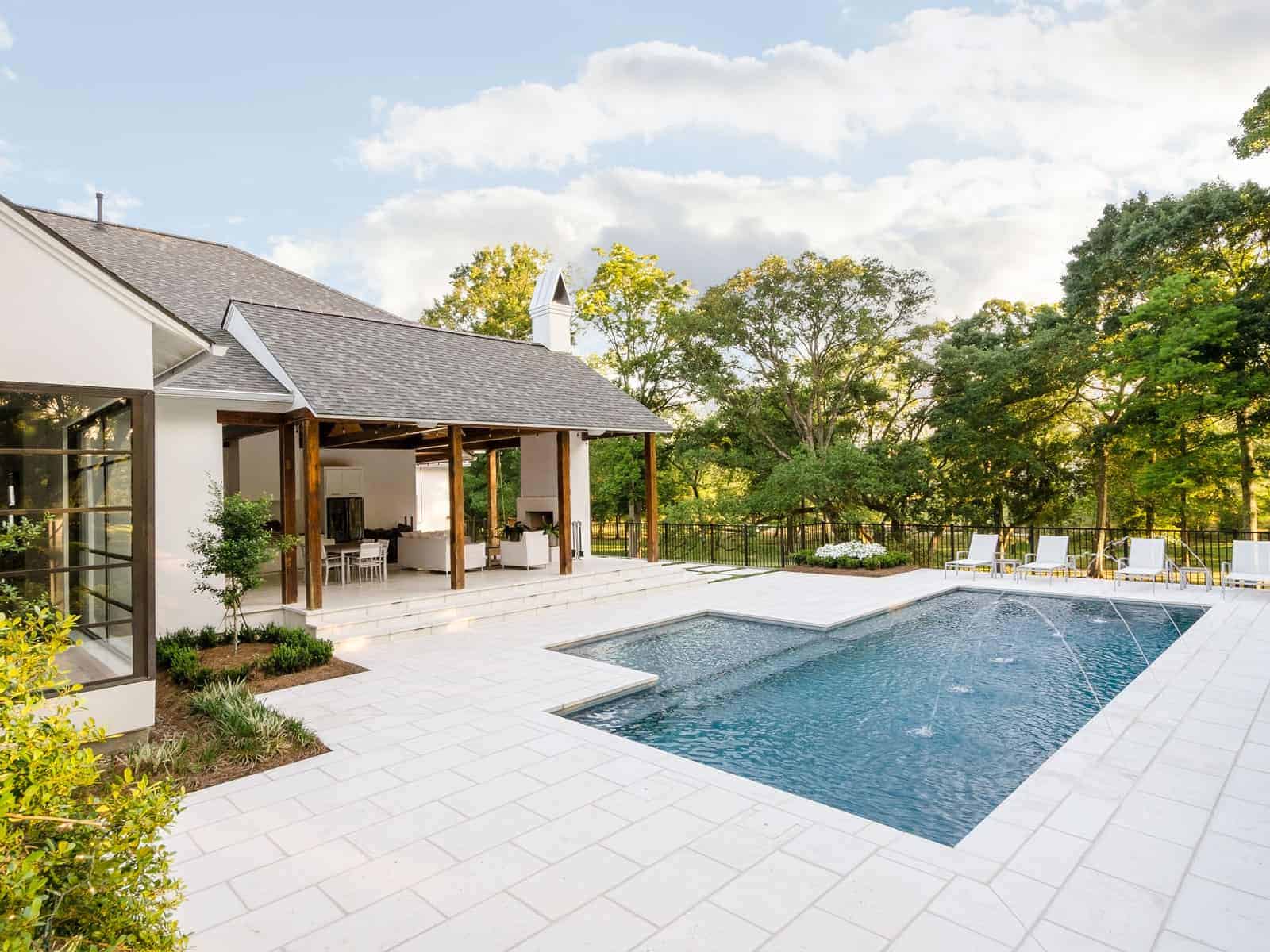 These white pavers serve as a combination pool deck and walkway around this decorative pool with fountains.
Garden Pathways
Note how these large-format white pavers, placed as stepping stones in an oversized descending stairway, provide plenty of visual interest as an entrance to the gardens below.
Driveways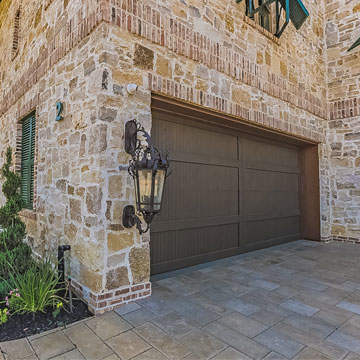 This slate paver driveway creates an eye-catching contrast with the stone exterior of the house and the dark garage door.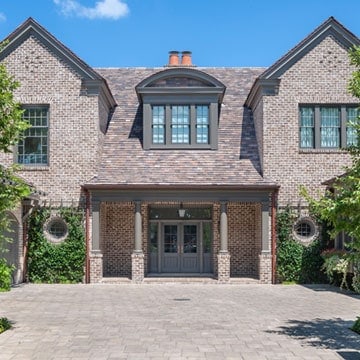 Note the cobblestone effect of this expansive paver parking area, creating a seamless transition to the covered porch and entrance.
As you can see from these examples, Peacock Pavers' landscaping, pool, and driving pavers offer a great deal of versatility to your hardscape design choices, while replicating the rich look and feel of natural stone.
Common Hardscape Materials
Now that we've established what hardscaping is, its uses, and seen examples of its application, let's explore some of the most often-used hardscape materials, along with some advantages and disadvantages of each.
Concrete Pavers
Concrete pavers are among the most common hardscaping materials used nowadays, valued by architects and designers for their affordability and wide range of design options.
Advantages
Affordability. Concrete pavers can replicate the look of natural stone for a much lower price.
Design choices. Concrete pavers offer nearly unlimited size, shape, and color options.
Ease of installation. Pavers take less time and effort to install than other types of pavers.
Eco-friendly. They require much less fuel to produce than quarried stone, and they can be made from recyclable concrete.
Easy repairs. Pavers can be repaired and replaced fairly easily when necessary.
Disadvantages
Varied quality. Some concrete pavers can last for years, while others deteriorate more quickly. (This is why it's important to do your research: always check a manufacturer's reputation and track record before buying their product or using their services.)
Brick Pavers
Valued for their timeless look and durability, brick pavers are top-rated for driveways, walkways, patios, and other hardscape features.
Advantages
Durability. Brick pavers are one of the most durable hardscapes. They can support heavy weight loads and can last for generations.
Timeless style. Brick pavers have been used for many decades, and they are as stylish now as when they were first used.
Disadvantages
More costly to install. While brick pavers cost less than natural stone, they are still considerably more expensive than concrete pavers.
More difficult to install. Brick pavers typically require professional stonemasons to install, adding to labor costs.
Fewer design options. Brick comes in limited shapes and colors. You use brick pavers when you want your driveway or walkway to look like brick and nothing else.
Stone Pavers
Popular for their natural beauty, bluestone, travertine, flagstone, and limestone paving stones are common in hardscape designs.
Advantages
Timeless beauty and elegance. Natural stone can enhance any outdoor setting and many indoor ones.
Ease of installation. Natural stone usually requires minimal prep work to install.
Disadvantages
Expensive. A natural flagstone patio will cost abundantly more than concrete pavers made to replicate flagstone, for example. (Repairs can be expensive, as well.)
Large carbon footprint. It requires excessive amounts of fossil fuels to quarry, cut, and ship stone pavers.
Wood Decking
Just as with wood flooring, wood decking hardscapes have a timeless beauty and warmth. In addition to wood decks, wood is also popular for hardscape features like arbors, pergolas, and gazebos.
Advantages
Distinct natural look. Almost nothing can replicate the look of wood decking.
Affordable. Wood is a cost-effective alternative to other materials available, although some species are more expensive than others.
Disadvantages
High maintenance. Without constant treatment and sealing, wood will fade, split and crack from exposure to the elements.
Less durable. Wood deteriorates faster in outdoor settings and is more susceptible to damage.
Gravel
Useful for many hardscaping purposes, gravel types like pea gravel and decomposed granite are widely used today.
Advantages
Versatile. Gravel can be used for driveways, pathways, and weed-resistant ground cover.
Easy installation. Gravel is easy to pour and level.
Permeable. Gravel allows rainwater to soak into the soil beneath, reducing erosion and stormwater runoff.
Disadvantages
Uneven. Gravel is good for walkways and accents but doesn't work well with seating areas.
Develops ruts. Gravel must be replenished and re-leveled occasionally because of ruts and grooves from foot traffic and tires.
Mulches
Finally, various mulches like bark, wood chips, and rubber mulch can enhance the look of any landscape while also serving as a protective ground cover.
Advantages
Weed resistant. You'll typically see 50 percent fewer weeds with a mulch cover.
Insulates plants. Mulch helps keep plants cooler in summer and warm in winter.
Low maintenance. Mulch lasts for a while (rubber mulch lasts forever). It also helps with water retention so that you can water plants less frequently.
Disadvantages
Limited applications. Mulch is good for ground cover, but not much else.
Prevents germination. Mulch is good for existing plants, but it can prevent some seeds from sprouting if placed too quickly.
Concrete pavers are affordable, easy to install and repair, and offer a wide range of design options. If these designs leave you inspired for your own redesign, contact us today to receive a quote.