Concrete pavers are useful for more than just outdoor projects like patios, pool decks, and driveways. Many contemporary architects and designers have discovered that concrete pavers also work exceptionally well inside a home or office space, as well as for creating transitional spaces, both inside and outside the home. Peacock Pavers replicates the look of natural stone in both exterior and interior design, interior-exterior transitions, and other transition spaces throughout the home.
What Are Transition Spaces?
In architectural design, transitional spaces are built environments that create a transition between two other main areas. In commercial places like office buildings, a transition space might be the hallway between the main lobby and the internal offices. But in residential architecture, transition spaces generally include rooms or spaces transitioning between exterior and interior spaces (e.g., mudrooms, verandas), or between main sections within the home itself (e.g., a hallway between the living room and bedrooms, or a stairway between floors).
Choosing the right look for a transitional space is a key part of the design process as flow and connection between two or more spaces must be created without disrupting the overall aesthetic. Concrete pavers are ideal for these types of spaces because they are easily adaptive to both exterior and interior applications.
Concrete Pavers in Transition Spaces
Looking for inspiration for your transitional space? Below you'll find nineteen excellent examples of how Peacock Pavers can enhance beautiful architecture by adding detail to transition spaces such as foyers, hallways, stairs, courtyards, and covered patios.
Foyers and Mudrooms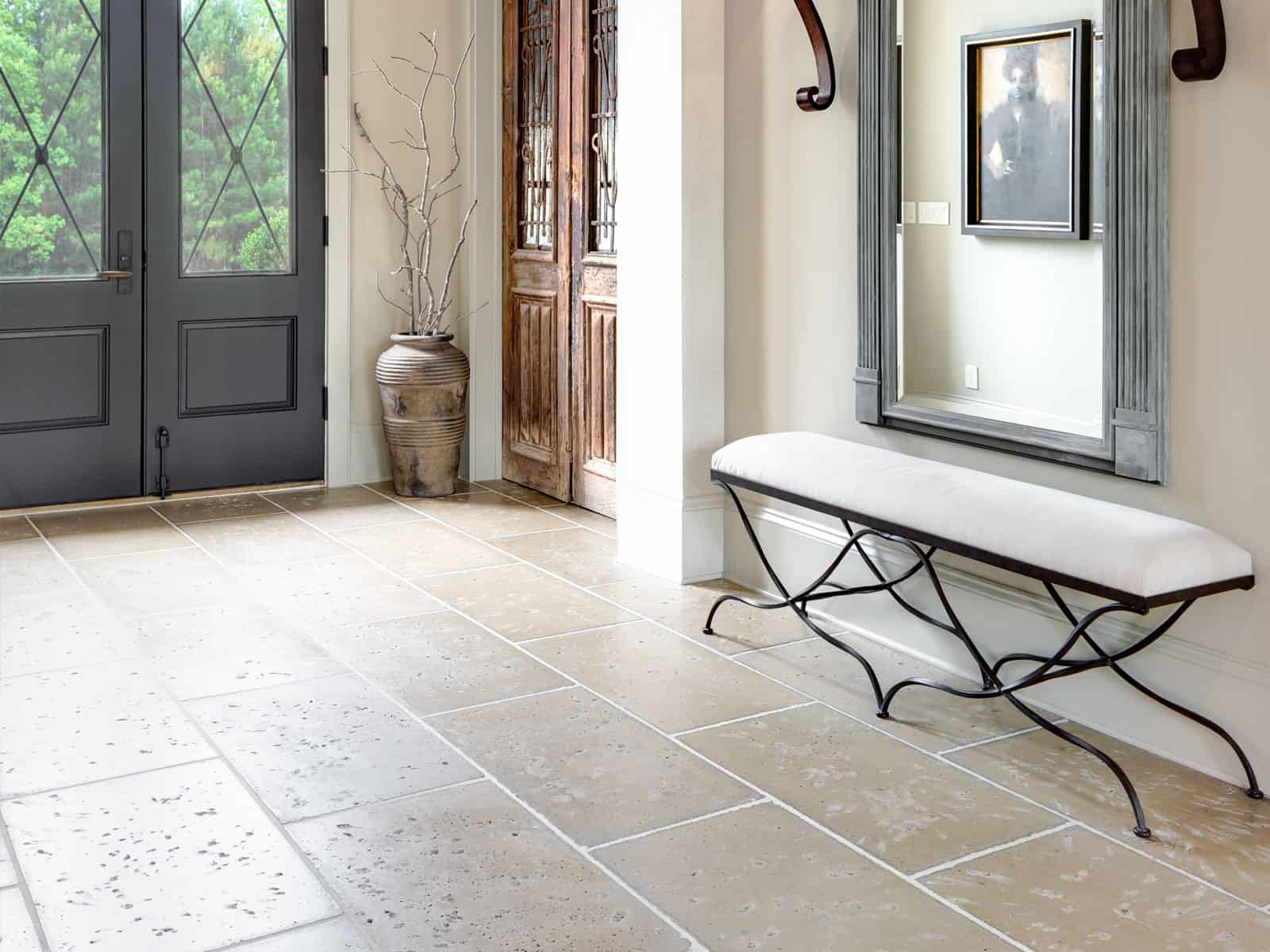 Notice how these buff-colored pavers in a running bond pattern tie together the other design features of this entryway, including the cast-iron bench and reclaimed wood doors.
These dual exterior entries are connected wonderfully with these oversize white pavers, tying together the contemporary white-on-white look, while enhancing the colors of the painting at the end of the hall.
The white pavers in this mudroom create a perfect place to store boots and coats before heading to the kitchen. Setting the pavers in a random pattern adds additional interest to the space.
The buff color of these pavers provides a sense of connectivity between the light and dark features of this foyer. Notice how the darker accents stand out within the space.
Hallways
These white pavers in a random pattern help make the most of this light-filled hallway, bringing out the bench and picture frames' grey accents while creating a warm and inviting walkway.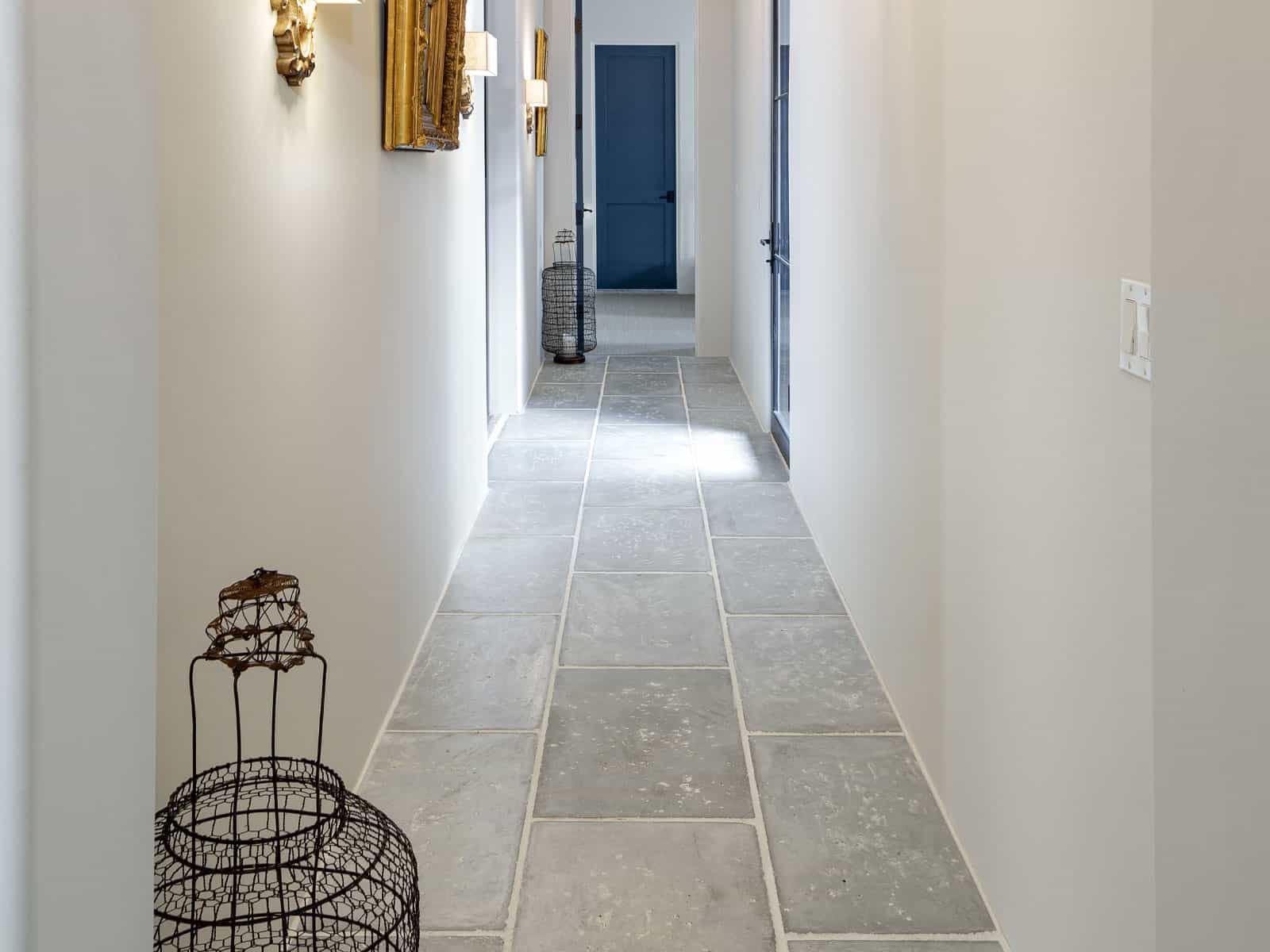 Dolphin grey pavers in a running bond pattern do a marvelous job at adding drama to the light-and-shadow effects in the hallway of this Arizona home.
Another dolphin grey paver example: here, the concrete pavers complement the earthy tones of this space, helping draw the eye to the natural wood beams, frames, and told accents.
Stairs and Steps
The varying shades of these concrete pavers add interest to this elegant curved stone stairwell.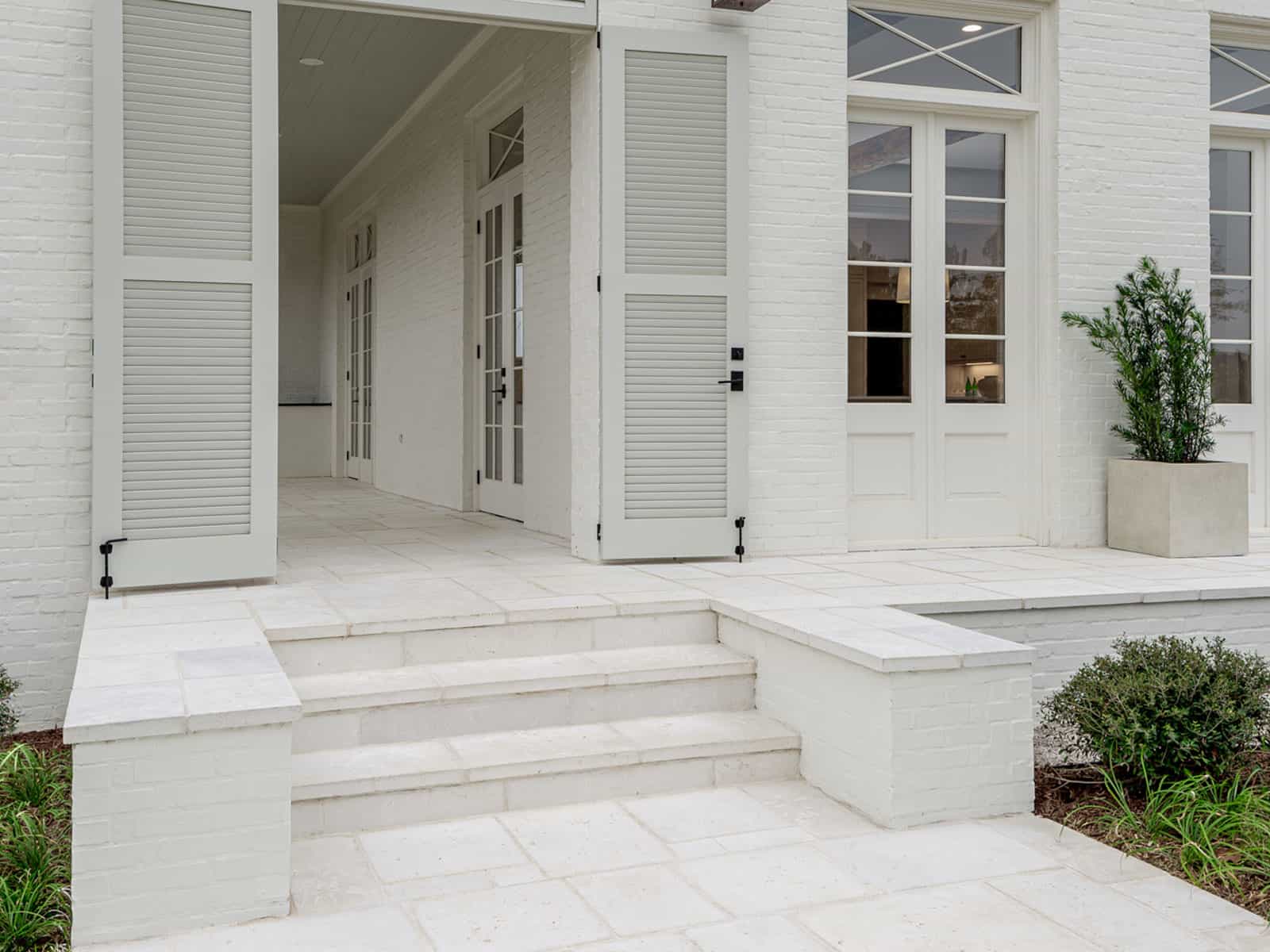 These white steps provide a nearly seamless transition between the paved walkway outside and the exterior covered hallway, tying beautifully with the white-on-white motif.
These champagne-colored corner steps beautifully offset this white adobe look, creating an inviting entrance to this beach getaway.
Courtyards and Covered Patios
The slate-colored pavers of this exterior patio contrast with the white pavers inside, while emphasizing the black-and-white color palette of the entire space.
These rice white pavers add a sense of richness to this covered outdoor living area, contrasting beautifully with the natural wood beams and rafters.
Dolphin grey concrete pavers blend perfectly with the grey doors and distressed white brick of this covered patio — complementing the interior color pallet in the process.
This covered white concrete paver walkway creates a timeless look, tying together the brick archways and the dark wood accents.
Exterior Entryways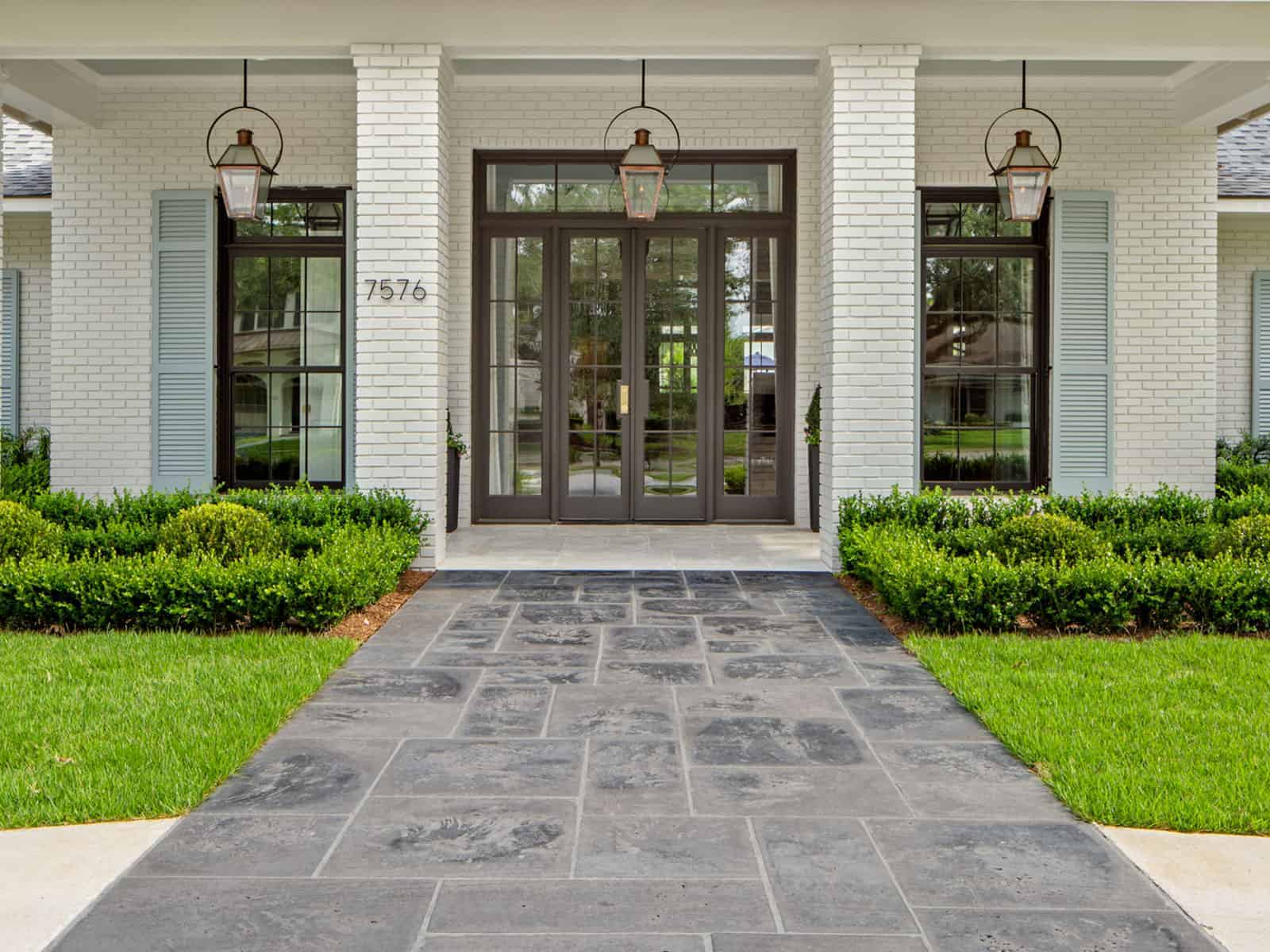 A slate paver walkway adds a sense of drama to this white brick entryway while creating an eye-catching contrast with the white paver patio.
Dolphin grey walkway pavers blend perfectly with the brick entrance of this home.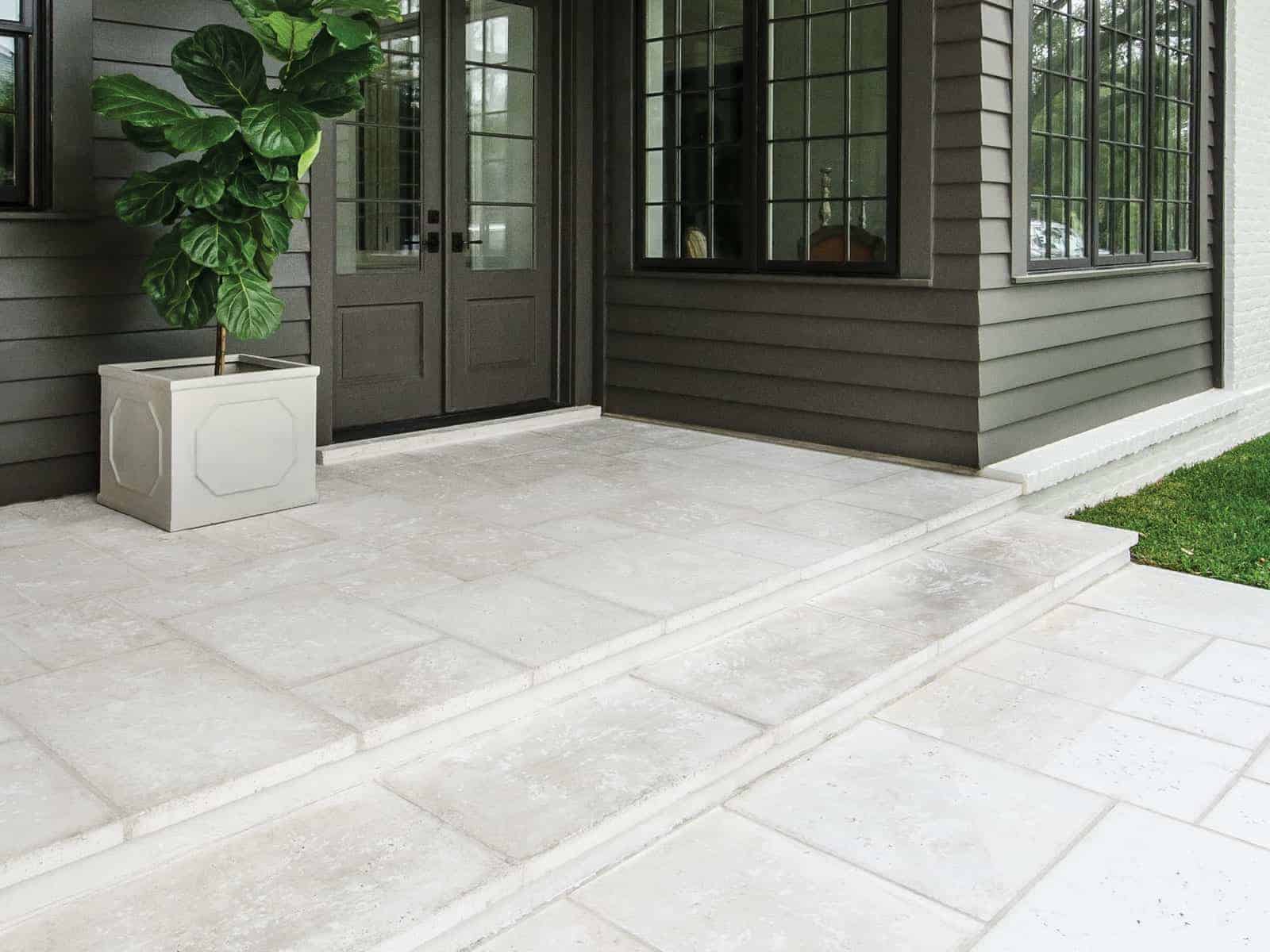 This white paver entrance is dramatically offset against the dark grey exterior of the building.
Verandas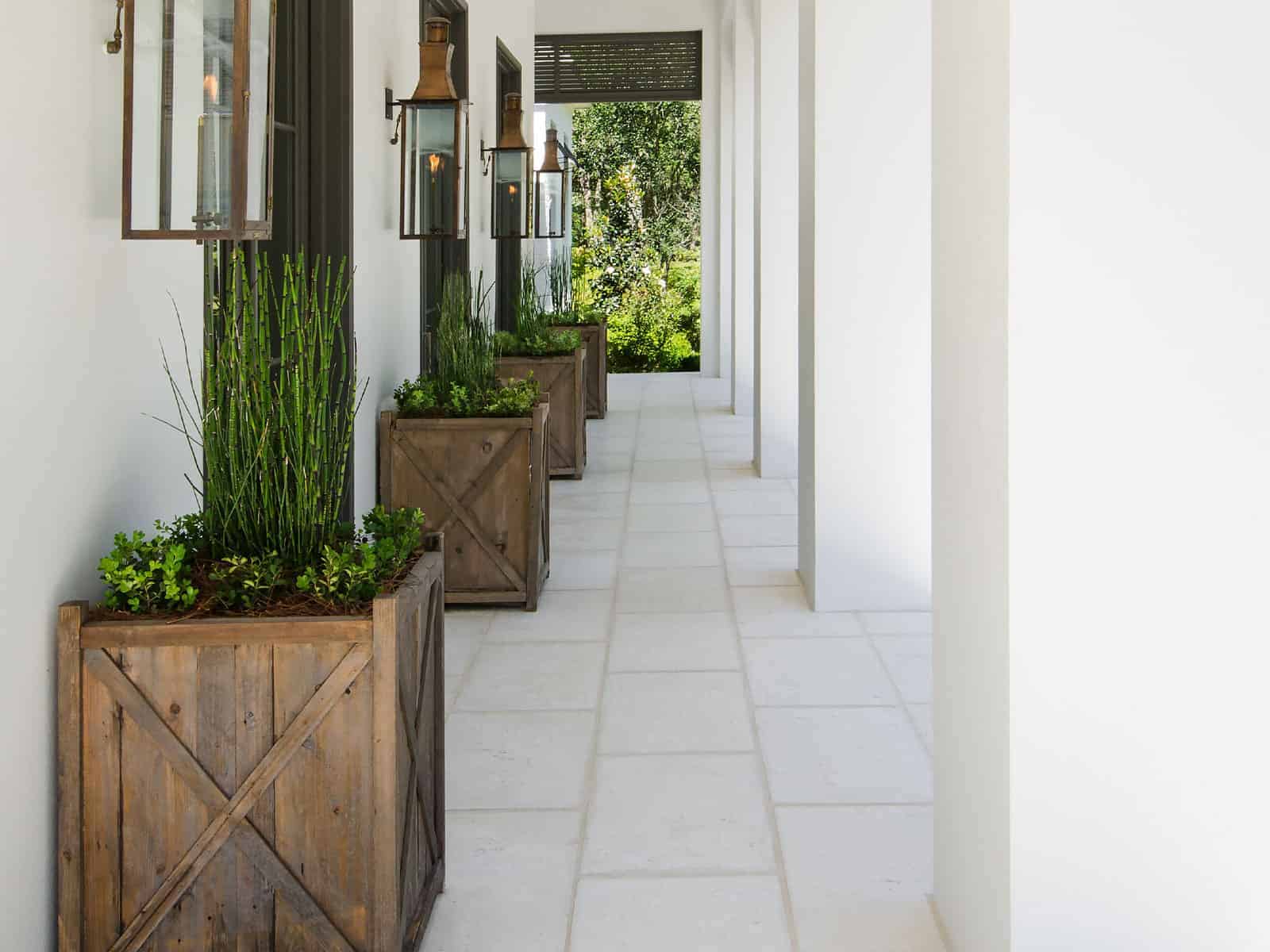 White pavers in a running bond pattern create a lovely, neutral backdrop for the wood accents of the large planters and door frames.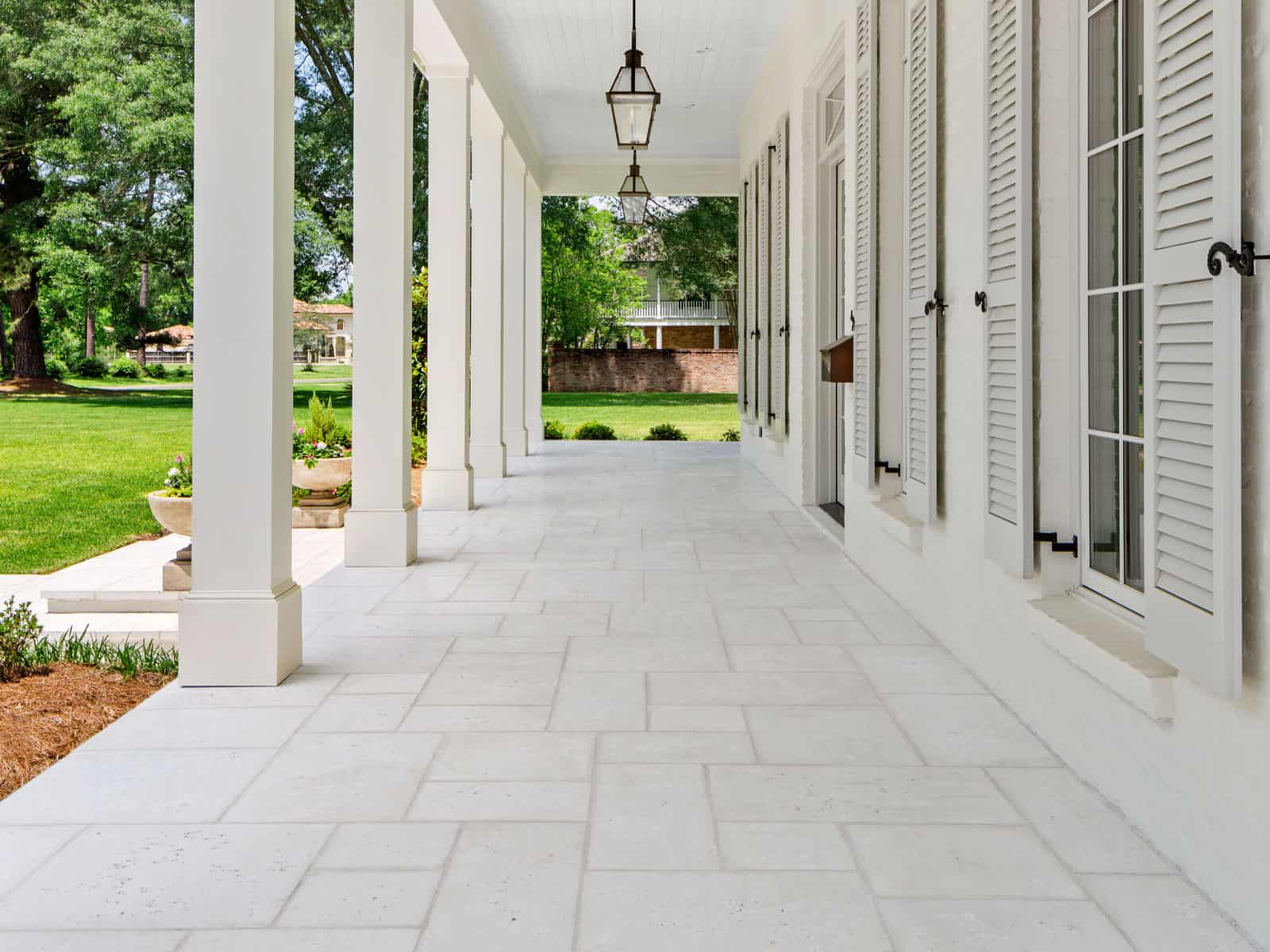 White concrete pavers are used for this elegant veranda. They combine with the white pillars and lanterns to create a timeless look.
Let Peacock Pavers add beauty to both the exterior and interior transition spaces of your next project, so if you're looking for elegant, handcrafted pavers, reach out to us and we'll be happy to send you a quote.