When it comes to designing thoughtful gardens, landscape designers and architects know that it's not just about what plants you choose. It's also about the hardscaping you choose to support the garden. While there are many options for garden hardscaping — natural stone, pea gravel, poured concrete, just to name a few — handcrafted concrete pavers are, by far, one of the most attractive and cost-effective options available.
Trust us — we would know. At Peacock Pavers, we are experts in garden hardscaping. After working on countless exterior design projects over the years with architects, designers, and contractors, we want to share what we know with you.
That's why, in this article, we'll explore how the versatility of concrete pavers just makes sense for professionally designed garden landscaping. We'll also share some inspiration for your next project.
Using Concrete Pavers for Garden Landscaping
One of the main benefits of using concrete pavers over another material is versatility. Whether you are looking for a traditional paver pattern for your patio, a modern arrangement of large "stepping stones" across the grass, or a surface to accentuate the landscaping around your pool —concrete pavers offer the flexibility to turn your vision into reality. Best of all, handmade concrete pavers like the ones offered by Peacock Pavers look like natural stone – but without the high cost.
Let's take a look at what to consider when using Peacock Pavers for garden landscaping.
Size
Our 1 ¾" thick concrete pavers — ideal for use in landscaping — come in 10 different sizes. This wide range of sizes gives you the flexibility to fulfill your garden design vision.
Our large format concrete pavers — available in standard sizes as large as 35 ½" x 35 ½" as well custom sizes — make a bold, stylish statement, so it's no wonder why they have become increasingly popular with landscape designers over the last several years. With larger pavers, you can transform a garden from dated to contemporary in an instant.
Shape
In addition to the range of sizes available, we also offer many different shapes. Rectangle and square pavers are a given, of course, but we also offer pavers in hexagon, picket, and chevron shapes.
Color
There are six standard colors that Peacock pavers offer: Buff, Dolphin Grey, Champagne. Oyster, Rice White, and Slate. Designed specifically to look just like the common natural stone used in the garden, each one is handmade by artisans that give them their own unique look.
If our stock colors don't quite meet your vision, we also offer custom paver colors for projects with a 7,500 square foot minimum.
Creative Garden Paver Landscaping Inspiration
To really see what concrete pavers can do to transform a garden, you have to see some examples. Below, we've spotlighted one of our favorite projects — as well as a handful of other stunning garden paver landscaping inspiration photos.
Garden Pavers for a Beautiful Hampstead Home
https://peacockpavers.com/wp-content/uploads/2021/02/peacock_pavers-Harvi-Anna-Featured-Project-D.jpg
When it came to planning their first home in Hampstead — a planned New Urbanist community in Montgomery, Alabama — developer and designer Harvi Sahota and his wife and partner, Anna Lowder, had specific ideas in mind for what they wanted their outdoor courtyard space to look like. The neighborhood had been designed by renowned architects and it was important to the couple that the décor kept to the architect's vision.
Sahota and Lowder wanted the "timeless language of natural luxury and refined elegance. We admired how Peacock Pavers could make a beach home feel at once welcoming and urbane through the honest, tactile material of concrete."
They chose to use Peacock Pavers' Oyster color throughout the private courtyard garden — on the terraces, porches, and around the swimming pool. This color imparts a soft and warm feeling when you stand in the courtyard, and it also offers a nice complement to the white brick, cedar, and greenery used throughout the rest of the outdoor area, as well as the painted exterior of their home, giving them a space that could be used year-round.
A standard random pattern was chosen to allow eyes to wander through the whole area and take everything in, without being focused by anything overly patterned.
The environment was also a major factor when choosing the type of pavers for this home. Because Peacock Pavers are composed of recyclable material, they are much more environmentally friendly than many alternatives — such as natural stone, which must be quarried at great expense and environmental impact.
Learn more about this featured project.
Large Pavers with Grassy Joints — a Bold Statement for Poolside Gardens
Imagine kicking back and relaxing under the warm sun in the zen-like atmosphere of this luxury pool area — featuring beautiful coastal landscaping and large format Rice White pavers arranged in a diagonal stack pattern.
Entryway With Manicured Landscaping and Slate Concrete Pavers
These concrete pavers in Peacock Pavers' Slate color exude elegance and "pop" against the home's thriving, manicured garden landscaping.
Large Format Concrete Pavers Are Ideal for Modern Garden Designs
The rustic appearance of handcrafted concrete pavers and the natural texture of the grass imbue a pleasing earthiness to this modern, wide-jointed hardscaping pattern.
Poolside Landscaping Enhanced by Concrete Pavers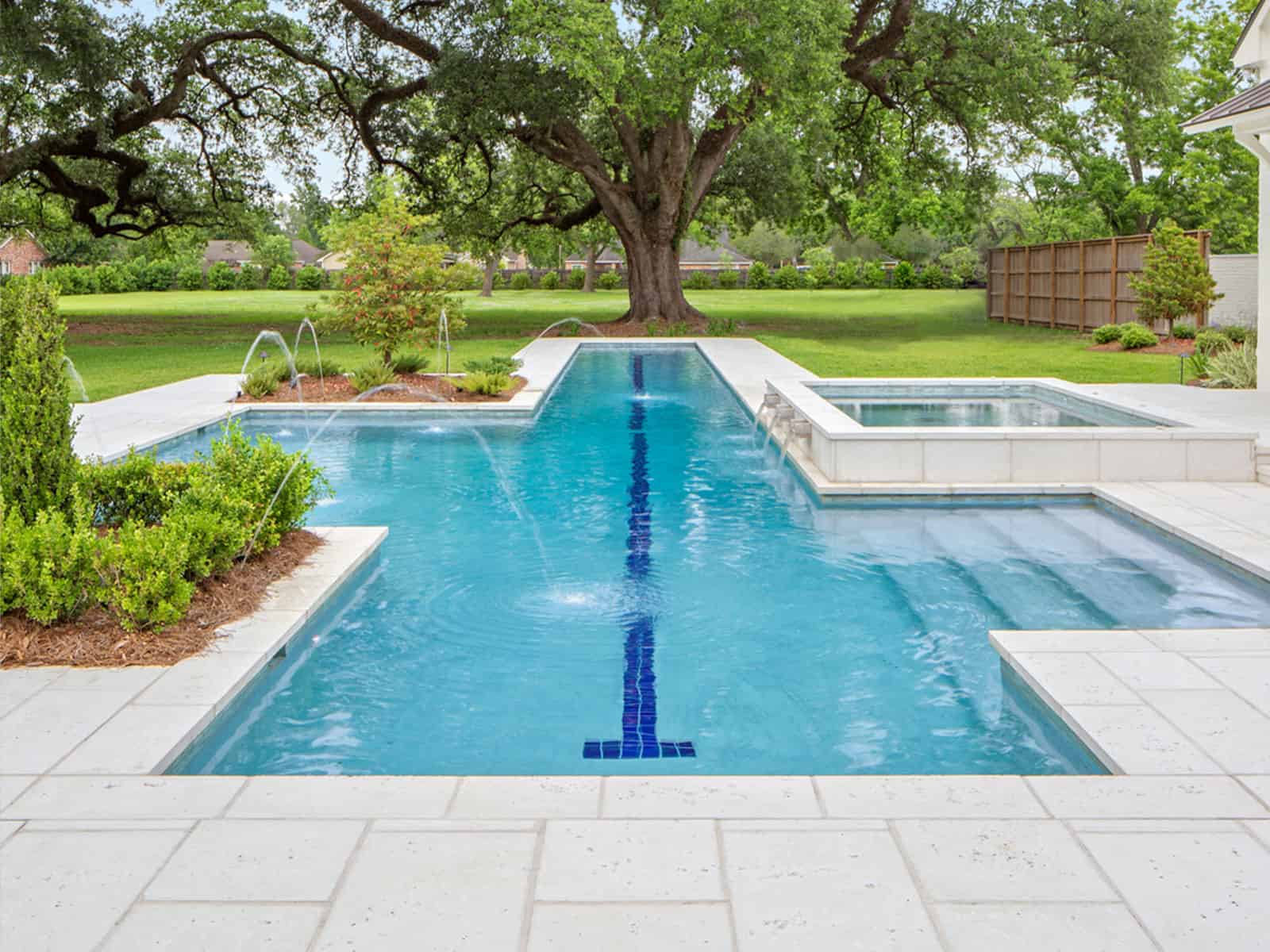 Nestled under mature trees and surrounded by a lush green lawn, this pool area uses concrete pavers to frame its manicured poolside landscaping.
Waterfront Green Space with Diagonal Concrete Paver Grid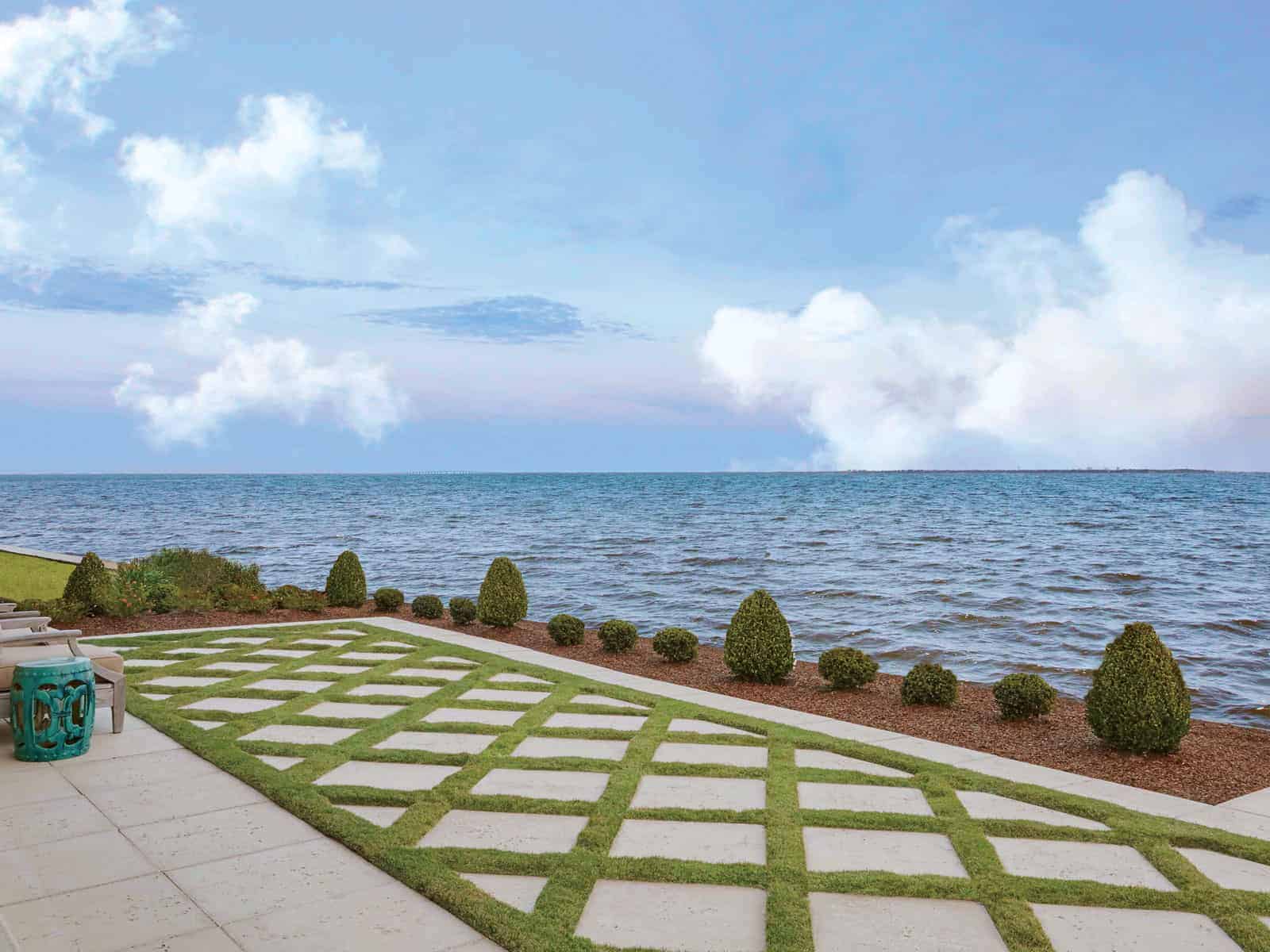 This waterfront green space demonstrates a bold use of large format square pavers by diagonally arranging them with wide joints that allow thick tufts of grass to thrive.
Use Multiple Paver Sizes for Stunning Concrete Stepping Stones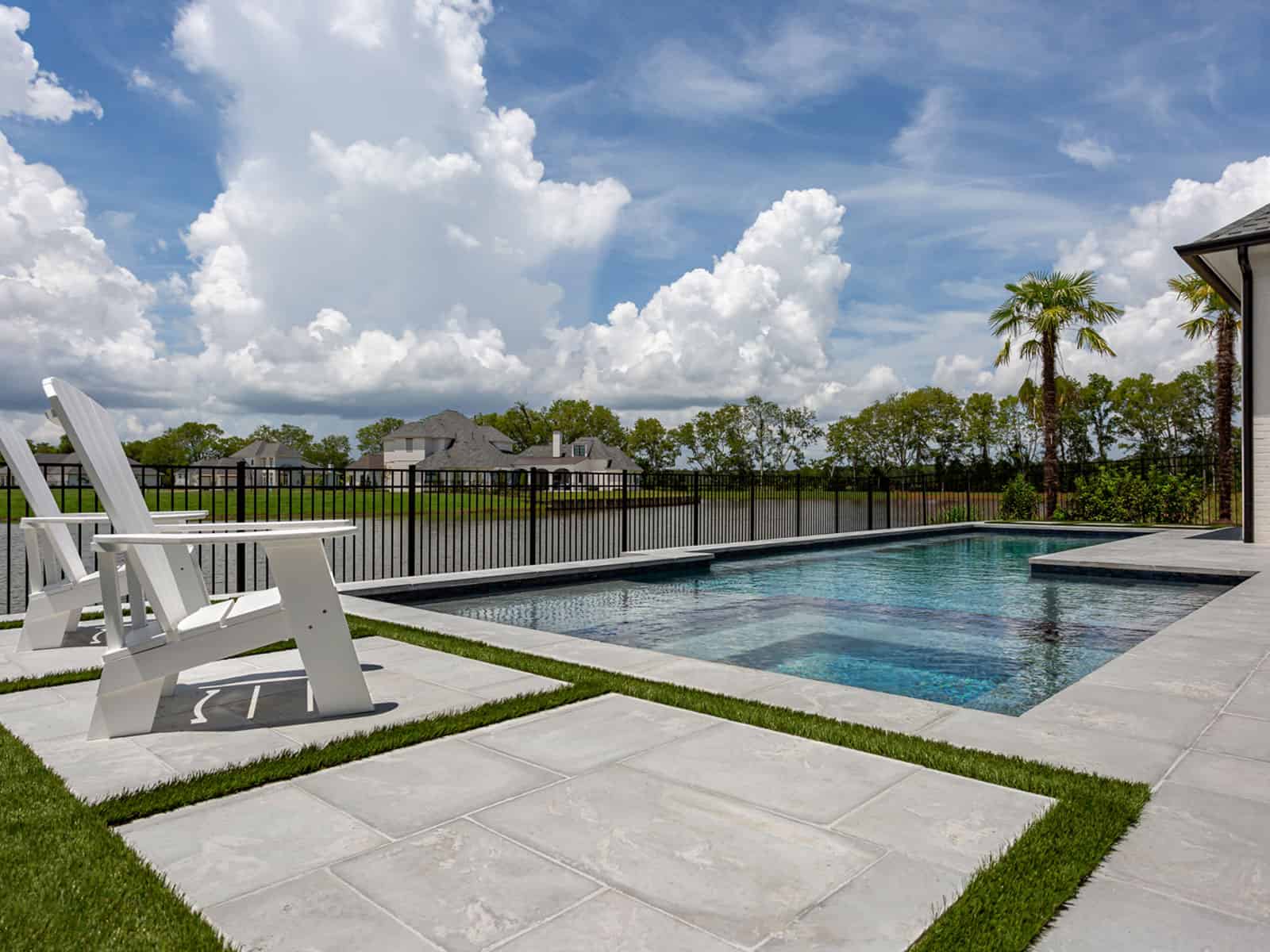 Featuring a turfed court and a pair of relaxing Adirondack chairs, this space combines Rice White concrete pavers of various sizes to form extra-large squares separated by grassy joints.
Elegant, Affordable Concrete Pavers for Your Garden
Concrete pavers are a way to make any vision come to life due to their versatility, durability, and affordability. To learn more about incorporating our handcrafted concrete pavers into an upcoming landscaping project, request a quote, get a sample kit, or call us today at 800.264.2072.